FedEx text scam alert 2021 Updates: Don't fall for delivery notifications texts claiming to be from FedEx. Fake Delivery Notifications SMS & Email. Its con. There are several Fake Mail Delivery Notifications that imitate DHL, UPS, FedEx, Ebay, Amazon Online Shopping Scam.
FedEx advises buyers not to fall for a new scheme that aims to trick them into reading a text or an email about a delivery's status.
Texts and emails that claim to be from FedEx alerting them to a shipment are sent from people around the world. A "tracking code" and a link to set "delivery priorities" are included in the messages. Certain persons get texts with their names and others are sent to "friend." Help: How to Use FedEx InSight Tracking Tool – Questions & Answers.
The link sends users to a fraudulent Amazon satisfaction survey, according to HowToGeek.com. You are asked for a credit card number to demand a free item after answering several questions.
The text messages and emails are not true, FedEx states.
The business said in a statement sent to USA TODAY, "FedEx does not send unsolicited text messages or emails to customers demanding money or a shipment or personal information." "Any questionable text messages or emails should be removed and submitted to abuse@fedex.com without opening them."
New updates on FedEx Realtime Tracking Package. Local & International Shipments, Documents, Images.
Cybersecurity Topics 2021
Warning Message from FedEx About Scam Mail and Text Message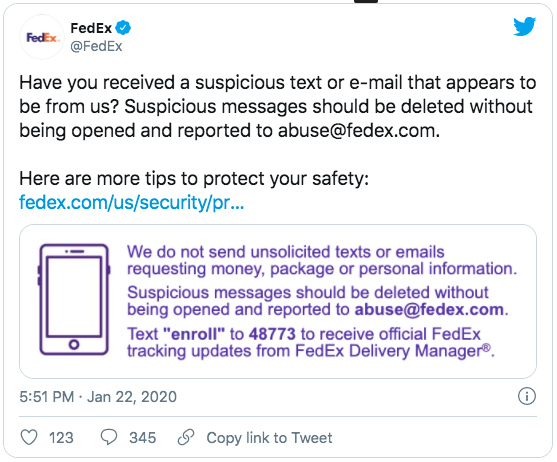 Consumers are also urged by one area law enforcement department not to fall for the scam.
"If in question over a tracking number, go to the delivery company's official website and check for the tracking number yourself," tweeted the Duxbury, Massachusetts, police department.
Through copying and pasting the code on the FedEx website, one Twitter user, who was not expecting a delivery, found out that it was a scam. She tweeted, "It said that there was no shipment." "I was like a con, yea."
Another Twitter user said this; Oh boy. I almost fell for a scam. Got a text message saying I needed to pay $1 import fee for a delivery. And I thought that sounded legit. Their website looked legit. As well, I'm usually pretty good with scams but this one almost got me. I just woke up which doesn't help.
Similarly, another person who almost became a victim sent a tweet too. "They also tried to do one on me but with royal mail". I worked at customs for a few years and so we would see and hear this all the time. The ONLY fee you would have to pay is to Australian Border Force and that's if you have an item coming in that's over the threshold and need to pay tax. Never to Aus Post or delivery companies.
Tweets from People About Fedex Scam 2021
Rikc johsnon said in a tweet too; I almost got scammed too. They said they would give me free chocolate. But I knew it was a scam.
Tangelia Greer: So, is my purchasing info from my credit card being used to see what I normally buy. Somehow, somewhere someone is selling your info and I am curious of Wal-Mart. Additionally, I received a package the next day but the scam email was sent the day before. I wonder if that scam knew I was getting 1.
Tangelia Greer: You ask yourself, how did they get your name and phone number?! First of all, I believe my info was sold by Wal-Mart. Secondly, I never bought cat food on Wal-Mart online or search for cat food online Wal-Mart webste. Lastly, I wonder if they use my credit card in the store to see what I buy the most.
Sasu: Our content was not only overpriced, but heavily deceptive and scammy. Unboxing, cute as it was, was way overpriced and a SCAM. Making people pay exorbitant amounts of money without being clear on what they're buying is what scammers do.
Ignatius Jaques Reilly: Tracking numbers are numeric only….12 digits…no letters or dashes. This refers only to Express…don't know about ground.
Chatel: So earlier today I got same text but I was like wtf I didn't order anything. The 1st thing I did was go to fedex and copy and paste the code. Lastly, it said there is no package I was like yea scam but be safe.
Tweets from Unsatisfied Customers of FedEx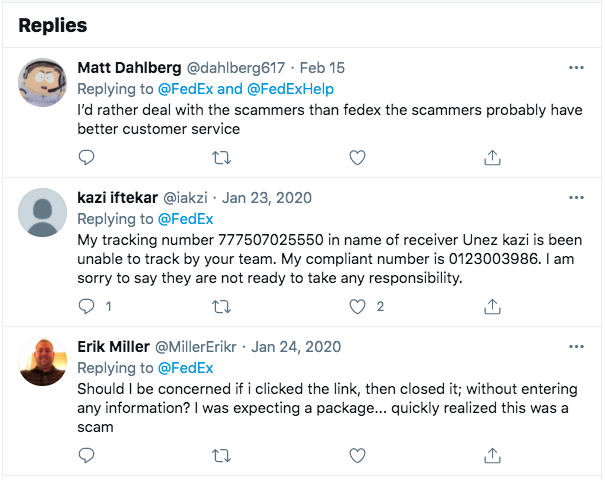 How to Prevent Yourself from Falling into Scam
Another Twitter user said he received the scam twice. You cannot Avoid Scammers Message but you can ignore them. There are so many scams out there. Please be careful. Incase you notice FedEx Text Scam Alert on your phone, then do the following;
Check the senders email address (normally clearly fake)
Check it's addressed to you personally. Not sir/user/customer etc.
Please, Check poor spelling and grammar.
Never click on links.
FedEx has more information on its fraud warning page with tips on how to recognize scams. This is the FedEx InSight Package Tracking Tool for Your Shipment or Packages.
Topics related to fedex sms scam
fedex text 48773
what number does fedex text from
fedex text alerts
free fedex alert signature req'd text message
fedex text 46339
fedex text number 46339
unexpected fedex package
fedex authorization code
"FedEx does not request, via unsolicited mail or email, payment or personal information in return for goods in transit or in FedEx custody," the page says. "If you receive any of these or similar communications, do not reply or cooperate with the sender. Don't do it. However, if your interaction with the website resulted in financial loss, you should contact your bank immediately." Please be vigilant.
In summary, FedEx Ground now delivers on Sundays: 'Every day is now a delivery day'. FedEx Text Scam Alert is everywhere. Protect your money. Finally, stay safe from COVID 19. Lastly, you can Subscribe here for free 2022 fedex scam alert updates.
New Articles on FedEx Shipping 2022 Updates