Have you ever gotten an SMS of an unexpected Fedex package before? It is the fake delivery notice text message trending online today. This is the Fedex Fake Delivery Attempt Text Message & Email 2023 updates to save you from scam. Now, as a usual internet user, you may find it surprising when someone you don't even know from anywhere sends you a text message about a package. Sincerely, nobody expects such a message from unknown persons. The worse part is, the person will ask you to click on a link for a product or service.
Ideally, there's this little voice in your mind which starts talking to you. I know mine personally does the same thing sometimes. It says, "Wow, this may be a scam or not. It might be somebody is trying to steal/copy my banking personal information. More still, he/she is trying to convince me to pay for something I don't have interest in."
Personally, I believe that's the reason scammers usually come up with new stories and strategy all the time. Take for example, a package tracking and delivery scam we always hear about. They sometimes send you a fake fedex tracking number to trick you that you have an incoming package. They can sometimes mail you a fake fedex delivery notification email with links to another website. Many a times, they go as far as sending a "fedex sorry we missed you text message"as if they work in the logistics company.
Here's how FedEx Scam Text Message works.
How does the fake delivery notice text message work? Its simple. These scammers will send a text message with a fake shipment tracking code. They will also attach a link to update your delivery preferences. Sometimes, they can change it to free fedex alert signature req'd text message with a link to sign for your package. They will say the message is from FedEx customer care desk office.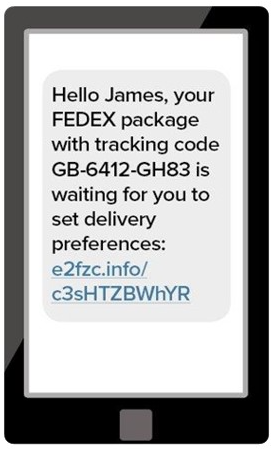 Sometimes, they might use the name of another well-known shipping company like DHL, or the U.S. Postal Service. All these are Fake Mail Delivery Notifications that imitate FedEx, NiPost, EMS, DHL, UPS, FedEx, Ebay, Amazon. Its for Online Shopping Scam.
After listening to that little voice in your head, these are the questions you might be asking:
"Did I recently order any package online"
"Was I expecting a package delivery from anywhere?"
"Did I send a package to someone locally or abroad?"
"When did I subscribe for text notifications?"
While you are thinking about it, you can look at What You Need to Know About Scam SMS & Email this Year.
FedEx Unexpected text message Guide
Tip: If you get an unexpected text message, don't click on any links. If you think it could be legitimate, then contact FedEx company using an official website or customer care phone number you know is real. Don't use the information in the text message sent to you.
There are different types of online scam. However, in this version of delivery scam, the link takes you to a fake FedEx website. Once you are there, you're encouraged to enter you name, address and phone number. In some cases, you're invited take a customer satisfaction survey for discounts. They will tell you that you stand a chance win a free cash prize. But for you to get the money, you have to provide your credit card number and PIN to pay for the shipping.
What can I do when I see Scam Text & Email
Hmm, hopefully that wise little voice in your head is thinking:
"Don't click on that link, its a scam!"
"Why should I pay for a shipping when I didn't order anything?"
"Even though I ordered something online, why won't I pay on delivery"
"Why would a link to my package delivery details take me to an unrelated website?"
"Firstly, the prize was free, but now I need to pay. What else am I paying for?"
"Hmmm, I really shouldn't have clicked on that fake link!"
Tip: Note that some Companies offer so-called "free trials" that come with hidden costs. You should consider somethings before you sign up for a free trial offer.
In summary, scammers may be turning to scam text messages as a new tactic to defraud you. Not withstanding, there are several things you can do right now to protect yourself against scam this festive season. It will help you learn what to do about spam text messages and how to report them. Lastly, you can Report Spam Text Messages to the appropriate authorities.
Fedex Related Topics & searches
fedex fake delivery attempt text message
fake delivery notice text message
does fedex text before delivery
fake fedex tracking number
fedex delivery notification email
free fedex alert signature req'd text message
what number does fedex text from
unexpected fedex package
Best Protection Strategy against Scammers
Conversely, the best security protections standards, experts suggest, is first and foremost to avoid scam email messages from entering inbox. Make sure to delete all SMS you suspect to be fake. Do not click on links you do not recognize. Install an original antivirus in your computer. Furthermore, you can help yourself by regularly updating passwords, turning on two-factor verification. Finally, you can use a number of different email addresses and passwords for multiple online activities.
This article is under Data Privacy, Identity & Online Security, Shopping Online Security, Phishing Scams. Fedex Fake Delivery Text Message & Email updates.
Fake Mail Delivery Notifications that imitate DHL, UPS, FedEx, Ebay, Amazon Online Shopping Scam – Fedex text number 46339.