A review of Apple Vision Pro VR Headset Features, Price, Spec, Video resolution, augmented reality and the release date. Everything you need to know about the Apple VR headset has been explained on this article. Now, let's begin.
Apple's recent announcement of its mixed reality headset marks the beginning of an exciting new era in spatial computing. With this new product, Apple is ready to jump into the realm of mixed reality. They will definitely start, blending the digital and physical worlds in groundbreaking ways.
The anticipation surrounding this announcement suggests that Apple's entry into the mixed reality market is set to make a significant impact. This move will surely leave us awaiting the innovative experiences and possibilities that lie ahead.
Apple Vision Pro: Everything you need to know about the Apple VR headset
Rumors surrounding Apple's interest in augmented reality began circulating back in 2015, indicating the company's growing focus on this technology. After years of speculation, Apple finally unveiled its highly anticipated headset, known as the Apple Vision Pro, during WWDC 2023. With this announcement, Apple is signaling the start of a new chapter in technology by introducing its first-ever spatial computing device.
The Apple Vision Pro is set to redefine the way we interact with digital content and our physical surroundings. This cutting-edge device represents Apple's foray into the world of mixed reality and spatial computing, promising a host of exciting possibilities. I have written about "My experience with Apple Vision Pro after trying it out", at the WWDC. To provide you with a comprehensive understanding, let's take a look at the key details and features of the Apple Vision Pro.
What is Apple Vision Pro?
Apple Vision Pro is a face-worn computer. Its primary function is to provide mixed reality experiences, which blend virtual and augmented realities. Apple ensures that these experiences are delivered in a manner consistent with their renowned style, seamlessly integrated within the broader Apple ecosystem.
Additionally, it supports popular applications and services such as FaceTime and Disney+. The device aims to offer an immersive experience without completely disconnecting users from their surroundings. It promotes intelligent interaction and enables users to maintain a broader awareness of the real world, setting it apart from certain competitor devices.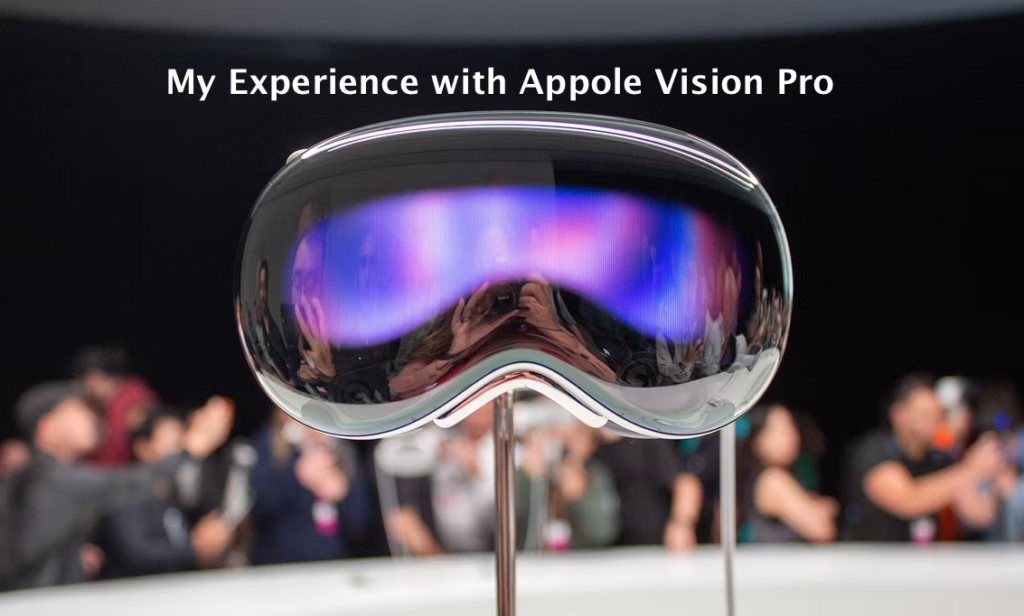 Apple Vision Pro Release and Launch date
The official release date for Apple vision pro launch is 5 June 2023. We were all there live at WWDC 2023, when Apple unveiled the Apple Vision Pro on 5/6/2023. However, the specific date for its availability has not been officially confirmed. It has been announced that the device will be released in early 2024. From the announcement at WWDC, it will firstly be made available in the United States, then other regions to follow suite.
Apple Vision Pro price (Online and in-Store)
Let's take a moment to look at the price tag, as the price of the Apple Vision Pro is $3,499. Yea, that $3,500. With this price in view, it will only be available in the US. If you are not in the US, you will have to be patient because there is no information regarding pricing in other regions.
However, considering recent price differentials observed with other Apple products, it is reasonable to expect higher prices in other regions. The Apple Store will be the designated platform for purchasing the device, where customers can not only make a purchase but also have the opportunity to experience the Apple Vision Pro firsthand and acquire further knowledge about its capabilities.
Apple Vision Pro design and build
The Apple Vision Pro features a single sheet of laminated glass on its front surface. This is combined with an aircraft-grade aluminium alloy frame to provide durability and strength to the device. To make sure there is comfort, a Light Seal with softer materials is built into it. Moreover, the device offers a range of different shapes and sizes, ensuring a perfect fit for different types of human faces.
The rear strap is designed with ridges for prolonged wear, and it includes a dial that enables users to adjust the tightness and ensure a secure fit. The band attachment mechanism is simple, allowing for easy swapping of bands, and suggesting the availability of various band options.
The Apple Vision Pro is equipped with both a digital crown and a button. The button enables 3D image capture through the headset, while the digital crown allows users to control the level of external world visibility by adjusting the amount of outside stimuli that is permitted in.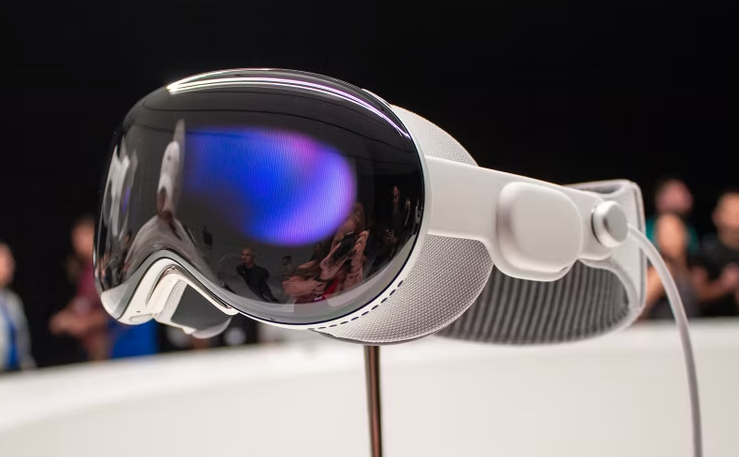 The audio on the Apple Vision Pro is delivered through integrated audio pods located within the band. It eliminates the need for headphones to enjoy audio content. This design choice ensures that users are not completely isolated from their surroundings. The device supports spatial audio, providing an immersive sound experience. Apple has emphasized the ability of the Apple Vision Pro to generate various soundscapes that envelop the user, enhancing the overall audio experience.
Moreover, the device also supports Personalized Spatial Audio. This feature takes into account an individual's head and ear shape, tailoring the audio output to optimize the listening experience for each user. The audio pods, depicted as blobs in the provided image, are responsible for delivering the audio content.
Functionality of Vision Pro for Video Gaming
For now, the Vision Pro does support Cloud Gaming Platforms for Windows, Mac, Android, PS4, PS5, Xbox and PlayStation controllers via Bluetooth. We believe the developers will need to make adjustments to ensure their games are compatible with the device in future.
Apple Vision Pro Specs
Let's break down the specifications of the Apple Vision Pro in different areas. Keep in mind that more information may be revealed by Apple regarding the hardware.
Vision Pro displays:
The Vision Pro features dual displays, one for each eye. These micro-OLED displays boast a combined total of 23 million pixels, surpassing the resolution of a 4K television. Despite their compact size, no larger than a postage stamp, they deliver exceptional visual quality.
A precision lens is positioned before the displays, offering the option to incorporate Zeiss inserts for a comprehensive range of prescription corrections. It's worth noting that these inserts will be available for separate purchase. The key points to note here is;
The Vision Pro consists of two micro-OLED displays, one for each eye.
These displays have a combined total of 23 million pixels, offering a resolution higher than that of a 4K television.
Although the actual display size is no larger than a postage stamp, the visual experience is immersive.
The displays are accompanied by precision lenses, and Zeiss inserts can be purchased separately to accommodate a full range of prescription corrections.
Vision Pro compute power:
If you anticipated a diluted device, prepare to reconsider. The Apple Vision Pro defies expectations with its cutting-edge technology. It harnesses the remarkable potential of the Apple Silicon M2 chip, working in tandem with the new R1 chip.
This collaboration results in an abundance of computational power, while the R1 chip specifically eradicates any hint of lag, ensuring a flawlessly smooth experience, regardless of your activity. To maintain optimal performance, the headset incorporates a cooling system that draws air from the bottom, effectively keeping the hardware at a cool temperature. The key points to note from the explanation above is;
The Apple Vision Pro is powered by the Apple Silicon M2 chip, which delivers substantial computational power.
It is also equipped with a new R1 chip, working in conjunction with the M2 chip to ensure a seamless and lag-free experience across various tasks.
To maintain optimal performance, a cooling system is integrated into the headset, drawing air from the bottom to keep the hardware cool.
Vision Pro cameras and sensors: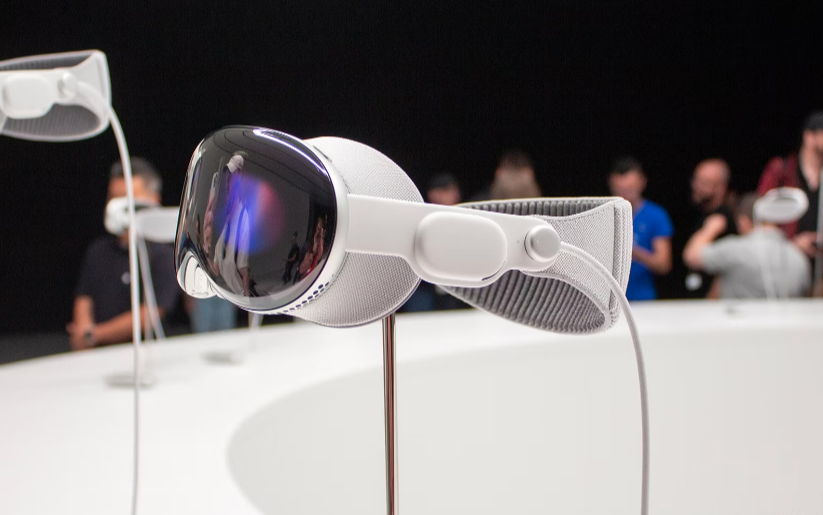 The Apple Vision Pro has impressive sensors and cameras. With a total of 12 cameras, 5 sensors, and 6 microphones, it offers unparalleled capabilities. Among these are lidar cameras dedicated to capturing 3D information, motion sensors that track head movements, and eye tracking technology. Additionally, the Vision Pro features advanced hand tracking, enabling users to navigate and interact with the device through intuitive gestures.
The Apple Vision Pro is equipped with an array of cameras and sensors.
It features 12 cameras, 5 sensors, and 6 microphones.
The presence of lidar cameras allows for capturing 3D information.
Motion sensors enable tracking head movement, while eye tracking and hand tracking enable gesture-based navigation.
Vision Pro battery life:
The Apple Vision Pro offers two options for power supply. It can be connected directly to a power source for extended day-long usage. Alternatively, users can opt for a battery pack, which provides approximately 2 hours of uninterrupted functionality on the go.
The Apple Vision Pro can be connected to a power source for all-day usage.
Alternatively, it can utilize a battery pack, which provides approximately 2 hours of use.
There's a DIY iPhone Battery Replacement Guide for Technicians which will be beneficial to you
Please note that as Apple continues to provide more information about the hardware, additional specifications and details may emerge.
How does Apple Vision Pro work?
The concept behind Vision Pro is to seamlessly integrate virtual elements into the real world. This allows you to enjoy a truly immersive experience with a large, cinematic display that can span up to 100ft in width. Furthermore, you have the freedom to customize the screen according to your preferences, and additional features like shows enhance the overall realism of your visual experience.
Unlike most VR headsets, the Vision Pro doesn't isolate you from the real world. It incorporates a passthrough system that offers a cleaner and more inclusive approach. While other headsets have front cameras enabling you to see your surroundings, the Vision Pro takes it a step further by allowing others to see you as well.
This means that when someone approaches you while wearing the Vision Pro, they will be able to see your eyes through the front of the device, and you will be able to see them. Of course, in both cases, you are viewing images captured by the cameras, but this removes the physical barrier typically found in other VR headsets.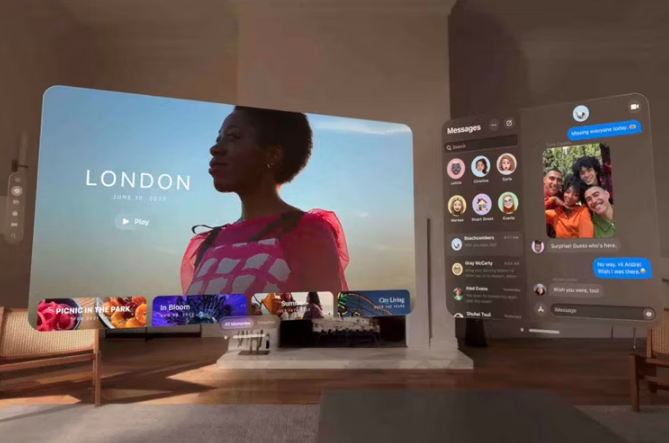 What apps are there in Vision Pro
Apple promotes Vision Pro as both a work and home device, powered by visionOS. It offers access to popular workplace applications like Microsoft Office. Additionally, you can virtualize your Mac by simply gazing at it.
Also, this allows you to access all the content on your Mac, giving you the freedom to accomplish various tasks. Furthermore, Vision Pro supports the Magic Keyboard and Magic Trackpad, enabling you to control other inputs within your virtual workspace.
In addition to work-related functionalities, Vision Pro includes familiar Apple apps such as Photos, Apple TV+, and FaceTime. One intriguing feature is the ability to create a digital persona by scanning yourself.
This means that during FaceTime calls, the person on the other end will see a digital representation of you engaging in conversation. Moreover, Vision Pro offers an array of Arcade games, which can be enjoyed with third-party controllers, allowing you to experience gaming in a whole new dimension.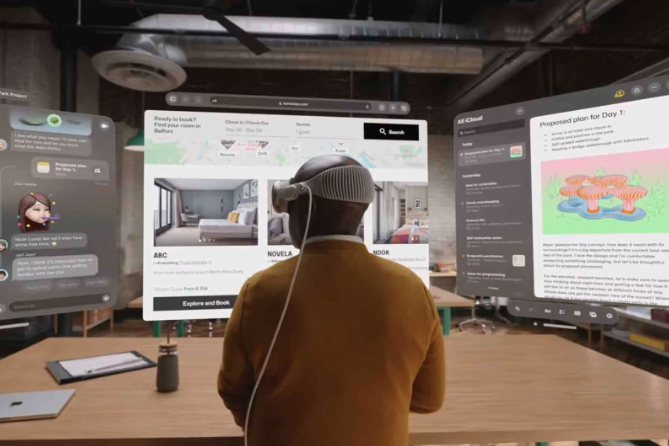 Is Apple Vision Pro a wireless VR headset?
The answer is 'Yes' and 'No'. Apple vision pro is a wireless because it doesn't require a computer connection. The headset itself contains the necessary power, eliminating the need for a high-powered computer like the HTC Vive. Instead, it aims to handle the computing internally, but it still requires power.
Yes, it is wireless because the power can be supplied by a battery, which is wired but can conveniently fit into your pocket. However, the battery provides only 2 hours of usage.
On the other hand, no. If you want to use the headset for a longer period, you will need to connect it to a power source. Therefore, there is a wire connection.
What about Apple Glasses?
Apple was reported to be working on Apple Glasses, in addition to the Apple Vision Pro. However, the glasses were not launched alongside the Vision Pro. It is believed that these glasses will be lighter and focused on augmented reality (AR), building upon the learnings and visionOS of the Vision Pro.
The goal is to create a pair of everyday wearable glasses, similar to regular spectacles, but with integrated displays. They will be akin to Ray-Ban Stories but with added AR capabilities.
According to analyst Ming-Chi Kuo, these glasses will be connected to an iPhone, with most of the processing being done by the phone. Recent rumors suggest that Apple has delayed the development of Apple Glasses due to technical challenges and has instead prioritized the Vision Pro headset. If Apple Glasses do come to market, it is likely to be around 2026.
Reports indicate that Apple Glasses will offer various AR experiences and will also synchronize with the wearer's iPhone to display texts, emails, maps, and games directly in their field of vision. For instance, users will be able to see Apple Maps navigation information as a heads-up display while walking.
It is also suggested that Apple Glasses will enhance privacy by presenting information directly in front of the user's eyes, eliminating the need to take out their phone. Unlike other smart glasses, these glasses won't have cameras to prioritize privacy but will focus on delivering a seamless user experience.
Which AR/VR companies has Apple bought?
Apple's commitment to its AR/VR endeavors is evident through its strategic acquisitions of various companies in recent years. In addition to hiring AR/VR experts, Apple has made significant purchases in this field.
In 2017, it acquired Vrvana, the developer of the Totem mixed-reality headset. During the same period, it also bought Akonia Holographics, a company specializing in AR smart glasses lenses. Furthermore, Apple acquired PrimeSense, an Israeli-based 3D body sensing firm, as early as 2013.
Another notable acquisition by Apple took place in 2020 when it purchased NextVR. This company provided a VR platform for sports events and concerts and had established partnerships with prominent entities like Fox Sports, Wimbledon, and the NBA.
Other companies that has bought Apple's VR includes Metaio, Faceshift, Emotient, Flyby Media, and RealFace. All of them have contributed to strengthening Apple's position in the AR/VR industry. Just like the way Apple's TipKit Make iOS App Building Much Easier, these findings will benefit you. Finally, see new updates these Top 10 Technology Industry Trends that will surprise you.
Similar Posts