This is a guide on how to replace Siri with ChatGPT on your iPhone through your OpenAI account, and access to the ChatGPT API key. As we know, the concept of Artificial Intelligence has been widely discussed in recent months, with the emergence of AI chatbots such as ChatGPT contributing to the excitement. Nonetheless, it's worth noting that voice assistants like Siri have been in existence for a long time.
Although many would agree that Siri lacks a considerable amount of intelligence in its artificial brain. However, what if I informed you that it's possible to combine the strengths of both technologies and have ChatGPT collaborate with Siri on your iPhone?
While it may seem like an impossible feat, it's actually quite simple to achieve. Continue reading as we guide you on how to use ChatGPT in tandem with Siri on your iPhone.
Get ChatGPT on Your iPhone (2023)
Utilizing ChatGPT with Siri on your iPhone is a straightforward process, but it does entail specific prerequisites and necessary links. Be sure to have all of them before you begin.
Requirements to Get ChatGPT to Work with Siri
1. Siri ChatGPT Shortcut
To incorporate ChatGPT with Siri, you can utilize a convenient shortcut that operates on your iPhone. This necessitates downloading the Siri shortcut, known as Siri Pro, which is provided by YouTuber Tim Harris. Despite its given name, you have the freedom to rename the shortcut to suit your preference. Before proceeding, download the Siri Pro (Get) shortcut, but refrain from running it just yet. Keep reading after the download is complete.
2. ChatGPT API Key
To effectively utilize ChatGPT's features on your iPhone's Siri, you must make use of its API. The API key for ChatGPT can be obtained through your OpenAI account. To do so, navigate to the OpenAI API keys page and log in to your account. Once there, you will come across an option to "Create new secret key." Click on it to generate an API key that you can use with Siri Pro.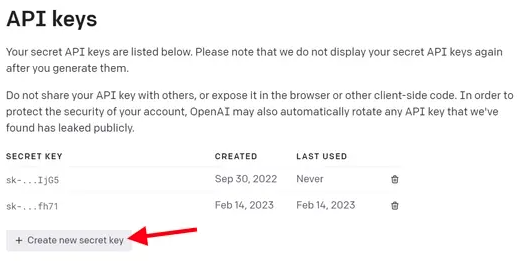 After completing the process, make sure to copy your OpenAI API key. Bear in mind that once you have copied the key and closed the pop-up window, you will not be able to copy the same API key again. Therefore, it's important to keep it in a secure location.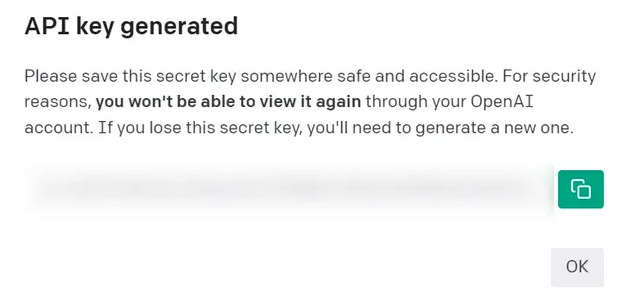 Additionally, you can access the website on your iPhone to generate and copy the API key to your clipboard. If you don't have an OpenAI account yet, you can create one on the website and then proceed to the link mentioned above.
How to Set up and Use ChatGPT with Siri on Your iPhone
Once you have downloaded the Siri Pro shortcut and copied the API key (ChatGPT with Siri on your iPhone), then follow these steps:
1. Download the Siri Pro shortcut and copy the API key.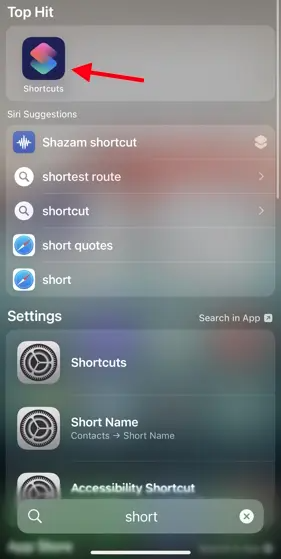 2. Open the Shortcuts app and find the Siri Pro shortcut. Tap the ellipsis icon to open the shortcut's settings. Note: If you have renamed the shortcut, use the new name instead of Siri Pro.
3. Under the "Text" dialog box with a caption "Insert ChatGPT API Key here", simply paste the API key you copied earlier and tap "Done."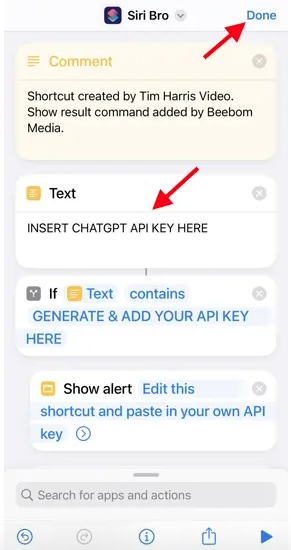 4. You're all set! ChatGPT has now been integrated with Siri on your iPhone. To use it, either tap on the shortcut in the Shortcuts app or say "Hey Siri" followed by the shortcut's name (either the original name or your renamed title). For example, you can say "Hey Siri, open Siri Bro" to invoke the shortcut.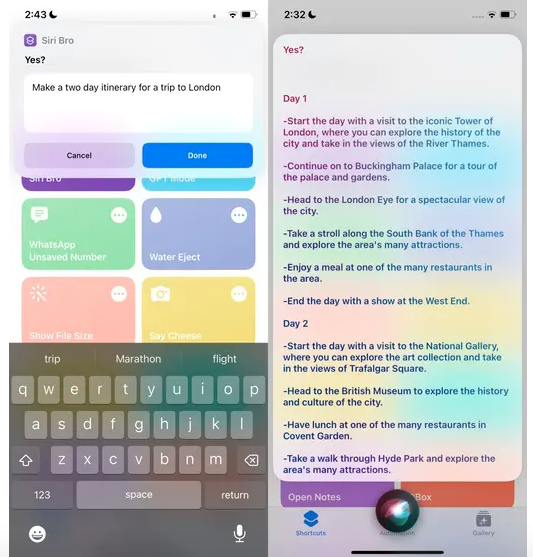 Remember that the shortcut might not always work due to ChatGPT's server load or technical issues. However, in most cases, it works without any problems.
Frequently Asked Questions
What should I do if I have followed all the steps but the shortcut is not responding?
If you have followed all the steps mentioned earlier but the shortcut is still not responding, it could be due to the current server load on ChatGPT. If the AI chatbot is overloaded, there is a possibility that the shortcut may not respond. In such cases, it is recommended to wait for an hour or two and try running the shortcut again.
Is it possible to use this method on an Android device?
As of now, the ChatGPT for Siri method is only available on iOS devices. Since it relies on the iPhone's shortcut app, there is currently no similar method available for Android devices. However, we will keep you informed if we come across any such method.
The shortcut keeps asking me to add the API key. What should I do?
If the shortcut keeps asking you to add the API key, it means that you have not added it properly. Without the API key, the shortcut cannot communicate with the server. To add the ChatGPT API key, please follow the instructions provided in the section above or in the article.
How can I get a ChatGPT API key?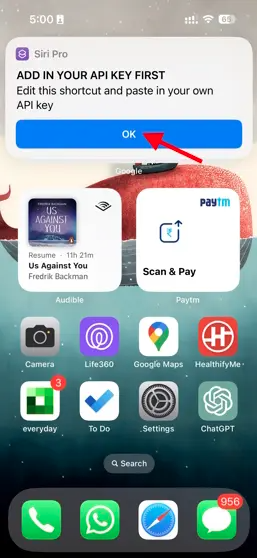 To obtain a ChatGPT API key, you need to visit OpenAI's official website and create an account with the company. Once you have created an account, you can obtain the API key by following the instructions provided earlier in the article.
Transforming Siri into ChatGPT – Follow These Steps
We trust that you will enjoy experimenting with ChatGPT alongside Siri on your iPhone. For added benefits, explore these exciting features that you can access with ChatGPT. Additionally, if you prefer to utilize a mobile application to interact with the AI chatbot on your device, discover how to operate ChatGPT on Android and iOS. Have you faced any challenges with Siri Pro?
Similar Posts