How do you choose a point of sale system? Questions to Ask When Buying a POS System is very important before making purchases. Recording sales transactions and collecting payments is an important step in the customer's purchase journey. In a word, Point of sale (POS) is the place where a customer's transaction is completed.
Tags: Point of sale system, best pos software, pos for retail shop, pos system for sale, vend pos, vend software price, vend training manual, vend pos Malaysia, USA, Canada, [PDF] Point of Sale (POS) Software Buyer Guide 2021/2022.
POS systems are tools that help you prepare the bills and receive customers' payments. Additionally, POS software also helps you to capture customer information, track and update inventory levels, run discounts and loyalty programs, and process payments.
A POS system of some kind is essential for all businesses because everyone needs to conduct sales and collect payments. In this buyer's guide, we'll help you identify what you must look out for when purchasing a POS tool.
Here's what we'll cover:
First; What is POS software?
Second; What are the types of POS software?
Third; What deployment options are available for POS software?
Fourth; What are common POS software features?
Fifth; What are some important POS software integrations?
Sixth; What POS software trends should I be aware of?
What is POS Software System?
A point of sale (POS) system calculates and accepts customer payments for the purchases they have made. At a brick-and-mortar store, a POS includes a cash register, barcode scanners, receipt printer, customer display, and debit/credit card readers.
A POS software that integrates with your website can effectively act as the POS platform for your eCommerce business. The POS system will also be able to accept payments from different e-wallets and through net banking.
Point of sale is also a core feature of your retail management software. In the same vain, POS features automate the core checkout processes and transactions in a retail store, as well as adjust inventory and prints receipts.
What are the types of POS software?
Sales happen at your doorstep, at a restaurant table, in the aisles of a retail shop, and even through your phones and laptops. In addition, you need different types of POS to meet your specific sales situations.
Mobile POS:
POS applications on smartphones help process payments, manage customer information, and track inventory levels. The system also supports a mobile credit card reader, payment processors, and portable receipt printers.
Best suited for: Street vendors, event organizers, small businesses offering home services
Tablet POS:
It's similar to a mobile POS and can be used on iOS, Android or Windows-based tablet devices. Tablet POS systems may also support barcode readers, credit card readers, and cash drawers.
Best suited for: Quick-service restaurants, small retail shops, pizzerias, art galleries, coffee shops, salons
Terminal POS:
These are fixed POS systems often located at check-out counters at retail shops, restaurants, and hotels. Terminal POS often come as all-in-one solutions offering hardware and software support—cash drawers, barcode scanners, displays, and receipt printers.
Best suited for: Large retail shops, supermarkets, boutiques, full-service restaurants
Online POS:
An online POS allows you to access your payment systems from anywhere and using any device type including desktops and mobile phones. You can also connect these POS tools with your online retail shops. Online POS systems allow you to access your records from anywhere.
Best suited for: e-commerce businesses, small retailers, art galleries, salons, etc.
Self-service kiosk POS:
Machines that help customers purchase tickets, beverages, snacks or any other item without any external help require self-service kiosk POS systems for smooth operations. The POS system will be set-up together with your machine to handle customer purchases and inventory. You don't need to keep a cashier or any other staff in this case.
Best suited for: Ticket sales, parking spaces, grocers, etc.
The market also offers POS types customized for different industry segments. There is a specialized POS for just about every type of business including bakeries, gardening centers, and junkyards. In addition to the core POS features, the different POS types also offer custom features to meet specific industry needs.
Key question to ask your POS vendor before you buy: What are the additional benefits that I get if I'm buying a POS system, marketed at a specific industry, say retail in my case?
What deployment options are available for POS software?
Choosing between cloud and on-premises POS will depend on what type of business you are and what your requirements are.
For example, most on-premises POS software do not offer mobile support and hence may not be suitable if you do door deliveries. Similarly, if you work in a region that experiences frequent internet outages, it is not advisable to adopt cloud POS that needs a reliable internet connection.
On-premises POS
High, upfront, one-time investment costs with extensive set-up processes
Often bulky systems with large screens, but may be helpful for customers
Custom integrations with your accounting, inventory management, and data storage tools
Customizable security controls that improve data protection
Lacks mobile optimization and remote access capabilities
Cloud POS
First and foremost, Subscription-based pricing model that lowers upfront costs, but continue to remain an operational expense
Access your POS system from anywhere with an internet connection
Easily scalable – you can increase the number of devices or users easily
Can be used on portable devices such as tablets and mobile phones
Lastly, Regular updates with features supporting the latest trends and regulations
Key questions to ask your POS vendor before you buy: How often do you provide software updates? What technical assistance can I expect from your service team?
What are common POS system / software features?
A POS system includes both software and hardware components. Hardware components include register screens, barcode scanners, card readers, receipt printers, and cash drawer. Additionally, POS software helps run the POS hardware as well as integrates with other applications such as inventory management or customer relationship management (CRM) software.
The key POS software features to look out for include:
Reporting and analytics:
Reports and sales analysis helps retailers track fast-moving products, products selling at the highest and lowest margins, sales promotion returns, and other metrics. Traditionally, reporting tools also provide filters to help you narrow down your results.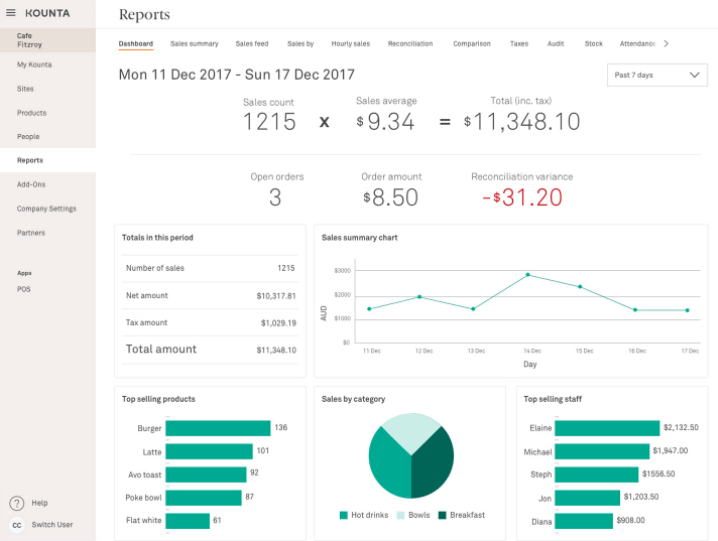 Reports features in Kounta
Inventory management:
Inventory management is one of the most useful features of a POS system. It helps you track inventory in real-time by integrating customer purchases with business orders. The system also alerts you about low stock levels, taking into consideration the supplier lead time dictated by the back-end algorithm.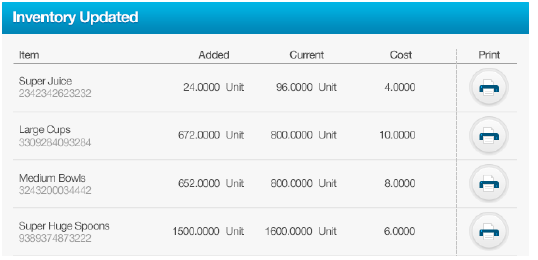 Inventory tracking features in Revel Systems POS (Source)
Customer management:
POS software offers features to automatically collect and store customer details such as name, contact details, loyalty points, preferences, etc. The tool will also be able to identify details of customers when they attempt to complete a purchase.
Customer details as stored in MyTime
Payment processing:
Payment processing is at the heart of a POS system. POS systems should support a variety of payment methods including credit cards, e-wallets, net banking, and cash transactions.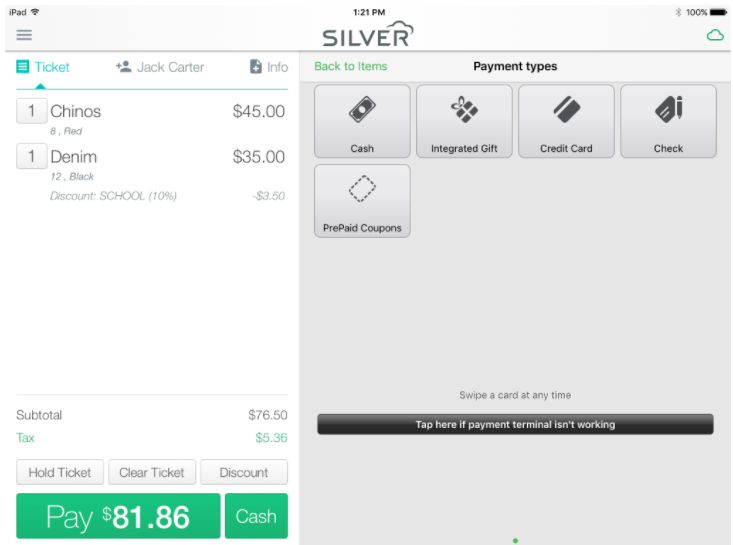 Payment processing in NCR Silver
Employee management:
In addition to managing customers, some POS systems also help you manage employee productivity using built-in time clocks and employee sales data. Also, it will help you measure employee performance as well as use the data for payroll calculations.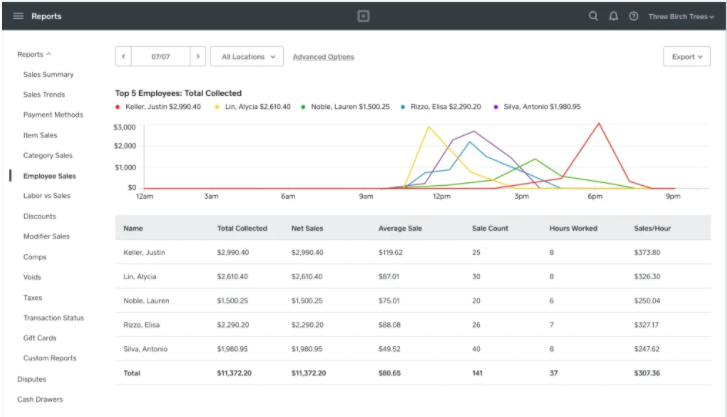 Employee management features in Square Point of Sale (Source)
Barcode scanning:
The POS software also scans and reads barcodes on different products and identifies the right prices and discounts that must be added to customer bills.
Software features reading product barcodes in Revel Systems POS (Source)
Key questions to ask your POS vendor before you buy: Does your POS software work on all brands of POS hardware? What other unique value can your tool offer my business?
Related Articles
What are some important POS system / software integrations?
The POS integrations required by your businesses will depend on your industry. The POS integrations required by an eCommerce retailer will be different from that needed by a hotelier.
Below we list out some of the common integrations required for industry types:
1. Accounting software:
Firstly, Accounting software helps you transfer sales data from the POS to your accounting software for further calculations. Real-time integration with accounting software also helps to better understand your cash flow cycle.
2. Marketing software:
Secondly, it Enables your POS system to send customer details—names, address, contact details, purchase preferences—to the marketing software. This helps you create personalized promotional emails and run effective loyalty programs.
3. Inventory management software:
Thirdly, Integrations with inventory management software is essential if your POS does not offer built-in integration management features. However, inventory management integrations help to identify when stocks run low or need to be replaced to meet the latest customer preferences and market trends.
4. eCommerce software:
Lastly, Integrations with your eCommerce website ensures inventory availability, customer data collection, payment processing support, and running of loyalty programs. In summary, it also helps to add images of the product to the POS system.
Key question to ask your vendor before you buy: Is your tool available to connect with the other in-house applications that I use?
What POS system trends should I be aware of?
POS software is evolving to meet the new forms of payments such as e-wallets, P2P, cryptocurrency, and more. Along with it, vendors are also adding data analytics capabilities and artificial intelligence (AI) to POS systems to derive more customer insights from POS systems and to make it automated.
Here we discuss major work order software trends:
1. Integrating data and analytics:
According to a survey of small businesses, 50 percent respondents identified access to reporting as a key factor required for their POS. POS software can give you snapshots of important business data like sales or transaction volume. Also, Data analytics features in POS can help you drill down this data to generate business insights such as your best selling products, peak sales hours, and spot trends in customer purchases.
2. Artificial intelligence (AI):
AI in POS systems can perform functions such as speech recognition, automatic sending of emails, and language translation to help customers have a seamless purchase experience. It can suggest items to customers as well remind them of unbilled items or possible items they may need, based on past purchases.
Key question to ask your POS vendor before you buy: Does your software support the latest POS capabilities such as data analytics and AI?
*Note: In Summary, the applications selected in this article are examples to show a feature in context. Finally. they are not intended as endorsements or recommendations, obtained from sources believed to be reliable at the time of publication.