This is a guide on how to respond to query letter from your employer (management) at your workplace. If you work for an establishment, you have to consider knowing how to respond to a query letter. This is an answer to your boss if you go against the organizational code of conduct or rules. Lateness, negligence, insubordination, or absenteeism can make you loose your job, but an apology can save you.
Sometimes, as an employee, you do not intend to conduct malpractices at work. However, situations that require urgent responses do occur at home or work, and you have to be around to fix them first at the expense of your job. However, when this happens, you must know how to respond accordingly for being absent from work in such a case.
How to Reply to a Query Letter on Lateness:
Lateness to work is never taken lightly by managers and supervisors. Also, missing work might mean a lot of losses to the company. The duties that you usually conduct have to go undone, or taken care of by someone unfamiliar with them.
This explains why any boss is strict about punctuality to work. However, you don't have to worry if you get caught up in such a situation. With the query reply guidelines here, you will be in a good position to respond to a query letter comfortably. Meanwhile, if you are absent from work, then you must use this guide on How to Reply to letter of Absent from Workplace.
Understand the Message in the Query letter:
For example, What it is about? Is it about something that you know about or not? If you know about it, was it intentional, or it was beyond you? Try to decipher the tone your boss uses. This will help you know how best to respond to the query letter.
Similarly, try to analyze what you will write remember, your job is at stake for your misconduct. Therefore, try not to use a tone, words, or explanation to give your boss reasons to have a wrong perception of you. If possible, you can write your points down before composing the final draft.
Make sure to use a professional tone when responding to a staff query letter, you must bear in mind that it is strictly official. Therefore, use a professional tone rather than a conversational tone. Also you can check some Interview Mistakes that will cost you your job.
Take Responsibility for your Misconduct:
Nevertheless, even if there is enough evidence to show that you were late for work or absent, do not argue. Showing acceptance of your error will help you avoid conflicts with your employer. Afterwards, go on to explain why you did not to adhere to the regulations of the company. Bear in mind, the goal is to convince your boss to accept the reason for your misconduct. As a result, give valid reasons why you acted the way you did. In the last paragraph, assure your boss that it will never happen again.
Be Specific do not add Unnecessary Information:
In any case, you may want to explain everything in details. The information you give must be brief and do not drift from the main topic. Except you are to respond to several other misconducts at work, then, it can be lengthy. However, replies to query letters are usually short, precise and straight to the point. Also, use correct sentence structure and be grammatically correct. Your boss might not understand your explanation if you submit a poorly written response.
Meanwhile, put to consideration some of the general guidelines to follow on how to reply a query letter:
Respond to the inquiry as soon as possible.
Start with a good note of appreciation.
Take time to understand their inquiry.
Be concise and do not add unnecessary details.
Give a thorough response that answers all their questions.
The conclusion of a query letter should offer your future availability for further inquiries.
This apologetic response to a query letter sample will help you know how to reply a query letter for poor performance or any other misconduct at work.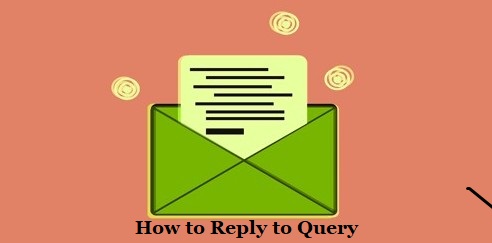 Example of Response to Query Letter for Negligence of Duty
Below is a helpful sample of an apology response to a query letter:
The General Manager,
ABCD Company,
P.O Box 8642 Raspberry Crescent,
Mega City.
Dear sir,
RE: RESPONSE TO YOUR QUERY LETTER FOR NEGLIGENCE OF DUTY ON (DATE)
I acknowledge my misconduct in neglecting my duty on (date) but it was not intentional. As soon as I reported to work, I received a call that my son fell ill and was rushed to hospital. I tried getting permission from the supervising officer, but he was not available in his office at that time. I got in contact with him two hours later after visiting my son from the hospital. Attached is a copy of the hospital admission and discharge letter. Through this organization, I have been in a position to develop my career.
I promise always to carry out the duties assigned to me. Thank you.
Yours faithfully
Jackie Megan.
Example of an Apology Letter for lateness
This is a sample of how to respond to a query for lateness.
The Director,
ABZS Company,
P. O. Box 3428, Yards Avenue,
Iron City.
Dear Sir/Ma,
RE: REPLY TO YOUR QUERY LETTER FOR LATENESS TO WORK
I sincerely apologize for coming in late to the office on (date). This was not intentional, my car broke down on my way to work and I put a call through to my mechanic. He came 15 minutes later than agreed, thus delaying my coming to the warehouse. I was also having issues with my bank, so I went with my wife to negotiate with my Credit Card Company about my Debt Payment. I understand the tenets of professionalism and I put a call through to my supervisor at the time but the call was not picked. This will not repeat itself again. Thank you.
Yours Faithfully,
Tom Shaft.
Example of Response to Query Letter for Misconduct
This is a sample of how to respond to a query for misconduct
The Managing Director,
ABDE Company,
P. O. Box 6532, Tenth Street,
Iron City.
Dear Ma,
RE: Letter of Apology for Misconduct
I sincerely wish to tender my deepest apologies for my unprofessional behavior and gross misconduct on (Date). This is because of the stress I have been through lately at home. I shouldn't have brought my personal issues to my workplace. I am very sorry, and promise it will never happen again. Please kindly forgive my mistake as I will put in my best. Thank you.
Yours Sincerely,
(Sign your signature here)
Sabrina John.
Example of Response to Query Letter for Poor Performance
This is a sample of how to respond to a query for poor performance.
The Supervisor,
Quality Assurance Department
KLM Production Company,
PMB 32, Fortune Boulevard,
DSC County.
Dear Sir,
RE: Letter of Apology for Poor Performance
I want to specially thank you for your resilience and understanding this past weeks. You are aware that I lost my first child. It is clear that my grief has taken a huge toll on me thereby affecting my overall performance at work. I am sorry and promise to put in my best possible to ensure I am back on track. To mitigate this problem, I have placed an ad for Nursery and Nanny staff Needed (for my last daughter) in my Facebook account, to ease the stress on me.
Thank you for support and understanding, I really appreciate it.
Yours Sincerely,
Terry Rogers.
Query Letter FAQs
How do you write a reply to a query letter?
Initially, make sure you understand the content. Thereafter, go straight to the point, carefully refer to the query date. Finally, offer the assurance that you won't repeat the mistake again.
How do I respond to a query letter for misconduct?
Try to make references to the query against you. Go on to explain your situation and sincerely apologize to your boss. See example of letter of misconduct.
How do you respond to a query email?
Always endeavor to understand the request, reply as soon as possible, and don't offer too much-added information.
What is a query letter to an employee?
An employee query letter is a letter given to an employee for deviating from the company policy thereby guilty of committing misconduct.
What makes a great query letter?
As in story-telling, the description of your story is the most critical part. A good and concise explanatory essay is a good query letter.
Similar Posts
Conclusion
If you are still wondering how to reply to a query letter at your workplace, you can refer to the example given above. However, if you are caught up in something really unavoidable, make sure that you communicate as soon as possible to your boss. They are humans too and know that sometimes, some emergencies require urgent intervention, and sometimes they catch you as a surprise.