What do you mean by PayPal business and what is the procedure to open a Business account online? Well, the PayPal business is the same as having a PayPal business account. With a Paypal account you can receive payment securely. You can also send invoices to your clients for payment. Inside the account, you will have access helpful financing from support.
There are a lot of things that you can use the PayPal business for. If you've seen those online stores that use PayPal as a form of payment, then you've seen first-hand of what PayPal business can do.
In this article, I would be showing you how to create a PayPal business account, sign in to your account, and even do a lot of other things. Without much talk, let's dive in.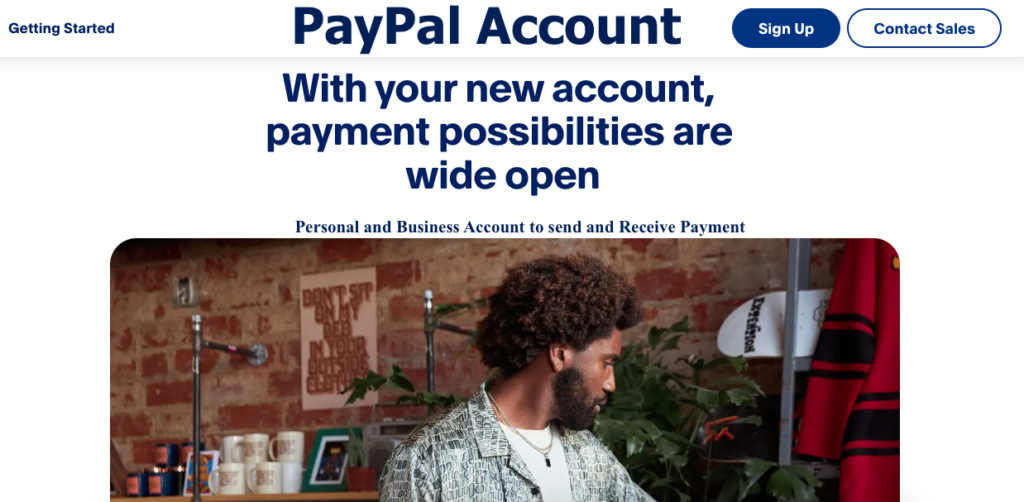 PayPal Holdings Inc. is an American company that operates worldwide they process online payments; allow the sending and receiving of funds in the online world. PayPal can also be linked to your bank account, credit or debit card.
This would allow you to swiftly make payments online or fund your PayPal account with PayPal cash. When you're buying anything online and your PayPal cash is exhausted, funds would be pulled from your card or bank account to complete the transaction.
Similar Posts
Is PayPal Business Free
Like I have said before, the PayPal business account is totally free to create. The PayPal business account is use to send and receive money in any country. You can also access your PayPal business account on any web application. However, in other to collect payments for services rendered or items sold.
PayPal Business Account Requirements
To open a Business account, you'll need to provide the following;
your full legal name in your ID,
personal or company email address,
a password (which must be a minimum of 8 characters),
your tax ID or social security number (SSN),
business description for the account,
and finally your business bank account details.

How to Create a PayPal Business Account
Previously said, this account gives you access to a lot of features. Also, aside from that, a PayPal business account is totally free to open. In this section, I would be showing you the steps to open the account for free. But before you begin, you have to make sure you have an email address as you would be ask to verify your personality. If you have a mail address, follow the steps below to sign up for a PayPal business account.
1. Open Browser: The first step is to launch the web browser of your choice.
2. Click the address bar: and follow this Paypal Account opening address (https://www.paypal.com/us/webapps/mpp/account-selection).
3. Choose Account Type: Then select the "Business Account" option on the form that would be provided for you.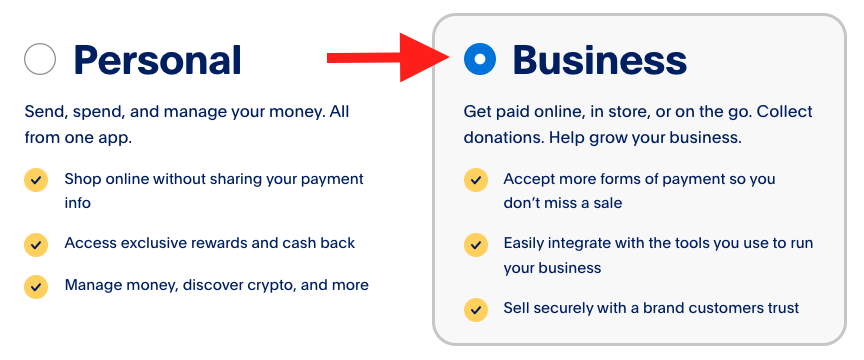 Note: Please make sure that you are not using any VPN as it would affect the nationality that the site would be displayed in. When the site loads, find the "Sign Up" button at the top right corner of the page or the Sign Up link just below the Business Account and click on it.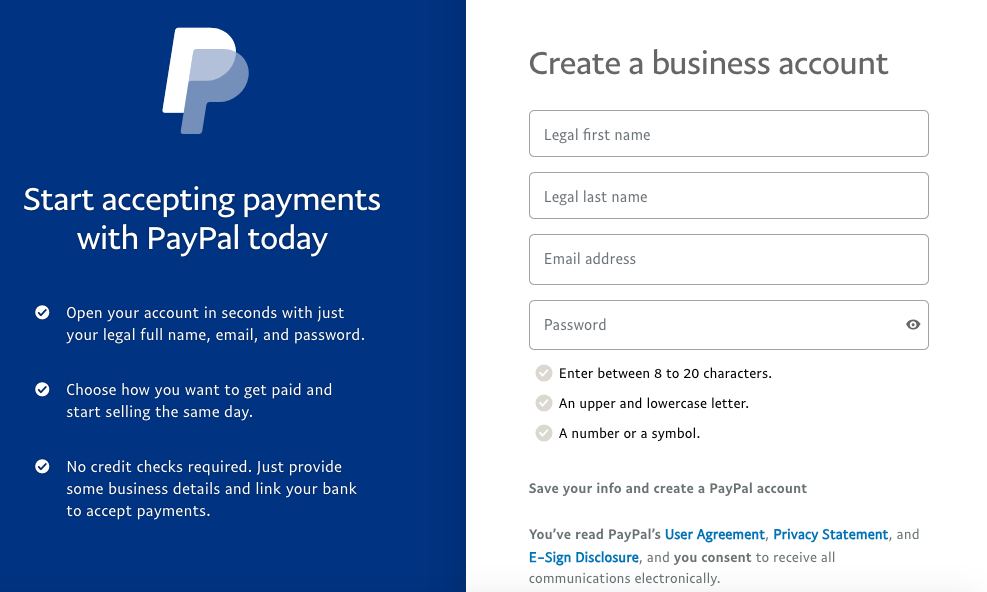 5. Fill Form: Now, fill the form that is presented to you with your biodata.
"This form will ask for information like your country, first name, last name, email address, and you can also create your password on this form".
6. Follow the onscreen Process: When you are through with the form, hit "Next". Also, follow the rest of the on-screen instructions to verify your mobile number and set your account up in no time.
PayPal Sign In for Business Account
Signing in to your PayPal account is one of the simplest things that you can do. All you have to do is follow the steps below;
Launch any web browser you can use on your device.
Access the PayPal website at www.paypal.com.
Find the "Log in" link at the top right corner of the page and click on it.
Enter your existing email address and password on the text field provided.
Hit the "Log In" button below the password field.
PayPal Mobile Sign In for Business Account
Signing in to PayPal on the mobile app is pretty easy. Follow the steps below to do so.
Launch the PayPal mobile app on your device (Android or iOS).
When the app loads, find the "sign-in" button and click it.
Enter your login information on the new page, it will display.
Lastly, Hit the "Sign in" button to sign in to PayPal mobile.
Set up PayPal Account to sell and Receive Payment
Now that you have successfully opened your account and logged in, you can now link your Business account to your e-commerce platforms. Alternatively, you can set up PayPal on your site or in store.
What you'll need to Set up Account to Sell:
Your ecommerce platform of choice
Your blog, website or store
Your fave social media marketplaces
Benefits of a Paypal Account – Personal & Business
You can quickly get paid securely unlike Apple Pay that cannot receive money. Easily send invoices to customers in 2 minutes. You will definitely have access to helpful financing. There is also pore over insights. There's so much more we can do for you like these ones below;
1. Give your sales a boost with Pay Later:
Your customers can pay over time, but you get paid right away. No additional cost for you. No late fees for them.
2. It's your essential checkout solution
It's hassle-free, too. The support upgrade PayPal Checkout on their end so you're always using the latest and greatest.
3. Do it like a pro with invoicing
Landscaping to dance lessons. Wholesale orders to membership dues. Get paid quickly and securely with online invoices.
4. No Cost for Paypal Account Opening
Bear in mind that there's no fee to open a Business account and you pay for sales only when you receive money from a customer. You do not also need to have any specific account balance to open a Paypal account. That is to say; there's no money required to open a PayPal Business account.
Similar Post: