Top 10 Certifications for this year: Your Guide to Up skill This Year!. Information is an area you want to explore, therefore technology welcomes you into a lucrative, rewarding profession. So, obtaining an IT credential is a very sure way to build your career and secure a high paying job.
Also Google Trends shows that between May and October of last year alone, the demand in IT certifications has grown by 40 percent. Let's look at the Highest-Paying IT Certifications Courses for career growth.
Highest Paying IT Certifications | Best IT Certifications | Top 10 Certifications.
Which IT certification is in demand nowadays? Working Safely from Home – Its the Online Security Measures in this Pandemic. Stay safe while you read on…
You can be assured that there are different certifications that will complement your career target. There are different ones to choose from including cybersecurity, web-development or system management. As such, the following article is intended to give you a brief peek at the Top 10 Certifications.
So this new year, let's resolve to upskill ourselves with one of the following certifications:
A List of Top 10 Certifications
Cloud Architect Certifications
Project Management & IT Service Management Certifications
Database Admin Certifications
Digital Marketing Certifications
Network Engineer Certifications
Artificial Intelligence and Machine Learning Engineer Certifications
Top 10 Certifications | Highest Paying IT Certifications | Best IT Certifications
You may also check on for video presentation of the Top 10 Certifications for this year updates, if you are a visual learner!
Some of the Videos you will see online explores the "Best 10 Certifications" list that will help you improve your resume and get a strong pay rise. This are the Best IT Certifications that help you quickly get into high-paying IT work. Without wasting time, let's start-off with the Top 10 Certifications list.
1. Cybersecurity Certifications
Studying online and working remotely is the latest standard as the world struggles with this global pandemic (COVID 19). But because of remote access to IT networks and using communication software on endpoint computers, this carries with it a number of cyber risks. At a moment like this, the unsung heroes are trained technology experts, pivotal to future cyber threats ranging from threat prevention to penetration testing.
Industry recognized Cybersecurity certifications include:
Certified Ethical Hacker (CEH)
CompTIA Security+
Offensive Security Certified Professional (OSCP)
Certified Information Systems Security Professional (CISSP)
Certified Information Security Manager (CISM)
Global Information Assurance Certification (GIAC)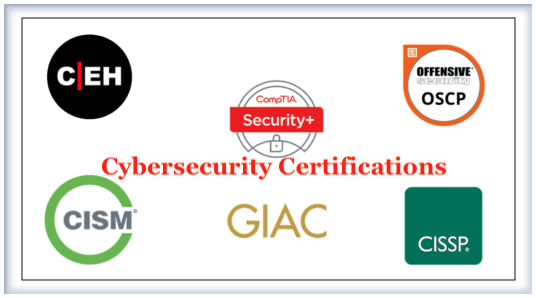 From companies such as FireEye, HackerOne, Societe Generale, Dell and NetApp, professionals in the sector make $215,000 in the US or ₹29,000,000 in India for 1 year. In the same vain, this employment can fetch ₦81,968,750 in Nigeria. Also in the UK, a staff can earn £154,263 annual, while in Canada you can earn up to $271,961 AUD.
2. Cloud Architect Certifications
No other field of IT (information technology) has created as much excitement, attention and investment as cloud computing over the past decade. With public cloud offerings worth $277B, IDC expects a five-year growth rate of 22 percent by next year. For end customers and service providers, as well as organisations of all types, the cloud is becoming a permanent fixture. This gives rise to a lot of demand for trained Cloud Architects and little supply in the industry.
There are various Cloud Architect certifications to bridge the skill-gap of course. Namely:
AWS Certified Solutions Architect
Google Certified Professional Cloud Architect
Microsoft Certified: Microsoft Azure Fundamentals
Advanced Certification in Cloud Computing by E&ICT Academy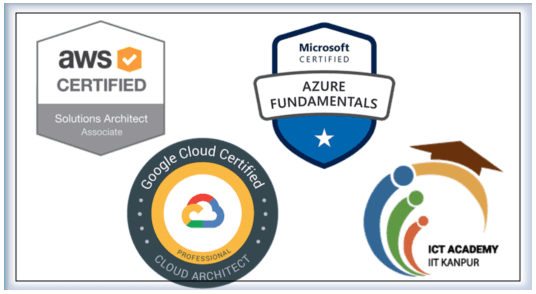 These certifications are targeted at building professionals who can plan, create and maintain stable, safe, flexible and dynamic cloud technologies for land-based companies such as SAP, Deloitte, Seimens and Red Hat for an average salary of $153,000 in the US or ₹30,000,000 in India. If you get a job in Nigeria, you will earn up to ₦58,331,250. For those in the UK, you can catch up to £109,778. While the staffs in Canada may get up to $193,535 AUD.
3. Project Management & IT Service Management Certifications
Economic growth is estimated at 5.4 percent in 2022. Moreover, this will reduce the GDP about 6.5 percent smaller overall than in the pre-pandemic estimates. On the other hand, stakeholders and customers need a trust in this economic desperation that their commodity is in the hands of someone who can show the knowledge and skills to identify, prepare and execute their projects efficiently. And what better way to illustrate this level of excellence than with a certification.
There are a number of Project Management certifications you could pursue:
Project Management Professional (PMP)
PRojects IN Controlled Environments (PRINCE 2)
Certified Scrum Master (CSM)
Information Technology Infrastructure Library (ITIL)
6 Sigma
PMI Agile Certified Practitioner (PMI-ACP)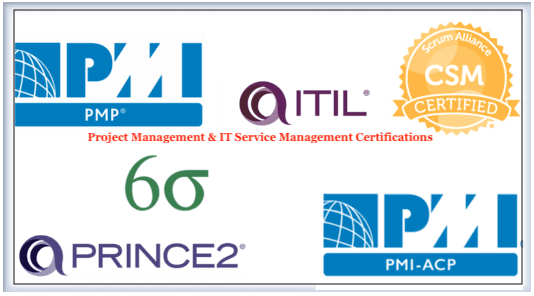 These courses are great and can propel you to grater heights.Not only can it prove your integrity as a manager, but it will also bump up your annual revenue from companies such as Sunsilk, Procter & Gamble, Siemens and Ubisoft to $143,493 in the US or ₹20,000,000 in India. The Canadian worker can earn up to $181,509 AUD. For those that lives in European countries (London for example), will earn up to £102,956 annually. In South Africa, Egypt, Ghana you can more due to their low currency value.
4. DevOps Engineer Certifications
The need for trained DevOps specialists would only grow in the coming years with the increase in demand for accelerated developmental techniques and continuous device deployments. One way for prospective career applicants and workers to confirm and show their expertise and achieve a comparative advantage on others is to receive a DevOps qualification. For Jenkins, Puppet, Docker, Kubernetes, Chef, etc., you can find tool-specific certifications on the market.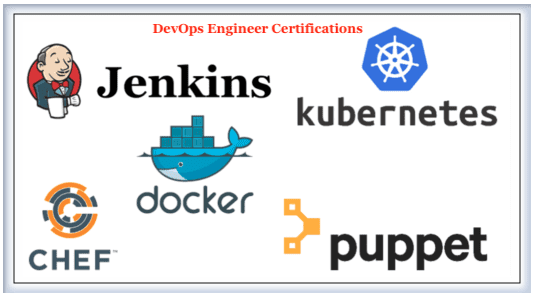 The top DevOps certifications in the market are the following:
Azure DevOps Solutions Certification
AWS DevOps Architect Certification
Edureka's DevOps Engineer Masters Program
The annual wage of multinational companies like Honeywell, CISCO, Wipro, IBM, Dell for a DevOps Engineer goes up to $155,000 in the US or ₹21,000,000 in India. In Nigeria, you can earn up to ₦59,093,750 a year. If you live in the UK, you can make more than £111,213 annually. Up to $196,064 CAD can be earned every year if you live in Canada.
Register Courses for this Year
5. Database Admin Certifications
We've seen a lot of database platforms come and go over the past three decades, but there's never been a doubt that database is a vital factor for all programming duties. Certifications for databases can not be as bleeding-edge as forensics for cloud storage or devices. That said, there are still savvy, skilled and competent database professionals in demand.
A few of the most industry-recognized DBA certifications in the market today are:
IBM Certified Database Administrator
Microsoft SQL Server database certification
Oracle Certified Professional
SAP HANA
Salesforce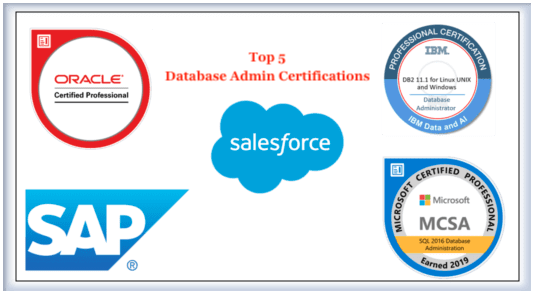 Companies such as Oracle, IBM, Capgemini and Societe Generale pay nearly $113,000 or ₹15,000,000 in the United States.
6. Digital Marketing Certifications
Businesses only prosper because they have buyers who shop, making digital marketing a core component of the activities of every business. The demand for experts skilled in new skills has evolved rapidly as the world of marketing has shifted in the modern age. A Digital Marketing Credential is meant to show your skills in key areas, such as:
Search engine optimization (SEO)
Social Media
Pay-per-Click (PPC)
Conversion Optimization
Web Analytics
Content Marketing
Email and Mobile marketing
Although there are no standard Digital Marketing certification bodies in the industry, the following are the most common ones:
Google Analytics IQ Certification
YouTube Certification
HubSpot Content Marketing Certification
Edureka's PG Certification Program in Marketing with Specialization in Digital Marketing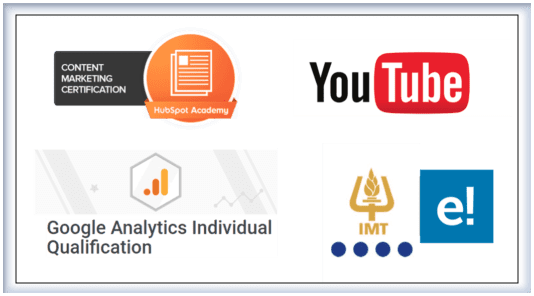 For very secure wages, businesses such as Wipro, Honeywell, Cisco, VMWare hire Digital Marketing Accredited Associates per day.
7. Network Engineer Certifications
Simply put, the following responsibilities include Network Engineering:
Assess, configure and sustain computer hardware components and operating systems
Evaluate and alleviate risk
Analyse and select technologies
Choose a suitable network design
Resolve IT problems
You could learn to do all the aforementioned, through a number of Networking certifications like:
Cisco Certified Network Associate (CCNA)
Cisco Certified Network Professional (CCNP)
Information Systems Audit and Control Association (ISACA)
CompTIA Network+
RedHat Certified Engineer (RHCE)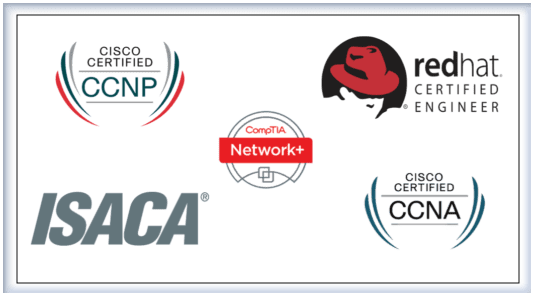 You could land a pretty nice gig once accredited, bringing home an average of $143,000 in the US or ₹14,000,000 in India from businesses such as Cisco, L&T, Accenture, HCL, Tech Mahindra.
With that, on our Top 10 list of Certifications for the year 2021, we move on to the final 3 certifications.
8. Web Development Certifications
It takes a lot of time on both the front end and the back end to create online interfaces for the current generation. This can vary from creating a single static plain text website to dynamic mobile applications, electronic companies, and utilities for social networks. This makes web creation a booming profession, and certifications just improve the chances of snagging those lucrative work offers in this area.
In any programming language, such as Python, Angular, React, Node, HTML, CSS, JavaScript, etc., you could choose to credential yourself or you could opt for any Full-Stack Development Program, which will enable you to create immersive and sensitive web apps using both front-end and back-end technology.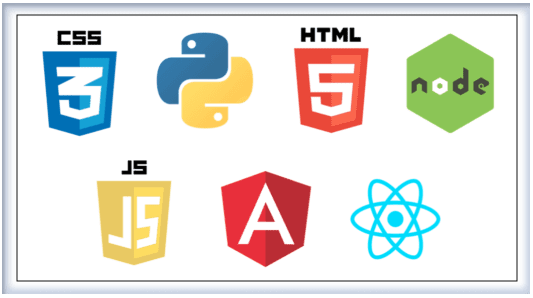 A nice thing about web-dev certifications is that, even though you're a beginner, you may be doing them. Based on experience, expertise and geography, tech giants such as Amazon, Facebook, Ubisoft, and Google recruit developers for salaries up to $170,000 in the US or up to ₹30,00,000 in India.
Trending IT & Business Courses
9. Big Data Engineer Certifications
The work opportunities for Big Data Engineers are greater than ever with the growth of Big Data, Data Processing and Machine Learning technologies in the industry. To bring the architect's Big Data vision and blueprint into a Big Data practise, a Big Data Engineer works closely with the Data Architect and hands-on developers. Big Data is a broad concept that includes many innovations, including HDFS, YARN, MapReduce, Sqoop, etc.
A few popular Big Data Engineer certifications to consider are:
Cloudera Certified Professional
Hortonworks Hadoop Certification
Advanced Executive Program in Big Data Engineering by E&ICT Academy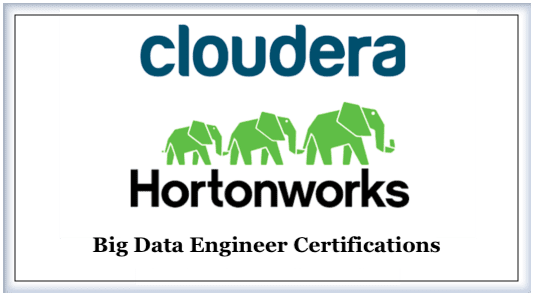 A salary range of up to $150,000 or ₹16,000,000 from retail leaders such as Amazon, Walmart, Societe Generale and JPMorgan is taken home by data engineers.
10. Artificial Intelligence & Machine Learning Engineer Certifications
As people, what makes us special is our capacity to think and shape thoughts & decisions. This helps people to find answers to all of the challenges that we face today. And isn't it a brilliant idea to maintain our brain functions by using a smart computer to deal with monotony for more critical decisions? This makes AI one of the most famous options for your profession. In the previous year, a whopping 344 percent rise in patterns was shown.
Popular AI-ML Engineer Certifications in the category are:
IBM AI Engineering Professional Certificate
Professional ML Engineer Certification by Google
Microsoft Certified: Azure AI Engineer Associate
Post Graduate Diploma in Artificial Intelligence and Machine Learning by E&ICT Academy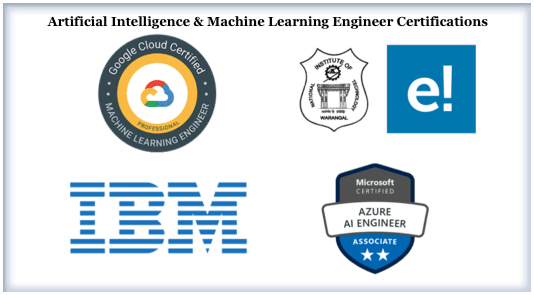 Almost 2 million workers have now been produced by AI and there's still more to come. With salaries totalling $146,000 in the US and ₹16,000,000 in India, multinational players such as Uber, Amazon, PayPal, Instagram, Google and Facebook are recruiting.
Conclusion
In conclusion, the Top 10 Certifications is just like that. I believe you've found this post helpful. Please bookmark this site or subscribe for updates. Stay tuned for the series' forthcoming articles! To get clarity on the profession you want to try, you will also learn more about the top 10 trending technologies and the top 10 best paid jobs positions in the IT landscape.
Top IT Certifications for this Year
Do not hesitate to try out our Top 10 SQL Tech Institutions for Programming.
Do you have any question? In the comments section of this post, please note it and we'll get back to you as soon as possible. Which IT certification is in demand for the year?
Finally, you should apply for our Live Online Credential Training Programs providing 24/7 assistance and lifetime access to the course content to obtain in-depth understanding of any DevOps, Big Data, Cybersecurity, and other trending technologies. The top IT Certifications with Highest Paying Salaries to Propel Your Career Forward.