I want to tell you about TV Spielfilm Film and their amazing internet portal, "tvspielfilm.de." It's a fantastic website where you can find information about a wide range of TV and cinema films, even including exotic pay TV programs and Dutch TV channels. The best part is, it offers a complete TV program guide and daily tips to keep you updated.
The cool thing is that you can register for free on the site and personalize your experience by choosing your favorite TV stations and grouping them into sets of five. This way, you can easily see the daily programs for each group side by side. Plus, the search feature is super handy! If you're looking for specific program formats or film genres, it's got you covered. And guess what? You can even limit the search to your favorite channels.
Oh, and here's something really cool for registered users – you can book programs in advance! You'll also get email notifications a few hours before your chosen program is about to air. How convenient is that? And wait, there's more! If you've reserved a film in the film archive, TV Spielfilm will let you know if it's going to be shown on TV in the next five days, whether it's free or pay TV.
Isn't that just awesome? It's a fantastic way to stay up-to-date and never miss your favorite shows!
What you must know about TV Spielfilm Film
TV Spielfilm has a passion for television and streaming, and it pioneered the segment of fortnightly program guides over three decades ago. The website is www.tvspielfim.de. Throughout the years, it has been known for its competent, critical, and independent program reviews. The website has jobs, Internship, Digital Product Management, TV Feature Film, TV Today & Cinema.
The magazine offers exclusive background stories on films, series, and entertainment across all screens, making it the ultimate guide to linear TV and video on demand.
TV Spielfilm covers a wide range of content, providing orientation in the ever-expanding world of television, including free TV, pay TV, cinema, and streaming platforms.
This guidance is available not only through the classic print magazine but also on the internet, social media, and mobile applications such as the app and podcast.
As a cross-media premium brand, TV Spielfilm, along with TV Spielfilm XXL, TV Spielfilm Streaming, and the media brand TV Today, collectively forms TV Spielfilm Plus, the leading provider of program information.
Through its comprehensive moving image study called "Screens in Motion," TV Spielfilm Plus regularly examines the viewing habits of the German audience on all platforms since 2018.
Twice a year, in collaboration with its sister magazine Cinema, TV Spielfilm publishes detailed information about the latest films and series in the magazine "Stream it!" Moreover, the annual Jupiter Award honors the best films, series, and stars from cinema and TV based on the votes of Cinema and TV Spielfilm readers.
Check This Out Also:
TV Spielfilm Latest Movies and Awards Guide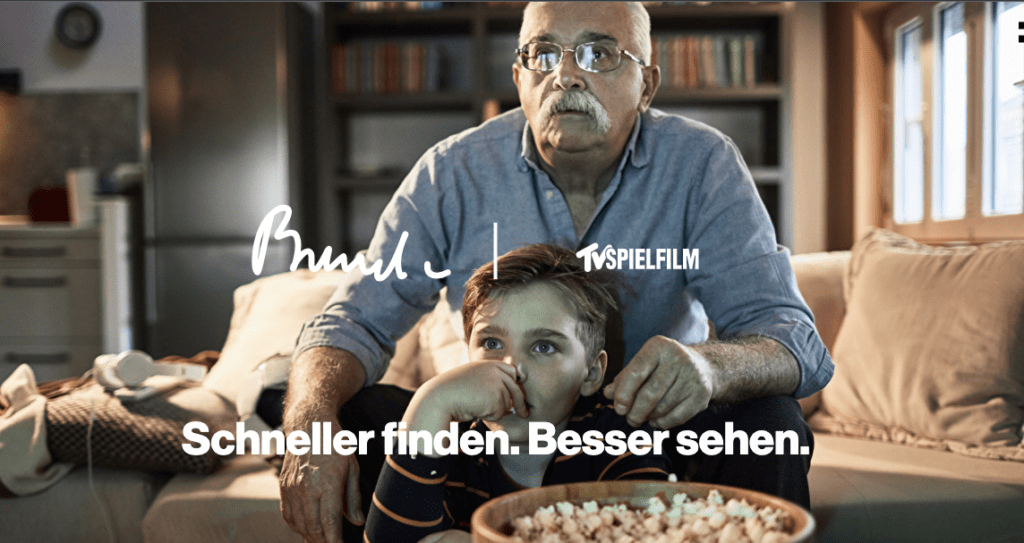 New dual leadership for Burda's Screens title
On May 1st, Oliver Noelle (55) and Lisa Schwarz (30) will take over as editors for Burda's Screens titles Cinema and Stream it!. In addition, Oliver Noelle will be editor-in-chief for TV Spielfilm Plus.
New offshoot TV feature film streaming is coming
The program magazine TV Spielfilm is expanding its product portfolio and is now offering the offshoot TV Spielfilm Streaming in addition to the classic TV Spielfilm and TV Spielfilm XXL
The golden trophies have been awarded
For the 44th time, the TV magazine TV Spielfilm and the film magazine Cinema presented the Jupiter Award to outstanding productions and brilliant acting performances
Special jury prize for Daniel Brühl's directorial debut
After a two-year break, Cinema and TV Spielfilm will once again be presenting the Jupiter Award live on April 27th. One of the winners has already been determined: actor Daniel Brühl can look forward to the special prize from the jury.
New creative agency for TV feature film, cinema and series magazine
The Stuttgart agency Gold & Wirtschaftswunder prevailed in a multi-stage pitch and is the new lead agency for TV Spielfilm, Cinema and the serial magazine.
TVSpielfilm.de Mobile App for Android & iOS
I've got some exciting news about TV Spielfilm's mobile apps! They've got apps for Android, iOS, and Windows Phone, so no matter what kind of device you have, you're covered. And guess what? These apps are not just your regular TV program guides – they also come with daily tips in different categories.
But wait, it gets even better! You can set up notifications for your favorite TV shows, so you'll never miss any of the action. And here's the best part – you can personalize your channel list to match your preferences. No more scrolling through channels you don't care about!
Oh, and don't worry about separate registrations. The app settings are directly linked to your mobile phone, so you can start using them right away. Easy peasy!
Now, if you're using an iPad, you'll notice a slightly different program view compared to other devices. Here, all programs are sorted by time and possibly by the position of the station in your personalized station list.
But here's the cherry on top – these mobile apps are absolutely free! You can enjoy all the amazing features without any cost. Sure, there are ads to support the app, but hey, they're a small price to pay for such a fantastic service. So go ahead, download the app, and have a blast with your TV and entertainment choices!
TVSpielfilm.de official TV Feature XXL
TV Spielfilm XXL is like the bigger sibling of the standard program guide! It comes out at the same time as the regular version but offers even more programs. How cool is that?
This expanded guide doesn't just cover the usual free TV channels; it goes beyond that! It includes digital program bundles from various providers like Sky, Vodafone Kabel Deutschland, Unitymedia, KabelKiosk, T-Home, Arcor, and Alice. So you get access to a whopping 100+ programs in this extended version.
Now, there's one thing to keep in mind. While TV Spielfilm XXL is loaded with lots of programs, it might have fewer feature film ratings for the free TV stations compared to the regular TV feature film version. But hey, with all the extra options and channels, it's still an amazing resource to find what you want to watch.
So if you want an even bigger and better TV guide, TV Spielfilm XXL is the way to go! Enjoy exploring all the exciting programs and shows at your fingertips!
Similar Posts