Netflix Subscribers and paid memberships rose to more than 100,000 in the U.S. and Canada, 1.5 million in the Asia-Pacific region and 640,000 throughout Europe, the Middle East and Africa. According to information from Antenna (data provider), Netflix experienced a significant increase in new subscribers when it implemented the password-sharing clampdown in the US.
The number of new subscribers added during the following four days was the highest recorded since Antenna began tracking data over four years ago.
Moreover, on May 26 and May 27, Netflix gained over 100,000 new subscribers each day in the US. This result surpasses the surge seen during the initial stages of the COVID-19 pandemic. The same cannot be said about one of Netflix competitors SHOWMAX, which is another Free Fun Universe to Watch Movies and Shows Online.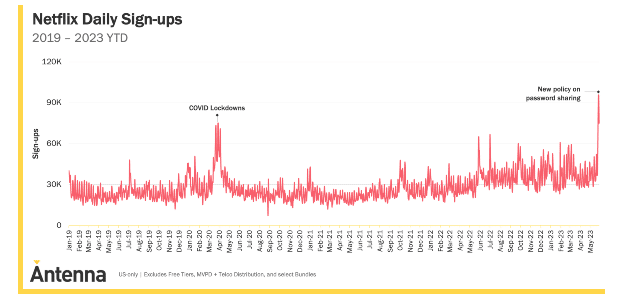 It's important to know that the closure of cinemas and other outdoor entertainment options during the initial lockdowns led many people to turn to streaming services. In 2020, Netflix added 37 million new subscribers, pushing its total paid memberships beyond 200 million.
To provide some context, in 2019, Netflix gained 27.8 million subscribers. However, as lockdowns were gradually lifted, the growth rate of Netflix's subscribers began to decline. In 2021, they added 18.18 million subscribers, and this number further decreased to only 8.9 million in 2022.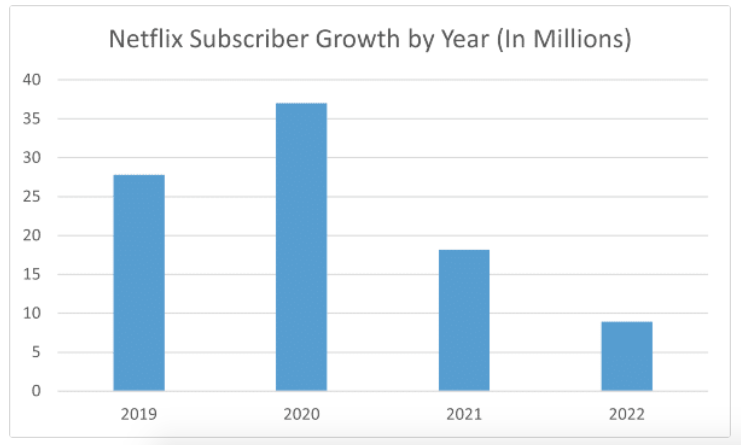 Additionally, last year marked the first time in a decade that Netflix experienced a decline in subscriber count, losing subscribers in both the first and second quarters.
In response to potential market saturation in developed markets, Netflix introduced two key initiatives. Firstly, it launched an ad-supported tier, which represented a notable departure from the company's previous stance against advertising on streaming platforms.
You May Also Like this:
Netflix Company Began the Password Sharing Clampdown Few Month Ago
In addition to launching an ad-supported tier, Netflix also announced its intention to address the issue of password sharing. The company estimated that approximately 100 million households worldwide watch its content through shared passwords, a significant number considering Netflix had just under 231 million paid subscribers by the end of 2022.
Initially, Netflix implemented the password sharing crackdown in Latin America and extended it to Canada in the first quarter of 2023. However, the company acknowledged that this initiative might not be universally popular, stating, "We'll see a bit of a cancel reaction to that."
Netflix compared the potential backlash to the response they receive when they raise prices, expecting an increase in customer churn for a certain period of time.
Netflix's password crackdown is working.

It just led to sign-ups soaring by 102%, peaking at nearly 100K on May 26/27.

Antenna reports it even outperformed the spike during COVID-19 lockdowns.

Sign-ups outpaced cancellations by 26%.

Did you see this coming? $NFLX pic.twitter.com/NPyqVNZ5W6

— App Economy Insights (@EconomyApp) June 9, 2023
Nonetheless, Netflix expressed confidence that despite the initial churn and negative reactions, the number of subscribers would eventually increase. The company cited the example of Canada, where subscriber count actually rose after the implementation of the password-sharing crackdown. Netflix considers Canada to be a "reliable predictor" for the United States, suggesting that a similar trend could be expected there as well.
Over 5 Million Subscribers for NFLX Ad-Supported Tier
In recent news, Netflix disclosed that its ad-supported tier has surpassed 5 million subscribers. Initially, there were concerns in the market about the success of this tier, and reports even surfaced about the company issuing refunds to advertisers due to not meeting minimum viewership targets. However, the ad-supported tier has gained positive traction since then.
JPMorgan, a financial institution, has given Netflix stock a buy rating and holds a bullish outlook on the password-sharing crackdown. NFLX stock has experienced a nearly 40% increase this year, reaching its 52-week highs just last week.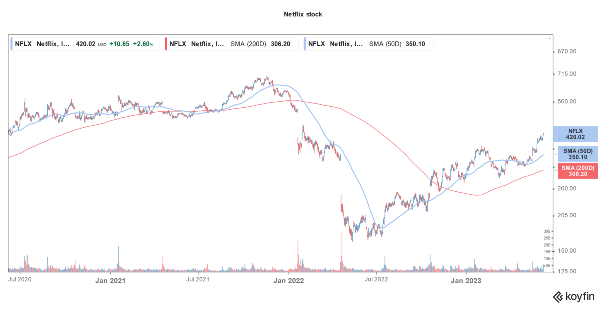 While the overall tech stock market has shown a broad-based rally, investors are particularly impressed with the performance of Netflix's ad-supported tier and the impact of the password-sharing crackdown. Both initiatives are expected to contribute to the company's growth recovery.
It remains to be seen how many additional subscribers Netflix can attract through the password-sharing crackdown. However, the program has had a promising start, as evidenced by the significant rise in US subscribers following its implementation.
Similar Guides to Netflix Subscribers: