For sports enthusiasts, FuboTV could be the ideal solution to your cord-cutting aspirations. So, what exactly is FuboTV? It's a live streaming service primarily dedicated to sports-focused live TV, offering a pathway to completely break free from traditional cable subscriptions. FuboTV is gaining significant popularity and currently holds the fourth position in the United States with approximately 1.17 million subscribers.
FuboTV's pricing, plans, and channel offerings are impressively competitive, even when compared to services much larger in scale. The streaming landscape is characterized by variety, providing consumers with multiple choices. However, this abundance of options can also make it challenging to distinguish between services like FuboTV, Hulu With Live TV, and YouTube TV. What sets one apart from the others?
In this guide, I will talk about FuboTV's channel lineup, pricing structure, and other distinctive features that define its identity. By doing so, you'll know what makes FuboTV a compelling and best choice for viewers in 2023 & 2024.
FuboTV Price and Plans (4 Types)
FuboTV offers four different plans, each with different channel options and pricing: Fubo Pro, Fubo Elite, Fubo Ultimate, and Fubo Latino — that range in price from $70 per month to $100 per month.
1. Fubo Pro:
This is the base plan, priced at $75 per month, and provides access to 168 channels. Subscribers get 1,000 hours of cloud-based DVR storage and the ability to watch on up to 10 screens at home and two away from home.
2. Fubo Elite:
Priced at $85 per month, this plan includes 204 channels, with 130+ events available in 4K. It also incorporates an additional 61 channels from the Fubo Extra plan and another dozen from News Plus. Like the Pro plan, it offers 1,000 hours of DVR storage and supports 10 screens at home and two on the go.
3. Fubo Ultimate:
At $100 per month, this plan provides access to 283 channels, including 4K events. It includes the same extra channels as the Elite plan (61 from Fubo Extra and 12 from News Plus), along with Showtime and Sports Plus with NFL RedZone (24 channels). It offers 1,000 hours of cloud-based DVR storage and supports 10 unlimited screens at home and two away from home.
F4. ubo Latino:
This plan costs $33 per month and offers 45 channels of Latino-themed content. Subscribers get a cloud DVR with 250 hours of storage but can only watch on two screens simultaneously.
All of these plans come with a free seven-day trial, and you have the option to pay either monthly or quarterly. Please note that there are no discounts for choosing the quarterly payment option.
Editors' Recommendations
FuboTV List of Channels
FuboTV offers a competitive selection of channels, including local broadcast affiliates, though channel availability may vary by location. Here's a breakdown of the channels you can expect to find on FuboTV's Fubo Pro plan, which is the new base plan:
A&E
ABC
ABC News Live
ACC Network
AccuWeather
American Heroes Channel
Animal Planet
beIN SPORTS (Multiple channels)
BET (Multiple channels)
Big Ten Network
Bravo
CBS
CBS Sports Network
CBSN
Cheddar
CMT
CNBC
CNBC World
Comedy Central
Comet
Cooking Channel
Cozi TV
Destination America
Discovery (Multiple channels)
Disney Channel (and related channels)
DIY Network
E!
ESPN (Multiple channels)
ESPNews
ESPNU
Estrella TV
Food Network
Fox
Fox Business
Fox News
Freeform
FS1
FS2
Fubo Movie Network
Fubo Sports Network (Multiple channels)
Fuse
FX (and related channels)
FYI
Galavision
Game Show Network
getTV
GINX Esports
Golf Channel
Great American Country
Hallmark Channel (and related channels)
HGTV
History Channel
INSP
Investigation Discovery
Law & Crime Network
Lifetime (and related channels)
Local Now
Logo
LX TV
MLB Network
MotorTrend
MSNBC
MTV (Multiple channels)
Nat Geo Wild
National Geographic
NBA TV
NBC (and related channels)
NBC News Now
NBCSN
Newsmax
Newsy
NFL Network
NHL Network
Nick Jr.
Nick Music
Nick Toons
Nickelodeon
Olympic Channel
OWN
Oxygen
Pac-12 Network
Paramount
People TV
Pop TV
Revolt TV
Science Channel
SEC Network
Smithsonian Channel
Sony Movie Channel
Stadium (Multiple channels)
Syfy
Tastemade
TeenNick
Telemundo
Tennis Channel
The CW
The Weather Channel
TLC
Travel Channel
TUDN (Multiple channels)
TV Land
TVG
UniMás
Universal Kids
Universo
Univision
USA
VH1
Vice
WGN
Zona Futbol
Additionally, there are local channels available in different areas. Therefore, you can check the FuboTV website for the most up-to-date channel listings in your locality.
The Fubo Extra package includes an additional 47 channels, which expand the channel lineup further. Some of the notable channels in this package include NBA TV, NHL Network, MLB Network, and more. Please note that channel availability may be different depending on your current location.
Other FuboTV add-ons
FuboTV offers a variety of add-on packages to customize your channel lineup based on your preferences. Here are some of the premium movie options and additional sports and news packages available:
Premium Movie Options:
Showtime: $11 per month
Starz: $9 per month
Epix: $6 per month
Pantaya: $6 per month
Showtime, Starz, and Epix bundled together: $20 per month (savings of $6 per month)
Sports and News Packages:
Sports Plus with NFL RedZone: $11 per month

Includes NFL RedZone, NBA TV, NHL Network, MLB Network, MLB Strike Zone, Stadium, Tennis Channel, Zona Futbol, ESPNU, PAC-12 Networks, ESPNews, VSIN, Game Plus, Fight Network, and TVG2.

International Sports Plus: $7 per month

Ideal for international sports fans, featuring Fubo Latino Network, Fox Deportes, Zona Futbol, ESPN HD Deportes, GolTV English, GolTV Spanish, TyC Sports, Fox Soccer Plus, Tico Sports, NXTLVL Sports, and Real Madrid TV.

Adventure Plus: $5 per month

For outdoor enthusiasts, includes Outdoor Channel, Sportsman Channel, World Fishing Network, Outside TV, MAV TV, and Insight TV.

News Plus: $3 per month

Includes i24 News, NewsNet, BBC World News, Law & Crime, Africa News, Ticker News, Bloomberg TV+, Cheddar News, CNBC World, and Euro News.

NBA League Pass: $15 per month

Allows you to watch up to 40 out-of-market NBA games each week.

Sports Lite: $10 per month

Additional sports channels, including NBA TV, MLB Network, NHL Network, Tennis Channel, SEC Network, ACC Network, ESPNU, and ESPNews.

Latino Plus: $20 per month

Offers the best of Spanish-language live sports, including Fox Deportes, Zona Futbol, ESPN HD Deportes, GolTV Spanish, TyC Sports, Sony Cine, El Gourmet, Nat Geo Mundo, Nuestra Tele, Telefe, Familia Discovery, Discovery en Español, tr3s, Baby TV, WAPA America, Cine Latino, Television Dominicana, CATV, and Passions.

TV5Monde: $10 per month

Provides French content, including live Ligue 1 football, Rugby Top 14, films, news, and more, with on-demand content.

Portuguese Plus: $15 per month

Offers Portuguese-language news and sports, including GolTV Spanish, Benfica TV, RTP Acores, RTP 3, and RTP Internacional.

FOX Nation ($6): This package covers all things related to Fox News and includes access to a library of over 180 shows, along with thousands of original shows, series, and exclusive content.
RAI Italia ($9): This package offers coverage of the Italian Coppa Italia and related programming.
Entretenimiento Plus ($10): This package provides access to music and movies from Spain, Mexico, and various other countries.
FuboTV and 4K
FuboTV used to be the exclusive live TV streaming service in the U.S. offering limited 4K content, mainly focused on live sports (though it's upscaled 4K, not native 4K). However, the availability of 4K content on FuboTV has become more limited, with only a few events in 4K per day. This change occurred in 2022, and FuboTV no longer provides 4K content for free on the Pro plan.
Now, if you want access to 4K content on FuboTV, you'll need to subscribe to the Elite package, priced at $80 a month. This is still more affordable than the $85 monthly cost of 4K content on YouTube TV (which includes the base plan and the 4K Plus package priced at $20 per month).
Keep in mind that to enjoy 4K content, you'll need a television with a 4K panel, and the device you're using to stream FuboTV must also support 4K resolution.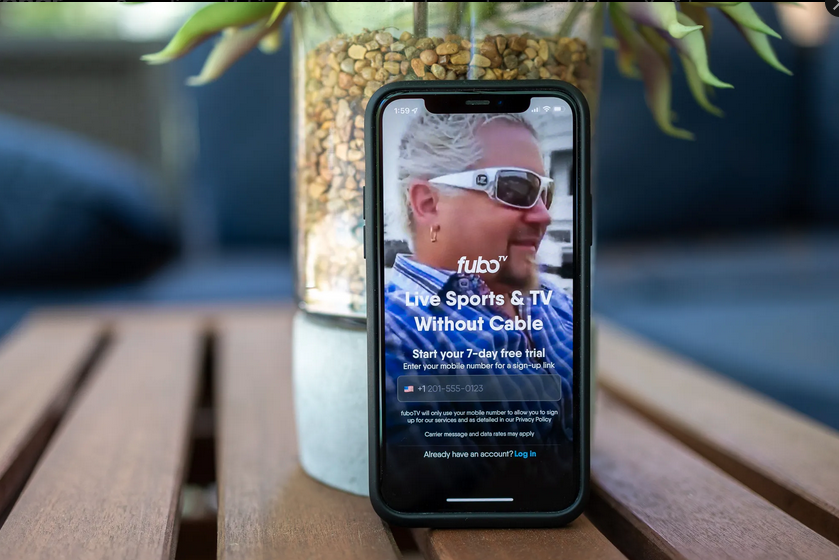 FuboTV devices
FuboTV is accessible on a wide range of devices and platforms. Here's a breakdown of where you can find the FuboTV app:
Amazon Fire TV: Compatible with all Fire TV devices and Fire TV Edition TVs.
Android TV/Google TV: Supported on devices like Nvidia Shield and Chromecast with Google TV, as well as TVs with Android TV as the operating system.
Apple TV: Available on the fourth-generation Apple TV and newer models.
Android phones/tablets: Compatible with Android devices running version 5.0 or higher.
Roku: Supported on Roku devices from Model 3700X and up.
Xbox: Compatible with Xbox One, One S, and One X.
Smart TVs: FuboTV can be used on Vizio TVs from 2016, Samsung TVs from 2015, LG TVs from 2018, and Hisense TVs from 2020.
iOS/iPad OS: Accessible on devices running iOS 13 and higher, as well as iPad OS 13.1 and higher.
Web browsers: You can use FuboTV on Chrome, Microsoft Edge, Firefox, and Safari web browsers.
With such extensive device compatibility, FuboTV offers flexibility in how and where you can watch your favorite content.
Recommended Topics