What is Apple Pay, how does it work for payment, and how do you set it up? The things you need to know about Apple Pay, which includes how it works, how to set it up, which banks support it and where you can use it.
Apple Pay is a contactless payment technology for Apple devices. It was designed to move consumers away from physical wallets into a world where you no longer use your credit and debit card as it has been made available in your phones and Apple Watch that allows you pay, using your device instead of a card.
Everything you need to know about Apple Pay, including how it works, how to set it up ,also which banks support it and where you can use it. Meanwhile, you can see my previous post on How to Borrow Money with Instant Cash Advance from your Credit Card.
Banks and cards that support Apple pay.
Most major credit and debit card provider that includes Visa, MasterCard and American Express, are all supported by Apple Pay. supports most major credit and debit cards providers including Visa, MasterCard and American Express. Apple's Apple Card is also supported, unsurprisingly. You can see more details on Cash Back Credit Cards: Types, Comparison, Rewards, Pros and Cons.
You need a participating bank but also most major banks support Apple Pay now. you can search the complete list of all banks supported in each country on this website.
Does Apple Pay work with US Federal Payment cards?
The answer is Yes, Apple's mobile-payment system does work with federal-payment cards that includes, Social Security and veterans benefits that are paid through debit cards.
This includes the Direct Express payment network and government cards issued through GSA SmartPay. Apple Pay is furthermore supported by transactions with the federal government ,which means that you can use Apple Pay to buy tickets and gift shop items at national parks, etc.
Read also: Does Home Depot in-store Payment Options include Apple Pay?
In which Location can Apple Pay be used?
Apple Pay works anywhere that accepts contactless payments. If you see the contactless payments symbol or the Apple Pay symbol near readers at the checkout, they will accept Apple Pay.
This is supported by hundreds of thousands of stores and restaurants worldwide. Over 75 per cent of stores and restaurants in the US support Apple Pay and over 85 per cent in the UK. Australia has support in 99 per cent of its stores and restaurants.
A few of the US stores and restaurants that accept Apple Pay include: Bloomingdales, Disney, Duane Reade, Macy's, McDonalds, Nike, Petco, Staples, Subway, Unleashed, Walgreens, Whole Foods, etc.
The UK has an established contactless payment system and you'll be able to use Apple pay at all of the stores and restaurants you already use contactless at.
You can also access Apple Pay within many apps and through the Safari web browser, as well as on public transport and at some non-profit organizations like Cancer Research UK, RSPCA, Water Aid and WWF, among others.
Is Apple Pay limited?
The answer is No, unlike contactless card payments that limit you to a £100 spend, there is no limit for Apple Pay.
This means you can pay for your weekly shop, or fill your car up with fuel, all with your iPhone or Apple Watch.
Which Apps support Apple Pay?
Numerous apps support Apple Pay, spanning travel apps, shopping apps, entertainment apps and service apps.
Here are few of the apps that support Apple Pay: Adidas, Bloom & Wild, Starbucks, Deliveroo, Apple Store, Topshop, Zara, ASOS, Uber, British Airways, Booking.com, Emirates, StubHub, DesignMyNight, Made.com.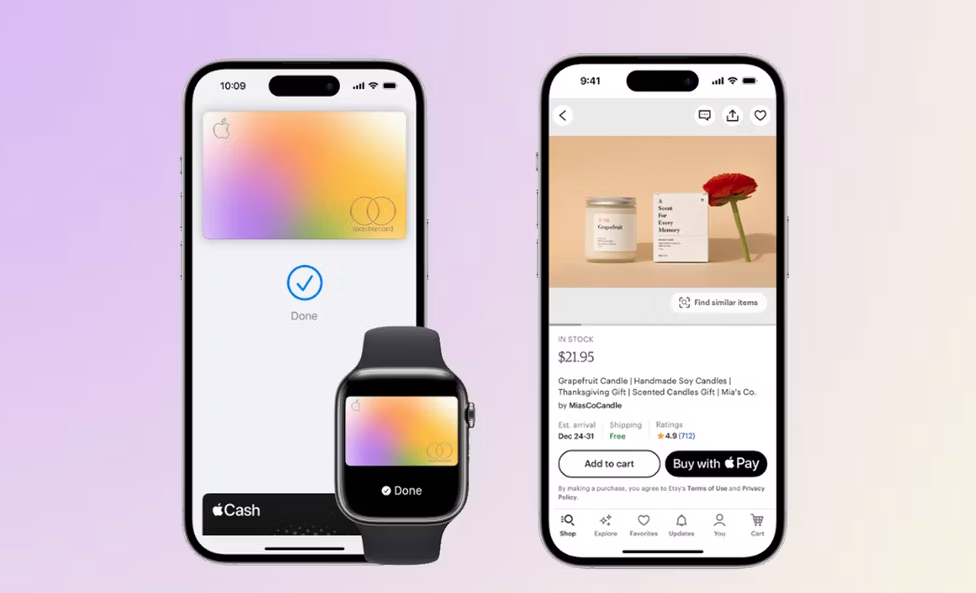 Apple Pay setup on an iPhone or iPad
You need to use the Apple Wallet app to setup Apple Pay on your iPhone or iPad. The Apple Wallet will then store your credit cards and debit cards, pulling the data when you authenticate Apple Pay to pay for goods.
On your iPhone, open Wallet. On your iPad, go to Settings > Wallet & Apple Pay. Tap Add Credit or Debit Card or the "+" in the top right corner and hit "Continue". You can use your device's camera to capture the information on your credit, debit, or store card. Then fill in any additional information needed.
Your bank will verify your information. You may need to provide additional verification which can mean you have to phone your bank, or you may receive a text message with a unique code that you'll need to enter. The process changes depending on the bank.
After your card is verified, tap next, and then you can start using Apple Pay.
How to set up Apple Pay on Apple Watch
To setup Apple Pay on the Apple Watch, you'll first need to open the Watch app on your iPhone .And make sure you're in My Watch tab (bottom left) > Scroll down to Wallet & Apple Pay > Tap Add Card.
Like on the iPhone, your bank will verify your information. You may need to provide additional verification again. You'll receive a notification on your Apple Watch that your card is ready for Apple Pay.
What is Express Travel Card?
Apple Pay furthermore offers an Express Travel Card feature, which allows you to select a card you have setup to work automatically when you are near a supported public transport reader.
Whichever card you choose will be used to pay for your travel without you having to double tap the side button or home button on an iPhone or Apple Watch.
How do you use Apple Pay on iPhone?
Apple Pay requires the Near Field Communication (NFC) antenna and Touch ID or Face ID on iPhone 6 and later. It will depend on which iPhone you have as to how you launch Apple Pay. Each transaction has to be authorized by either Touch ID, Face ID or your pass code.
For iPhones with Touch ID, double tap the Touch ID home button and keep your finger on it until your screen says "Hold Near Reader". If your fingerprint isn't recognized, you can choose the "Pay with Pass code" option.
For iPhones with Face ID, double press the sleep/wake button on the right-hand side of your iPhone to launch Apple Pay. Authorization will then take place through Face ID, or you can choose the "Pay with Pass code" option if your face isn't recognized. Once authorized, your screen will again say "Hold Near Reader".
Once your iPhone says hold near reader, you can just place your iPhone near a contactless terminal and a subtle vibration or a ping if your phone isn't on silent confirms payment. A receipt is recorded in the Wallet app so that all you latest transaction can be seen. There's no need to open an app or wake your iPhone's display to launch Apple Pay, no matter which iPhone model you have.
How to use Apple Pay with Watch
To launch Apple Pay on your Apple Watch, double-click the button next to the Digital Crown. Your default payment card will appear on your Apple Watch screen with "Hold Near Reader to Pay" below, after which you can place your watch up to the payment terminal and a pulse and beep will confirm that your payment has gone through.
Swiping right to left on your Apple Watch display will present any other cards you have registered.
How to change your default card on Apple Pay
If you want to change your default card on Apple Pay, head to the Settings app on your iPhone and scroll down to Wallet & Apple Pay. On this screen, you will see a list of settings under the header "Transaction Defaults".
The first setting is "Default Card". Click on this and you can choose which card you want to select as your default Apple Pay card, though it is easy enough to switch between them when you launch Apple Pay.
How to use Apple Pay within Apps
Apple iPhone apps also work with Apple Pay, meaning you will be able to select Apple Pay at checkout when ordering anything from an app. Also, you still need to place your finger on Touch ID, or use Face ID, when paying.
You can also use Apple Pay via the Safari browser. You can either use Touch ID if you have a supporting MacBook model or pay via your iOS device.
To use Apple Pay on a Mac that doesn't have Touch ID and confirm the payment through your iPhone, head to Settings > Wallet & Apple Pay > Toggle on Allow Payments on Mac at the bottom of the display.
Where is Apple Pay available?
Apple Pay is available in over 75 countries. These include the US, UK, Canada, Australia, the UAE, Russia, China, New Zealand, Singapore, Japan, Taiwan and Hong Kong as well as numerous other countries.
You can view the full list of countries here.
Which devices work with Apple Pay?
Apple Pay works with the following Apple devices:
Apple iPhone 6 or iPhone 6 Plus and newer models
Apple iPad Pro, iPad Air 2 and iPad mini 3 and newer
Apple Watch Series 1 and newer (when paired with iPhone 5 or newer)
Is Apple Pay secure?
Yes. Apple said it doesn't save your transaction information or card numbers on its servers, though your most recent purchases are kept in the Wallet app.
Apple Pay, which has a tokenized backend infrastructure, makes card payments secure by creating a number or token that replaces your card details. More specifically, it creates a Device Account Number for each one of your cards.
According to Apple, the Device Account Number is assigned, encrypted, and securely stored in the Secure Element, a dedicated chip in iPhone and Apple Watch, and when a payment is initiated, the token is passed to the retailer or merchant. The retailer or merchant therefore never has direct access to your card details.
What if you lose your iPhone or Watch?
Losing your iPhone or Watch is stressful enough, but with Apple Pay, the chances of that happening just got a lot more frightening.
Q&A:
As every Apple Pay transaction has to be authorized by eithe your fingerprint, face or passcode, whoever finds your iPhone will not have access to pay for anything unless they have your passcode. They will be able to see your billing address and the last four digits of your stored cards, but no more information than that.
Find My App can be used from another iOS device to put your device in Lost Mode. This will lock everything and prevent others from accessing your content including Apple Pay or Wallet data. You can also use the Find My app to wipe your iPhone clean completely.
Similar Posts