A Freedom Mortgage Loan is a type of loan that gives you the freedom to buy a house or refinance your existing mortgage. It provides financial assistance to help you achieve your homeownership goals.
With a Freedom Mortgage Loan, you have the flexibility to choose the terms and conditions that work best for you. It's important to carefully understand the terms and requirements of the loan before making any commitments.
Freedom Mortgage overview
Freedom Mortgage is a lender based in Boca Raton, Florida that offers different types of loans to buy or refinance homes. They provide services across the United States, including Washington, D.C., Puerto Rico, and the U.S. Virgin Islands.
They specialize in loans backed by the U.S. Department of Veterans Affairs (VA) and the Federal Housing Administration (FHA). Some borrowers choose Freedom Mortgage because of their "Purchase Promise," which includes guarantees for matching rates and smooth closing processes.
They also offer savings programs through partnerships with other companies. However, it's worth noting that their customer service ratings have been consistently low, even though they ranked as the fifth-largest VA lender and the 21st-largest mortgage lender overall in 2022 according to federal data.
Current Mortgage Rates for July 11, 2023
Carefully explore rates from multiple lenders to learn what is available to you
Pros and cons of Freedom Mortgage
Pros
First-time homebuyer programs available (conventional, FHA and VA)
Cons
Online information about loan costs is limited
No home equity loans
Poor marks for customer service
How to Score Freedom Mortgage Loan
The Freedom Mortgage Loan Score is determined by a team of experts who rate it and other lenders on a scale from one to five stars. Normally, they consider various factors related to the lender's products and services.
To calculate the overall score, the team take into account three main factors which are as follows.
1. Affordability
One major advantage of working with Freedom Mortgage Loan is that if you apply for a loan with them, they will notify you about any improved deals that become available.
2. Availability
Freedom Mortgage Loan operates across the entire United States, providing a variety of loan products. They specialize in FHA and VA loans, offering these specific types of loans to borrowers.
3. Borrower experience
This lender has received attention for regulatory violations in the past, which have made headlines. Customers who have reviewed the lender on the Better Business Bureau website generally rate it somewhere in the middle compared to other lenders..
Affordability: 3.5/5
Affordability can vary among different lenders, so it's important to compare costs. While Freedom Mortgage's website does not provide a way to view current mortgage rates, they do offer the option to sign up for rate alerts. This allows you to stay informed about the latest deals and see the most up-to-date mortgage rates.
Availability: 5/5
The overall mortgage application process can be affected by various factors, including the lender you choose. Freedom Mortgage Loan offers both conventional loans and government-insured loans, making it a versatile option. They also provide opportunities for refinancing existing mortgages.
Another advantage is their willingness to work with borrowers who have lower credit scores and down payments. Freedom Mortgage Loan operates throughout the country and in most U.S. territories, providing nationwide coverage.
Borrower experience: 2.7/5
When working with Freedom Mortgage, it's important to be aware of certain aspects. As a prominent mortgage originator with a substantial loan funding record of over $500 billion, Freedom Mortgage holds accreditation from the Better Business Bureau and has received an A+ rating from them.
However, it's worth noting that the lender's Trustpilot score is low at 1.3, indicating a "Bad" rating, and it ranked last in customer satisfaction among large lenders in the 2022 J.D. Power mortgage originator survey.
Additionally, Freedom Mortgage has faced regulatory issues in recent years and has incurred significant fines in 2016 and 2019 due to various violations. However, in terms of the application process, the lender generally provides loan decisions within 24 hours and is capable of closing on a home purchase in less than 30 days.
On their website, Freedom Mortgage offers helpful tools such as a mortgage calculator and basic information about homebuying to assist borrowers. It's important to consider these factors and conduct thorough research before deciding to work with Freedom Mortgage.
How to apply for a mortgage with Freedom Mortgage
You can apply for a purchase loan or a refinance with Freedom Mortgage in person at a branch, by phone or via the lender's website. Here are some tips to prepare for the process:
1. Check your credit report
Checking your credit report before your lender does is important because it allows you to identify and correct any errors that could potentially affect not only your preapproval but also your eligibility for the most favorable mortgage rates. Being aware of your credit score also helps in determining the type of loan that suits you best.
For instance, if your score is in the very low 600s, an FHA mortgage might be a more suitable option as its eligibility criteria are generally more forgiving compared to conventional loans. Meanwhile, you can use this step by step guide to increase your credit score.
Generally, by regularly checking your credit report and understanding your credit score, you can make informed decisions about the type of loan that aligns with your financial situation. See the importance of regularly checking your credit score.
2. Gather personal and financial documents
When applying for a mortgage with any lender, it is important to provide documentation related to your income, assets, and debts. This typically includes items such as pay stubs, W-2 forms, as well as statements for your accounts and loans..
3. Provide details about the property
When applying for a mortgage, you'll have to give the address of the home and get it appraised. If you're refinancing, you may or may not require an appraisal.
Refinancing with Freedom Mortgage Loan
Freedom Mortgage offers assistance in refinancing your current home loan. Before proceeding with a refinance, it's important to consider your goals. Are you looking to adjust the interest rate and term of your current mortgage?
Can you potentially obtain a lower interest rate? Are you interested in accessing your home equity? Do you wish to switch loan programs, like moving from an FHA loan to a conventional mortgage?
Once you have established your goals, the loan officers at Freedom Mortgage can guide you in choosing the appropriate refinance product that aligns with your needs.
Frequently asked questions about Freedom Mortgage Loan
What is the Freedom Mortgage Loan Eagle Eye program?
If you're interested in a Freedom Mortgage loan, you can sign up for "Eagle Eye" alerts via text in order to be notified when interest rates go down or better offers become available.
What is Freedom Mortgage Loan Purchase Promise and who is eligible?
This promotion from Freedom Mortgage guarantees that if your purchase loan doesn't close by the closing date in your contract, the lender will pay you $1,000. The Purchase Promise doesn't apply to jumbo loans or loans that include down payment assistance, and it's not available on refinances.
Compare Freedom Mortgage Loan to other lenders
| Freedom Mortgage Rating: 3.7 stars out of 53.7Bankrate Score | USA Rating: 4.6 stars out of 54.6 Score | Navy Federal Credit Union Rating: 5 stars out of 55.0 Score |
| --- | --- | --- |
| Loans offered Conventional, jumbo, FHA, VA, USDA; refinancing; investment property | Loans offered Conventional, jumbo, VA, fixed-rate; refinancing | Loans offered Conventional, jumbo, VA, Military Choice, Homebuyers Choice, refinancing |
| Min. credit score required620 for conventional loans, 550 for FHA loans, 580 for VA loans | Min. credit score required640 for VA loans | Min. credit score required Undisclosed |
| Down payment3% for conventional loans; 3.5% for FHA loans; none for VA loans and USDA loans | Down payment None for VA loans | Down payment3% for conventional conforming loans, none for VA loans |
| Nationwide availability All U.S. states | Nationwide availability Available in all states | Nationwide availability Available in all U.S. states |
Current Mortgage Loan Rates for July 11, 2023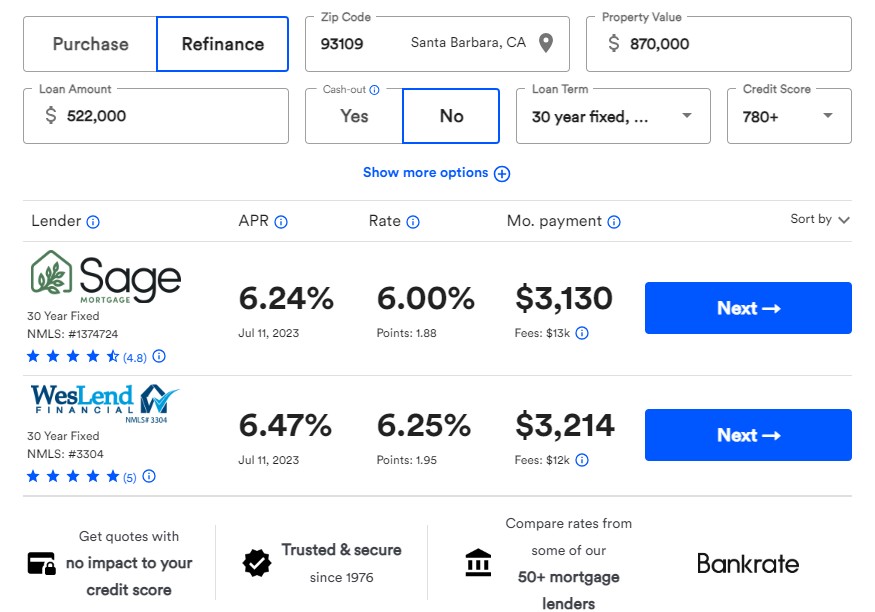 Conclusion
Freedom Mortgage is a national lender that offers a range of loan options, including conventional, FHA, and VA loans. They provide the convenience of online tools for loan applications and account management.
However, it's important to consider some factors before choosing Freedom Mortgage. While they have experienced regulatory issues and mixed customer reviews, they do offer the benefit of alerting you to better deals.
Read Also: