Do you want to know how you can earn money from TikTok, Are you a social media [TikTok] fanatic and you still do not make money online, this article provides you with some of the tips you need to know on how to make money from TikTok. TikTok is a popular and most used social media platform in the world. This platform has about a billion followers. The fact that it has many users and followers makes it a green field to earn money in this year.
How to Earn Money from TikTok
TikTok is a popular social media app for creating, sharing, and discovering short videos such as dance, music, comedy, and entertainment. These social media app is also known to being the first non-Facebook app to reach 3 billion installs. It's now among the top five fastest-growing apps, and its aim is to inspire creativity and bring joy.
How TikTok Works
Anyone with a TikTok Account can create short video content such as songs, jokes, and dances. TikTok offers a wide variety of filters, visual effects, stickers, and other video editing tools to create engaging content. The more time you spend creating quality content, the more likely your videos will go viral.
TikTok also has a page called "for you page" (Fyp). Every time you open the TikTok app that is the first page you will see, it reviews content from users you follow and other content you might be interested in.
How to Earn Money on TikTok
There are many ways you can earn money on TikTok
Making money directly on TikTok is not easy because you must be 18 or older and as well have at least 10,000 followers and 100,000 views within 30 days. By creating engaging content, participating in challenges, and making video duets, you can qualify to get paid on TikTok.Some other ways to earn on TikTok are listed and explained below.
Join the TikTok Creators Fund
TikTok Creator Fund is a platform or initiative created by TikTok to reward dedicated users of the platform. This plan only rewards users who post content that is been created by them It's a way to encourage the best and brightest TikTokers to keep sharing videos.
How to Earn money from TikTok Creator Fund
You can start earning from TikTok Creator Fund by doing the following;
Have at least 10,000 followers or more.
If you are 18 years of age or older
If you have at least 100,000 videos in the last 30 days.
Also note that you must be from the US, UK, Germany, Italy, France, or Spain and must have a PRO account to participate in the TikTok creator fund.
Advertise and sell your products on Tiktok
Marketing your products to your followers is another way to make money on TikTok. Make sure you showcase your products in the best possible way. Don't forget to include a link to your store in your video.
How to go live and collect gifts on Tiktok
There is a feature on TikTok called Coins. Your followers may want to appreciate and support you during TikTok live by sending gifts and coins.
Gifts can be exchanged for diamonds. When you save a lot of diamonds, you can exchange them for good money.
Become An Influencer On Tiktok
By increasing the number of followers, you have on your account; you can become a TikTok influencer. When you attain this height, many companies will pay you to promote their products and services.
Work With the Right Influencers to Earn Money on TikTok
Working with the right influencers is also a good way to monetize the platform. You can pay influencers to help you promote your account and promote your products.
Develop and sell TikTok Accounts
Many people want their presence on TikTok to be seen, but don't have the time or resources to develop their accounts. You can grow TikTok accounts and sell them to earn money. You need to concentrate on topics that potential customers can stick with.
Furthermore, to develop your TikTok account, you need dedicated followers. Connect with your followers, like, and reply to their comments. Many followers love it when you answer their questions.
Promoting Music on Tiktok
If you have a lot of followers and engagement and your videos go viral on TikTok, fans will pay you to promote their music and videos.
Become a TikTok consultant
If you are an expert in all aspects of TikTok, you can be a guide for many people. People will pay to hire you as a consultant to help them create a strategy, build a brand, and grow a customer base. The above listed and explained are all the ways you can make money from TikTok.
How to Create a TikTok Account
To create a TikTok account, you need to follow these steps
First download the TikTok app from the Google Play Store (Android users) or Apple Store (iOS)
After downloading, open the app
Then click on "Profile" in the lower right corner.
Select the method you wish to enter and click on it
Enter your phone number, email, and password.
then click on "sign up"
With the steps above, you can now create content, participate in challenges, follow users, and gain followers.
How to get verified on TikTok (verification badge)
According to TikTok , "a verified badge means that TikTok has verified that the account belongs to the user it represents." you can be verified on TikTok by;
Providing content to your subscribers.
Giving your account time to grow.
Always posting or creating high-quality content.
Monitoring of other social media platforms such as Instagram and Facebook.
Maintaining or constantly increasing your level of stability.
Interacting and engaging with other Tiktokers.
Not violating TikTok's terms and conditions of service.
These are the various ways to get verified on TikTok.
How to live Stream on TikTok?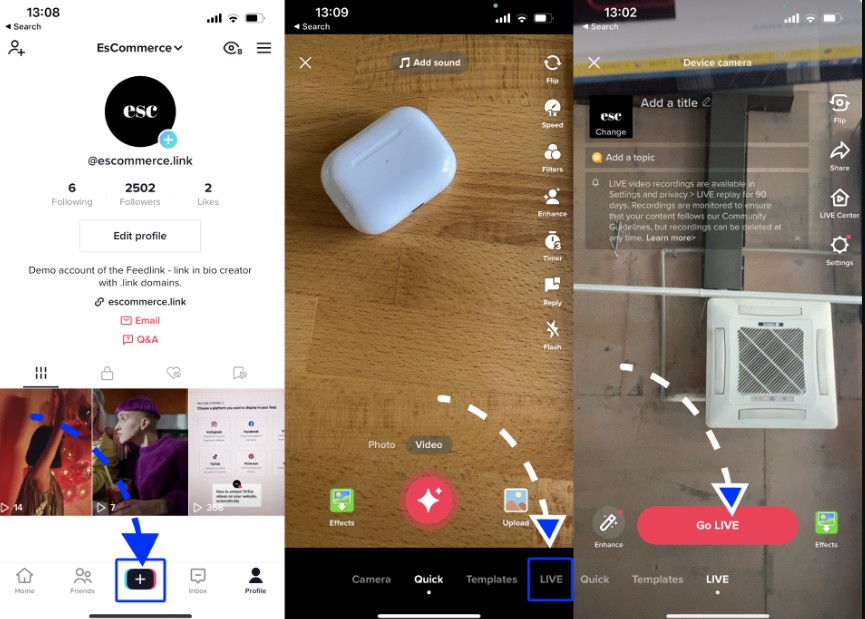 To go live on TikTok, you must be 16-18 or older and have more than 1,000 followers. If you are suitable for going Live, follow the steps below:
Open your TikTok app
Click the Create button and the plus sign (+) at the bottom of the screen.
Then click on LIVE in the menu
After that, you will see a preview of your video stream where you can name your live stream and share it via related social media platforms.
After that, you can access TikTok live
After the live broadcast, you can touch the three dots to access settings and features. There you can enable or disable your comments, add effects, filters and add up to 20 moderators.
If you're ready to close, tap the "X" in the top left corner to stop the TikTok stream.
FAQs on How to Earn Money on TikTok
How many views and followers do you need to make Money on TikTok?
Before you can make money on TikTok, you need to be 18 or older, have 10,000 followers, and have 100,000 video views in 30 days.
Do I need to get verified before making money on TikTok?
The answer is no, You don't need to be verified before making money on TikTok. Many creators have millions of followers but are unverified and still make money on TikTok.
How much money can you earn on TikTok?
On TikTok, people earn 2-4 cents per 1,000 video views. The platform has set aside $300 million to reward TikTok creators who use the platform. Creators earn money based on the following;
Number of views per post;
Cost of contributions
Number of contents published
Does TikTok pay for views or likes?
The TikTok Creator Fund focuses more on views than likes
Read More: