Google has implemented a new algorithm updates that pulls down Waptrick download posts written and published by blog owners around the World. Over the years, the Waptrick.com keyword has been one of the type of article bloggers use to draw traffic to their websites because the website offers free downloads.
We all know that Waptrick is a popular website that offers free downloads of various digital content, including music, videos, games, applications, wallpapers, and more.
The waptrick website has been around for quite some time (launched 2006) and gained popularity in Africa for its extensive collection of multimedia files that people can access and download for free. It was created and is currently owned by a company called WapTrick Ltd. There's no other much information about the owners since they kept their identity private.
In any case, waptrick.com provides a platform for people who likes free online stuffs to search and find a wide range of entertainment content. The contents of the website, ranges from the latest music tracks and music videos to mobile games and applications.
The website is compatible with different devices and operating systems like Windows OS and MacOS computers, both Android and iOS mobile users. All these years, the site serves as a convenient source for free digital downloads, free movies download, TV series as well as season movies. All these makes it a go-to destination for many people in Nigeria, Ghana, South Africa, Pakistan, India, US, UK etc seeking entertainment on their devices.
However, the company operates the website and manages its content and services, providing users with a platform to access and download various digital files.
Google Pulls Down Waptrick Blog Posts from Google Search Engine
A few days ago, Google algorithm removed a lot of websites post that is ranking in Google first page. My own personal website; hybridcloudtech.com was also affected by the update. On 3rd of June 2023, I discovered a sharp traffic down on the website.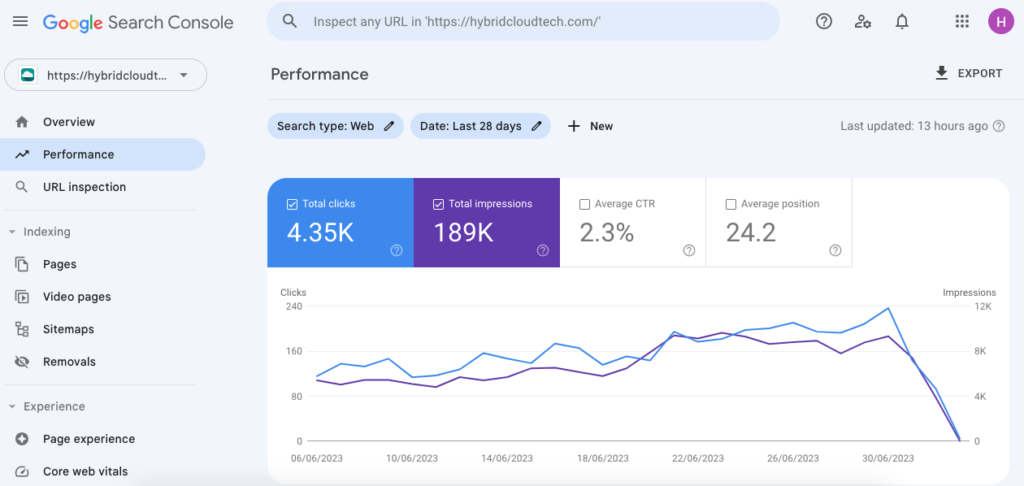 The first thing I did was to login to "Google Search Console" and discovered that all my posts that has to do with music and movies downloads has been dropped by the search engine. I became very worried and wanted to find out what the problem was. I clicked on "Security and Manual Actions" to check if my website has been penalized for policy violation but it was saying no issues.
The next step I took was to conduct "URL Inspection" to know if the post was completely removed from Google. Luckily, the URL is still indexed on through the "Site Map".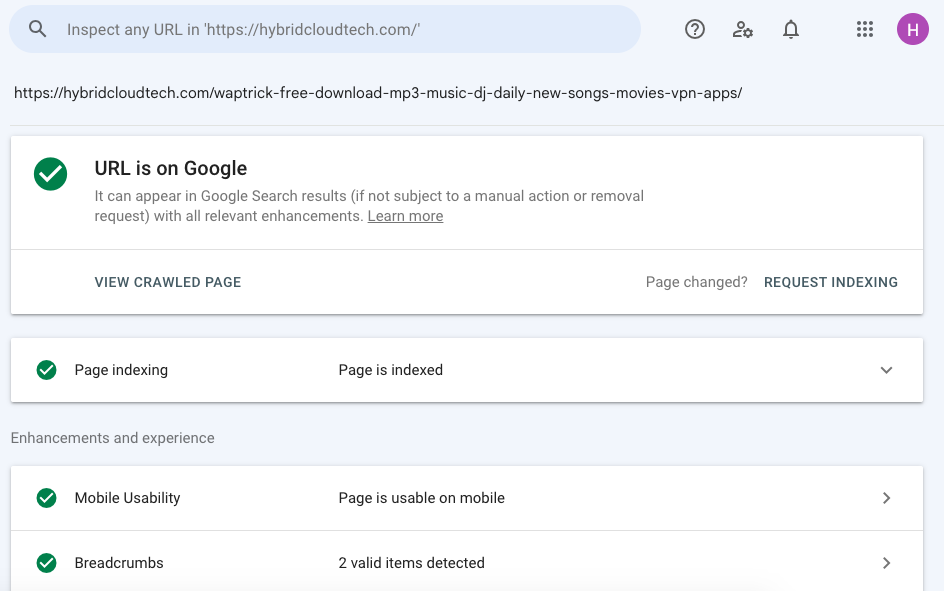 The Next thing I did was to check the "Page experience signals for mobile and desktop" and was surprised to what I saw. It says;
No URLs with a good page experience on mobile or desktop
Pages are evaluated separately for mobile and desktop

Core Web Vitals
I continued to find out more by clicking on the "Core Web Vitals". Once on the page, I noticed I have 221 poor URLs that was failing and needs improvement.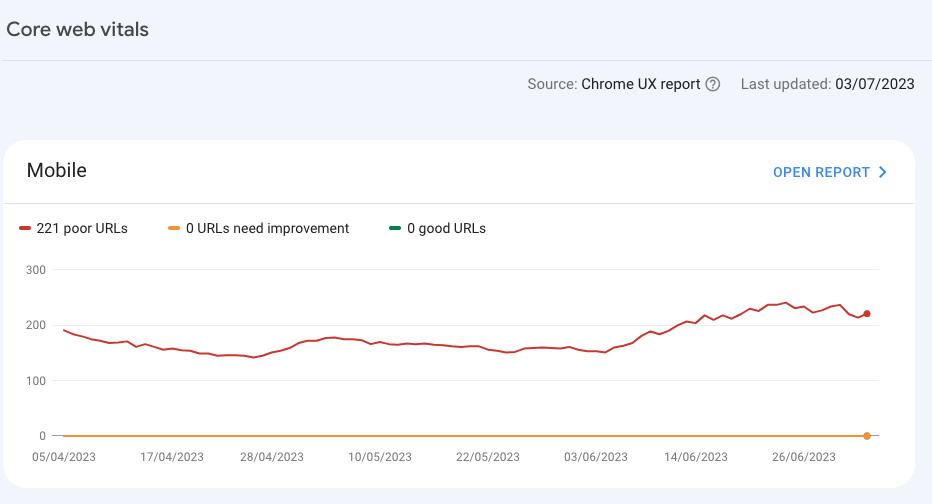 How to Measure Core Web Vitals
When I saw these reports on my Google Search Console, I decided to do a thorough research to find how I can resolve this problem. I visited PageSpeed Insights to check whats going on my website. Diagnose performance issues was really poor.

The performance score is calculated directly from these metrics below and it says "Values are estimated and may vary". All this is to help me discover what your real users are experiencing that will cause my blog posts to drop.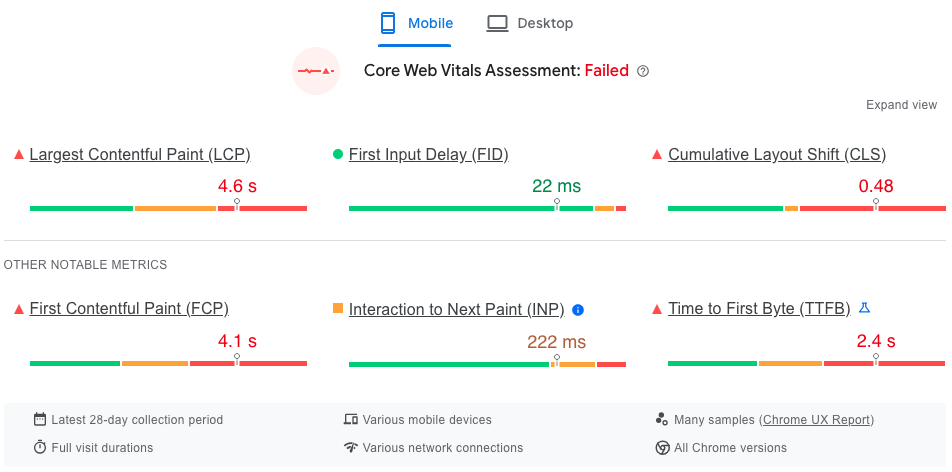 All these checks was to ensure that my page is following basic search engine optimization advice. There are many additional factors Lighthouse does not score here that may affect your search ranking, including performance on Core Web Vitals. These items address areas which an automated testing tool cannot cover.
How to Improve Core Web Vitals (8 Ways)
Implement a Caching Solution
Eliminate Render-Blocking Resources
Defer Loading of JavaScript
Use a Content Delivery Network
Properly Size and Optimize Images
Implement Lazy Loading
Optimize Your Website Fonts
Upgrade Your WordPress Hosting
DIAGNOSTICS – What You should do
Ensure text remains visible during webfont load
Warnings: Lighthouse was unable to automatically check the font-display value for the origin https://hybridcloudtech.com.
Reduce the impact of third-party code Third-party code blocked the main thread for 820 ms
Does not use passive listeners to improve scrolling performance
Avoid document.write()
Serve static assets with an efficient cache policy 35 resources found
Minimize main-thread work 4.4 s
Avoid enormous network payloads Total size was 3,798 KiB
Reduce JavaScript execution time 2.7 s
Avoid chaining critical requests 17 chains found
Keep request counts low and transfer sizes small 168 requests • 3,798 KiB
Largest Contentful Paint element 5,600 ms
Avoid large layout shifts 5 elements found
Avoid long main-thread tasks 14 long tasks found
Avoid non-composited animations 5 animated elements found
More information about the performance of your application. These numbers don't directly affect the Performance score.
You can run these additional validators on your site to check additional SEO best practices. Make sure your pages are mobile friendly so users don't have to pinch or zoom in order to read the content pages. Learn how to make pages mobile-friendly.
OPPORTUNITIES You have for Estimated Savings
These are opportunities to improve the semantics of the controls in your application. This may enhance the experience for users of assistive technology, like a screen reader.
Reduce unused JavaScript
Serve images in next-gen formats
Reduce unused CSS
Eliminate render-blocking resources
Defer offscreen images
These suggestions can help your page load faster. They don't directly affect the Performance score.
Improve USER EXPERIENCE
These checks highlight opportunities to improve the accessibility of your web app. Only a subset of accessibility issues can be automatically detected so manual testing is also encouraged.
Image natural dimensions should be proportional to the display size and the pixel ratio to maximize image clarity.
Deprecated APIs will eventually be removed from the browser
A strong Content Security Policy (CSP) significantly reduces the risk of cross-site scripting (XSS) attacks.
Make sure your pages are mobile friendly so users don't have to pinch or zoom in order to read the content pages
Run these additional validators on your site to check additional SEO best practices.
Bear in mind that Errors logged to the console indicate unresolved problems. They can come from network request failures and other browser concerns.
Enhance your User Experience, Reap the Rewards Later
The best thing to do is to continue enhancing the user experience because it is vital in the ongoing success of your website. Thankfully, the availability of convenient tools and plugins has simplified this process significantly compared to traditional methods.
These valuable resources empower your website to make improvements that boost navigation, speed, responsiveness, design, and overall user satisfaction. From analytics that provide insights into user behavior to SEO optimization for better visibility, caching for faster loading times, security plugins to push off threats, and seamless social media integration, these tools offer a wide range of capabilities.
Making use of healthy tools and plugins will enable you to optimize your website, creating a user-friendly environment that fosters an exceptional user experience.
Similar Posts