Today I will show you where and how to purchase gift cards in Nigeria. Have you been asking where and how to purchase gift card in Nigeria? If yes, then follow this guide to how to Shop and Buy Gift Cards Online in Nigeria like for products, accessories, apps, games, music, movies, TV shows, iCloud+ etc.
Gift cards are a convenient choice for last-minute purchases and a safe option for gifting. It's important to note that the value stated on a gift card doesn't necessarily dictate how much you have to spend.
There are various places where you can purchase gift card and also how reputable sources online offer both new and unwanted gift cards, including physical and Ecode cards. It's important to take precaution when trring out these options, as there are websites that may lure users with unrealistically low-priced gift cards.
However, it is possible to find discounts on gift cards since they still hold monetary value. You can check out my previous guide on How To Sell Gift Cards Online For Cash in Nigeria, Ghana, South Africa and the rest of the world.
5 Methods on Where and How To Purchase Gift Cards In Nigeria
In Nigeria, you have the option to purchase gift cards at a discounted price through various online and offline channels.
Official websites
Resellers
Convenience stores
Reward points
Auction sites
1. Official Websites
In addition to purchasing gift cards from the official websites of gift card companies, you can also buy gift cards from the websites of various merchants and retailers that offer them.
Numerous well-known merchants, such as Amazon, Sephora, Nordstrom, eBay, Nike, and others, provide online gift cards. These websites often allow you to customize the gift cards by uploading images or adding personalized messages. Moreover, these platforms may offer gift cards at discounted prices in Nigeria.
By exploring the websites of reputable merchants, you can find a wide range of gift cards to choose from and potentially enjoy cost savings through discounted pricing.
2. Card Resellers
There are several websites where you can find significant discounts on gift cards as they specialize in reselling unused cards. These platforms allow individuals to sell their unused gift cards, which are then resold to customers at a discounted price. Depending on the website and the specific gift card, discounts can range from 5% to as high as 30%. Let's take a quick look at some of these websites that you should consider visiting.
Among the top websites in this category are Giftcards.com, Cardpool, Raise, and CardCash. These platforms offer discounted gift cards from a wide range of merchants, with Raise offering the most extensive selection. Another website worth exploring is Gift Card Granny, which not only offers card reductions but also has a rewards program that provides cash-back benefits for purchasing full-priced cards.
One of the most significant advantages these websites offer is enhanced security. Since these platforms have already vetted the sellers, you can have peace of mind when purchasing a card from an unknown individual online. Additionally, all of the aforementioned websites have robust security measures in place to address any concerns related to unauthorized cards.
By utilizing these trusted websites, you can enjoy discounted gift cards while benefiting from a secure and reliable transaction process.
3. Convenience Stores
Convenience shops are known to provide a diverse selection of gift cards from various retailers. These stores offer a range of gift cards from different brands, such as Tesco, allowing customers to conveniently purchase gift cards for their preferred retailers in one place.
4. Reward Points
One way to acquire a gift card is by converting reward points into gift cards, which can be done through certain credit card programs. For instance, American Express (AMEX) offers the option to exchange reward points for gift cards.
When you accumulate a sufficient amount of reward points, you can redeem them for gift cards, provided you meet the required threshold. AMEX provides a range of gift card options, including those for restaurants, theaters, fashion retailers, and more. Similarly, American Airlines also offers a rewards system that allows you to convert points into gift cards.
5. Auction Sites
Gift cards are also available via online marketplaces and auction websites. An auction site like eBay is
Online marketplaces and auction websites, such as eBay, are additional sources for acquiring gift cards. These platforms are known for providing opportunities to buy and sell various items, including gift cards, at competitive prices.
On websites like eBay, it is common to find gift cards available at discounted prices or through special deals. This makes it a great option for those looking to purchase a gift within a limited budget while still offering something meaningful to a friend or loved one.
a website where you can buy gift cards. Online stores like eBay are popular for allowing users to sell unwanted goods cheaply.
On eBay, you can frequently buy gift cards at meagre costs and take advantage of other special deals. It is a fantastic alternative if you don't have enough money to purchase your friend something but still want to.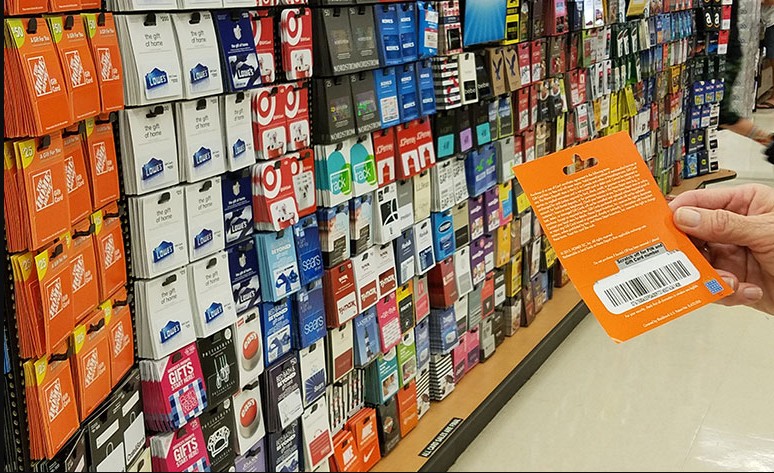 Best 5 Places Where and how You Can Purchase Gift Cards In Nigeria
1. SureGifts
SureGifts is an online platform that offers the convenience of purchasing gift cards for a variety of Nigerian retailers. Among the retailers available on SureGifts are Samsung, Filmhouse Cinemas, SPAR, ShopRite, Justrite, Hubmart Stores, and more.
When you purchase a gift card from SureGifts, you will receive a voucher code that can be used to redeem the value of the gift at the partner stores. For online purchases, you can select your desired item, enter the coupon code during the checkout process, and update your cart accordingly.
When making purchases at physical stores, you will need to present the voucher code at the time of payment to utilize the gift card value.
2. GetCardsAfrica
GetCards Africa is also a platform where you can purchase a gift card and also how it been use is analyze. This platform you can conveniently purchase gift cards from a wide range of international retailers. With over 3000 merchants and service providers available, GetCards offers access to popular companies like Uber, Nike, Google Play, Walmart, Apple, Airbnb, and more.
Although the GetCards website is currently in beta testing, you can still purchase gift cards and either gift them to others or keep them for personal use. The process of buying these foreign gift cards is facilitated through bank transfer, allowing for easy and secure transactions.
3. Prestmit
Prestmit is an online platform that enables customers to purchase gift cards from foreign retailers such as Amazon, Walmart, and Sephora. The program calculates the equivalent amount in Nigerian naira based on the dollar value of the gift cards. Currently, customers have the option to buy any type of gift card on Prestmit.
After purchasing a gift card from Prestmit, customers will receive a unique code via email. This code can be use to redeem the value of the gift card, allowing customers to make purchases or avail themselves of services offered by the respective retailers.
4. Konga
On the Konga marketplace, customers have the opportunity to purchase gift cards from various companies such as PlayStation, Google Play, Steam, Apple, and more. These gift cards are available for sale on Konga, similar to other products offered on the platform.
Independent vendors utilize the Konga marketplace to sell gift cards, making them accessible to customers seeking to purchase them. Whether you're looking for gaming gift cards, digital media gift cards, or other types of gift cards, you can find a range of options on Konga.
5. JumiaPay
JumiaPay provides the option to purchase gift cards from a variety of worldwide retailers. These gift cards encompass a wide range of brands, including Amazon, iTunes, Google Play, Steam, Spotify, Hulu, Netflix, Tinder, eBay, Livu, and many others.
The value of the gift cards available on JumiaPay may differ depending on the specific brand. For instance, Netflix offers gift card certificates valued at $30 and $60, while eBay provides vouchers with slightly lower denominations. Payment for these gift cards can be made using various methods such as debit cards, credit cards, or bank accounts
Read Also:
Conclusion on Where and how You Can Purchase Gift Cards In Nigeria
Gift cards can be purchased from a variety of sources, ranging from popular retailers like Razer Gold to lesser-known businesses. To ensure a safe transaction, it is recommend to make purchases directly from the retail location or the official website of the store.
However, if purchasing directly is not feasible, there are alternative methods available as mentioned in this article. These methods can provide options for obtaining gift cards from reliable sources, ensuring a secure transaction.
Similar New Posts