These are the 12 Best Virtual Trading Apps for Options and Stimulators where you can start free virtual trading without using real money. If you are willing start as a beginner, its best you use Forex or Crypto Paper Trading Apps & Simulators.
With that you are sure not to loose money while learning how to trade on any trading platform. You can as well use any of these virtual trading app on web portal or download the trading app for Android and iOS devices.
After reading this guide, you will be able to level up your investment expertise with virtual trading apps. You can sharpen your skills without any financial risk. Basically, you can different trading strategies using live market data, and assess your performance through the app's dynamic leaderboard.
I have previously written about 11 Best Stock Trading Platforms + Apps in the World for Beginners and Pro [Free and Paid]. Why don't you check it out now!
You can catch more cruise by engaging in friendly competition with your friends and discover who can generate the highest profits. Then you can start investing real money and the skies will be your starting point.
Are you afraid of Investing in Stocks?
Many of us feel uncertain about whether our trading strategies will lead to profits or significant losses. However, there is a solution that allows you to test and improve your trading skills without risking real money.
Virtual trading apps use gamification to enable users to try out various trading strategies with virtual money. This eliminates the risk of losing actual funds, giving users the freedom to experiment and learn through trial and error in real-world stock market scenarios.
Join me While I explain how virtual trading apps works and discover the best options currently available in the market.
What is Virtual Trading?
Virtual trading apps provide users with the ability to trade virtual stocks and monitor the market. By engaging in virtual trading, users can enhance their understanding of finance and stock trading without putting any real money at risk.
These apps utilize real-world trading platforms used by stock market brokers, offering users a hands-on experience with all the available stock trading controls.
Engaging in paper trading through virtual trading apps is an excellent way to begin investing in the market. With ample practice gained from virtual trading, the likelihood of making mistakes decreases.
Virtual trading involves simulating stock trading and analysis, allowing individuals to learn valuable techniques without making actual investments or facing the risk of financial loss.
To help beginners in learning new stock market strategies, virtual trading apps usually provide people with a designated amount of virtual money to invest. Furthermore, the best virtual trading apps offer opportunities to interact with other traders, facilitating the improvement of market skills.
How does Virtual Trading App and Web Platform work as Stock Market Simulator?
Stock investment and share trading through stock simulators, along with practicing with virtual money, are both straightforward. Virtual trading apps serve as stock market simulators in the following ways:
Instant notification on market events and volatility: Virtual trading apps provide real-time updates on market events and volatility, allowing users to stay informed about the latest developments.
Ability to buy fractional shares: These apps enable users to buy fractional shares, allowing for more flexibility in investment and portfolio diversification.
No limit on trading volume: Virtual trading apps typically do not impose restrictions on trading volume, allowing users to execute trades according to their preferences and strategies.
Price targets and expert stock analysis: Users of virtual trading apps can set price targets for stocks and access expert stock analysis, helping them make informed investment decisions.
Security protocols for fund protection: Virtual trading apps implement robust security protocols to safeguard user funds and personal information, ensuring a secure trading environment.
Option to choose any stock for trading: Users have the freedom to choose from a wide range of stocks to trade within the virtual trading app, enabling them to explore different investment opportunities.
Detailed market analysis: Virtual trading apps provide comprehensive market analysis, including charts, historical data, and performance metrics, empowering users with valuable insights for effective trading.
With all these features, virtual trading apps generally serve as valuable tools for people to gain practical experience in stock trading. It will also enhance their understanding of the stock market dynamics.
The Best Virtual Trading App in the World Today
It doesn't matter where you live, whether it is you are in the US, Canada, UK, India, Nigeria, or any African, Asian or European country, you can use the best virtual trading app. Therefore, you should not fear any virtual trading platforms anymore.
Here are some simple steps to get started with virtual trading apps.
First, download an app that suits your needs. Some apps offer free and paid account options. Choose the one that works for you and create your account.
After creating your account, you'll receive virtual money to start buying and selling stocks.
Explore different stocks and test various trading strategies to discover what works best for you.
The top virtual trading apps provide a portfolio feature where you can track your overall profit or loss.
Immediately you feel confident and have gained sufficient knowledge and experience in the virtual market, you can apply that expertise to real stock trading in the actual market. Right?
List of 12 Best Virtual Trading Apps for Beginners and Professionals
My friends, if you're searching for the best mock trading apps, your search stops right here. We have curated a list of highly popular stock trainer apps, developed and endorsed by finance and stock market experts.
Now, we will take some time to explain the reasons why these 12 companies about is among the best virtual trading app.
1. Zerodha Trading App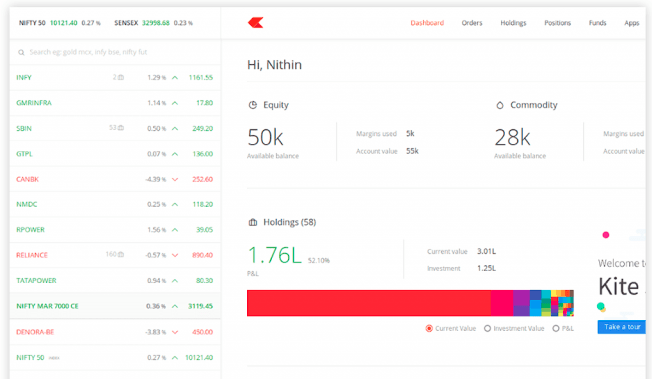 Zerodha, India's largest stock broker, provides incredibly low and affordable brokerage rates for futures and options trading, commodity trading, equity investments, and mutual funds. Using a virtual trading platform no longer has to be daunting. Let's discuss a few simple steps to get started with virtual trading apps.
Features of Zerodha Dummy Trading App
Zerodha virtual trading app offers several beneficial features:
Access to level 3 data: You can gain access to level-3 data, which provides crucial insights into market liquidity, enhancing your understanding of the market.
Intractive charts: Zerodha presents important information in user-friendly and customizable charts, making it easy to comprehend and analyze.
Set triggers: You can use trigger functionality to determine optimal entry and exit points for your stock holdings.
Baskets: Create and manage multi-stock baskets with the Zerodha virtual trading app, streamlining your portfolio management process.
Accurate profit and loss statements: The app leverages a vast historical data stream to calculate and analyze precise profit and loss statements, aiding in informed decision-making.
Certification exams: To make learning more engaging, users have the option to challenge themselves with certification exams at the end.
Zerodha Pros & Cons (Benefits and Disadvantages)
Zerodha offers APIs that allow you to develop your own applications.
The app is particularly suitable for acquiring intraday strategies.
Some users have expressed dissatisfaction with Zerodha's lack of buy/sell calls.
Price: You can download the Zerodha virtual trading app for Android and iOS free of charge.
2. Moneybhai Virtual Trading App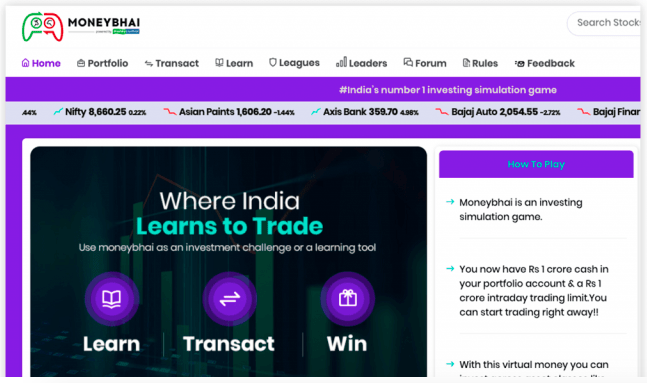 Moneybhai Investor is a free Online Virtual Stock Market Trading and investing simulation game. It is also known as the Moneycontrol virtual trading app, provides users with an intraday trading limit of INR 1 crore. This substantial limit allows for investments across a diverse range of assets, including mutual funds, stocks, fixed deposits, and more.
Features of Moneybhai Virtual Trading App
Experience enhancement: Moneybhai enriches the virtual trading experience by incorporating data from real stock market scenarios.
Investment section: The app provides a convenient platform to view transaction history, portfolio details, profit and loss statements, and more.
League formation: Users have the opportunity to form leagues and engage in friendly competition with other investors. Friends and family members can also be invited to participate.
Learning section: Moneybhai offers a dedicated learning section where users can access valuable resources and obtain suitable investment strategies.
Moneybhai Pros & Cons (Benefits and Disadvantages)
Moneybhai, the Moneycontrol virtual trading app, provides education on techniques that can be directly applied in the real stock market.
The app features a leaderboard section that displays the rankings of different investors.
However, it is important to note that the simulated environment offered by the app may not encompass all the variables present in real-life trading.
Price: Moneybhai is a free to use on web on PC, and you can also download the app for Android and iOS devices.
3. Sensibull Virtual Trading App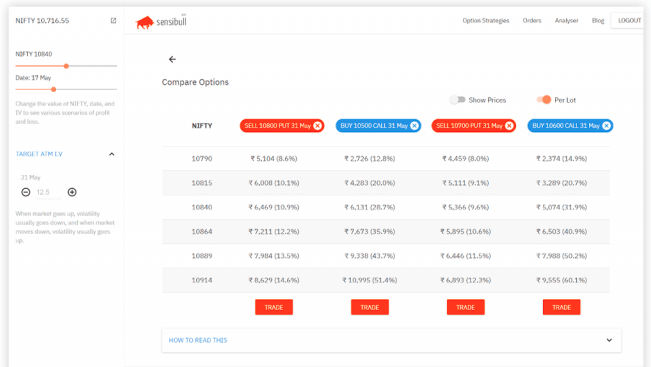 Sensibull is a real and virtual trading company with options analysis tools that offers real-time prices, advice, free video courses and lots more. You can always trade directly with your broker. Practice options paper trading without real money in NIFTY, BANKNIFTY & Stocks.
Sensibull offers a user-friendly virtual trading application specifically designed for beginners. It provides a range of great trading strategies and low-risk options for users to explore.
Additionally, for experts, Sensibull offers an Options Strategy Builder. This powerful tool allows advanced traders to create and analyze complex options strategies.
With Sensibull, traders at all levels can learn and practice options trading without the need to invest real money. It provides a risk-free environment to enhance knowledge and skills in the world of options trading.
Features of Sensibull Virtual Trading App
Easy options: Sensibull software offers simplified options for beginners, reducing the risk of losses.
Options glance: With the "Options Glance" feature, users can conveniently view the prices of all stock options simultaneously.
Enhanced monitoring of foreign institutional investors: The app allows users to trade in alignment with the strategies of foreign institutional investors (FIIs), increasing the likelihood of profitable returns.
Tutorials: Sensibull provides a wide range of tutorials that cover the fundamentals of trading and beyond, facilitating learning and skill development.
Events calendar: The app includes an events calendar that highlights crucial upcoming events, enabling users to stay informed and make well-informed trading decisions.
Sensibull Pros & Cons (Benefits and Disadvantages)
The interface of Sensibull is designed to be user-friendly, making it easy for users to navigate and operate the software effectively.
Sensibull goes the extra mile by regularly conducting seminars on trading psychology, helping investors gain a deeper understanding of the psychological aspects of trading.
It is worth noting that while Sensibull provides a simulated environment, some investors may experience a slightly unrealistic trading experience due to the limitations of simulation.
Price: This is not a free app. The price of Sensibull virtual option trading app starts from $67.67 per month.
4. Dalal Street Virtual Trading App – Stock Market Challenge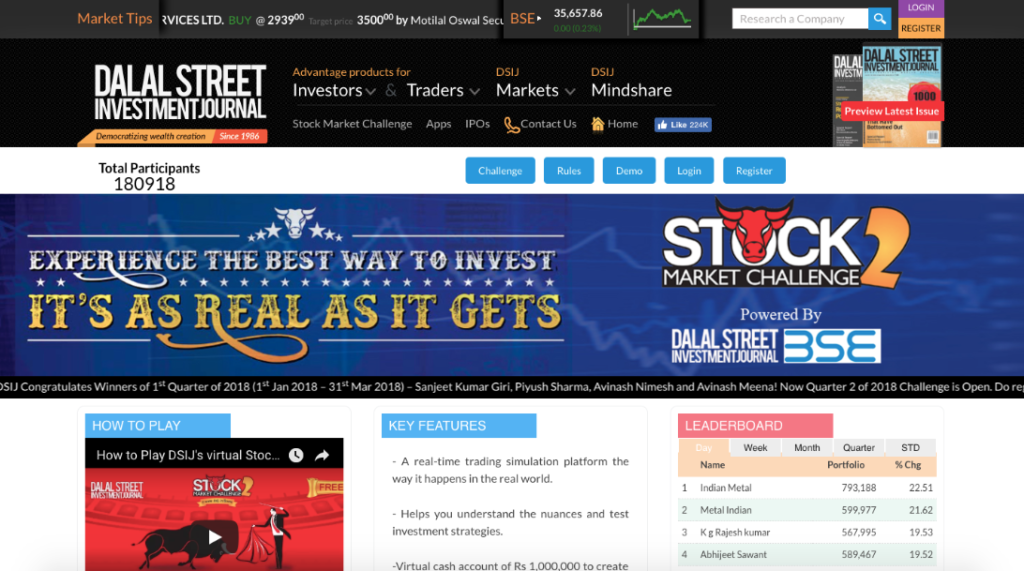 Dalal Street Investment Journal is a stock simulation game for ultimate Stock Market Challenge. Are you a stock market enthusiast? Do the words Sensex and Nasdaq mean more to you than mere names on the scrolling bar of news channels?
Dalal Street virtual trading app is widely recognized as one of the most popular virtual trading platforms in India. Its popularity can be attributed to its simple and user-friendly interface.
Additionally, the app allows users to easily monitor the performance of their preferred stocks over a period of time, enhancing their investment decision-making process.
The Stock Market Challenge App, offered by Dalal Street, presents an online trading game where users can create and manage their own portfolio. They also have the opportunity to compete with other traders within a secure environment. Each participant is initially provided with $121.81 (₹10,00,000 in India) of virtual money to invest and compete.
Furthermore, Dalal Street virtual trading app is highly beneficial for both novice and experienced traders, as it helps them develop their skills, evaluate trading strategies, and gain valuable investing experience.
Dalal Street Mock Trading App Features
Quick notifications: The Dalal Street virtual trading app ensures that you receive prompt notifications regarding buying or selling specific stocks.
DSIJ Mindshare: Stay updated on significant events in the financial world for a particular day through the DSIJ Mindshare feature.
Screener: Easily access comprehensive company details associated with a stock using the app's screener feature.
Involvement of industry experts: Rest assured that every recommendation provided by the Dalal Street virtual trading app is supported by thorough analysis and expert opinions.
Dalal Street Pros & Cons (Benefits and Disadvantages)
Dalal virtual stock trading app has established a reputation for providing reliable advice over the past 30 years.
Users of this stock trainer app can benefit from buy/sell signals generated based on the latest market movements.
However, it's worth noting that there might be instances where notifications do not produce a sound, even when the sound bar is set to maximum.
Price: Dalal street dummy trading app can be downloaded free from android or apple store. You can also use it free on their web portal.
5. MoneyPot Virtual Trading App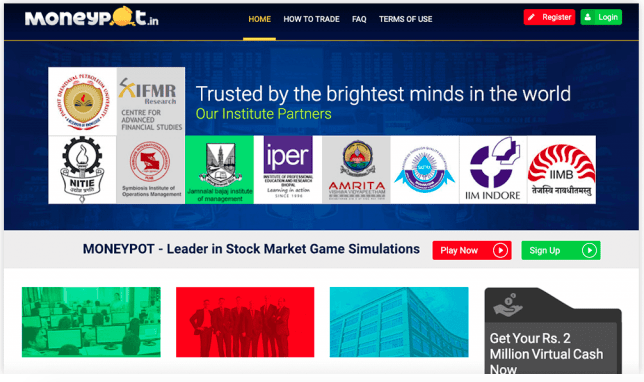 Moneypot is a scalable virtual trading platform for colleges and university students in India and people around the world. Students benefits from this streaming platform that features tutorials to manage and invest in a seamless and paperless manner. You do not need physical cash to use this trading platform for training.
MoneyPot is an iOS stock virtual trading platform designed to enable users to engage in trading across various stock markets without using real money. Traders can participate in real-time stock market games and experiment with different trading strategies, all while being free from the risk of financial loss.
The platform incorporates a ranking system that provides a summary of each player's performance in the game, allowing users to gauge their relative success and progress.
Features of Money Pot Virtual Option Trading App India
Internal training: Utilize this app to train your financial or accounts team, providing them with practical experience in virtual trading.
Interaction with other traders: The app fosters communication and interaction among different investors, allowing for networking and the exchange of trading insights.
Exciting rewards: Engage in trades and unlock the potential to earn rewards for each successful transaction you make.
Ample trading scope: With each new trade, the app provides you with a substantial amount of virtual money ($24,359.20 or INR 2,000,000) to invest in buying or selling your preferred stocks.
Expert opinion: Access expert opinions and advice on various stock trading techniques, enhancing your knowledge and decision-making process.
Moneypot Pros & Cons (Benefits and Disadvantages)
The app is a simple and user-friendly interface, ensuring ease of use for its users.
Orders placed through the app are executed efficiently, with each order typically being processed within a span of 5 minutes.
While the app excels in many areas, experienced traders may find that it lacks comprehensive information in certain aspects, which could impact their overall trading experience.
Price: The pricing details of Money pot virtual trading platform can be obtained from the official site.
6. Fidelity Virtual Trading App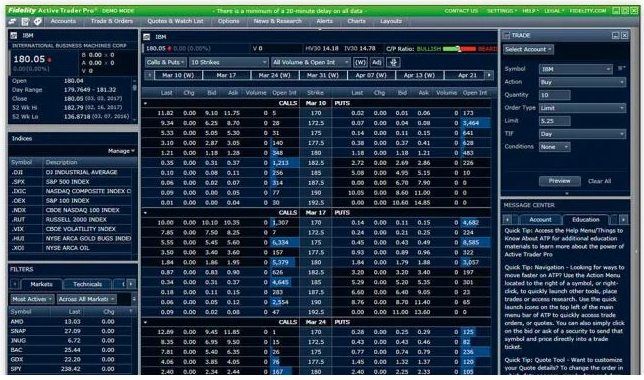 Fidelity is an Android virtual trading app that offers users the flexibility to learn and trade at their convenience, regardless of location. Users can access valuable insights on domestic stocks, international markets, Openfolio performance, and other relevant information.
In addition to the trading features, the app provides educational resources to enhance trading knowledge. Users can watch live streams of Bloomberg videos, podcasts, and webinars, gaining valuable insights and staying up to date with the latest market trends. The Fidelity Investment details are here. It's a must see guide for better understanding. Look it up.
Features of Fidelity Stock Simulator
Asset screeners: Utilize asset screeners within the Fidelity virtual trading app to narrow down investment choices, making it easier for end-users to find suitable investment opportunities.
Trade executions: Benefit from advanced algorithms implemented in the app to improve trade prices and avoid payment order flows, enhancing the overall trading experience.
Account tracking: The Fidelity virtual trading app allows users to conveniently track their preferred securities and monitor their account positions, providing valuable insights into their investment portfolio.
Chain enhancements: Enjoy the option of chain enhancements, including multi-leg option trading, and extended hours trades, offering expanded opportunities for options trading within the app.
Fidelity Pros & Cons (Benefits and Disadvantages)
The Fidelity virtual trading app excels in providing outstanding trade executions, ensuring efficient and timely processing of trades.
Users can benefit from asset screeners specifically designed for ETF research, helping them narrow down investment options and make informed decisions.
Flexible news feeds are available within the app, offering users access to a wide range of news sources and updates, keeping them well-informed about market developments.
However, it's important to note that the app currently does not include options for futures and commodities trading.
Pricing: The Fidelity price details are available on this stock market simulator's official website.
7. Investopedia Stock Simulator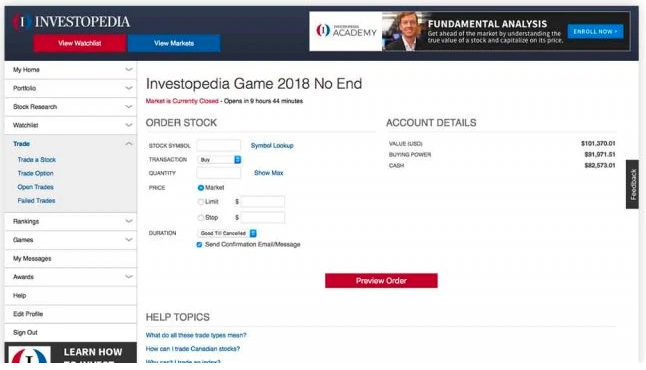 Investopedia Stock Simulator offers a seamless experience for momentum trading, analyzing P/E ratios, and exploring equity markets. This stock virtual trading software leverages real data sourced from the stock market, allowing users to practice margin trading and adjust commission rates.
With Investopedia Stock Simulator, you can gain hands-on experience and enhance your understanding of various trading strategies. Fortunately, all this can be done within a simulated environment that closely replicates real-world market conditions.
Start practicing stock trading with virtual money on Investopedia's Stock Simulator, a trusted platform chosen by over 3 million educated investors. Whether you prefer to trade independently or compete with others, the Stock Simulator offers a realistic and engaging experience.
Best of all, you can test your skills for free on the #1 stock market game. Upon joining, you'll receive $100,000 in virtual cash to start trading immediately. Don't miss out on this opportunity to hone your trading abilities and explore the world of stock trading risk-free. Sign up and begin trading today!
Features of Investopedia Stock Market Simulator
Advanced trade types: The Investopedia Stock Simulator provides detailed guides for advanced trade types. It also offers short positions and purchasing stocks, enabling users to expand their knowledge and proficiency in these areas.
Portfolio analytics: With the portfolio analytics feature, you can effectively choose and manage specific investment groups. Trust me, this will allow for better portfolio diversification and risk management.
Potential picks: Investopedia also offers potential pick(s) of the market. This makes it easy for users to practice stock trading and explore investment opportunities with confidence.
Investopedia Pros & Cons (Benefits and Disadvantages)
The Investopedia Stock Simulator offers a simple and user-friendly interface that closely imitates real market stock operations, providing a realistic trading experience.
Tracking trade results is quick and efficient, allowing users to stay updated on their trading performance in real-time.
The availability of advanced trade stock types and the option to purchase stocks adds to the versatility and flexibility of the simulator, catering to users with various levels of trading expertise.
One significant benefit is the reduced risk of losing actual capital, as the simulator operates with virtual funds, providing a safe environment for practicing and refining trading strategies.
While the overall functionality is commendable, some users may find room for improvement in terms of the user interface, suggesting that further enhancements could enhance the user experience.
Price: The Investopedia Stock Simulator is a free tool that can be downloaded from its official website. Additionally, users can visit the website to explore any upgraded plans or subscription options that may be available.
8. TrakInvest Virtual Trading App
TrakInvest provides an online social virtual trading platform for the stock market. It enables users to buy and sell stocks with virtual cash. Anyone can get access to access institutional quality research on 15,000 stocks.
The company offers people the opportunity to engage in virtual trading by using virtual cash instead of real money. This allows account holders to buy and sell stocks without the risk of financial loss. With TrakInvest, you can trade on 10 global stock exchanges, providing exposure to diverse market dynamics and opportunities.
One unique feature of TrakInvest is the ability to track and learn from other investors' trading strategies. This enables you to gain insights and improve their own trading skills by observing successful approaches.
Additionally, TrakInvest offers competitive simulations where users can participate and have the chance to earn sponsored prizes such as vouchers and even internship opportunities, adding an extra element of excitement and motivation to the virtual trading experience.
Features of TrakInvest Dummy Stock Trading App
Tracking stocks: The dummy stock trading software allows you to track stocks and monitor the activities of other traders. This will provide valuable insights into market trends and investment strategies.
Copy Trade: The Copy Trade feature enables users to replicate the investment choices of their peers. This will make it easier to follow successful traders and learn from their approaches.
Buy/sell stocks: With built-in modules for buying and selling stocks, including features like short selling and portfolio overviews, users have the flexibility to execute trades and manage their investment portfolio efficiently.
Portfolio snapshot: The portfolio snapshot feature provides a comprehensive overview of processed, pending, and failed orders. Definitely, it will help you to stay informed about the status of their trades.
GTOC: For those looking to enhance their investment skills, the Global Online Trading Certification (GOTC) offers a valuable opportunity to improve knowledge and expertise in online trading.
TrakInvest Pros & Cons (Benefits and Disadvantages)
Private tournaments can be created to enhance the trading experience.
Certification courses are offered to help improve stock trading skills.
A wide selection of video guides and tutorials is available for users.
Additional stock options would be beneficial to meet diverse investment needs.
Pricing: Basic plan starts from Rs 86 per month. Other advanced plans are:
Premium – $8.87 (₹729)
GOTC Certification – 133.18 (₹10,946)
9. Chart Mantra Virtual Trading App

ChartMantra is a platform to learn, play and enjoy virtual trading, stock market charts and secrets through Technical Analysis. You can discover a simple, interactive, and competitive way to learn and play technical analysis and trading through ET's new gaming and learning platform.
Chart Mantra offers an interactive learning experience, allowing users to play and learn simultaneously. You have the option to invite your friends to join and compete with them, comparing performance on the leaderboard. Furthermore, players can track their individual progress through various metrics such as game rank, net worth, returns, overall gain, and more.
Features of Chart Manta Practice Stock Trading App
Technical indicators: These are provided by this top paper trading app to help users gain market insight.
Infographs: In addition, the app offers inbuilt infographs for performing technical analysis of stocks.
Loading new stocks: Loading new stocks into the stock simulator is as seamless as managing previous ones.
Virtual cash: With this app, you can practice stock trading using virtual cash of up to $0.012 (₹1 lakh), allowing you to participate in stock games and enhance your skills.
Chart Mantra Pros & Cons (Benefits and Disadvantages)
Instantly perform stock trading using virtual money with this app, providing a risk-free source for learning stock trading at no cost.
However, it's worth noting that the virtual trading experience may occasionally feel unrealistic.
Pricing: All the price details of Chart Mantra dummy stock trading software is available on its official website. You can use it on both web and mobile devices.
10. ICICI Direct Virtual Trading App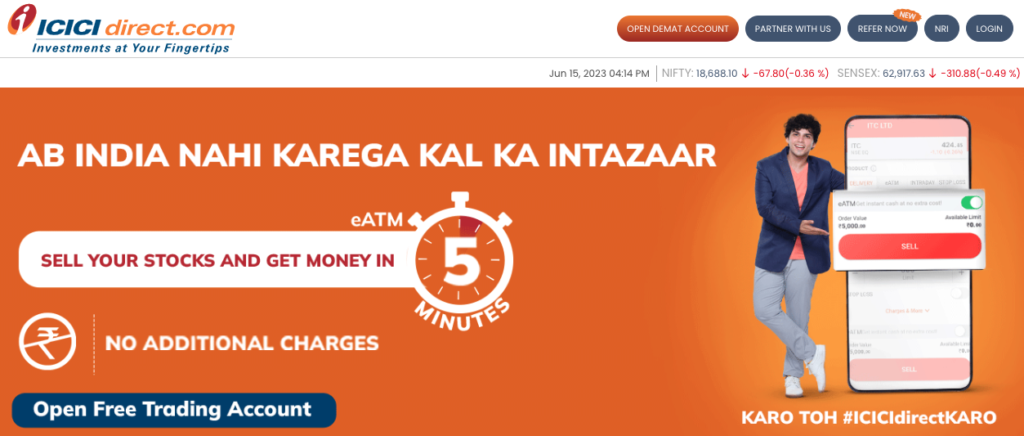 ICICI Direct is an Online Share Trading in India at low brokerage. The company is among India's largest retail broker and financial product distributor. According to information online, it is even, trusted by millions of customers with a track record of over two decades.
CICI Direct's virtual trading platform provides traders with the opportunity to enhance their trading skills. You can practice in a live stock market setting without risking real money. Moreover, if your strategies prove successful in the virtual environment, you can replicate them in the actual stock market.
Features of ICICI Direct
Virtual Money: CICI Direct's virtual trading platform offers users up to ₹15 Lakhs of virtual money to participate in stock games, eliminating the need to risk real money.
Real Data: Despite being a virtual platform, users have access to real data sourced from the stock market, specifically based on quotes from NSE or BSE.
Simple Log In: Getting started is easy. Users can register using basic credentials and begin playing immediately. Initially, they are provided with a limit of ₹15 Lakhs in virtual money.
Virtual Stocks Segment: The ICICI Direct virtual trading platform currently supports the cash market segment, allowing users to engage in activities such as cash buy & sell, margin buy & sell, and margin trades.
ICICI Direct Pros & Cons (Benefits and Disadvantages)
Free account opening with no hidden charges
The app performs well even with slow internet connections
Enables trading in various commodities, including mutual funds and postal saving schemes
Provides free tips on stocks and technical analysis
Trading and call charges are high
Higher brokerage charges for penny stock trades
Pricing: Price on Request available on the ICICI Direct website.
11. NSE Virtual Trading App 2.0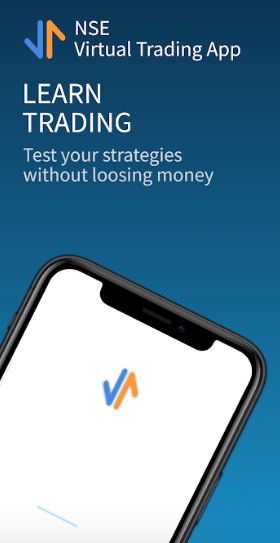 The My NSE trading app is a free personalised Application that is provided by National Stock Exchange to manage your investments in the stock market and track the online. NSE Virtual Trading software enables you to trade in the real stock market without risking real money. The app offers an authentic trading experience.
You can utilize charts and technical indicators to develop their trading strategies. Additionally, they can trade in futures, options, stock derivatives, and stocks.
NSE Virtual Trading 2.0 Features
Real Market Data: The app offers real stock market data, allowing virtual traders to observe the outcomes of their strategies in real-life market conditions.
No Limit of Investments: Virtual trading has no investment limits, giving users the freedom to trade and test without restrictions.
Trading Reports: Users can generate virtual trading reports that provide insights into daily gains and losses, helping them track their performance.
Notifications: Instant notifications keep users informed about sudden changes in the stock market, including upward or downward movements.
NSE Virtual Trading 2.0 Pros & Cons (Benefits and Disadvantages)
Cloud Backup: The app offers a cloud backup option, allowing users to securely store their trading data and settings.
Enhanced Stock Search: The app includes an improved stock search functionality, making it easier for users to find and track their desired stocks.
Beginner-Friendly: This virtual trading app is suitable for beginners, providing a user-friendly interface and features that cater to their learning needs.
Lags during Price Movement: Some users may experience lags or delays in the app's performance when there is significant price movement in the market.
Frequent Forced Updates: Users may receive frequent updates for the app, which are mandatory to ensure optimal functionality and security.
Pricing: You can download the NSE Virtual Trading app for free from Google Play Store.
12. TradingView Virtual Trading App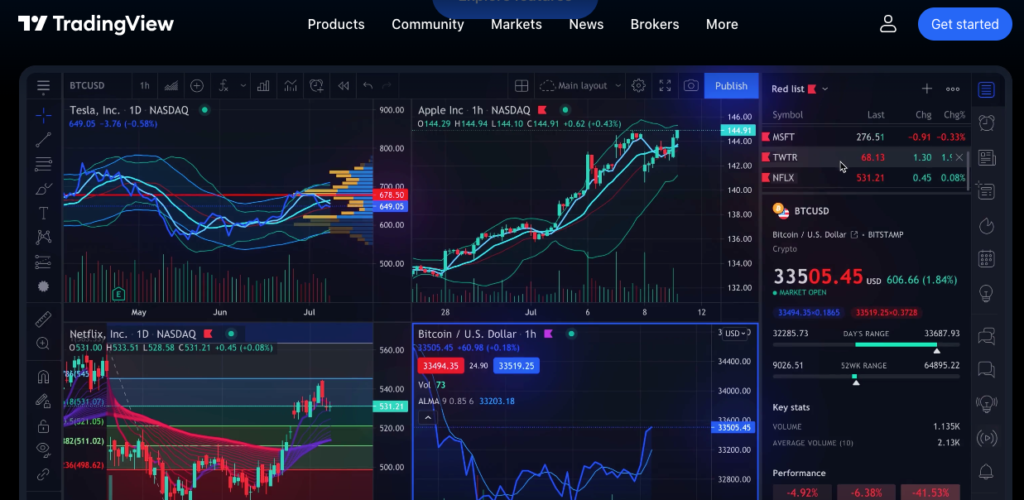 TradingView is a virtual trading platform that enables users to participate in various markets, including currencies, futures, cryptocurrencies, bonds, and stocks. It has access to world charts, chats and trades markets. The company also provides over 10 different types of sophisticated charts, allowing traders to analyze market dynamics effectively.
Additionally, you have the flexibility to create custom watchlists and receive real-time updates on financial commodities, enhancing their trading experience.
You can easily track your assets, explore trading ideas, engage in discussions with other traders, and execute trades directly on the charts. It empowers you to spot opportunities in global markets and discover new trading ideas to enhance your investment strategy.
Features of TradeView Virtual Trading App
Drawing Tools: TradingView provides a wide range of drawing tools, including trends, lines, geometric forms, and annotation patterns, to help users analyze the technical aspects of stock trading.
Screeners: It also offers screeners for various markets, such as stocks, forex, and cryptocurrencies, allowing users to identify potential trading opportunities.
Trading Indicators: Additionally, TradingView offers a comprehensive selection of trading indicators, with regular updates to incorporate new ones.
Virtual Money: To practice trading without real financial risk, users are provided with a default amount of $100,000 in virtual money upon signing up.
TradingView Pros & Cons (Benefits and Disadvantages)
TradingView provides access to historical patterns, allowing users to analyze past market trends and patterns to aid in strategizing for future trades.
The platform offers easy-to-use charting options with smooth zoom-in and out functionality, making it convenient for users to navigate and analyze stock charts.
Additionally, TradingView offers an extensive library of community-built and popular stock indicators, enabling users to customize their technical analysis tools.
However, it's worth noting that TradingView has limited support for brokers, so users may need to check if their preferred broker is compatible with the platform.
Pricing: Price on Request as available on the TradeView website.
Conclusion
Virtual trading apps are perfect for learning and experimenting with new trading strategies without risking real money. You can use virtual cash to play and avoid actual losses. Once you see improvement in your performance, you can transition to the real stock market and trade with real money for higher returns on your investments.
Analyzing your profit and loss statements is crucial for success in virtual trading. If you're looking for the best technical analysis software for stock trading, you can always visit hybridcloudtech.com for a reliable solution.
FAQs on Best Virtual Trading App
1.Which Web platform or App is best for virtual trading?
TradingView, Moneypot, Chart Mantra, and TrakInvest are among the top platforms for virtual trading. They provide a safe environment for traders to enhance their skills without the need to invest real money.
2. Is Virtual Trading App safe?
Yes, virtual trading apps are designed to be safe and secure. They employ robust encryption measures to ensure the protection of user data and maintain the privacy of their trading activities.
3. Which is the best virtual trading app in India, Nigeria US, UK?
Zerodha Varsity, ICICI Direct, and NSE Virtual Trading are well-regarded virtual trading apps in India, South Africa, Ghana, Nigeria, UK, US, Canada and the rest of thee world. These platform will offer you the opportunity to practice trading in a simulated environment and enhance your trading skills without the risk of real money.
4. Where can I do virtual trading?
You can simply do virtual trading on platforms like Chart Mantra, Fidelity, Stock Market Challenge by Dalal Street Investment Journal, and more. Its that simple.
5. Which are the best virtual stock trading apps?
Moneypot, Sensibull, and Zerodha Varsity are indeed popular virtual stock trading apps that offer you the opportunity to practice trading without using real money. These apps provide a simulated trading environment where you can learn and implement trading strategies, track your portfolio performance, and gain experience in the stock market.
Read More
Article last updated in 2023!!!