As residents in the United states, we know that credit unions require membership to open a bank account or utilize services. But for you to be a member, you'll have to work for some specific employers or live in a specific area, city or county. Usually, a lot of residents are asking about the requirements that let you join credit union from anywhere in the US.
So, if you're among those people open to banking with a credit union instead of a commercial bank, this post if for you. For your benefit, my team has put together a list of potential credit unions for you to possibly consider.
The options made available on this article are also in best bank accounts finance category guides. There are Hispanic American-owned banks guide, as well as Black-owned banks guide free for you. Before we continue, take a look at these similar posts;
Credit unions with easy membership requirements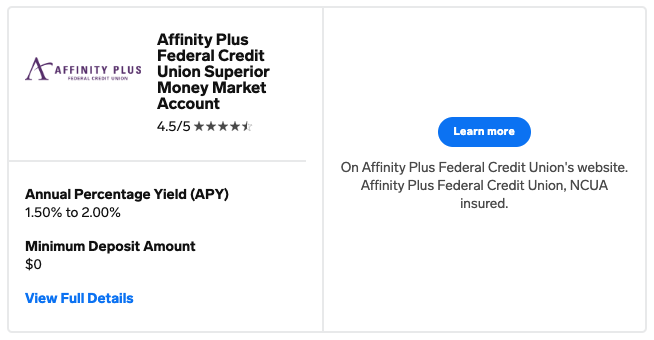 Why APFCU stands out: The Affinity Plus Federal Credit Union pays high interest rates. Whether it is money market account or CDs, you're sure to earn high. Secondly, APFCU also has a rewards program that allows customers earn points. But you have to keep a certain amount of money in your account or make use of their bank credit cards.
Membership requirements of APFCU: Currently, the fastest way to join Affinity Plus Federal Credit Union is to simply make a donation. You can donate as low as $25 to the Affinity Plus Foundation and open a savings account immediately. Presently, Affinity Plus Federal Credit Union has about twenty six branches in Minnesota. They also have additional ways to become a member if you live or work in the host state.
2. Alliant Credit Union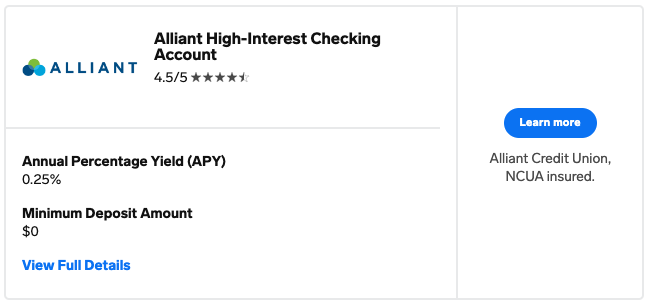 Why ACUAN stands out: Alliant Credit Union Alliant Credit Union has high-interest savings. Their checking accounts also has a low minimum opening deposits or balance.
Membership requirements: For you to be able to join as plus becoming a member of Alliant Credit Union, you've to join Foster Care to Success. It is a non-profit organization focused on foster youth. Then you can be able to pay the $5 joining fee. On the whole, you'll also be able to join the credit union if you live in Illinois or work at an eligible employer. Note that only certain parts of state is eligible. Contact your local credit union for more updates.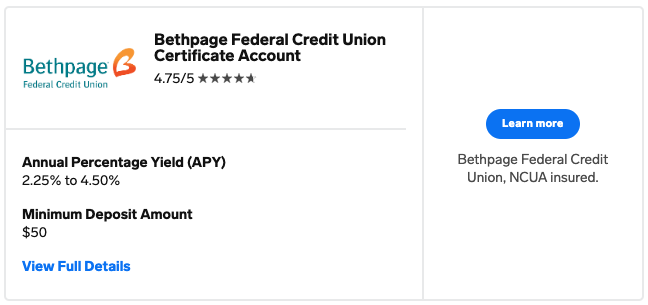 Why BFCU stands out: Bethpage Federal Credit Union lets you earn a high interest rate on checking, certificate, or money market accounts. If you're looking for an institution with a low minimum opening deposit, you'll discover the certificates are especially appealing. However, you'll till need only $50 to open an account.
Membership requirements: Bethpage Federal Credit Union is a universal union. They allow everyone to register online from anywhere in the US. But, you have to open a savings account with at least $5 flat.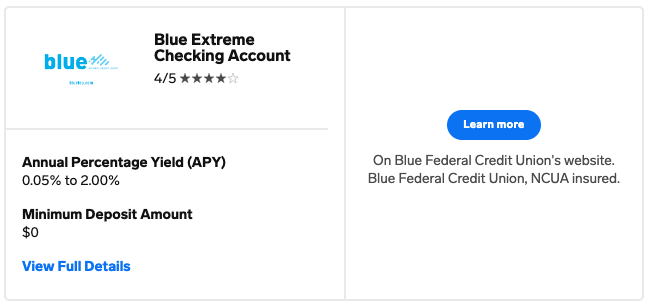 Why BECA stands out: This Blue Extreme Checking Account is a great option if you're looking for a high-yield checking account. In this type of account, there's usually no minimum opening deposit. Lastly, there's no monthly service fees. Its also one of your best options if you require online service. Fortunately, the bank as well offers 24/7 live customer service. You'll agree that, it is ideal if traditional banking hours don't work for you.
Membership requirements: The quickest way to join is Blue Extreme Checking Account is by donating $5 to the Blue Foundation. Another way is by opening the Blue Federal Credit Union Membership Share Savings Account with another $5. Considerably, if you reside in Wyoming or Colorado, you may also may qualify but you've to meet another membership requirement.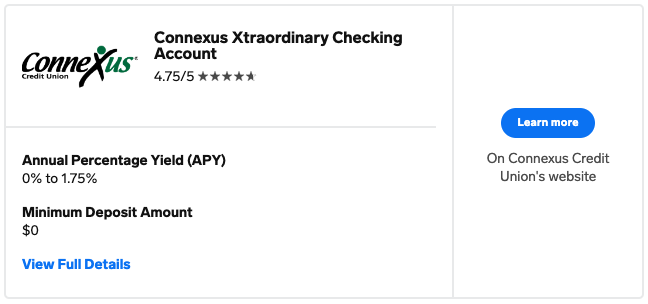 Why CCU stands out: First, the Connexus Credit Union pays competitive interest rates on all types of accounts. Secondly, the Connexus Xtraordinary Checking Account is a solid choice if your priority is finding a high-yield checking account. So, its a matter of choice.
Membership requirements: If you can donate $5 to Connexus Association, you can be eligible to join Connexus Credit Union online from anywhere in the US. If you or a family member live in Minnesota, Ohio, or Wisconsin, you can check their website to see if you meet one of the credit union's other membership requirements.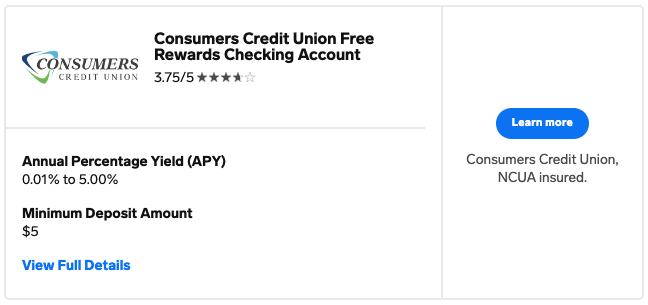 Why CCU stands out: Consumers Credit Union has a unique high-yield checking account that pays you a high interest. But as usual, you must meet the membership requirements. Their bank accounts requires a low-minimum opening deposits. The CCU Customer service support is also available 24/7 through live chat.
Membership requirements: For the benefit of doubt, anyone living in USA can become a member of Consumers Credit Union online. All you have to do is to simply make a one-time $5 membership fee payment and open a savings account.
If you're an immigrant or not a US citizen, Consumers Credit Union lets you use a Matricula Consular ID. You can also use a permanent resident card instead of a US government ID to open an account.
(The matrícula consular is an identity card that Mexican consulates issue to Mexican citizens who reside outside Mexico.)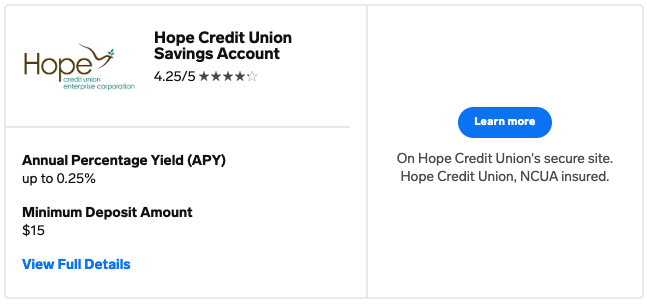 Why HCU stands out: Hope Credit Union is a Black-owned financial institution. Reason of creating it is to give back to local communities in certain parts of Alabama, Arkansas, Louisiana, Mississippi, and Tennessee respectively. At this time, it has solid savings and checking accounts that don't have monthly service fees. Members use it for free.
The HCU is a Juntos Avanzamos designated credit union. Therefore, it allows people to use a permanent resident card. As an advantage, people with foreign passport, or Matricula Consular but don't have a US ID can still join. In addition, intending members also be able to use an ITIN number instead of a Social Security Number. On the long run, if you plan on using an alternative ID, you'll have to apply in person (for verification) instead of online, though.
Membership requirements: The Hope Credit Union is easy and direct to the point. The union lets you join online if you make a payment of $10 membership fee.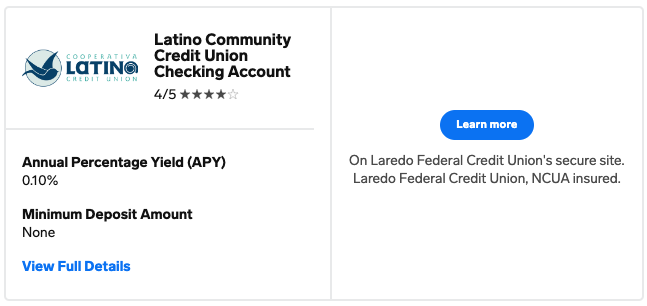 Why LCCU stands out: Latino Community Credit Union is a Hispanic American-led financial institution located in North Carolina. They provide financial literacy education as well as bilingual services to local communities in North Carolina. It also has savings and checking accounts with low minimum opening deposits for applicants.
Membership requirements: The Latino Community Credit Union allows anyone in the US to join. So, even though you don't live in North Carolina, you can still apply online. All you have to do is to submit an application and making a $10 membership fee payment.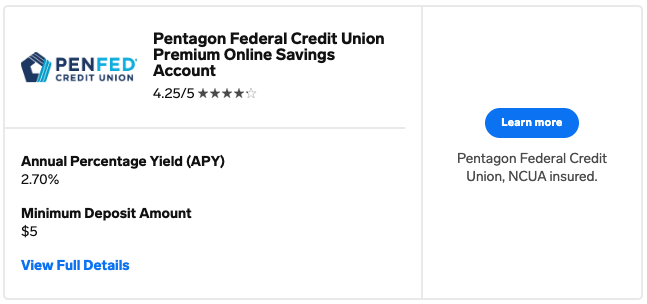 Why PFCU stands out: Pentagon Federal Credit Union pays competitive interest rates on its savings account and CDs. You also may like it if you're part of a military family.
Membership requirements: This credit union is mostly for military personnel. However, the simple way to be part of Pentagon Federal Credit Union, is by applying to opening a savings account. The application fee cost $5. So, if you have ever served in the army, you're eligible for membership. If you work at a select employer, you might be eligible too.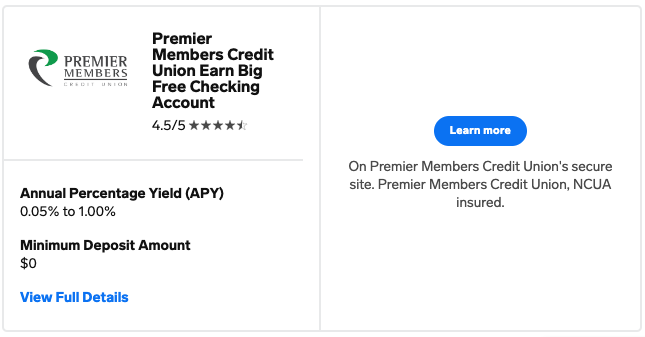 Why PMCU stands out: The Premier Members Credit Union "Earn Big Free Checking Account" is one of the credit union's strongest accounts. It earns a competitive interest rate. They don't have monthly service charges.
Membership requirements: Th Premier Members Credit Union is based in Colorado and its for people living there. However, you're still eligible for membership if you successfully join Impact on Education, a charity in the Boulder Valley School District. You can then apply to open a savings account online. On the whole, if you live in Colorado, check if you reside in any of the eligible counties or work at a select employer.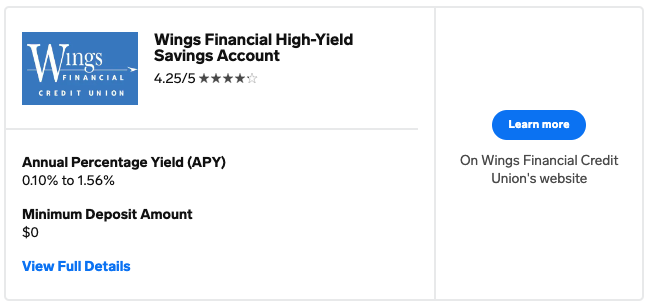 Why WFCU stands out: Wings Financial Credit Union offers high-yield savings and checking accounts to customers. Notwithstanding, you've to meet the bank account requirements for one of their two accounts, before you'll earn a high rate.
Membership requirements: The is an aviationunion. Trust me, the easiest way to join Wings Financial Credit Union is to make a donation of $5 to the Wings Financial Foundation. However, if you or a family work in the aviation industry or live in an eligible county or metro area, you also might be eligible.
What are the Pros and Cons of Choosing a Credit Union
Quick question; are you still wandering over the decision of whether to pick a credit union or a bank? Here are a few of the main advantages and disadvantages to be aware of about credit unions. The purpose is to help make your decision in determining whether a credit union is right for you or not.
Similar: How Can Poor Credit Score Hurt My Social Security Benefits?
Advantages of joining a Credit Union
1. Earn high interest rates.
Normally, credit unions offer higher interest rates more than traditional brick-and-mortar banks. However, with online banks, it might typically be more of a misunderstanding since interest rates are similar.
Just search for a high-yield bank account at credit unions and online banks until you locate one that solves your banking problems. If you open a high-yield savings or checking account, you can carry out transactions with ease. You'll also have a safe place to stave your money and earn a competitive rate with ease.
2. Fewer monthly service fees.
A few of the eleven credit unions featured on the list on this article have bank accounts with zero monthly maintenance fees. But, at a commercial brick-in-mortar bank, you may need to keep a certain deposit amount in your account each month. You still have to meet distinct requirements to waiver a fee. However, most online banks do not charge any fee monthly.
3. Additional member perks.
From the comments above, we can see that some credit unions have rewards programs. An example is the Affinity Plus Credit Union thats has a rewards program that allows you earn points if you keep a certain amount of money in your account. If you make use of a bank credit card, you can be eligible. The earned points can be spent on gift cards, travel, or even donating to charities of choice.
4. Local banking options.
All online banks may be online-only platform, so some might not have any physical locations. On the other side, credit unions often have a few local branches in a city or county. If you live near any of the credit unions in the list above, you still get to visit a brick-and-mortar location and deposit cash.
Disadvantages of joining a credit union
1. Limited locations.
Ultimately, your experience will vary depending on where you live. If you don't live near a branch location, you'll have to be comfortable with online and mobile banking. Otherwise, it may be a struggle to manage your account.
2. Fewer products and services.
Some credit unions offer limited account options. If you want more variety in your account options, a brick-and-mortar bank or online bank is likely a better choice.
When should you bank with a credit union over a bank?
I believe you'll prefer a credit union to a bank if you find specific accounts or services that are ideal for your goals, plus aspirations. Many of the credit unions featured have high-yield bank accounts. But if you find an account that matches what you're looking for, you won't feel like you're compromising because there are fewer products and services. Before making a choice, try to know if the Banks are Open or Closed Today for specific days. you can see the Calendar USA Bank holidays.
You also might want to choose a credit union if you struggle with traditional banking services or requirements. Some credit unions offer 24/7 live customer service. Other institutions featured, allow you to use a foreign ID or ITIN number if you aren't a US citizen.
First of all, most of the credit unions let you join online from all over the US.
Secondly, for you to become a member, give a small donation to a foundation or open a savings account.
Lastly, You'll prefer a credit union over a traditional bank if you want to earn a higher interest rate.
Check this update: How do I pay Bills with my Home Depot Card?
Please note: While the offers mentioned above are accurate at the time of publication, they're subject to change at any time and may have changed, or may no longer be available.
Next: How to Choose the best Traditional Bank to Open Checking Account.