What are the list of documents needed to Apply for Home Loan? A mortgage becomes a serious necessity if you cannot make a one time payment for a home to put a roof over your head. In this case, it will make a lot of sense and relief to have a mortgage on your home. Home loan is still better, even though you have the money to pay it off at once.
Take for example, if you have another business transaction, financial commitment or other investments you want to do, a mortgage gives you the flexibility to repay the loan in a long tenor.
In this article, all the key documents needed to apply for a home loan in Nigeria (Mortgage Application) is available in this guide. Now, to enhance the readability and organization of the loan application requirements, a list format has been used for better understanding. Each requirement is numbered for easy reference. The descriptions are direct and highlight the necessary documents and information needed for the loan application process in Nigeria. Meanwhile, you can take a look at the 10 Mortgage Terminology of Home Loan Financing and banking terms.
The basic requirements for accessing a mortgage facility are as follows;
10 Mortgage Loan Application Requirements in Nigeria:
Application Letter
Introduction Letter from Employer
Offer Letter from Property Developer
Copy of Property Documents
Monthly Salary Payslips
Bank Account Statements
Means of Identification
Tax Clearance Certificate
Letter of Employment and Confirmation
Approved Building Plan
Now, we will elaborate on the list above for easier understanding and how you can obtain some of these documents.
1. Application Letter:
You will need to write a formal letter stating your request for a loan, including relevant personal and financial information. Let the letter be simple and direct to the point. You can use a plan sheet of paper to write this or make use of a letter headed paper if you have a private company. Address the letter to the bank/lender and submit it to the appropriate office.
2. Introduction Letter from Employer:
The lender requests for a letter from your employer confirming your employment status and position within the company. This will help the lender to have your complete biodata to enable them process the mortgage loan faster. If you have a private business or your own boss, it is necessary to add your Certificate of Incorporation (CAC) documents for clarity.
3. Offer Letter from Property Developer:
A letter from the property developer providing details of the property you intend to purchase. You can approach the local government or area council in charge or development council in charge of land/house allocation. If you are buying from a private contractor, talk to the estate management or the property agent to get a copy.
4. Copy of Property Documents:
You will have to provide photocopies of important property documents, such as the Certificate of Occupancy, to establish ownership and value. You can get the C of O from the local government, area council or county district controller. If you are not the first buyer of the home, you can get it from the previous owner who must have the Survey plan, Deed of Conveyance, C-of-O, R-of-O, Purchase Agreements etc.
5. Payslips:
Normally, you also need to present payslips for the past 3 months to demonstrate a stable income and the ability to repay the loan. If you are business owner, make sure you create an official payslip from your business account to your personal account. You can discuss more with your mortgage loan officer for further explanation.
6. Bank Account Statements:
You must have a hard copy of bank statements covering the last 6 to 12 months of inflow and outflow transactions. In most cases, the transaction period solely depends on the financier's requirements, which is to show your financial stability. Be sure not to have a previous unpaid loan in that account. Also keep in mind that your credit score has its role to play for your creditworthiness. These are the Best Strategies to Improve Your Credit Score from 500 to 800.
7. Means of Identification:
Another requirement to apply for a mortgage loan is to present a valid means of identification like any official ID card. This can be an international passport, National ID card, Voters card or Driver's license. Simply goto Nigerian Immigration to obtain an ECOWAS passport. You can also approach the Independent National Electoral Commission (INEC) to get your voters card. Invariably, you can visit the Motor Licensing United of the your local government or Vehicle Inspection Office (VIO) to apply and get a driver's license.
8. Tax Clearance Certificate:
Make sure you include a valid tax clearance certificate to confirm compliance with tax obligations. Goto Federal Inland Revenue Service (FIRS) to apply for and obtain your tax clearance. If you have a private company, you will need a Taxpayer Identification Number (TIN) to be able to get your tax clearance. As a federal, state or local government worker, you should already have a TIN number used by FIRS to automatically charge your tax payment from your salary. Talk with your office financial department for guidance.
9. Letter of Employment and Confirmation:
Submit a letter of employment and confirmation for individuals with job experience ranging from 2 years to 7 years. This is the appointment letter given to you by your boss at your place of work stating your job role, wages and incentives. For private business owners, your documents for your company as the director or chairman will do. However, you can talk to the loan company for further explanation.
10. Approved Building Plan:
If the loan is intended for construction purposes, provide an approved building plan to showcase the project's legitimacy and compliance with regulations. When applying for a loan in Nigeria for a construction project, the following are examples of building plan documents that may be required: Architectural Drawings, Structural Drawings, Electrical Drawings, Plumbing Drawings, Mechanical Drawings, Fire Safety Drawings, Land Survey Plan and Environmental Impact Assessment (EIA).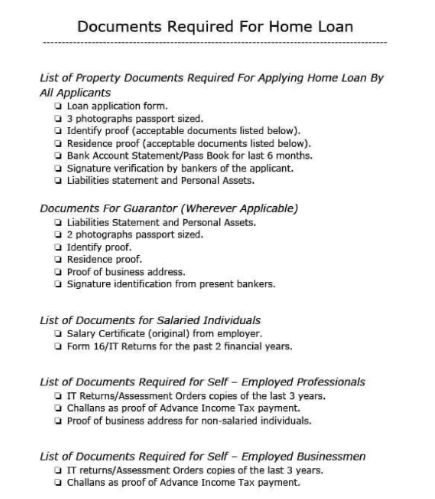 Similar Guides for Mortgage Application
Basic Steps to Obtain a Loan in Nigeria
Asides from these requirements, any loan facility to be granted always follow these steps which are;
Account Opening
Equity Deposit
Application for the loan
Assessment of documents
Processing and approval
Disbursement of cash
The listed above is very important for a lot of reasons because many Nigerians mostly never give into the use of mortgage institutions based on the belief that mortgage institutions are profit-oriented and not customer-oriented, while others are simply afraid of 'debts.'
Some have ended up getting defrauded, paying wrong parties or buildings on lands involved in a legal tussle or owned by the government.
Asides from making finances available, mortgage institutions carry out due diligence on the property or land during the process of assessment. This is to find out if the buyer can go ahead with the purchase or otherwise inform the buyer about any trace of ingenuity or doubt to discourage the purchase.
More Helpful Guides for Mortgage Application
Conclusion
In conclusion, once you have met the above requirements, as well as any other additional necessities based on the mortgage institution of your choice, you can get your dream house with ease.
A mortgage becomes essential when you are unable to afford the complete upfront cost of a home. However, there are situations where obtaining a mortgage can still be beneficial, even if you have the means to pay off the property entirely. For instance, if you have alternative investment opportunities, a mortgage offers the flexibility to repay the loan over an extended period, allowing you to pursue those investments.
Useful Guides for Mortgage Application