Welcome to AWS Innovate Online Conference – AI & Machine Learning Edition, a free virtual event designed to inspire and empower you to accelerate innovation, scale effortlessly, and unlock new possibilities. This edition of Innovate is not to be missed, as we'll be featuring the latest releases from re:Invent, case studies from leading organizations, and much more.
AWS Conference 2022 Tags: aws summit online, reinvent conference 2022, aws summit india, aws reinvent agenda, aws reinvent 2022 videos, aws reinvent cost, aws reinvent announcements, aws reinvent 2022.
Dive deep into any of the 50+ sessions across twelve tracks, with content available in English, French, German, Hebrew, Italian, Polish, Russian and Spanish. Our experts will explain key features, share best practices, walk through technical demos and case studies, and be available to answer your questions one-on-one via live Q&A.
Related articles
Why attend?
Join us as we feature AWS' latest announcements, technologies, and innovations in AI/ML. Dive deep into business use cases, and architectural and deployment best practices.
Who should attend?
Whether you are just getting started with AI & Machine Learning or are an advanced user, are a business executive, or are just curious about AI/ML, this event has a specific track for you.
Topics related to AWS Innovation – AI / ML Edition
aws has how many times more machine learning customers than the next largest cloud provider?
view aws ml studio
complete aws machine learning algorithms
new aws predictive analytics
three layers of the aws machine learning stack
join aws deepracer innovate challenge
latest aws automl
top aws builder experience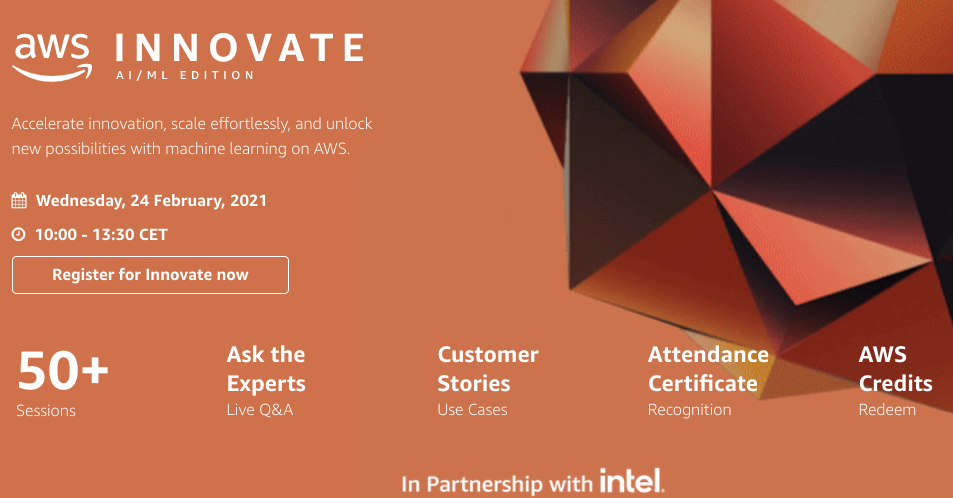 Agenda
Get inspired and learn how you can use machine learning to drive better experiences, streamline operations, and reduce risks, and walk away with the ability to implement these projects for your organization.
Dive deep into any of the 50+ business and technical sessions led by AWS experts as they share the latest innovations in AI/ML, key concepts, business use cases, architectural best practices, and answer your questions live.
Use the breaks to visit our Innovation Lab, Partner Pavillion, DeepRacer Zone and connect with an AWS Expert to dive deeper into our AI/ML content.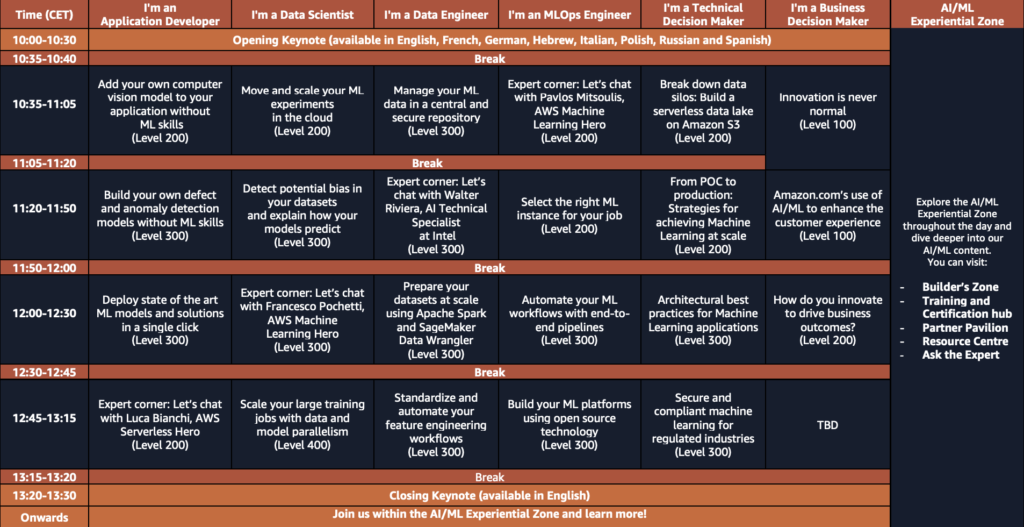 Download Agenda at a Glance and check out our French, German, Hebrew, Italian, Russian, and Spanish tracks.
Trending IT & Business Courses
Timing & Location
Wednesday, February 24 | Online
London
UTC +0
Time: 09:00 – 12:30
Paris/Berlin/ Amsterdam
UTC +1
Time: 10:00 – 13:30
Jerusalem/Cape Town
UTC +2
Time: 11:00 – 14:30
Moscow
UTC +3
Time: 12:00 – 15:30
Dubai
UTC +4
Time: 13:00 – 16:30
Featured Speakers at AWS Innovation – AI / ML Edition 2021

Register Courses for this Year
Marcia Villalba, Senior Developer Advocate, AWS:
Marcia is a developer advocate for AWS and the host of FooBar a YouTube channel where she publishes content every week, related to serverless and the cloud. She has been designing and developing software professionally for 15 years and worked in all the different stages of building scaling and performant software. She has deep knowledge of building applications in the cloud and using DevOps processes.
Julien Simon, Principal Developer Advocate, AI & Machine Learning, AWS
As a global AI & machine learning evangelist, Julien focuses on helping developers and enterprises bring their ideas to life. He frequently speaks at conferences, and blogs on the AWS News Blog. He's also the author of the "Learn Amazon SageMaker" book. Prior to joining AWS, Julien served for 10 years as CTO/VP of engineering in top-tier web startups.
Antje Barth, Developer Advocate for AI and Machine Learning, AWS
Antje Barth is a Developer Advocate for AI and Machine Learning at Amazon Web Services (AWS). She is co-author of the O'Reilly Book "Data Science on AWS." Antje frequently speaks at AI and Machine Learning conferences, events and meetups around the world. Besides AI/ML, Antje is passionate about helping developers leverage Big Data, container and Kubernetes platforms in the context of AI and Machine Learning.
Prior to joining AWS, Antje worked in technical evangelism and solutions engineering at MapR and Cisco. Antje is also co-founder of the Düsseldorf chapter of Women in Big Data.
Register Now!!! – SEE THIS WEEK'S EVENTS.
Get started with AWS today
Gain free, hands-on experience with the AWS platform, products, and services. Explore more than 60 products and start building on AWS using the free tier. AWS Innovation Online Conference – AI / ML February Edition.