This is the official Fansly Payout Methods for Content Creators. For those people seeking how to get paid on Fansly, this page is for you. Basically, Fansly offer payouts via Bank Transfer (ACH/SEPA), Skrill, and Paxum.
It is fact that content monetization platforms have already become a reliable way of passive income for many people online. However, the payout rules differ on each site. Therefore, let's talk about all the details on how to request payout on Fansly and what payment options are available to influencers.
Content Monetization on Fansly
An overview of Fansly site show that it allows all NSFW content creators to earn money from paid subscriptions. But at the same time, the entire user experience is radically different from other dating, chatting and content sites like OnlyFans.
In the Fansly app, all users can follow content creators for free. The bloggers however accustom their audience to high-quality free content. From there, they can offer to pay for access to exclusive materials including private chats, photos, gifs and videos.
Moreover, having free content on your user account is an effective tool to win subscribers. Trust me, new members as well as followers are not ready to pay for a content without sample label of what is inside. The available opportunity to check the creator's work sincerely increases chance to get a subscription from a follower.
Research shows that a similar system with free and paid content was implemented on other paid subscription platform. they include, Tiktok, Likee, FriendsOnly.me, Youtube, etc.
A huge advantage of similar sites and apps even compared to Fansly is avaibale on review websites. The rotation of free video by all content creators on the main page of these other Fansly alternative sites makes it even more interesting.
In Fansly, a user can swipe reels like on TikTok, Facebook, Youtube, Likee until they find an interesting blogger. From there, a user can visit the user's profile and begins a paid subscription for new updates.
Fansly Payment Methods
As stated on the official Fansly website, content creators receive on Fansly 80% of the income (total revenue including tips) from all the money received. However, 20% is taken as commission of the system owners (Select Media LLC). Similar schemes (Fansly Payout Methods) are available on most of analogues like FriendsOnly.
As can be seen on the wallet and payment page, Fansly payment options are convenient for those who own accounts in Skrill and Paxum systems. Fansly's alternative payment method is international bank transfers.
Now, for you to choose an option, select "Add payment method" in the site menu. Click on the "Income" page on the "Add payment method" item and provide the required information.
Fansly does not offer alternative payments such as a transfer to a crypto wallet or direct money transfer to a credit card. You can take a look at the Best Ways to Prevent Fraud on Credit Card with Identity Theft Detection.
How to request a Fansly payout
Once you have correctly added your payout method, you can request to withdraw your Available for Payout earnings in your Earnings Wallet.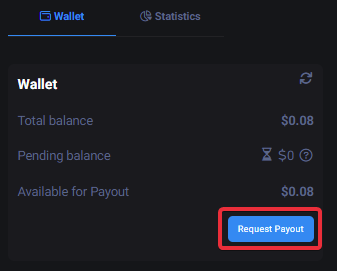 Fansly payout rules
The platform introduced pending funds, which means that the funds are available for payments 7 days after the payment by the follower.
For the execution speed. After approval, the payment is processed from 1 to 3 days. To check the status of a payout request in Fansly, open the site menu and select "Add payout method". Then you see your wallet balance. Check the withdrawal requests section of your wallet.
Fansly authors report payment delays. If such a situation arises, contact the platform support service for help. Besides, if authors' countries cannot receive standard Fansly payouts, they can't receive alternative payment methods too. In other words, if you can't register as an author, you won't get bank transfers.
If you were not able to resolve the problem, try re-adding your card after 24-hours later, or try to add a different card. If your purchases are being declined by your issuer, please contact your provider to whitelist transactions from Select Media. Please reach out to us directly at support@fansly.com for further assistance.
Do I lose earnings if a customer charges back?
Fansly protects you from chargebacks in (almost) all cases, though we do reserve the right to deduct earnings if your account receives an unusually high number of chargebacks compared to the general creator base. You can read more about our chargeback policy in our Terms of Service: https://fansly.com/tos.
Does Fansly withhold taxes from payments?
No. Fansly does not withhold any taxes from your funds earned on our platform.
Conclusion
Fansly has a solid payout system for creators. However, this is the best deal Fansly can offer for now. As time roles by, they will provide more Fansly Payout Methods as well as updates.
On the other side, Fransly as well as FriendsOnly doesn't have a pending period. So, you won't have to wait to get the first check. Fansly allows author withdraw money to accounts of any banks with no restrictions. Moreover, most payments are made within one business day. Request payouts at your convenience.
Related Posts