This is the comparison between Sling TV and DirecTV Now to know which Live TV Streaming Service is better. If you're trying to break free from the costly monthly subscriptions of cable and satellite TV, along with their burdensome set-top box requirements and perplexing channel bundles, you're likely searching for a live TV streaming service.
With the appropriate service, you have the potential to both reduce your expenses and liberate yourself from the constraints of pay TV. However, I want you to note that no two services are identical, so a bit of research is necessary. How to Download FZMovies.net, Movie, Music and TV Shows for Free
We're going to look at two popular live TV services, AT&T's DirecTV Now and Dish's Sling TV, so you can see how they are different. We'll break it down by categories to help you decide which service is better for you. You can however, take a look at my previous guide on "How to Download FZMovies.net, Movies, Music and TV Shows" for Free. before you continue. have you done that? If yes, then, get ready, and let's get started!
Prices of Sling TV and DirecTV
Sling TV and DirecTV Now are two services for watching TV, and they're both owned by big satellite TV companies: Dish and AT&T/DirecTV. But they're not exactly the same as regular satellite TV – they're more like alternatives. This means they might not have as many channels and fancy features, but that's actually a good thing for most people.
1. Sling TV Price
Let's talk about Sling TV first. They have two main packages: Sling Orange and Sling Blue, and both cost $25 each month. Sling Orange gives you 34 channels to watch, and Sling Blue offers 56. If you want both, which is called Orange+Blue, it's $40 a month. Each package has different channels, but some are the same. If you like sports, Sling Orange has more sports channels, including ESPN. If you want even more channels, you can add them for extra money, starting at $5 per month.
2. DirecTV Prices
Now, DirecTV Now is a bit different. They have plans that are similar to regular cable and satellite TV. The cheapest one is the Plus plan, and it costs $50 per month. With that, you get more than 40 channels, and they even include HBO (which Sling TV doesn't have). But here's the thing, it can get quite expensive. The Max package costs $70 per month for 50-plus channels with HBO and Cinemax.
The Entertainment plan is $93 per month for 65-plus channels. If you go for the Choice plan, it's $110 per month for 85-plus channels. Xtra gives you 105-plus channels for $124 per month, and Ultimate has 125-plus channels for $135 per month. If you want to add more channels or features, you can do that too, starting at $5 per month. They also have extra space for recording shows for $10 per month.
But wait, the cheapest plan with DirecTV Now is $50, and if you're trying to save money on TV, that might still be too much. So, in this comparison, Sling TV comes out on top because they have cheaper bundles of channels.
Winner: Sling TV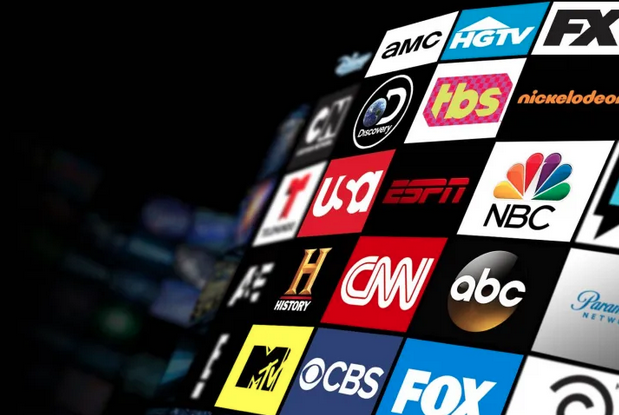 List of Top Channels in Sling TV and DirecTV Now
Let's talk about Sling TV and DirecTV Now, two services for watching TV. They have some differences you should know about.
Sling TV has two packages, Orange and Blue. Each one has different channels. If you want both, you pay $40 each month. This way, you get lots of sports, lifestyle, news, and entertainment channels. But there are some channels you can't get, no matter how much you pay. Channels like ABC, CBS, and HBO are not available on Sling TV. And if you want to watch local Fox and NBC channels, it depends on where you live.
Now, DirecTV Now is a bit different. Their basic plan gives you all four big broadcasters: ABC, CBS, NBC, and Fox. You also get ESPN and HBO in this plan. Depending on which package you choose, you can get more than 125 channels. But there's one channel you won't find: the NFL Network. They took it off DirecTV Now in April 2019 because they couldn't agree on a contract.
So, while you do have to pay for it, DirecTV Now can give you access to a lot more channels than Sling TV.
Winner: DirecTV Now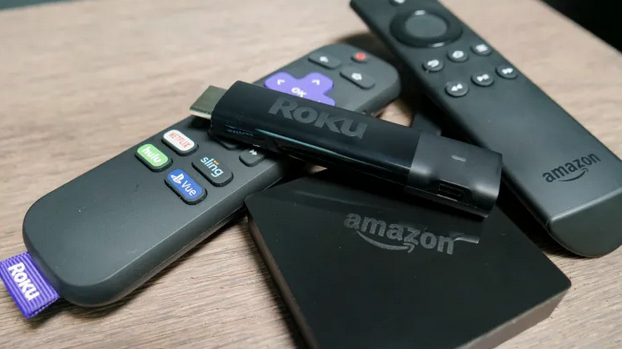 Trending Movie Streaming Recommendations
Supported devices of Sling TV and DirecTV
When you're using a live TV streaming service, it's essential that you can watch it on the devices you have. Let's compare the device support for DirecTV Now and Sling TV.
DirecTV Now does a pretty good job when it comes to supporting different devices. You can watch it on almost every Roku device, including Roku TVs. It also works on the two most recent versions of Apple TV (4th and 5th generations).
If you have a 2nd-gen or higher Amazon Fire TV device or a 2nd-gen or higher Chromecast (or a device with Chromecast built-in), you're in luck. It even works on Samsung Smart TVs, as well as both iOS and Android devices.
Alternatively, if you prefer watching on a web browser, you can use Chrome or Safari. However, if you're hoping to use a gaming console, a non-Samsung smart TV, or an Android TV-powered smart TV or set-top box, you might be out of luck.
On the other hand, Sling TV offers support for all of the devices mentioned above, plus it works on LG's Web OS platform, Xbox One, Android TV, and even Oculus Rift. It's not a massive difference, but Sling TV has a slight edge in terms of device compatibility. So, if having a wide range of device options is important to you, Sling TV takes the lead in this category.
Winner: Sling TV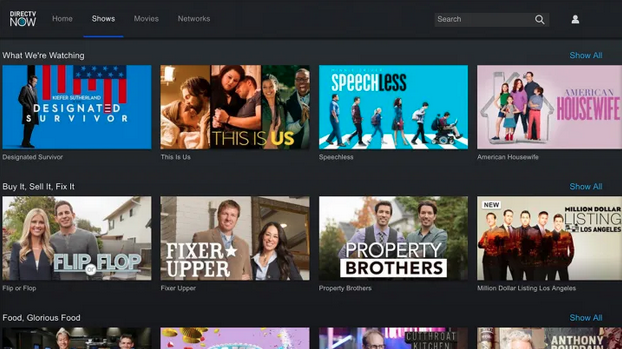 User experience, Audio and Video quality of Sling TV and DirecTV
Let's talk about the user interface and video quality of Sling TV and DirecTV Now.
Sling TV's user interface is a bit different from the traditional grid style you might be used to with cable and satellite companies. However, it's easy to use and can become quite addictive over time. The only downside is that the experience isn't consistent across all devices. Mobile phones and tablets provide a better overall experience compared to, for example, using an Apple TV.
The main frustration comes when you're watching on a larger screen, like a 50-inch TV or more, where the video quality can be a bit disappointing. It's somewhere between 720p and Full HD, and the quality you get depends a lot on your internet connection. If you have a 65-inch 4K TV, you might need to manage your expectations. Audio is another area of concern. Sling TV's on-demand titles often offer 5.1 surround sound, but live TV channels are only streamed in stereo. It's okay for mobile devices but not ideal for home theaters.
On the other hand, DirecTV Now had some quality issues when it first launched but has improved significantly since then, providing excellent picture quality across all devices. Its interface uses big, bold graphics and easy-to-navigate menus, and it looks better overall. When it comes to audio, it's a similar story. Dolby Digital and DTS 5.1 are supported on all live TV channels that offer it, and you can also enjoy it for on-demand content.
In summary, DirecTV Now appears to offer a more polished user interface and better picture and audio quality compared to Sling TV, making it a preferable choice for those who prioritize these aspects.
Winner: DirecTV Now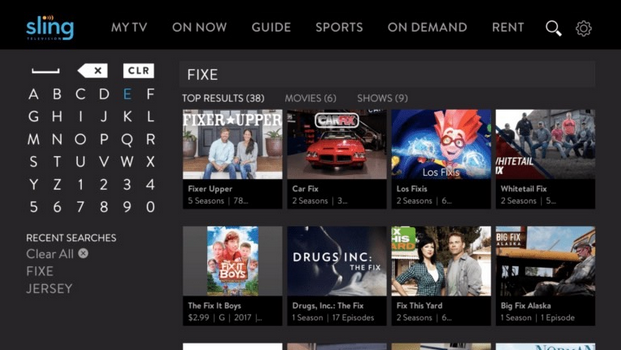 On-demand content
Sling TV and DirecTV Now offer on-demand content, but they have some differences in their libraries.
Sling TV boasts an extensive library of on-demand content, with an impressive 70,000 titles available across 400 channels in 22 different languages. However, your access to these titles depends on the specific streaming package you choose and whether you decide to add premium channels like Starz or Showtime.
On the other hand, DirecTV Now's on-demand catalog is somewhat smaller, with around 40,000 shows and movies. It's worth noting that this catalog includes titles from HBO if your plan includes this channel. So, it might be a case of quality over quantity.
In the end, determining which service has a better catalog is a bit tricky, as it depends on your preferences and which specific shows or movies you're interested in. Therefore, we'll call this one a draw, as both services have their strengths in the on-demand content department.
Winner: Draw
DVR and Multiuser capabilities
Let's talk about the Cloud DVR features of DirecTV Now and Sling TV.
DirecTV Now Features and Capabilities
DirecTV Now includes its Cloud DVR feature for free with a subscription, which is great. However, there's a limitation – you only get 20 hours of storage, and you can't increase it even if you're willing to pay extra. Additionally, shows and movies can only be saved for a maximum of 30 days. Although DirecTV says this feature is in beta, it has been in this state for more than a year now. Each DirecTV Now subscription allows for two simultaneous streams, but you can upgrade to three simultaneous streams for an additional $5 per month.
Sling TV Now Features and Capabilities
On the other hand, Sling TV offers a cloud-based DVR service for $5 per month, providing you with 50 hours of storage. If you're part of the Cloud DVR Beta, you get access to 100 hours. When your storage is full, it will automatically delete the oldest shows (unless you mark them as protected), and you can keep shows as long as you want, as long as you have room and continue paying for the DVR service. You can record any live TV channel except Disney-owned channels and ESPN. The best part is that you can record as many shows simultaneously as you like, as long as you have enough space.
Note that, with a Sling TV Orange subscription, you can only use one stream at a time. Sling TV Blue allows for up to three simultaneous streams, and Orange+Blue increases this to four simultaneous streams. This can be a bit frustrating, as it means you can use some channels with only one device and others with multiple devices.
However, considering the larger storage capacity, more flexible recording rules, and the potential for more simultaneous streams, Sling TV takes the lead in the Cloud DVR department.
Winner: Sling TV
Other Considerations
1. Pay-per-view of Sling TV and DirecTV
Having access to pay-per-view (PPV) events is a significant advantage of cable or satellite connections. Let's see how DirecTV Now and Sling TV stack up in this department.
DirecTV Now has mentioned that it intends to offer PPV content, but it hasn't been implemented yet, and there is no clear timeline for when it will be available.
In contrast, Sling TV does provide PPV options, and they can vary from month to month. In the past, these options have included events like heavyweight boxing, wrestling, and MMA. So, if you're interested in PPV events, Sling TV currently has the edge as it offers these choices periodically.
2. Movie rentals from Sling TV and DirecTV
Sling TV has a rental section where you can access classic and first-run movies for a limited period at a fixed price. This feature is similar to what you might find in your cable or satellite company's PPV movie section or when renting shows on platforms like iTunes.
On the other hand, DirecTV Now currently does not offer movie rentals. So, if you're interested in renting movies, Sling TV has this option available for you.
3. Free content on Sling TV and DirecTV
While it might not be the most critical factor to consider, it's worth mentioning that if you decide to cancel your Sling TV subscription, the service doesn't completely cut you off. Even after canceling your subscription, you can still access a select list of free shows and movies from channels like TBS, TruTV, TNT, Food Network, HGTV, and History Channel.
In comparison, DirecTV Now does not offer any content after you cancel your subscription. So, Sling TV provides a bit of post-cancellation content access, which can be a small bonus for some users.
4. Free OTA channels on Sling TV and DirecTV
Sling TV provides an interesting option for users who want to enhance their live TV streaming experience by incorporating free over-the-air (OTA) HD broadcasts using an HD antenna. If you use a device called AirTV Player, Sling TV, you as well as other customers can seamlessly merge their streaming channels and OTA channels into a single interface. Moreover, if they have a Cloud DVR subscription, they can also use it to record OTA shows.
On the other hand, DirecTV Now customers can access free OTA channels if they have an antenna and a receiver, but the service does not offer a way to integrate them into a unified viewing experience. So, Sling TV provides a more streamlined solution for combining streaming and OTA channels in one interface.
Top 10 Similar Online Streaming Platforms like Sling TV and DirecTV Alternatives
There are several online streaming services similar to Sling TV and DirecTV that offer live TV channels and on-demand content. These services are often referred to as "over-the-top" (OTT) streaming services. Here are some options:
Hulu + Live TV: Hulu offers a live TV streaming service that includes a variety of channels along with access to their library of on-demand content. It's a popular choice for those looking for a combination of live TV and a streaming library.
YouTube TV: YouTube TV provides live TV streaming with a range of channels, cloud DVR storage, and access to YouTube Originals. It's known for its user-friendly interface and unlimited cloud DVR.
FuboTV: FuboTV is known for its sports-focused content, offering a wide range of sports channels along with other entertainment channels. It's a good choice for sports enthusiasts.
AT&T TV NOW (formerly DIRECTV NOW): While DIRECTV has been folded into AT&T TV, AT&T TV NOW is the company's streaming service. It offers a variety of channel packages and on-demand content.
Philo: Philo is a more budget-friendly option that offers a range of entertainment and lifestyle channels. It's a great choice for those who don't need sports or news channels.
Vidgo: Vidgo offers live TV streaming with a focus on sports and entertainment channels. They also offer a Spanish-language package.
Sling TV: While you mentioned it, Sling TV is worth noting as it offers customizable channel packages, allowing you to pick and choose the channels you want to subscribe to.
Peacock: Peacock, by NBCUniversal, offers a free tier with limited content and a premium tier with more content, including live news and sports.
CBS All Access (now Paramount+): If you're a fan of CBS content, Paramount+ offers access to CBS live TV and a library of CBS shows, along with additional content from ViacomCBS.
ESPN+ and Disney+ Bundle: If you're primarily interested in sports and Disney content, you can bundle ESPN+ and Disney+ for a combined subscription.
Conclusion
In this comparison, Sling TV emerges as the winner in many categories, making it a compelling choice for most people. However, the decision ultimately depends on your priorities. If your main concern is keeping your monthly entertainment expenses in check while still having access to major cable channels, Sling TV's flexibility and affordability make a strong case.
On the other hand, if picture and audio quality are of utmost importance, and you don't have access to an HD antenna for major networks like ABC and CBS, or if you can't do without HBO, then Sling TV may not be the right choice for you, regardless of cost savings. In such cases, DirecTV is the preferred option.
Both of these live TV streaming services offer cord-cutters a way to save money while retaining access to some of their favorite channels, but your decision should align with your specific preferences and priorities.
Editors' Recommendations