Answer for a mini business plan for Access Bank Womenpreneur Pitch-a-ton for poultry and fashion business is in this article.
Are you a woman who owns and runs her own business in Nigeria or other African countries? Is your business innovative? How about getting some expert training to help your business grow? If yes, then you can Apply for Access Bank's Womenpreneur Pitch-a-ton. It is usually called the access bank women grant for Africans.
For years, they've been offering helpful tools for women to achieve real financial inclusion and expand their businesses.
The program is made to support businesses owned by women all across Africa. It gives them a chance to get financing and top-notch business training in their specific fields. The program even gives out a Mini-MBA certification and grants worth over 17 million Naira to female entrepreneurs. This can really help your business grow.
Note: This is not a financial guide. Use the information on this page as a guide for writing your mini business plan for any loan or grant competition offered by your local community or banks.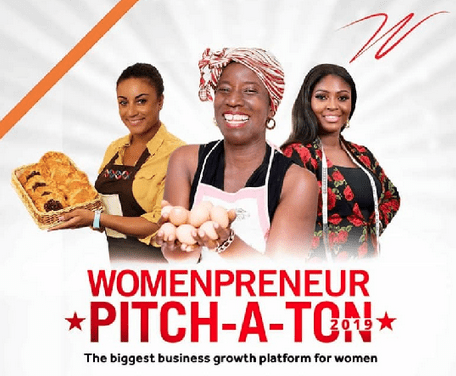 Tell us about your business (This is for Fashion)
First of all, my passion for trending fashion, desire for creativity, entrepreneurial spirit, and the drive to express unique style and make a positive impact in the industry motivated me to start my fashion business.
My fashion business stands out for its groundbreaking designs, unconventional approaches, and cutting-edge technologies, setting new trends in the industry. My fashion house business targets fashion-forward individuals seeking unique, trendsetting styles in my local area of Karu.
With a growing demand for innovative fashion, your business has significant potential for success and establishing a strong customer base. Since my fashion house is located in Karu, AMAC area council in Abuja, it operates under a boutique business model, offering curated collections of high-quality, exclusive fashion items catering to a discerning clientele.
It focuses on personalized customer service, limited edition releases, and collaborations with local designers, creating a unique shopping experience that sets it apart from larger retail stores.
What is the vision of your business (not more than 50 words)
The vision of my fashion house business is to become a global fashion influencer in Abuja by pushing boundaries, embracing diversity, and promoting sustainable practices. Through innovative designs and collaborations, I aim to inspire self-expression, empower individuals, and redefine the fashion industry's standards of creativity and environmental responsibility.
What is the Unique Selling Point of your business (not more than 200 words) – This is for Poultry
The passion for animal welfare, a desire to provide high-quality and sustainable food options, entrepreneurial spirit, and a market demand for poultry products motivated me to start my poultry business. My poultry business stands out for its cutting-edge farming techniques, advanced technology integration, and commitment to sustainable practices, revolutionizing the industry and setting new standards.
My poultry products cater to health-conscious individuals and environmentally conscious consumers in your area. With a rising demand for poultry birds, eggs, my business has great potential to capture a significant market share and establish a loyal customer base.
This my poultry business in Abuja operates under a vertically integrated business model. It includes hatcheries, broiler and layer farms, and processing facilities, ensuring control and quality throughout the supply chain.
Additionally, I focus on direct distribution to retailers, restaurants, and consumers, offering fresh, traceable, and premium poultry products. The vision of my poultry business in Abuja is to be a leading provider of sustainable and high-quality poultry products.
I know that by implementing all these advanced farming practices, making sure animal welfare, promoting local sourcing, and fostering community engagement, my business aims to set new standards for ethical and environmentally responsible poultry production.
What social impact does your business have?
My poultry business has a significant social impact by supporting local farmers and suppliers, creating employment opportunities, and contributing to the local economy.
Additionally, my commitment to animal welfare, sustainable practices, and community engagement fosters awareness, education, and promotes ethical and responsible food choices among consumers. My poultry business supports the local community by creating jobs, sourcing locally, and promoting ethical food choices.
Furthermore, my poultry business is environmentally friendly through sustainable farming practices, waste management systems, and minimizing carbon emissions through local sourcing.
Lastly, my poultry business engages local suppliers by sourcing feed, equipment, and services locally, fostering economic growth and supporting the local business ecosystem.
What is your goal for the business in the next 5 years?
My personal and business goal for the poultry business in the next 5 years is to expand operations, increase market share, establish strategic partnerships, and become a recognized leader in sustainable and ethical poultry production within your region.
The description of the operational processes of my poultry business, covering sales, management, accounting methods, human resources, customer service, and finance as as follows;
Sales:
My poultry business follows a multi-channel sales approach, catering to both wholesale and retail customers. I have dedicated a 5 man sales team responsible for acquiring new customers, managing existing accounts, and ensuring prompt order fulfilment.
Management:
My poultry business operates under a decentralized management structure, with clear lines of authority and responsibility. The key management functions in my poultry house include overseeing production, logistics, quality control, as well as marketing. Regular meetings with my staffs and performance evaluations are conducted to monitor progress and make informed decisions.
Accounting Methods:
My poultry business uses an easy accounting system that includes accurate record-keeping of financial transactions, inventory management, and cost analysis. This strategy helps me to track expenses, monitor profitability, and comply with tax and regulatory requirements.
Human Resources:
My poultry business prioritizes human resource management to ensure a skilled and motivated workforce. This includes recruitment, training, and development programs, performance evaluations, and employee engagement initiatives. I maintain a safe and inclusive work environment, fostering teamwork and employee well-being.
Customer Service:
My poultry business places great emphasis on customer satisfaction. I have a dedicated customer service team that promptly addresses inquiries, resolves issues, and maintains positive relationships with clients. Feedback mechanisms, such as surveys or reviews, are implemented to continuously improve service quality.
Finance:
My poultry business maintains sound financial practices, including budgeting, cash flow management, and financial forecasting. I personally work closely with financial institutions to secure appropriate funding for expansion or operational needs. Financial performance is regularly analyzed to make informed decisions and drive business growth.
In summary, these operational processes ensure efficient production, effective management, financial stability, strong customer relationships, and a motivated workforce for my poultry business.
As an entrepreneur, what is your area of expertise?
As an entrepreneur with a B.Sc degree in business administration, my area of expertise in agriculture lies in the intersection of business management and agricultural practices. While my academic background may be in business administration, I have developed a deep understanding of the agricultural industry through hands-on experience, research, and continuous learning.
My expertise lies in applying business principles and strategies to optimize agricultural operations, such as supply chain management, financial analysis, market research, and strategic planning.
This unique combination of business awareness and agricultural knowledge allows me to effectively overcome the challenges and explore opportunities within the agricultural sector, driving the success of my poultry business and potentially expanding into other areas of agriculture.
What are your personal achievements?
As a poultry farmer with experience in the buying and selling business, previous employment at an egg hatchery factory, and one year of running my own business, I have achieved significant personal milestones. These achievements includes my ability to navigate the challenges of running a business, make strategic decisions, and maintain its operations.
Since I have previously worked as a trainee staff at a local poultry in Warri, Delta State for about 7 months, I have firsthand knowledge of caring for poultry birds, little knowledge of hatchery processes and incubation techniques. This experience deepened my understanding of the poultry production cycle from day old chicks to maturity.
My background in the buying and selling business has equipped me with valuable skills in negotiation, market analysis, and day old chick sourcing. These abilities have undoubtedly played a crucial role in my success as a poultry farmer, enabling me to make informed purchasing decisions, identify market trends, and maximize profitability.
Moreover, my achievements as a poultry farmer highlight your operational skill. From managing day-to-day operations, implementing effective biosecurity measures, and optimizing production efficiency, I have demonstrated my ability to ensure the health and welfare of my bird while maintaining a productive and sustainable operation.
Collectively, my personal achievements as a poultry farmer with experience in buying and selling, employment at a local poultry company, and successful business ownership highlight my expertise in various aspects of the poultry industry. These accomplishments speak of my skills in business management, industry knowledge, operational proficiency, and adaptability, positioning my as a seasoned and accomplished poultry entrepreneur.
What are your Core Values?
My core values revolve around animal welfare, sustainability, and ethical practices. I prioritize providing a safe and healthy environment for my birds, implementing sustainable farming methods, and ensuring the highest standards of care, quality, and integrity throughout my poultry operations.
How does your Skills or Qualities Help your Business?
My personal qualities as a business administrator have played a vital role in the growth of my poultry business. My strategic thinking abilities have helped me make better decisions and identify opportunities. Additionally, my financial management skills and strong organizational abilities have contributed to optimizing profitability and effectively managing various aspects of my business operations.
What qualities do you have that has helped in the growth of your business?
In my poultry business, each of my five employee have specific roles and responsibilities contributing to the smooth operation of the business. These roles may include tasks such as:
Farm Manager: Overseeing overall operations, coordinating activities, and ensuring efficient production processes.
Animal Caretakers: Responsible for the daily care and welfare of the poultry, including feeding, watering, and maintaining clean and safe living conditions.
Maintenance Technician: Handling repairs and maintenance of equipment, infrastructure, and facilities to ensure smooth functioning and minimize downtime.
Egg Collectors: Tasked with collecting and sorting eggs, ensuring proper handling and storage.
Sales and Customer Service Representative: Focused on engaging with customers, managing orders, and providing excellent customer service.
Conclusion
Are you a woman who owns and runs her business? Is your business innovative? What about some expert training to help grow your business? Over the years, we have provided sustainable tools for women to Access true financial inclusion and growth.
The programme is designed to provide female owned businesses across Africa an opportunity to access finance, world-class business trainings as in their different fields. The program offers a Mini-MBA certification and grants worth over N17Million Naira for female entrepreneurs to help grow their business.
Related Articles to Business To Start