United Bank for Africa (UBA) is a bank in Nigeria that offers banking services to people, businesses, and companies. UBA provides many products and services like savings and current accounts, loans, credit cards, investments, and electronic banking solutions.
United Bank for Africa (UBA) has a rich history that started in 1949. It's in Nigeria as the British and French Bank Limited (BFB).
In 1961, BFB merged with the Colonial Bank, and the new entity became Barclays Bank (Dominion, Colonial and Overseas) or Barclays Bank DCO.
Then, in 1971, the bank had another name change and became known as the United Bank for Africa (UBA) about a decade after Nigeria's independence.
Licensing and Incorporation of United Bank for Africa
The bank, United Bank for Africa (UBA), obtained its licensing and was incorporated in Nigeria in the year 1961.
This process involved meeting regulatory requirements and obtaining the necessary approvals from the country's financial authorities.
However, after fulfilling all the necessary legal obligations, the bank officially commenced its operations.
After completing the licensing and incorporation, UBA started offering diverse banking services to individuals, businesses, and corporate clients. It focused on excellent customer service and innovative financial solutions.
Over the years, UBA has become a leading financial institution, expanding to various African countries and international markets. It upholds high banking ethics and adapts to technological advancements for better services.
UBA Regulations And Regulating Body
Just like other commercial financial outfits in Nigeria, and also as an international bank operating in several African countries, United Bank for Africa (UBA) is subject to regulations set by the financial authorities in each country where it operates.
These regulations cover various aspects of banking activities, including capital adequacy, liquidity, risk management, consumer protection, and compliance with anti-money laundering and counter-terrorism financing laws.
Although the regulatory body differs according to its location and country, the specific regulatory bodies overseeing UBA's operations in Nigeria, where UBA was founded, is the Central Bank of Nigeria (CBN).
They serve as the primary regulatory body responsible for supervising and regulating banks and other financial institutions, including UBA.
The CBN sets the guidelines and standards that banks must adhere to, ensuring the stability and integrity of the Nigerian banking system.
However, the case is different in other African countries where there is a UBA office. These regulatory bodies work to ensure that UBA and other banks in their respective jurisdictions comply with the necessary rules and regulations to maintain a sound and secure financial environment.
Types of Accounts You Can Hold with United Bank For Africa
As customer, you can have different accounts with this financial institution. However, let me show a few of the types of accounts you can hold with UBA.
Savings Account: A basic account that helps individuals save money while earning some interest on their deposits.
Current Account: A transactional account that allows frequent deposits, withdrawals, and payments through checks and other means.
Fixed Deposit Account: An account that allows you to deposit a specific amount for a fixed term at a predetermined interest rate, offering higher interest compared to the regular savings accounts.
Corporate Account: This account is for businesses and corporate clients to manage their financial transactions and access banking services tailored to meet their needs.
Domiciliary Account: A foreign currency account that allows you to hold and transact in foreign currencies, useful for international transactions.
Personal Chequing Account: Similar to a current account, this type of account allows you to make payments and withdrawals through checks.
Kids/Children's Savings Account: An account designed to encourage savings habits among children, often with incentives and benefits for young savers.
Joint Account: An account shared between two or more individuals, often used by family members or business partners for shared finances.
Salary Account: Provided to employees of companies for their salary deposits and other banking needs.
Aside the list above, you can always walk into any UBA branch near you to obtain correct information or log in to their official website. This is because, there may be newer updates or adjustments on their mode of operation.
What Are The Requirements to Open a UBA Account?
Although you still have to visit their website or walk into the banking hall near you to get updates depending on the type of account to you wish to open.
The following are the basic requirements you must have to be able to open an account with UBA.
You will need valid identification documents, such as a national identity card, passport, driver's license, or any other government-issued ID for account opening.
In some cases, you may have to provide a utility bill (electricity, water, etc.), a tenancy agreement, or any document that verifies your current residential address.
Your passports are a must have, so carry along a recent passport-sized photographs for account opening.
Some account types may require an initial deposit to activate the account. The amount may vary based on the account type.
You will need to fill out an account opening application form with your personal information and other required details.
In some countries, the customers Tax Identification Number may be required for account opening.
Depending on the type of account and local regulations, there might be additional documentation required, such as business registration documents for corporate accounts or reference letters for specific types of accounts.
Key Features of a United Bank for Africa Account
Aside offering various account types to suit different customer needs, such as savings accounts, current accounts, fixed deposit accounts, and more.
United Bank for Africa has a number of key features to benefit from. Read on to find out:
The bank, provides online and mobile banking services, allowing customers to access their accounts, perform transactions, and manage their finances conveniently from their devices.
UBA PLC facilitates international transactions, foreign currency accounts, and other services for customers involved in cross-border activities.
UBA typically issues debit cards or ATM cards to account holders, enabling them to withdraw cash, make purchases, and perform online transactions.
UBA's internet banking platform offers a secure way for customers to access their accounts, transfer funds, pay bills, and view transaction history online.
The financial institution's mobile app allows customers to perform banking activities on their smartphones, providing additional convenience and ease of access.
UBA often offers bill payment options, allowing customers to settle utility bills, credit card bills, and other payments directly from their accounts.
United Bank for Africa also provides various credit products, such as personal loans, business loans, and credit lines, to customers.
What is the USSD code for UBA its Function?
The general USSD code for UBA bank transfers is *919#. You can choose from multiple options. I will show you USSD Transfer Codes: List of Nigerian Banks Code to Transfer Money.
Kindly select an option for the mobile banking service you want and follow the prompts to complete the process. Here are the major UBA transfer codes:
| | |
| --- | --- |
| Type of Transaction | Bank Codes |
| Self-Enrolment/Registration | *919*0# |
| Balance Checking | *919*00# |
| Self Top Up | *919*amount# |
| Top Up for others | *919*amount*phone number# |
| Transfer to UBA account | *919*3*account number# |
| Inter bank transfers | *919*4*account number# |
| To block Debit card | *919*10# |
| Bills payment | *919*5# |
| BVN retrieval | *919*18# |
| Cardless transactions | *919*30*amount# |
| To generate OTP | *919*8*# |
| Deactivate USSD | *919*911# |
UBA USSD Codes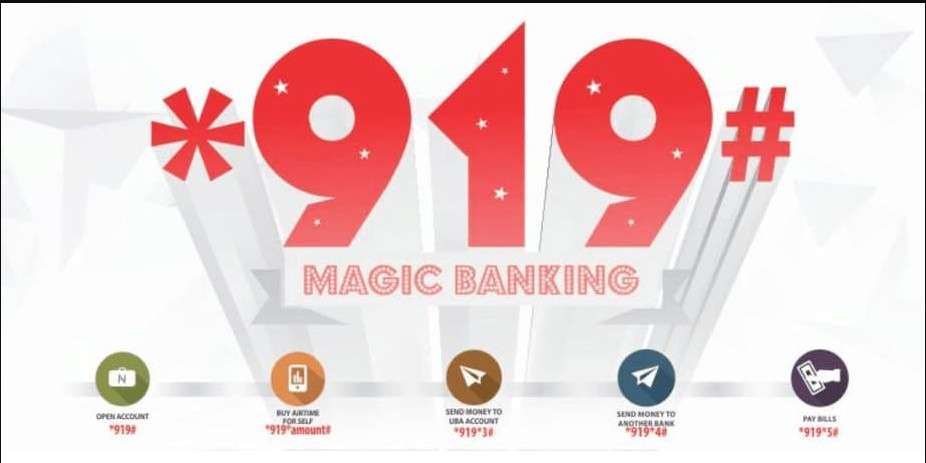 How to Withdraw from UBA Account
There are several ways to access your funds in a United Bank for Africa account. You can withdraw using your bank ATM card or via transfer and receive cash. Additionally, you can use your biometrics if enrolled to withdraw your money. Below is how you can withdraw money via biometric:
How do I withdraw money from UBA ATM with fingerprint
Go to the ATM and initiate the Cardless menu.
Select fingerprint withdrawal option.
Input Account Number (NUBAN)
Place your right thumb on the fingerprint scanner for 7secs and press "proceed."
Input amount to withdraw.
Withdraw your cash.
Conclusion
United Bank for Africa (UBA) remains a dynamic and innovative banking institution, utilizing technology to deliver efficient and user-friendly services to its customers.
Its diverse range of USSD codes simplifies banking transactions, enabling quick access to account information and seamless fund transfers.
UBA actively strengthens its position as a lead player in the financial industry by constantly adapting and expanding, catering to the needs of a vast and diverse customer base.
As technology continues shaping the banking landscape, UBA's unwavering commitment to enhancing customer experience through USSD codes undoubtedly propels its ongoing success in the ever-evolving financial world.
Helpful Guides