Because of the cost of automobiles in Nigeria, it is important to know the current prices of fairly used Keke NAPEP tricycle in Nigeria. These are second hand or tokumbo Keke Maruwa you can find in automobile shops, mechanic workshops and scrap markets. The current new & fairly used Keke Napep Prices in Nigeria for brands like TVS, BAJAJ, PIAGGIO, GP MOBILE, DAYUN, MATRIX etc from India and China is in this guide.
This guide will answers many questions about KEKE NAPEP prices including;
Keke Napep price in Nigeria 2023 and 2024
What is the new keke napep price in Abuja
How much is keke napep in Enugu state?
How much does keke napep deliver daily
Current price of keke napep in Port harcourt
How much is keke napep in Benin city, Warri?
How much is balancing for keke hire purchase?
Where can i buy fairly used keke napep in Lagos?
Where to buy fairly used keke napep for sale in Lagos
Why Keke NAPEP Business?
This article can help you if you want to buy a new Keke Napep (those three-wheeler vehicles). I will you how much the Keke NAPEP tricycle costs in this year 2023 and next year 2024. I will also give you address where to find sellers (company names). You can also learn about getting loans for a tricycle business, starting a Keke charter service, a guide for hire purchase, and even making money without driving one. You could earn up to N200k per month.
The Nigeria government stop has banned Okada (motorcycle) in several states and local government areas. This has caused a very serious transportation problem in many urban areas. This problem needs a solution fast because without means of transportation, a lot of businesses will die. Therefore, if you are quick to know what to do about it, then you can make money from it.
The unemployment level in Nigeria is very high and its getting even more difficult to find in Nigeria, therefore, you have to find other ways to make money. Normally, you can let your family starve because you couldn't secure a job. So, you have to create jobs yourself, provide services and stand a chance to earn money in even with the poor economic situation in the country.
You can do this even though you don't have capital to buy the keke, you can apply for keke hire purchase from certified companies or private businessmen. You don't even require certificates, or education, all you have to do is to learn how to ride the Keke NAPEP. It will be an added advantage if you can ride a bike previously, because you can also ride a tricycle too.
Brand New Keke NAPEP Tricycle in Nigeria
Nigeria is one of the biggest countries in Africa, and around 200 million people live there. Keke Napep is the main way people travel for business on the streets of Nigeria. Because of this, more and more people want to use it every day, which makes the need for it grow a lot.
As more people want to buy brand new Keke Napep, the price of it is going up. The fluctuations in exchange rate of the Dollar to Naira (FOREX market) also affects this Tricycle pricing.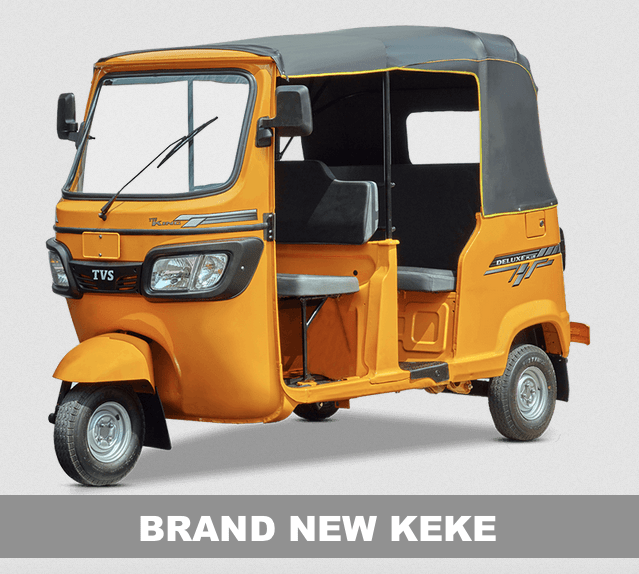 Prices of Brand New Keke Napep in Nigeria (2023 and 2024 Update)
So, here's the price of Keke Napep in Nigeria for 2023:
BAJAJ KEKE NAPEP: N1,400,000 to N1,650,000
TVS KEKE NAPEP: N1,580,000 to 1,800,000
PIAGGIO KEKE NAPEP: N500.000 to 700,000
GP MOBILE KEKE LOADER: N900,000 to N1,300,000
DAYLONG KEKE NAPEP: N1,300,000 to 1,500,000
DAYUN KEKE PRICE: N750,000 to N1,250,000
MATRIX KEKE PRICE: N700,000 to N1,100,000
INNOSON (IVM) KEKE PRICE: N900,000 to N1,200,000
OTHER PRODUCT PRICES: N500,000 to N1,500,000
The list above is the Current Brand New Keke Napep Prices in Nigerian market. The price of Keke Napep Tricycle can be different depending on where you buy it. In some big cities in Nigeria, prices are generally higher for goods, including for Keke Napep Maruwa. But in other cities, things might be cheaper compared to those high-priced places. So, it's important to check and gather information before you decide where to buy your Keke Napep. Its complete your choice to decide where to purchase brand new Keke Maruwa or fairly used for transportation business.
Fairly Used Keke NAPEP Tricycle in Nigeria
Considering how the Nigerian economy is right now, choosing to buy a used Keke Napep is a good idea, especially if the tricycle is still in good condition.
Sometimes, opting for a used Keke Napep can save you a lot of money while still giving you the same efficiency as a new one.
Note that the price of a fairly used keke NAPEP tricycle depends on the valuable state of the seconded tricycle. Before you buy any fairly used keke, make sure you call a mechanic to evaluate the current state of the keke engine, gear box and and body value. Secondly, carry out an investigation to ascertain that the keke is noth a stolen property.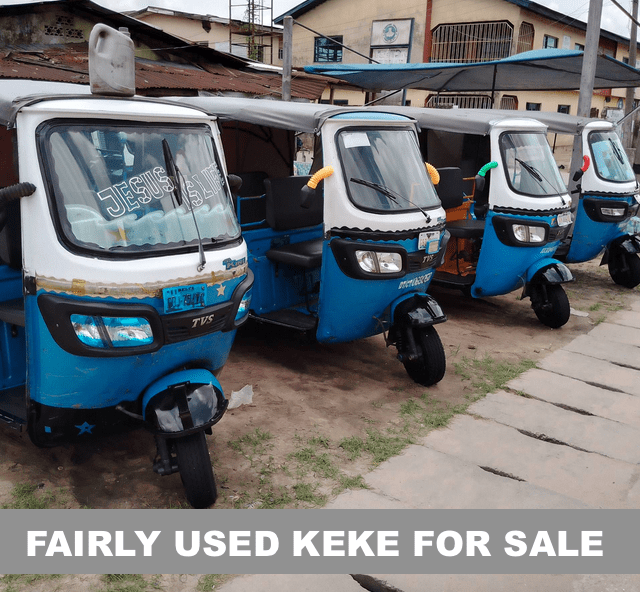 Prices of Fairly Used Keke Napep in Nigeria (2023 and 2024 Update)
So, if you're thinking of getting a fairly used Keke Napep, here are the prices for second hand (tokumbo) tricycles in Nigeria. Fairly Used Keke Napep Prices in Nigeria Currently
BAJAJ KEKE NAPEP FAIRLY USED PRICE: N500,000 to N800,000
TVS KEKE NAPEP FAIRLY USED PRICE: N700,000 to 900,000
PIAGGIO KEKE NAPEP FAIRLY USED PRICE: N250,000 to 400,000
GP MOBILE KEKE LOADER FAIRLY USED: N550,000 to N900,000
DAYLONG KEKE NAPEP FAIRLY USED: N400,000 to 600,000
DAYUN KEKE FAIRLY USED PRICE: N350,000 to N550,000
MATRIX KEKE FAIRLY USED PRICE: N300,000 to N500,000
INNOSON (IVM) KEKE FAIRLY USED: N290,000 to N450,000
QINGDAO AND JINJIANG FAIRLY USED: N250K to N400K
OTHER PRODUCT FAIRLY USED PRICE: N200,000 to N400,000
The above list is the Fairly Used Keke Napep Prices in Nigeria Currently in the market. Please note that the prices we're providing are for fairly used tricycles that are almost as good as new. Depending on the condition of the specific Keke Napep you're looking at, the price might be a little higher or lower than the ones we have listed.
5 Ways of Starting Keke NAPEP Tricycle Business in Nigeria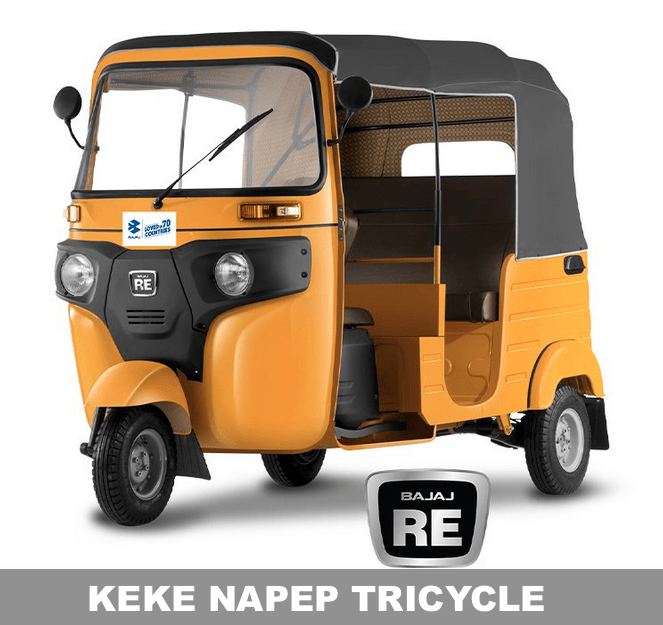 This business can make you a lot of money, and you don't have to be the one driving the tricycle to join in. Here are some ways you can be involved in this growing opportunity:
Be the Tricycle Owner: As a businessman, you can buy a tricycle (Keke) and hire someone to drive it for you and bring returns. They'll pay you about N3000 to N5000 daily.
Keke Transport Company: As a transporter, you can buy fleets of tricycles and put them on the streets. Then hire drivers and put them on a salary. They'll work for you, and you'll collect an agreed amount of their earnings everyday.
Hire Purchase Service: This is a very popular type of business in Nigeria and Africa at large. If you have the capital, you can start a Keke Maruwa hire purchase program. Invest in a tricycle business, lease it to a rider or group of company, get paid back with interest. After payments, the tricycle is theirs. Your profit comes in from 6-12months, depending on agreement.
Loans or Funding Assistance: You can borrow money from microfinance banks (like LAPO loan), groups, or organizations to buy a tricycle and start the business. You'll begin earning money from different places and use that money to pay back what you borrowed.
Special Services: Provide a special Keke charter or shuttle with the city. People who want to go specific places or have different travel needs will pay to use your tricycle. This helps you earn more money and keeps your tricycles in better condition.
Whenever you're thinking about opportunities in Nigeria, keep in mind that this small transportation business, made even better by the government's ban on motorcycle taxis, could be your path to success.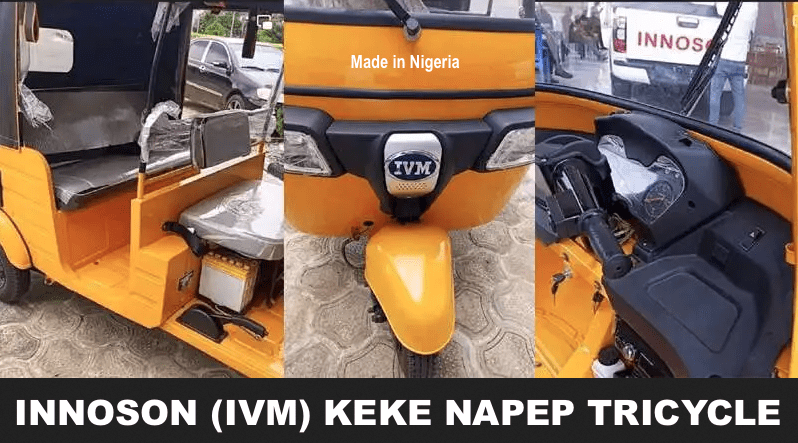 Tags for Keke in Nigeria
Current Keke Napep Prices in Nigeria – India Keke Napep, How much is China Keke Napep sold, Where can I buy TVS Keke, how many brands of Keke Maruwa do we have, How much is BAJAJ Keke, How much does a fairly used Keke cost in Nigeria.
Helpful Tricycle Guides