Group chat is a common thing among young persons today that is why I will show you how to Group Chat on Instagram. This is because they relate better at group levels. It can be a school group, a planning committee for a party or just anything that brings more than one young person together.
However, people in groups do not have to share the same ideas, they may just be in the group for information sake. Group chats are different according to the social media setting and group set up.
Today's focus is on Instagram group chat. Now let me tell you how to join a group chat on Instagram. Firstly you will have to download and install the app on your mobile phone.
Thereafter, tap or at the bottom of the page, and tap on the conversation you want to add people to. After that, add the people you want and then leave a bit of an introduction on the group for others to see.
How to Start a Group Chat on Instagram
Starting a group chat on IG is simple and very easy, because it involves sending messages to at least two people at the same time.
In starting this, do well to send direct messages to your contacts and thereafter, you select the "New Group" option and name your group chat while customizing other settings such as adding or removing members.
How to Create a Group Chat on IG
Creating a group is simple but you will have to follow these simple and easy steps to do it. Below are the steps you can follow to create a group conversation on IG: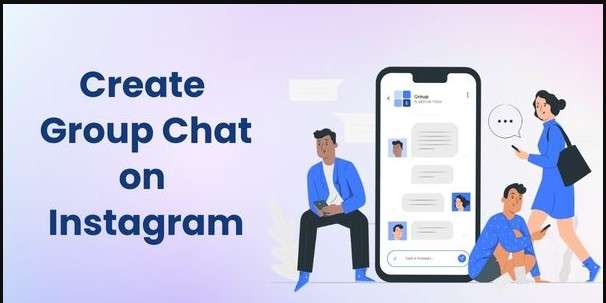 Remember, that you can open your Instagram account on your iOS or Android device.
On the home screen, click on direct message at the top upper right corner on your device's screen.
After that, tap on the "Create Group" icon on the screen.
Tap on the circle next to the names suggested to add your friends to the group.
You can also tap on the "Search" bar to add people up manually. You can also create a link for the people to click on to join the chat.
Send the first message to get your verification.
After doing this, others will get notification to join and also comment on discussions in the group.
How to Exit or Leave a Group Chat on IG
Many times you have come across your contact on a group you do not want to be a part of.
This is because someone who knows you added you and you wish to leave the group, well it is simple. Let me quickly show you how in the list below:
At the top right corner of your home screen, click on the "I" and you will see different options including "leave the group".
Click on it and you will get a notification that you have left the group.
How to Add More than 32 Members to an Instagram Group Chat?
As a regular IG user, you can only have as much as 32 people in a group but as an influencer or business person you will want to have a larger audience because of adverts placements.
Therefore, you have to switch your profile from personal to a business account (influencer/blogger) before you can create a group that can accommodate of up to 100 people or more.
When You Mute Messages on Instagram what happens?
If you mute anybody messages on the Instagram app is like the social media of politely respectfully, leaving a conversation without making any trouble.
When you mute someone, their stories, and posts cease to appear in your Instagram feed, but they can still view all yours post and may still visit each other's accounts.
Related Posts
How can I Add Myself Back to a Group Chat on Instagram?
You won't be able to rejoin the group conversation on your Instagram group with friends accept you have an backup Instagram account that is also in it. If so, you can re-add yourself by using your secondary account.
You can ask someone in the group chat to re-add you if this is the case. However, there are different technique to covertly rejoin an Instagram group conversation.
Follow this steps below to add yourself to an Instagram group chat.
Go to your share post option on a post.
Tap and enter any group chat you want to re-join, then select the share post option.
Return to your messages so you can rejoin the group chat.
Even if you are unable to rejoin the group, you will receive your conversation history back, from which you can locate other group members.
Make a note of the group members' usernames and send them a private message to ask the group admin to add you back.
To Block Someone from Messaging on Instagram?
Whether you are using a system or you are using your Instagram app on your phone, you can also block someone on Instagram in the following ways.
 Block Someone on Instagram Using the Instagram App
Enter the the persons user's name in the Search tab to view their profile.
Click your menu button that is represented by three horizontal dots in the upper-right corner of your screen.
When a pop-up window appears, can now tap "Block" from the menu.
Just Click on "Dismiss" for the confirmation notice that follows.
You can read my previous guide on "Dealing With Unsolicited Friends Request".
To Block Someone on Instagram using a Personal Computer
If you are to block user, you have to visit their profile first.
Next to the user account name, there are three horizontal dots, a "Following" button, and a down arrow button. Click on them.
There will be a pop-up window that we show. "Block this user" is the middle option; select it.
You will be produce in another window to confirm your decision to block them. If so, press "Block" once more.
There will be a confirmation pop-up. That we direct you to go back to Instagram, select this option "Dismiss."
Related articles