You can Make 10k on OnlyFans website as well as on the app. This page is directly about how to make money on OnlyFans without showing your face. After reading this guide, you will learn how to start an onlyfans without followers, grow them and make money online without showing your face or pictures.
The perfect time for creative people is now, today. This is because, of the endless help of social media. Apparently, you can find and also meet people by interests, start your own community project your own brand. The more visibility you attain, the more money you get of course! This has given many people reason to look for creative ways to make money on onlyfans.
Moreover, on the flip side of success is publicity. Many talents and creators are willing to share content but do not want to be known on the streets in person. I tell you something, it is really difficult for such people to make money on platforms like OnlyFans, where the most popular content is spicy photos of celebrities.
Onlyfans stand for the opportunity for creative people to earn on their raw talents. Today i will tell you how money is made on OnlyFans without showing your face publicly.
Is it possible to make money on Only Fans with no face
The rules on this platform requires, the creators to pass verification with passport data and real photos of them. However, this does not mean that the real name should be present on the page and be open or accessible to other users. Same applies to the faces of the creators.
In as much as many consider OnlyFans to be an adult only site, this amazing platform features almost all kinds of content. Ranging from musicians, dancers, fitness trainers, personal coaches and many other craftsmen who successfully earn money on the streets of this platform. However, OnlyFans prides in its ability maintain pages with erotic content.
Apparently, you need not show your face to make money on the site. The best way to hide and maintain an anonymous OnlyFans account is to come up with a character for your presence on the Internet. You can use a fictitious name, a nickname, even a Pseudo name. For example, Fanzdelight, Rhamzy and many other coinages. Such pages on OnlyFans are quite common and noticeable.
OnlyFans Privacy Policies
You must be eager to know how this works. But before I let you in on tips on how to start making money without showing your face, let me discuss the various privacy tools as made available by the developers of the platform.
OnlyFans provides a number of measures to protect the personal data of its authors: Read below;
Two-step verification. You must be verifiable, this means you can activate two-factor authentication in the profile settings. Then follow the link and download a special app from the platform. This app will generate random login codes. Thanks to this feature, no one will be able to access your profile without your phone.
Login sessions. You can check which devices are logged in your account. In addition, you can disable unnecessary or suspicious sessions. Look up for this information in the "Login Sessions" section of the settings.
Watermarks on photos and videos. Creators can assign authorship to all their materials by attaching a watermark from the OnlyFans page ID. This does not guarantee anonymity, but it helps creators to protect their content from being copied.
Visibility settings. With a wide range of settings, authors can choose what information is open for public view. You also can close your account, leaving limited access to users or even sit on the site in the "invisible" mode, which completely hides your activity.
Interestingly, in addition to the above, the site gives authors the right to ban annoying subscribers by sending them to the black list.
How to start an OnlyFans anonymously
Here are a few tips for creators who want to maintain anonymous OnlyFans account:
Firstly, create a character on whose behalf you will publish contents on the platform;
Secondly, come up with a coinage or name that will reflect the theme of the account;
use the platform settings and hide all personal data of your profile;
another option is to provide false information in personal data;
try to avoid publishing materials that can be used to figure out your location;
use masks or masking makeup while taking photos and videos;
do not use materials that were previously published on other social networks;
think over the wardrobe for filming, do not use things that your relatives and friends can recognize;
when shooting OnlyFans video and photos, remove all the things that refer to your biography and personal identifiable stuff from the frame;
again, closely monitor the conversations on the published videos, they may contain your personal data.
Use these methods to hide your identity and make good money on OnlyFans.
How to make money on adult videos not showing your face?
Maintaining an adult profile without being seen or showing your face is cool and interesting. That is, if you already have a large fan base. You can share a link to a private OnlyFans profile among your fans and start making money from those contents. In the case where you do not have a large fan base, you are in a not so good situation. Similarly, you cannot share explicit photos and videos on popular platforms like Instagram and TikTok. Here, you will scarcely get organic followers on this platform.
However, as a beginner, if you want to create adult videos without showing your face, you will need a platform where pure organic reach exists. Today there is FriendsOnly.me. This platform is called adult TikTok. Creators can share any content among its subscribers, and also may add a free adult video. A very important advantage of the platform is that it selects free videos in the suggestions section, where any user can see these creative works. That is why its not important if you show your face or not when making the 18+ videos to post on FriendsOnly.
Pros and cons
As already noted, it is up to you to decide whether or not to open an anonymous online account or post content freely. However, here is a list of the main advantages and disadvantages of OnlyFans with no face.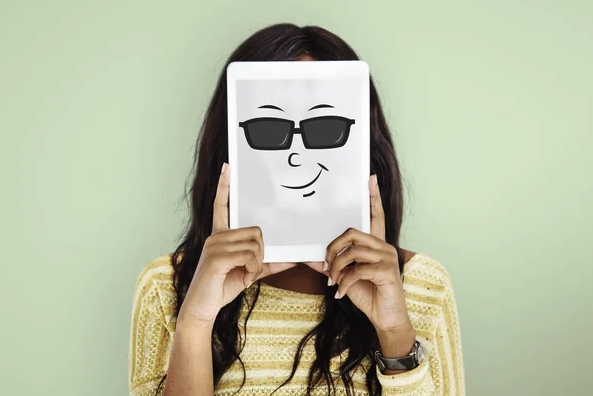 Benefits of an anonymous account
You will naturally agree, that the main advantages of this option are in no small measure related to privacy:
confidentiality is increased, personal information is more protected;
control who can follow you;
there will be fewer subscribers, but you can engage a loyal audience;
content is only posted to a limited number of people.
One of the most popular topics on the Internet is the OnlyFans leaks. It is not possible to hack the social network database, photos and videos are collated through paid accounts, after which they are displayed to the public. Of course, privacy settings do not guarantee complete animosity, but it helps protect the account from prying eyes and reduces drastically the risks of leakages.
Anonymous OnlyFans difficulties
Honestly speaking, it is never easy to make money online without a face, and OnlyFans is not an exception.
It is very far from an ideal platform for creators who prefer to hide their face for several notable reasons:
Competition: In present day, about a million creators work on various platforms daily. Therefore, gaining a stable audience in such a competitive environment is difficult even for authors who do not hide their identity on Onlyfans.
Audience: Most often, users choose a model for a subscription, evaluating the attractiveness of the model. According to statistics, platform participants prefer to subscribe to content creators who do not hide their faces and identity.
Promotion: Onlyfans platform practically does not provide authors with promotion tools. However, the most effective way to promote your profile on OnlyFans is to always advertise your profile on other social media platforms. You cannot use this method being an anonymous OnlyFans model.
How to promote an anonymous OnlyFans account
As already stated above, promotion on social media networks is the only viable way to promote your OnlyFans account. The only tool provided by the platform is the ability to create two separate accounts.
Firstly, to create a free profile to create publications available to all users of the platform. You then use this account to show your work and pull an audience to your main profile. Think of this account as your Instagram, leave the most explicit and spicy content for the main page.
The basic account is the main tool of all OnlyFans creators. Firstly, you will have to post as many times as possible. Ensure you develop a posting plan and use the delayed publications system effectively. Your subscribers should receive a notification for new content on a regular basis. Also do not be afraid to explore, experiment with other contents, communicate with the audience as much as you can, and conduct sales and polls regularly.
You can also make use of new pages on other social media platforms. This way you get to share unpublished content created for a free account, but endeavor to not be repetitive. Do not forget to create separate content for these pages.
Another option to promote your content while remaining anonymous is to use the services of blogging-oriented platforms such as FriendsOnly.
Best OnlyFans Alternative[ FriendsOnly]
This is a new social network for bloggers with a subscription plan.
The platform stands for freedom of expression, so there is no censorship on the platform. To that effect, our authors need to pass certain verification processes and provide their personal information. Exclusively, all submitted documents are checked. No one will see your data, which ensures maximum security and safety.
They also offer authors several other effective ways to promote within the platform:
Tiered content system: Their authors do not need to create multiple accounts to promote their work. Create free audience engagement posts, subscription content and paid posts in one profile.
Recommendations: Promotion measures that show free posts of our authors are on the main page. Recommendations show not only the posts of successful authors, but also the contents from upcoming authors. The main thing is to create unique contents.
Affiliate program: They have put together a team of professionals who are ready to attract subscribers to your page. Focus on content, leave the promotion to us.
Statistical tools: A detailed analysis of your audience, which will allow you to find out what content your subscribers like the most.
Motivation. We are pleased with the success of our creators and give gifts for a set of subscribers. Gain an audience and get the latest iPhone, a trip to the islands and a premier car.
Support. Register on the platform, go through verification and get the help of a personal manager who is ready to answer any questions 24/7.
Partnership. Invite friends to the platform and get 5% of their earnings for life. Sounds amazing right?
Related Posts