In today's guide, I will teach you how to use ChatGPt on WhatsApp to impress your girlfriend or boyfriend. But is it possible to use ChatGPT on WhatsApp in the first place? Yes, it is. So many individuals are already becoming aware of making use of ChatGPT, so why haven't you done so yet?
Let's talk about how you can increase the efficiency and effectiveness of your chats with someone you care about by using AI on WhatsApp. Chatbots powered by AI, such as ChatGPT, Siri, and Apple Watch, are now prevalent, so why not incorporate them into your WhatsApp conversations?
If you are new to OpenAi's chatGPT, it necessary the you read How to Use, Download, Signup and Login to ChatGPT Chatbot. We've been excited about incorporating AI technology into social media platforms, and we're finally getting our hands on an AI bot for WhatsApp. Let's dive in!
How to Use ChatGPT on WhatsApp?
To set up ChatGPT on WhatsApp using your iPhone or Android phone, simply follow these steps: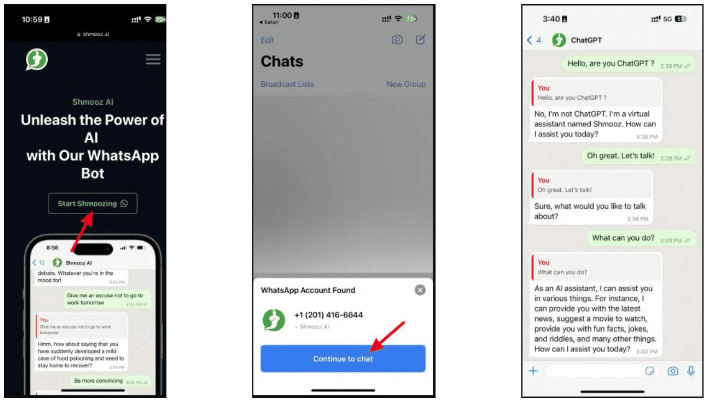 Visit the Shmooz AI website on your mobile device and select the "Start Shmoozing" button to automatically open WhatsApp.
Tap the "Jump to chat" button to immediately access the chat screen.
The AI tool will automatically generate a message for you. Simply send it, and the bot will continue the conversation.
You can now start chatting with Shmooz AI in WhatsApp, just as you would with ChatGPT.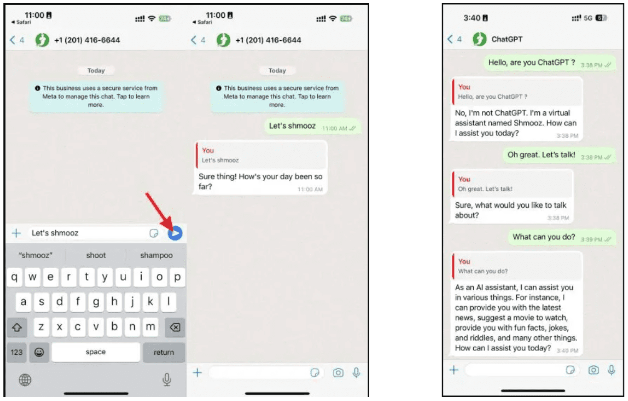 WHAT SHOULD I CONSIDER BEFORE USING WITH SHMOOZ?
Before using ChatGPT on WhatsApp with Shmooz AI, keep the following in mind:
In our example, we are utilizing the Shmooz AI service, but you can choose any other tool that you prefer. It is important to note that Shmooz AI offers a paid AI bot with a limit of 20 messages in the free version.
The paid version of Shmooz AI costs $9.99 per month and provides unlimited messages.
You will not be able to use your own OpenAI API with this tool.
Note: We've chosen to use Shmooz because of its ease of use, but feel free to use any other tool that suits your needs. Simply configure it according to your preferences. There are also other methods of using Chatbots on Whatsapp. You can also see the next post where I explained how Snapchat My AI Chatbot incorporated the OpenAI chatGPT.