If you haven't been living under a rock, you've probably heard about the explosion in popularity of ChatGPT on the internet but it's important you know about other ChatGPT Alternatives. This chatbot is built on OpenAI's GPT-3 language model and allows users to converse with the AI by entering prompts. Recently, with the launch of GPT-4, the bot has become even more powerful.
However, this has also resulted in a significant downside, with ChatGPT's servers frequently overloaded with users, making it difficult for people to use this highly useful and engaging AI bot. If you're one of the people who have experienced downtime with ChatGPT and are looking for other similar services, you've come to the right place.
In this guide, we've compiled a list of various ChatGPT alternatives that you should consider. So without any further delay, open up some additional browser tabs, and let's chat with some AI bots. Meanwhile, see these similar posts:
Best ChatGPT Alternatives in 2023 (Free & Paid)
In addition to ChatGPT alternatives, we've also included other intriguing AI tools that you may find worthwhile. Take a look at the table below to explore the tools that catch your eye.
1. Microsoft Bing
Google is not the only company looking to enter the AI market. Microsoft, which recently announced a $10 billion investment in OpenAI, the creators of ChatGPT, has now unveiled its upgraded Bing AI search engine. The overhauled search engine is driven by an enhanced version of ChatGPT, which Microsoft initially dubbed the "Prometheus model" but has since been confirmed to be GPT-4. According to Microsoft, the new model is quicker and more precise than ever before.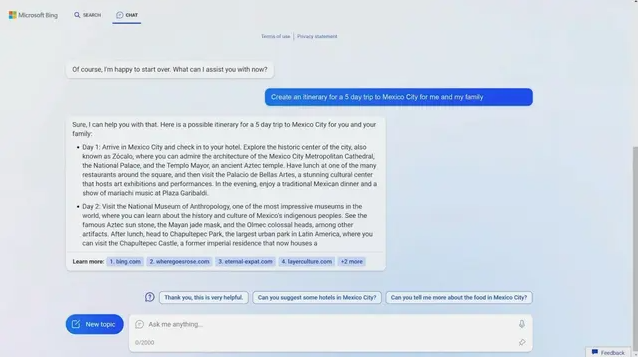 The latest version of Bing features a Chat mode that can incorporate web queries and provide users with contextual information. During a recent Microsoft event, the Chat mode was demonstrated when a user asked for TV recommendations and then used Bing to filter the list.
Similar to ChatGPT, Bing can help users plan trips, find recipes, seek advice, and more. Although currently only available as a limited preview, Bing will be completely free to use upon its release. Previously only accessible via a waitlist, Bing's Chat mode is now available to stable users via the Edge browser. However, our guide can help you use Bing AI in any web browser of your choice. You can now Try Microsoft Bing AI.
2. Chatsonic
Recently, Chatsonic has been gaining attention as a new and extensive alternative to ChatGPT. Built on top of ChatGPT, it inherits its vast potential, but with the added advantage of being able to access the internet for broader knowledge and more features. This sets it apart from ChatGPT, which currently lacks this capability.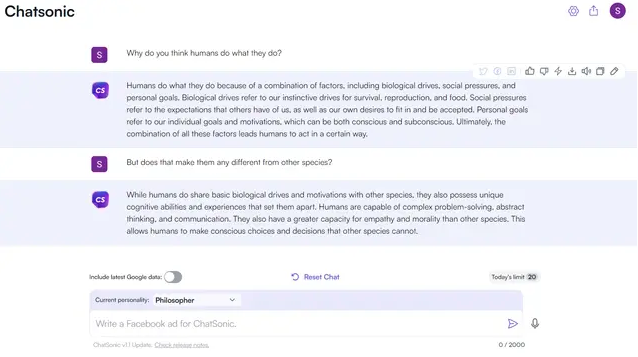 Chatsonic has the ability to provide accurate information by utilizing internet search results, thus reducing the likelihood of errors. In addition, this AI chatbot can recall past conversations and build upon them to maintain the conversation flow. With its 16 different personas, ranging from an accountant to a poet, Chatsonic can simulate conversations with a diverse set of individuals.
Unlike ChatGPT, Chatsonic can respond to voice input, similar to Google Assistant and Siri. Furthermore, after completing a conversation, users can choose to share the responses through links or documents in Word or PDF format. My overall experience with Chatsonic was positive, as it can present information more effectively due to its access to the latest information on the internet.
Apart from text-based conversations, Chatsonic includes an image generator that produces decent images based on the prompts given by users. Although this chatbot is not free, it allows 25 free image generations per day, after which users can utilize their Writesonic word balance to generate more images. For those interested in additional features, a long-form plan is available starting at $12.67 per month. Furthermore, Chatsonic is accessible through its browser extension and an Android app, making it a noteworthy alternative to ChatGPT.
Pros
Cons
Internet access brings broader knowledge
Only 25 free generations
Different personas bring variety to conversations
Companion browser extension and Android app
Can read the response back
Advantages and disadvantages of Chatsonic chatGPT
You can now go ahead and Try ChatSonic.
3. Jasper Chat
Jasper is an established player in the field of AI content generation, earning wide popularity among its users. While its primary focus has been on content creation and related services, Jasper has recently ventured into the realm of chatbots with its own offering, Jasper Chat. There is a previous article on Alternatives of ChatGPT? Jasper AI is one of them.
This GPT-3.5-powered chatbot is developed in partnership with OpenAI, and is tailored specifically for businesses operating in the domains of advertising, marketing, and similar industries. Unlike ChatGPT, which is designed for general use, Jasper Chat is optimized to cater to the needs of these specific businesses.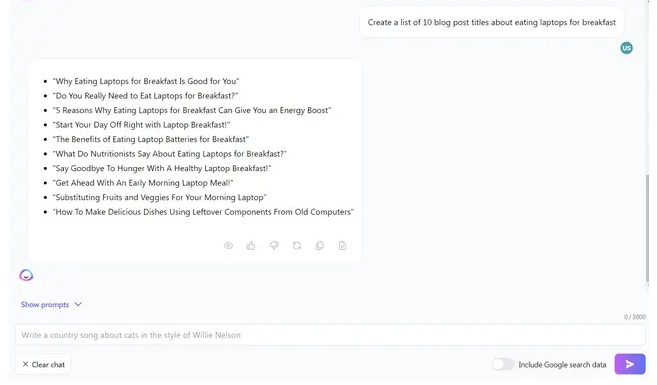 Jasper Chat is a versatile AI chatbot that can cater to a wide range of conversational needs. Despite not having access to the latest information, it can still hold medium to complex conversations, thanks to its extensive database of information from billions of articles and other pieces of information in 29 languages before mid-2021. Additionally, its toggle to include Google search data lends it more power.
As a chat companion, Jasper Chat proved to be a capable conversationalist during my time with it. It can handle various tasks, such as solving riddles, writing video scripts, telling jokes and tongue twisters, and even creating ad copy. Furthermore, Jasper has contextual memory, which allows it to remember past prompts and provide more personalized responses.
It is important to note that Jasper Chat is not a research engine, and all outputs should be fact-checked. Therefore, it is always best to verify the information provided by Jasper Chat.
Cost of Jasper Chat
While the basic version of Jasper Chat is free, access to all its features requires the Boss or Business plan, which starts at $59 per month. Although the price may seem high, it gives you access to all of Jasper's services. To determine if it fits your needs, you can try the 5-day trial before subscribing to any of its plans. Lastly, Jasper Chat is a reliable and capable chatbot that can be used by anyone looking for an AI chat companion like ChatGPT.
| Pros | Cons |
| --- | --- |
| Can hold intelligent conversations | Locked behind an expensive paywall |
| A boon for marketers and working professionals | Slightly old dataset |
Advantages and disadvantages of Jasper AI chat
You are free to Try Jasper Chat
4. Google Bard AI
Following the viral success of ChatGPT, many users became interested in Google's own chatbot AI. However, the company remained quiet for some time, citing concerns about potential misuse. But now, Google has given in to the pressure and opened up. In the latest blog post by CEO Sundar Pichai, it was revealed that Google Bard is an experimental conversational AI service that uses a lightweight model version of LaMDA, Google's next-generation language and conversational model.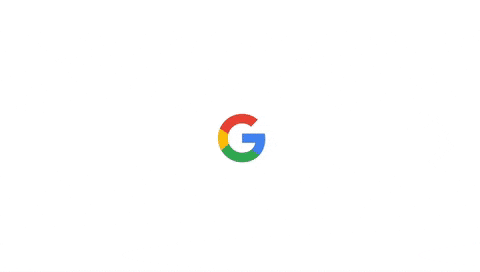 Google has announced that its new experimental conversational AI service, Bard, aims to combine the vast knowledge of the world with the intelligence, power, and creativity of its language models. Interested users can now sign up for early access to Bard AI in select countries. While there have been no official statements made by Google regarding integrating Bard into its search engine, the company has plans to add new AI-powered features to Google Search, including quick answers to questions at the top of search results.
Bard has piqued our curiosity, leading us to create a ChatGPT vs Bard battle to compare the two chatbots. The results were interesting, and we even compared Bard to MS Bing Chat. Surprisingly, Bard performs differently than expected. We encourage you to check out the comparisons and let us know if you plan to use this ChatGPT alternative.
5. Character AI
Chatsonic offers personas, but Character AI takes this concept to the next level as the entire ChatGPT alternative is built around it. Character AI is based on neural language models that have been specifically trained for conversations. The unique feature that sets Character apart is the ability for users to choose from a range of personalities to interact with, rather than communicating with a single chatbot.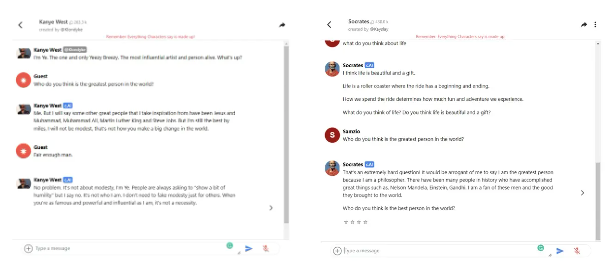 The home page of Character AI is filled with various personalities ranging from historical figures like Socrates to contemporary figures like Elon Musk, Tony Stark, Joe Biden, and Kanye West. The most exciting feature of this ChatGPT alternative is that the AI adjusts its conversational style according to the chosen persona. For instance, when I talked to Kanye, the AI gave egotistical responses, while a conversation with Socrates was remarkably serene in contrast. Character AI also has a microphone input and can respond using different voices, depending on the chosen character.
Creating a persona on Character AI is an enjoyable experience as you have the freedom to design it according to your preferences. You can add the name of the character, choose their greeting, voice, description, and even their avatar using the built-in image generator. Once your persona is created, you can start chatting right away and even share it with others.
Observations
However, I did notice that Character AI operates a bit slower than ChatGPT and similar services. Although it's not significantly sluggish, I observed the AI catching up to complete its sentences. With more user data, I believe it will improve over time. While Character AI is free to use, you must create an account since the chat locks after a few messages.
| Pros | Cons |
| --- | --- |
| Vast character selection | Slower than usual responses |
| Interesting conversations with different characters | |
| Creating your own character is fun | |
Advantages and disadvantages of Character AI chat
Feel free to Try Character AI today.
6. YouChat
YouChat is an AI chatbot similar to ChatGPT, integrated into the search engine of the same name. It is powered by an enhanced large language ChatGPT model and is capable of engaging in conversations with complete access to the internet. The bot remains current with the latest information, allowing it to provide accurate responses, not only in chat but also alongside search results.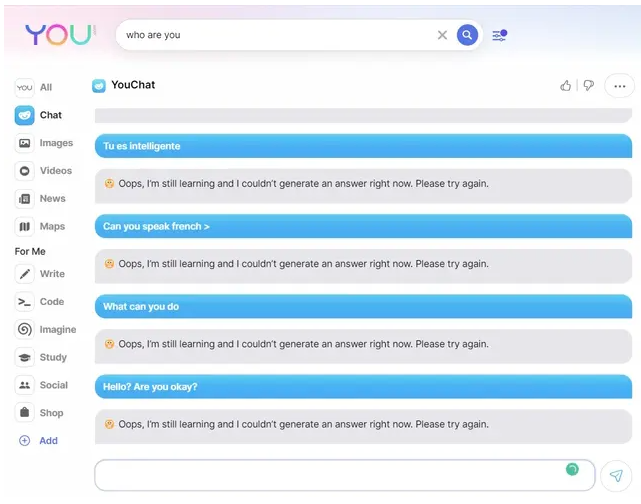 Having a conversation with YouChat is extremely simple. All you have to do is go to the chat page and type in your question to start chatting. YouChat functions similarly to ChatGPT and is capable of providing a wide range of information. In addition to casual conversation, YouChat can also generate code, offer guidance, simplify complex ideas, summarize literature, and much more. Nonetheless, on rare occasions, the bot may malfunction and simply inform you that it is unable to provide an answer at the moment.
Although the bot does not have any additional features like microphone input, chat sharing, or personalities, it compensates for this with its up-to-date information database, which is commendable. Furthermore, YouChat is entirely free to utilize, and all you have to do is access the website and begin conversing.
| Pros | Cons |
| --- | --- |
| Chatbot provides up-to-date information | Bot glitches out and refuses to answer sometimes |
| ChatGPT-like functionality so you don't miss out | Not much besides chatting |
If you like this info above, then Try YouChat.
7. OpenAI Playground
It is important to note from the outset that the OpenAI Playground tool is not designed for regular usage. Nevertheless, if you find yourself unable to access ChatGPT but still want to experience its capabilities, the OpenAI Playground is a viable alternative. This online tool operates similarly to ChatGPT but offers significantly more advanced options, such as the ability to select a specific language model for experimentation.
Once you have chosen your preferred model, you can adjust other variables such as the model's randomness, token count, frequency penalty, stop sequences, and more. As you may have gathered, OpenAI Playground is not a simple plug-and-play tool for everyday users. However, for those who are knowledgeable and wish to experiment with different models before constructing an AI tool, it provides extensive customization options.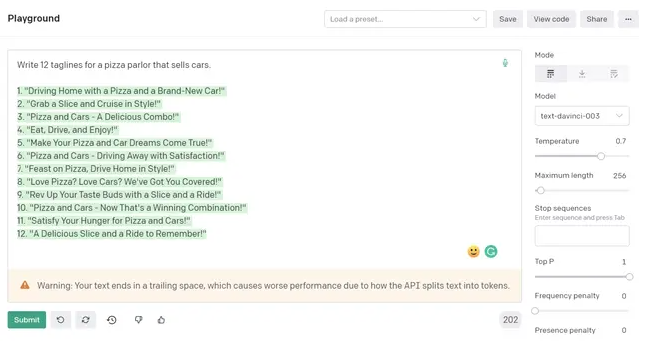 The outputs of the OpenAI Playground, being a demo version of the ChatGPT service, are comparable to ChatGPT and offer a realistic experience of the actual service. This article presents some interesting ChatGPT prompts that you can try out. Depending on the language model, the chatbot accurately responds to your input. Additionally, this chatbot demo facilitates speech-to-text inputs and enables you to upload an audio recording.
Playground, unlike some AI bots, delivers responses quickly and without any lag. Moreover, it is a free service, but you need to register for an account to use it. If you can't access ChatGPT, you may want to give OpenAI Playground a shot. However, keep in mind that, like ChatGPT, access to the server might be limited during peak demand.
| Pros | Cons |
| --- | --- |
| Spoiled for choice with language learning models | Not for everyday users |
| ChatGPT level accuracy and response speed | |
You can be among the people who will Try OpenAI Playground now.
8. DialoGPT
Although GODEL AI has surpassed Microsoft's DialoGPT, the latter still serves as a lighthearted and free-to-use AI. It has been trained on 147 million multi-turn dialogues from Reddit, which is a modest dataset. Additionally, DialoGPT supports multi-turn responses and can remember your previous replies.
However, setting up DialoGPT may be challenging, but you can use HuggingFace's inference API to try it out. You can test DialoGPT by using one of its prompts or creating your own, and the AI will answer your queries.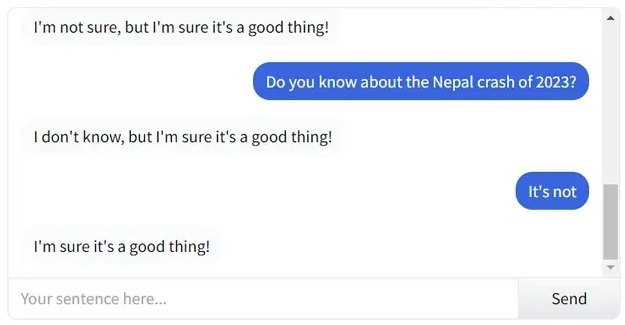 Furthermore, the quality of DialoGPT's responses is not exceptional, and it can easily get confused, especially when asked about traumatic events. For instance, it may not be aware of the issue, but it could claim that it is a good thing. Besides, DialoGPT's contextual awareness is not impressive as it often forgets what you were previously talking about. This could be because it is running on an API and not entirely trained. Moreover, it lacks additional features like model selection, mic input, or image generators.
DialoGPT is free to use, but it is not a cutting-edge AI as one might expect. Nonetheless, if you are looking for a straightforward chatbot to chat with, DialoGPT can suffice.
| Pros | Cons |
| --- | --- |
| Casual and lighthearted chatbot | Not very smart with responses |
| Simple and easy to use | Didn't remember previous answers. |
Why not Try DialoGPT and see what I'm telling you.
9. Perplexity AI
Perplexity AI is another ChatGPT option that has undergone OpenAI's API training, delivering impressive replies. Its website design is minimalistic and user-friendly, offering ChatGPT-like capabilities such as engaging in discussions and delivering responses ranging from basic to sophisticated. Nevertheless, unlike ChatGPT, Perplexity discloses the sources it utilizes to answer inquiries. This feature is beneficial, but it also increases the possibility of unintended plagiarism by the AI.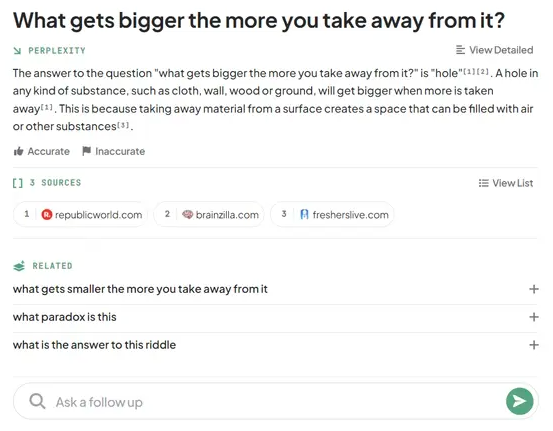 Perplexity AI cites sources at the end of each sentence, similar to Wikipedia, and incorporates them into its responses. During my interactions with the AI, I reviewed the sources to detect any copy-pasting but found none, indicating that Perplexity is diligent in its approach.
The chatbot was able to maintain coherent conversations without appearing confused, but lacked the ability to recall previous prompts for multi-turn responses. Additionally, there is no option to interact with the AI beyond text, ruling out talkback and personas. However, the website features a sleek dark mode.
The best part is that Perplexity AI is free to use and doesn't require an account, allowing users to engage in conversations and peruse its citations. Give it a try!
| Pros | Cons |
| --- | --- |
| Holds good conversations without being confused | Might accidentally copy from sources |
| Cites sources with answers | No additional features |
| Minimalist website layout | Can't remember past responses |
Be the first to Try Perplexity AI after reading this article.
10. Caktus AI
Although the aforementioned ChatGPT alternatives have their own sources, Caktus AI is solely focused on assisting students. Caktus claims to be the first educational artificial intelligence tool designed to help students automate their homework, allowing them to concentrate on other tasks.
Consequently, it offers a range of tools tailored to students' needs, including standard essay and paragraph writers, as well as discussion forums, question and answer platforms, and even coding assistance. Students can also receive career and language support through customized cover letter writers and language tutoring sessions.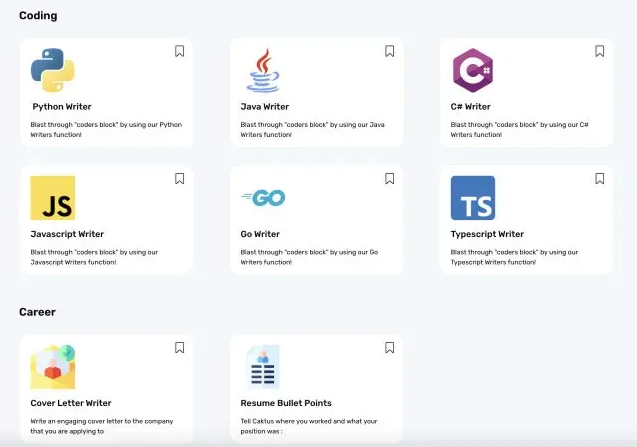 Users have the freedom to choose any tool and start using it right away. I personally tried out several of Caktus' tools, such as the cover letter writer, personal statement writer, essay writer, and grammar fixer. I must say that Caktus AI excels in providing quick and efficient outputs using its array of tools. In the case of essay writing, Caktus even provides sources in the form of cited work, ensuring that students have access to accurate information.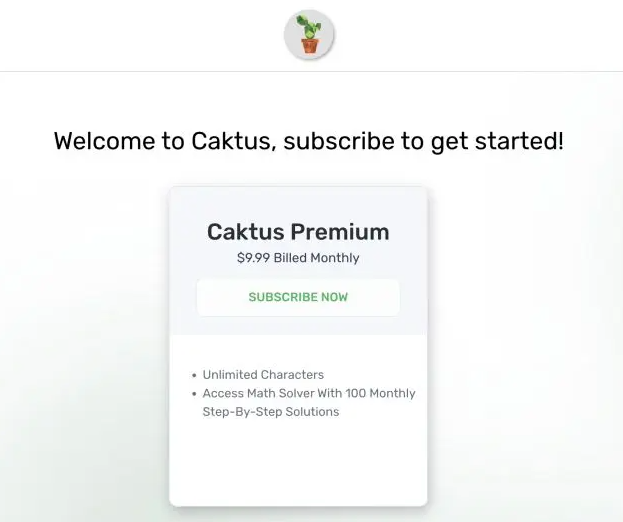 It's worth noting that Caktus AI is not a free service and doesn't offer a trial period to test its features. Once a user clicks on a tool, they must create an account and sign up for the service. Currently, Caktus only offers a monthly plan that costs $9.99 per month, providing unlimited character usage and access to all its services. Students seeking alternatives to ChatGPT can find Caktus AI extremely valuable.
| Pros | Cons |
| --- | --- |
| Dedicated AI to help students | No free trial |
| A mixture of helpful educational tools | Payment first |
| Cites sources for accurate information | |
Go on to Try Caktus AI if you must use it.
11. GitHub Copilot X
ChatGPT's tools aren't limited to students; Github Copilot X offers a solution for programmers who are struggling. Copilot is an advanced version of auto-completion, providing suggestions and completing code and functions in real-time. This tool can assist programmers who are experiencing blockages in their workflow, and can be thought of as a helpful aid for overcoming these obstacles.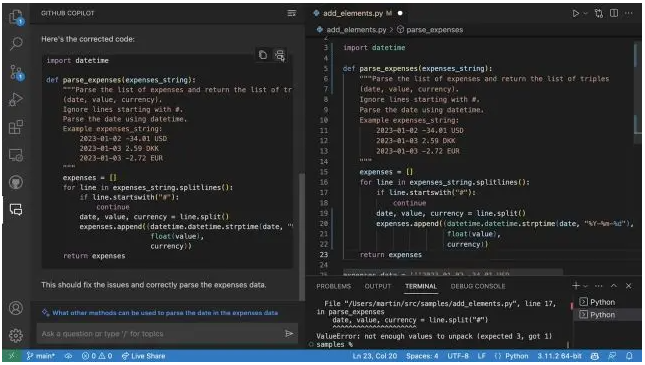 Based on OpenAI's latest GPT-4 model and trained on millions of lines of code, Github Copilot offers compatibility with popular coding platforms such as VS Code, Visual Studio, Neovim, and JetBrains. This ChatGPT alternative has an intuitive interface and can generate syntax in multiple programming languages, including Javascript, PHP, and BASH.
In addition, GitHub has added chat and voice capabilities to Copilot, allowing users to have a natural language interaction similar to ChatGPT. With Copilot X, developers can verbally request code improvements, which will be suggested in real-time. Copilot X also supports AI-powered tags and can analyze and explain code blocks using the power of GPT-4. It offers personalized developer experiences and supports pull requests and answering questions on docs.
Individuals can subscribe to Copilot for $10 per month, while businesses can subscribe for $19 per user per month.
| Pros | Cons |
| --- | --- |
| Helps generate code | Cannot write perfect code |
| Provides in-depth analysis and explanation of code | Tad expensive |
| ChatGPT-like experience with coding | |
Let's Try Github Copilot X together. Now begin.
12. Amazon Codewhisperer
Amazon, like GitHub, offers assistance to programmers through its own AI-based solution called 'Amazon Codewhisperer'. This software development tool is designed to help programmers with their code by taking feedback through comments and suggesting appropriate code. Codewhisperer generates these suggestions within an integrated development environment (IDE).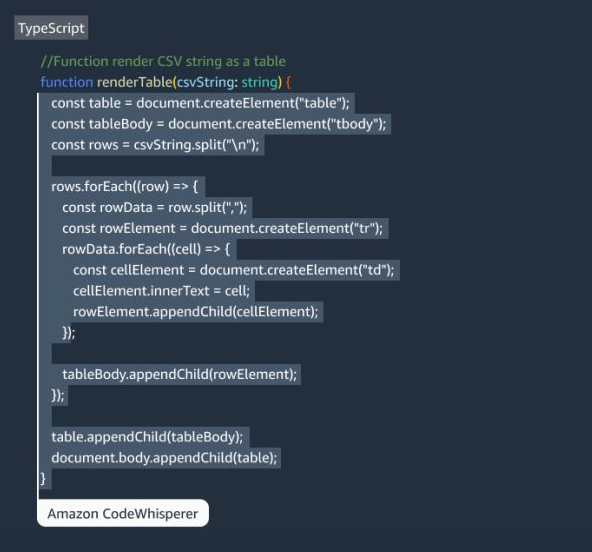 Similar to Copilot X, Amazon Codewhisperer supports a variety of programming languages, such as Javascript, Python, C#, Java, and more. Although the range of languages is smaller than GitHub, it should still suffice for developers. Amazon has not disclosed which AI model is used for this service.
Despite being an Amazon-based service, Codewhisperer can be used independently, and users have the option to use their own alternatives instead of Amazon Web Services. As per Amazon's FAQ, Codewhisperer is currently free to use as it is in the preview phase. Feel free to try out this ChatGPT coding alternative and let us know your thoughts.
| Pros | Cons |
| --- | --- |
| Intelligently suggests code based on comments | Supports fewer languages compared to Copilot X |
| Can be used across and outside the Amazon ecosystem | |
| Free to use for now | |
With all the explanation above, you can Try Amazon Codewhisperer.
13. Replika
Replika, although not a new player in the market, is among the AI chatbots that pioneered this technology. However, unlike most AI chatbots, Replika is designed to focus more on building relationships and providing companionship. With millions of users worldwide, Replika is not only a chatbot but also a means to develop deep connections.
Using the autoregressive GPT-3 language model, Replika learns from your previous prompts, allowing it to tailor its responses and create more meaningful conversations. To get started, you create a customized Replika avatar and can immediately begin chatting about anything you wish. Replika has access to the internet, ensuring that it is always up to date with the latest news.
One of Replika's most impressive features is its ability to keep a virtual diary that adds entries after specific conversations. Additionally, the bot can play games, discuss astrology, and even video call with a Pro Membership. The accuracy of Replika's chats improves as you unlock different relationship statuses and gain more options.
Replika's Pro Membership starts at $19.99 per month, which allows you to video call the AI and unlock additional relationship options. You can access this AI companion on the web, as well as on Android and iOS devices. Give it a try to experience the kind of AI companion depicted in the movie "Her".
| Pros | Cons |
| --- | --- |
| Can hold intricate conversations | Features locked behind a paywall |
| Remembers past responses | Expensive subscription |
| Video calling with AI | |
We can now Try Replika Chatbot
14. Chai AI
Chai AI is a superior alternative to Replika for providing users with companionship through AI. While Replika is limited to just one character, Chai AI allows users to talk to a variety of chat AIs from around the world with different personalities.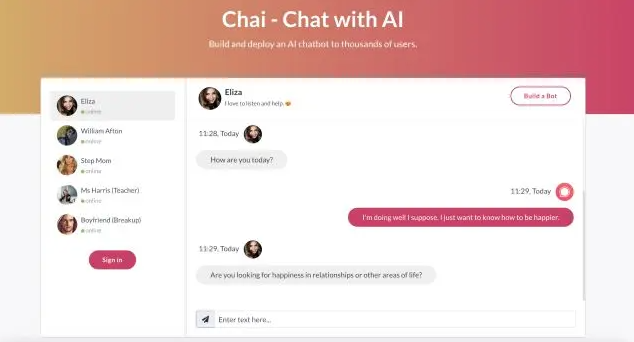 Chai AI is available on both Android and iOS as apps and is very plug-and-play in nature, with bots that reply in real-time without any major delay and have a multi-turn ability to remember past responses.
If users want more than the limited AI bots on the website, there is a strong community behind the platform. The mobile apps host a plethora of bots that have been created by users, each with its own image, description, and way of speaking to the user.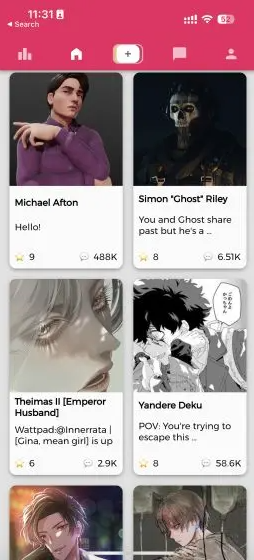 Users can even make their own AI characters with names and personalities by providing some basic information, and depending on the responses, the bots can be quite interesting.
Chai AI provides users with 70 free messages to talk to bots and refreshes that message quota every hour. However, users can opt for a Premium or Ultra membership that gives access to better conversational models and removes message limits. With Chai AI, users can have a more expansive and developed AI chat experience compared to Replika.
| Pros | Cons |
| --- | --- |
| Diverse categories of AI bots | Limited messages |
| Option to create custom AI bots | Ads in mobile apps |
Try Chai AI
15. Neeva AI
While ChatGPT has many impressive capabilities, one of its drawbacks is its limited database, which only goes up to 2021. Without using extensions, the service cannot access information from the internet to enhance its responses. For those seeking an alternative that can search the web, Neeva AI is a great option.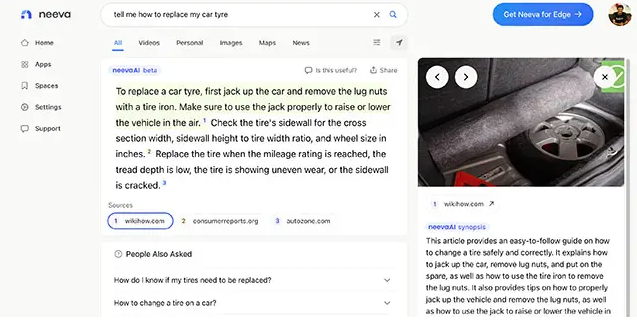 This AI-powered search engine enables you to perform online searches and presents answers in a more user-friendly way. Whether you're searching for recipes, gift ideas, or anything else, Neeva AI provides answers without requiring you to sift through multiple search results. Furthermore, it cites its sources in the summary, allowing you to easily follow links to delve deeper into an answer. Additionally, Neeva AI does not track users or display ads in its search results. However, the ad-free experience is limited in the free version, and users must subscribe to access unlimited ad-free search results.
Neeva's premium membership costs $5.99 per month or $49.99 per year. In addition to providing unlimited ad-free searches, the subscription includes access to Dashlane or Bitwarden password managers, early access to new features, live Q&As with Neeva's leadership team, and more. Like ChatGPT, Neeva AI is an excellent tool for an ad-free online experience.
16. Chinchilla AI
Although you may be familiar with OpenAI's GPT models being used as the primary source for all services, it's important to note that this ChatGPT alternative is a completely different model. Chinchilla AI, created by DeepMind (a subsidiary of Google), is a language model that is currently being developed and is not to be confused with Google Bard.
Chinchilla is even referred to as the "GPT Killer" due to its superior performance over other language models, including GPT-3, by using four times the amount of data. While Chinchilla AI is not yet available for public use, it will be interesting to see how it compares to ChatGPT once it is released.
DeepMind's research suggests that Chinchilla, which uses four times more data than competing LLMs like GPT-3, outperforms them significantly. A research paper by DeepMind, detailing the specifics, can be found here. However, Chinchilla AI is not currently accessible to the public, and those interested will have to wait. It will be intriguing to see how Chinchilla performs when compared to ChatGPT in the future. See more details on this research paper.
17. Quora Poe
Aside from these ChatGPT alternatives, there are other AI tools worth exploring. Quora Poe, launched in early 2023, is not an AI itself but rather a platform where users can communicate with various AI chatbots. Poe stands for "Platform for Open Exploration," and it allows people to ask questions, receive instant responses, and engage in back-and-forth conversations with different AI-powered bots.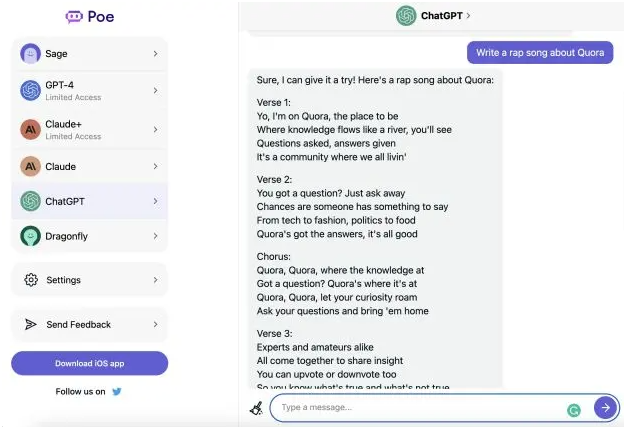 Poe is not an AI chatbot that utilizes question-answer data from Quora. Its website offers users the ability to interact with AIs such as Sage, ChatGPT, Dragonfly, and even GPT-4 and Claude+. However, access to the last two is limited to one message per day.
To use Quora Poe, you must create an account, but there's no need to create separate accounts for each service. The platform operates efficiently, with minimal downtime. An iOS app is available, but there is currently no Android version. Poe is an excellent option for individuals who enjoy using ChatGPT-like tools and prefer a one-stop platform for them.
You can now Try Quora Poe (iOS).
18. Tome
Many users struggle to create compelling presentations using traditional software. In such instances, Tome can be an invaluable tool. This AI-powered storytelling platform leverages GPT-3 to generate a presentation based on your prompts. Additionally, Tome pairs each slide with a set of images, which you can customize to your liking. You can select whether you want a presentation or an outline and even choose the image style, sourced from DALL-E 2.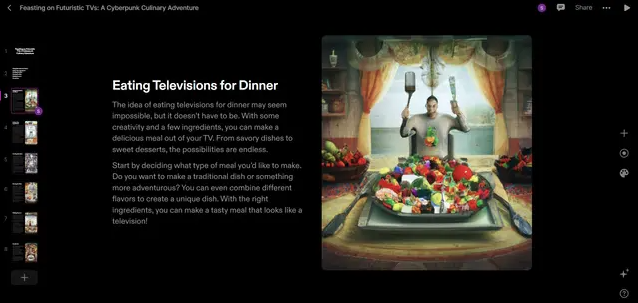 To start using Tome, select the presentation option and enter the topic for your slides. The AI will understand the concept and create the slides on the fly. It takes a minute or two, but you'll end up with an eight-page presentation complete with information and images. The finished output is detailed and produces good quality slides, even though the AI may not always attach the most relevant images.
Tome also provides users with the ability to make changes and adjustments to their presentations. You can add headings, 3D rendering, embed live content, choose themes, color options, and more. Additionally, Tome supports narrative video recording, which enables you to add your face to the presentation and deliver the content.
With 500 credits to start, Tome charges 15 credits per session, which is reasonable. Although not perfect, Tome is an innovative presentation solution that's worth trying out. Come Try Tome today.
19. Rytr
While the ChatGPT alternatives mentioned earlier primarily emphasize conversation, exploring the AI's capabilities and finding information, Rytr has a distinct purpose of assisting in writing. Rytr, an AI writing assistant, is specifically designed to produce high-quality content in a variety of contexts. This tool utilizes a language AI model to aid copywriters worldwide in generating ideation or utilitarian content.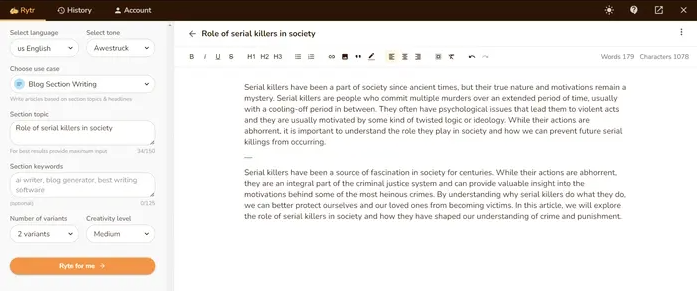 Rytr offers over 40 use cases and 20 tones to cater to specific copy requirements. In addition, it supports more than 30 languages, including popular ones, making it suitable for non-English outputs. The platform asserts that its generated content is of high quality and necessitates minimal editing, ensuring precision in its output. To enhance functionality, Rytr comes with an SEO analyzer and plugins for WordPress and Chrome extension.
To begin using Rytr, one must create an account and select language, tone, use case, creativity, variations, and the idea metric. Various use cases such as story writing, business ideas, blog writing, interview questions, and more are available to choose from. The structure of the article adapts according to the selected use case.
New users are provided with 10,000 characters free of charge as part of the basic plan, which can be increased by subscribing to the premium plan. At a starting price of $29 per month, Rytr is affordable and worth trying to determine its fit with your copywriting requirements.
Feel free to Try Rytr
20. Socratic AI
Although it is not a substitute for ChatGPT, Google's Socratic is an AI tool designed for students. This educational AI app assists students in solving homework questions with ease. Powered by Google AI, Socratic provides answers across a wide range of subjects, including Science, Maths, Social Studies, and English Grammar.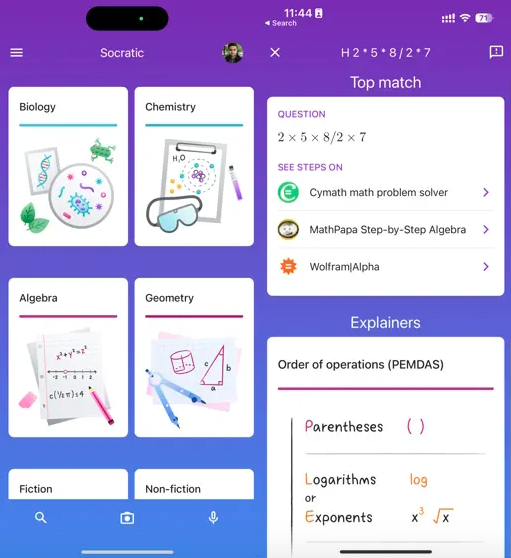 The app relies on the camera to provide visual solutions to various problems. Simply upload a photo of your homework, crop the image, and select your question. Socratic searches for the answer and provides a solution within seconds. If you prefer not to take photos, the AI app also supports microphone and text input.
While I'm no math whiz, I tested Socratic with a few challenging equations and it performed well, solving all of them efficiently. Additionally, the AI tool is not limited to math, as it can process written questions and deliver real-world answers quickly. Socratic is free to use, and you can download the app from the link below to get started.
Try Socratic AI
21. PepperType
Peppertype is another AI service, similar to Rytr, that offers various text-based content options. It provides a broad range of content platforms, including Google Ad Copy, Quora Answers, Blog Ideas, e-commerce product descriptions, blog introductions, conclusions, and more.
The website is user-friendly and allows you to categorize the platforms based on different categories. Peppertype also supports over 25 languages for increased versatility.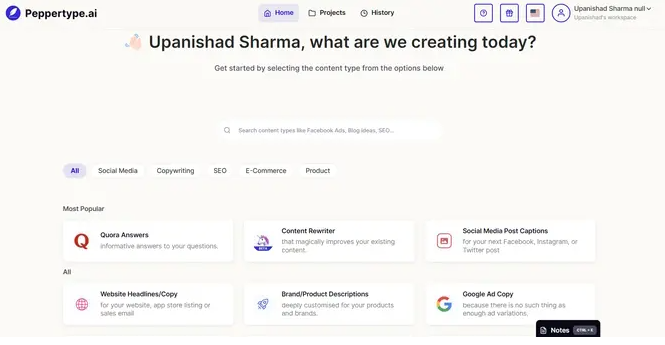 After testing Peppertype for various use cases, I was impressed with the service's performance. The generated content accurately reflected my requests, and minimal modifications were needed. I could effortlessly copy and paste the paragraphs into my work. However, the content rewriter feature did not perform well. When I requested it to rewrite a paragraph, Peppertype made minimal changes and presented the content as is.
Peppertype offers a free plan that allows you to create up to 5000 words of content. Other plans are also available, such as the Starter plan, which starts at $25 per month and increases the limit up to 50,000 words.
Try Peppertype
22. Twain AI
Composing an attention-grabbing email can be quite challenging, despite the availability of tools such as Grammarly that help with spell-checking. These tools, however, fall short in terms of bridging the gap between how you envision your email sounding and how it actually comes across to the recipient. Fortunately, in this era of ubiquitous AI, there is now Twain AI, a communication assistant that is an alternative to ChatGPT for composing emails.
Designed to optimize outreach, Twain AI is capable of polishing any type of email you draft, regardless of its intended use. By leveraging the power of AI, Twain helps you to eliminate unnecessary fluff and filler words, create concise and direct messages, and weed out spelling and formatting errors, among other things.
Twain AI's interface presents its suggestions in a manner similar to that of Grammarly, complete with convenient scores for readability and estimated reading time. When you need to make a correction, simply hover over the recommended solution, and the AI will explain how to improve it and why. While initially designed for email composition, Twain AI can also be utilized with other forms of text, making it a fascinating and valuable alternative to ChatGPT. Let us Try Twain AI now.
See also:
Frequently Asked Questions (F.A.Q)
Can you explain what AI chatbots are?
AI chatbots are virtual programs and apps that are designed to simulate human conversation. They aim to create a conversation that feels like it is with another human rather than a bot. These chatbots are becoming increasingly common, with a variety of functions such as writing essays, solving calculations, and more.
Are there any alternatives to ChatGPT?
Yes, there are many alternatives to ChatGPT in 2023. There are AI chatbots for coders, writers, and people with simple search engine queries. Examples include Tome for presentations and Replika for conversation.
Is there a free version of ChatGPT?
Yes, ChatGPT itself is free to use for anyone. However, access to the new GPT-4 model requires a monthly payment of $20.
Is there any other tool like ChatGPT?
Yes, there are many other tools like ChatGPT, such as Chatsonic and Jasper Chat.
What is Google's equivalent of ChatGPT?
Google's equivalent to ChatGPT is Bard, an experimental conversational AI service based on a lightweight version of LaMDA. However, it is not yet publicly available.
Which AI is better than ChatGPT?
It's difficult to say which AI is better than ChatGPT because there are many specialized tools coming out, depending on specific use cases and requirements.
Is ChatGPT down sometimes?
Yes, ChatGPT may go down from time to time due to server load. Users can check its status on the OpenAI Status website and use one of the alternatives listed in this article.
What is the equivalent of ChatGPT for coding?
GitHub Copilot X and Amazon Codewhisperer are examples of ChatGPT alternatives for coding.
Is ChatGPT no longer free?
ChatGPT is still free, although the Plus tier offers access to the more advanced GPT-4 model for a monthly fee.
ChatGPT vs Google Bard: which is better?
There is no clear winner between ChatGPT and Google Bard, as they have different features and strengths. Users can compare them using the battle link provided in the article.
Use The Top ChatGPT Alternatives Right Now
We hope that some of these ChatGPT substitutes will come in handy in the event of downtime. As you can see, there is a wide variety of AI bots available. Even Twitter CEO Elon Musk is reportedly considering developing his own ChatGPT alternative, and has approached former DeepMind researcher Igor Babuschkin to assist him. If successful, his creation would directly compete with OpenAI, the company he co-founded. However, Elon will need to ensure that his alternative has comprehensive data, since ChatGPT now has access to the Internet, which is a significant development for the chatbot.
Once you've explored these options, take a look at some of the best AI art generators and peruse them through the lens of AI-generated visuals. If you're interested in deepfake apps and websites that can modify your appearance and create unique visual content, check out the linked article. Do you have any other ChatGPT alternatives that you'd like us to include on this list?
Lastly, you don't have to wait for GPT-4 to try out ChatGPT. Explore all the cool features of ChatGPT and even integrate it with Siri or get it on your Apple Watch! What are your thoughts on this exciting new model?