This is the best Cloud Document Storage of 2020: sync and save your files and folders online. You will also lear how to Sync and save your documents to the cloud using different cloud service providers.
Cloud storage free and premium offers different positive benefits for personal and commercial business owners who wants to save documents online. In most cases, you do not necessarily need a big company solution to save big data but simply a central repository for major business files and documents.
Saving documents and files on the cloud is important since it serves as a simple backup for disaster recovery of all your files, folders, such as documents, images, audio and videos. This is important, so that in any event of hard disk failure/crash or computer theft, you can easily recover your documents from another computer or mobile device.
As a matter of fact, this online saving method can also help free up space in very busy office departments where saving data across multiple machines cannot be over emphasized.
One major advantage of Cloud Document Storage is that it allows you to synchronize your files across multiple devices. This is enable you to work with a document in your office PC, work from home, and also work with the same documents with your mobile phone while on the go. This advantage alone makes work easier to reference and update required by the user.
Offshore business(es) are also likely to find the ability to collaborate with cloud files across multiple users and locations especially very handy. This can be especially the case for contributing and editing office documents, CRM, Mobile App Development, employee productivity platforms or even project management software.
There are some software applications that will save your files and data to the cloud notwithstanding, but provide an option to use their own cloud services or integrate it to another cloud storage provider.
The popular Google Chromebooks laptops are sold on the principal of saving all of your office work and personal documents to the cloud. Then you can send it to others if you desire. You can read up the Best Alternatives to WeTransfer App to share files.
Here then are the best in cloud document storage solutions.
List of the Best Cloud Document Storage
OneDrive
Google Drive
Dropbox
Box
Egnyte
Adobe Document Cloud
1. OneDrive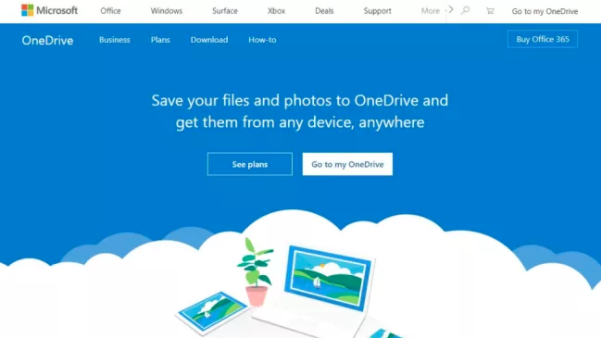 You have the advantage of harnessing the best of Microsoft through OneDrive's cloud platform. They avil users the following;
Free 5GB storage
Cross platform
Occasionally crashes
OneDrive Premium has the following;
Microsoft Office Online – Free
Microsoft 365 Personal
US$6.99/mth
Microsoft 365 Family
US$9.99/mth
The OneDrive, which was previously known online as SkyDrive, was released around the year 2007 as Microsoft's own free cloud storage platform. The portal works as part of the Microsoft Office Suite and allocates you a 5GB of free storage space. Fully registered online students and those working in Academia are given up to 1TB of free storage.
OneDrive is universal since it is available for all platforms. However, you need to have an Outlook (previously Hotmail) or Microsoft account. Don't get scared, the signup process is very easy. All its users including free accounts can collaborate offshore, store and finally share documents and files.
For those who do not have steady internet connection, the OneDrive also gives you an offline access to documents and files. This is to enable you to always have your most important files available at your fingertips. This functionality comes pre-installed on all Microsoft Windows 10 devices and can be easily accessed or downloaded onto other platforms when you have internet connection.
There is a demerit of OneDrive since there has been complains about its sync service. OneDrive sometimes have trouble synchronizing and there have been reports by users that it crashed on several occasions.
You can upgrade your storage to 50GB for $3 (£2.30) a month.
2. Google Drive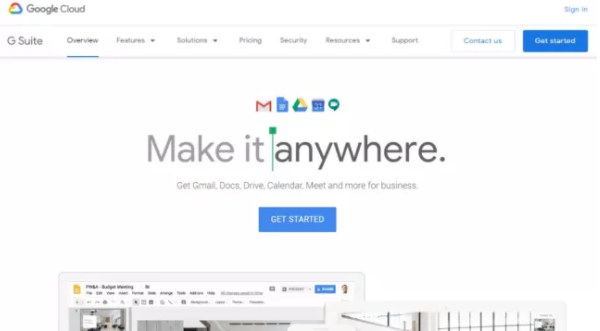 Cheap pricing
Accessible service
Blocking non-Google browsers
The giant search engine 'Google' has recently been busy rebranding parts of services, and its popular Google Drive is no different. The paid version of Google Drive plans have now been renamed to Google One, and Google Drive is now headed with "Google Cloud". However, the name has been retained for the free version, with a 15GB storage limit.
The free Google Drive by itself offers 15GB of cloud storage, though this does not only includes documents in your Google Drive account but also everything else saved to your Google account. It also includes Gmail and any high-resolution images you previously uploaded to Google Photos.
On the other hand, the premium Google One does not only offer additional storage space but also additional features. For storage capacity there are different plans for individuals, with the main 3 which is 100GB for £1.59/month, 200GB for £2.49/month (or £24.99 per year), or 2TB of storage for £7.99 (or £79.99 per year). Additional plans with more storage are available as needed.
Keep in mind that these individual plans are additional options, such as setting up a shared family account to use your storage, plus promotions for other Google services.
Note that for business purposes with more than one staff, you would almost certainly need to use Google One/Google Drive as part of the G Suite. From their website, the basic plan there offers up to thirty gigabyte of storage on top of G Suite apps, for six dollar per user per month. The Business plan offers unlimited storage for twelve dollar per user per month (though for teams of less than five it's one terabyte of storage).
Google offers an affordable services because it's prices for Google Drive/Google One/Google Cloud are among the cheapest in the industry. You have to be aware that as at the time of writing this post, Google services are increasingly inaccessible unless you use the Google Chrome browser on your device.
3. Dropbox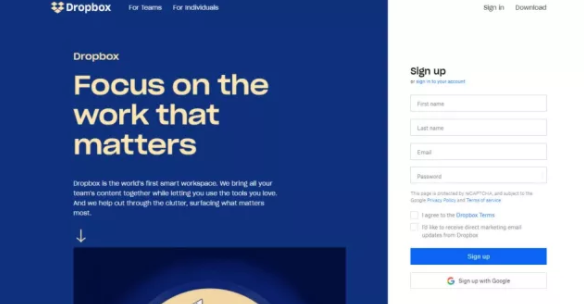 The dropbox is a simplified cloud storage from a veteran in the field of service. The provide;
2GB free
Integrates with most apps
Relatively expensive
First of all, it is important you know that Dropbox is one of the oldest cloud storage providers available on the internet. It offers 2GB of storage space for free users but this can be enlarged by up to 16GB. This can be gotten through referrals as well as by linking your Dropbox account to your social media accounts.
Up till now, it is one of the simplest storage providers available online. Dropbox can be easily installed even by a newbie on any computer and some mobile devices and syncs easily between apps. Dropbox app can save almost any type of file with no compatibility issues. You can easily drag and drop files into the desktop app.
You can similarly share files with other online users easily through links, even if they don't have a Dropbox account. Since the Dropbox has been around for a long time, it understands and integrates with most other apps such as Slack and MS Office.
There is always a downside to every benefit. Therefore, Dropbox can be really expensive if you need more than 2GB of space and you have can run out users people to refer.
Dropbox Pricing varies according as to whether you need an individual plan or enterprise plan. The Individual plans start from $11.99 (£7.99) per month for 2TeraByte of storage. Dropbox Business offers features for teams with a generous 5TB of storage, with pricing starts from $12.50 (£10) per user per month, and an annual payment discount.
4. Box
Box offers excellent storage and integration at very affordable rates
StarterUS$5/mth
BusinessUS$15/mth
Easy to use interfaceGoogle Docs and Office 365 integrationExternal users' restrictions
Box is a cloud content management and file sharing service for businesses. It was founded in 2005.
Box offers strong management capabilities and security features. The interface is made for ease of use and is simple to navigate.
The dashboard allows access to settings and files and folders. Admins cam manage all users, monitors activity and control sharing.
As Box has been around for a while, it is supported by a number of mainstream apps such as Google Docs and Office 365. The Box Sync client is available from the Downloads page for Mac and Windows, plus there's also an official Android client.
Box offers a 14-day free trial for all packages. For business use, their 'Starter' plan is priced at $5 (£4) per user per month. This includes 100GB secure storage, 2GB file upload with a maximum of 10 users.Advertisement
The 'Business' plan starts at $15 (£12) per user per month which includes unlimited storage, 5GB file upload and no maximum number of users.
Moving up again, the 'Business Plus' package is $25 (£20) per user per month and this comes with unlimited storage, 5GB file upload and unlimited external collaborators.
In order to subscribe to Box's 'Enterprise' plan, users will have to contact them directly for a quote.
Unlike other cloud storage providers, if you choose to share a file with someone who doesn't have a Box account they'll only have read-only access.
5. Egnyte
Flexible pricing plus a robust interface makes Egnyte an ideal document storage platform15-day free trial
Excellent integration
Some loading issues
Egnyte was founded in 2007 for cloud document storage and other functionalities. The company provides software for enterprise file synchronization and sharing.
The popular Egnyte allows businesses to save their data both locally and in the cloud. All types of data can be stored in the cloud, whilst data of a more sensitive nature can be stored on servers on-premise. This provides better security for high risk files.
With the egnyte cloud document storage, business teams can work how and where they want with an easy to use collaboration system through their content services platform.
Egnyte integrates with the more popular industry applications such as Office 365. This allows remote and internal employees to access all the files they need.
The 'Office' plan starts at $8 (£6) per employee per month. This covers 5-25 employees, 5TB of storage and 10GB max file size.Advertisement
The 'Business' packages starts at $20 (£16) per employee per month. This includes 25-100 employees, 10TB online storage and 10GB max file size.
In order to take advantage of their 'Enterprise tier', which includes over 100 employees, 25GB max file size and unlimited storage, you will need to contact Egnyte directly.
Egnyte offer a 15-day free trial for their packages.
Users have observed that some files, such as photos, can take a long time to sync.
6. Adobe Document Cloud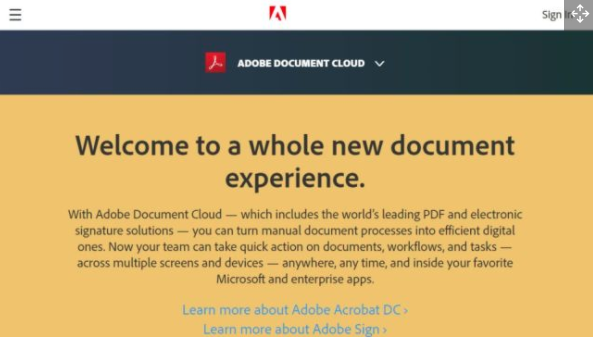 For using PDF document archives
Team collaboration
Document editing
Esign documents
Expensive
The Adobe Document Cloud storage is worth adding to this list, for the simple reason that most businesses will need to actively handle PDF documents. Its not just to store these PDFs in the cloud but also still be able to manage and edit them as required.
The Adobe Document Cloud is mainly powered by Adobe Acrobat CC and Adobe Sign, both of which together mean that you can do almost anything you can imagine you need to do with PDF documents. Whether it's editing, importing or exporting data, as well as scanning, it's not simply a passive storage repository but also a way to actively use PDF documents, and collaborative features are built in.
The Adobe Document Cloud service comes with a free 2GB document storage tier, with 100GB available through a single app subscription, but you can upgrade to premium so as to increase your storage capacity.
There is another wonderful advantage of the Adobe Document Cloud which is its ability of integrations, such as for HR, CRM, ERP software, including Zoho, Office 365, Salesforce, and various products from Oracle and IBM.
You can sign up to the Adobe Document Cloud by visiting their website.