Walgreens Pharmacy is the second-largest chain of pharmacy stores in the United States, following CVS Health. It's an American company that specializes in health and wellness products, filling prescriptions, and providing health information.
According to Wikipedia, as of February 29, 2016, Walgreens Pharmacy operates in more than 8,000 stores across all 50 states of America. Walgreens was founded in Chicago, Illinois, in 1901, and its headquarters are also located in Chicago. Stefano Pessina is the current CEO, Alex Gourlay is the President, and James A. Skinner is the Executive Chairman.
Walgreens Pharmacy for health and beauty company in USA
Walgreens has now created a website where users can access a wealth of helpful health tips and information online. Users can visit the official website and go to the Walgreens pharmacy and health section on the web platform.
There's an online platform where users can manage their prescriptions. When you use the online platform to manage your prescription, you can also collect your medications at any nearby Walgreens pharmacy location.
Benefits of Walgreen Pharmacy for health and well-being of every community in America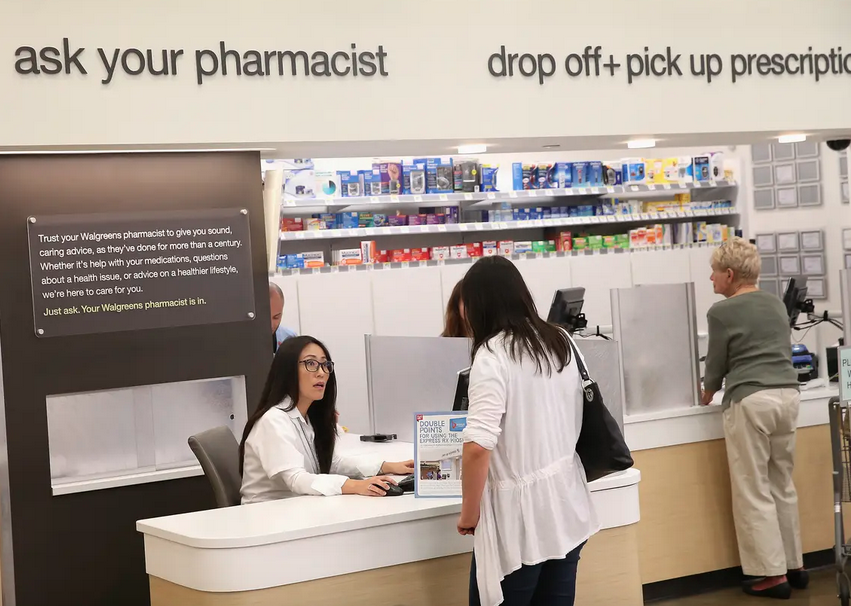 Walgreens Pharmacy offers not only the care you require but also the convenience you desire for our users.
You can:
Refill Your Prescription
Manage Your Health
Access Health Information
At Walgreens Pharmacy, users can seek treatment for minor illnesses. To access the pharmacy online, simply click the "Find Clinic" button. Additionally, there's a section where users can receive refill reminders. This feature acts like a notification, alerting you when it's time to refill your prescription.
Refill reminders are sent via email, text message, or the mobile app. Users receive these notifications as alerts on their mobile devices. You can download the Walgreens Pharmacy app from the App Store or Google Play Store.
Walgreen Mobile App for Android and iOS
Mobile device management makes it simpler to take charge of your health through your mobile device. The app serves as a handy reminder tool, aiding you in determining the most suitable immunizations for your needs. Additionally, it assists in monitoring your prescriptions through its reminder features and offers various other functionalities.
To expedite the prescription refill process, a user can conveniently scan the barcode on the prescription label, and within approximately an hour or less, the refill will be ready. Alternatively, a user can use the app to print the prescription and arrange for collection at their chosen Walgreens pharmacy outlet.
What can you do with Walgreen Phone Application?
The Walgreens app is a mobile application developed by Walgreens, one of the largest pharmacy store chains in the United States. This app is designed to provide convenience and various services to Walgreens customers. Here are some key features and functions of the Walgreens app:
1. Prescription Management:
Users can easily manage their prescriptions through the app. This includes ordering refills, transferring prescriptions from other pharmacies, and setting up medication reminders.
2. In-Store Shopping:
The app allows users to browse and shop for a wide range of health and wellness products, over-the-counter medications, cosmetics, and more. You can add items to your cart and even use the app to scan barcodes in-store for additional product information.
3. Photo Services:
Users can upload and print photos directly from their mobile devices, including photos for prints, custom photo cards, and personalized gifts.
4. Weekly Ad:
The app provides access to Walgreens' weekly ads and promotions, allowing users to view current deals and discounts on products.
5. Store Locator:
You can find the nearest Walgreens store using the app's store locator feature, which also provides store hours and contact information.
6. Pharmacy Chat:
Some versions of the app include a feature that allows users to chat with a Walgreens pharmacist for quick medication-related questions.
7. Rewards and Loyalty:
Walgreens offers a Balance Rewards program, and users can link their account to the app to earn and redeem rewards points for discounts and savings.
8. Health Services:
The app may provide access to health-related information, such as immunization schedules, health articles, and wellness tips.
9. Mobile Payments:
In some locations, the app may support mobile payments, allowing users to pay for their purchases in-store using their mobile device.
10. COVID-19 Information:
During the COVID-19 pandemic, Walgreens used its app to provide information about testing locations, vaccine availability, and other pandemic-related updates.
The specific features and functionalities of the Walgreens app may vary depending on the version and location. Users can download the app for free from the App Store (for iOS devices) or Google Play Store (for Android devices) and create an account to access its various services. It's a convenient tool for managing prescriptions, shopping for healthcare products, and accessing Walgreens' services and promotions.
How to Create a Walgreens Pharmacy Account for Online Purchases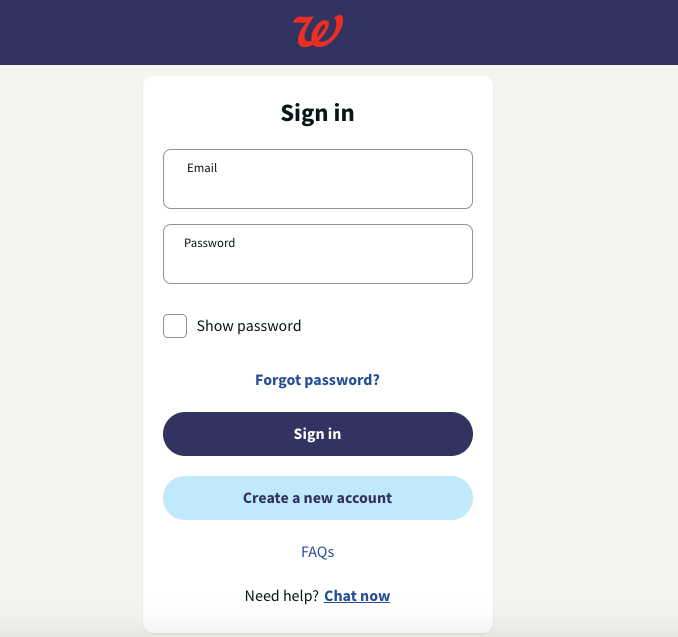 To create an account with pharmacy access, follow these steps:
Click here to go directly to the sign-up page at https://www.walgreens.com/login.jsp.
Provide your information, including your first name, last name, date of birth, phone number, and email address. Set a password.
You'll also need to answer a security question.
Click on "I have read and agreed to the terms of use of Walgreens services."
Click on the Continue icon to move forward.
Enter your address details and finish the remaining survey.
Who is the largest shareholder of Walgreens?
The biggest shareholder in Walgreens Boots Alliance, Inc. was The Vanguard Group, Inc. Vanguard is a well-known investment management firm and possesses a substantial number of shares in numerous publicly traded companies, with Walgreens being one of them.
What is Walgreens Pharmacy Operating Hours?
Walgreens Pharmacy operating hours can vary depending on the specific location and day of the week. Generally, Walgreens stores tend to have the following operating hours:
Monday through Sunday: Typically open from 7:00 AM to 10:00 PM or even 24 hours at some locations.
However, please note that these hours can change, especially on holidays or due to local regulations. To get the most accurate and up-to-date information on the operating hours of a specific Walgreens Pharmacy near you, it's best to visit the official Walgreens website or contact the pharmacy directly.
How to Find and locate the Closest walgreens pharmacy near me
To find and locate the closest Walgreens Pharmacy near you, you can follow these steps:
1. Use the Walgreens Store Locator:
Visit the official Walgreens website (www.walgreens.com).
Look for the "Store Locator" or "Find a Store" option on the homepage. This is usually prominently displayed.
Enter your location details, such as your city, state, ZIP code, or address in the provided search bar.
2. Use a Mobile App:
If you have a smartphone, you can download the official Walgreens mobile app from the App Store (for iOS devices) or Google Play Store (for Android devices).
Open the app and use the store locator feature to find the nearest Walgreens Pharmacy.
3. Call Walgreens Customer Service:
You can call Walgreens customer service at 1-800-WALGREENS (1-800-925-4733) and ask for assistance in finding the nearest pharmacy to your location.
4. Use Online Maps:
You can use popular online mapping services like Google Maps or Apple Maps. Simply enter "Walgreens Pharmacy" in the search bar followed by your location, and it will display nearby Walgreens locations.
5. Ask Local Residents:
If you're in a new area and prefer a personal recommendation, you can ask local residents or colleagues for directions to the nearest Walgreens Pharmacy.
Once you've located the nearest Walgreens Pharmacy using one of these methods, you'll have access to the store's address, phone number, and operating hours. Make sure to check the operating hours as they may vary by location.
What do I need to know about Walgreens Pharmacy receipt?
Walgreens Pharmacy receipts, like receipts from many other businesses, contain important information that you may need for various purposes, including tracking expenses, for returns or exchanges, or for insurance and tax purposes. Here's what you should know about a typical Walgreens Pharmacy receipt:
1. Transaction Details:
The receipt will include details of your transaction, such as the date and time of purchase.
2. Store Information:
It will display the Walgreens store's address and contact information, which can be helpful if you need to contact the store or return an item.
3 Itemized List:
The receipt will list the items you purchased, including the name of each medication, its quantity, and the price of each item.
4. Prescription Information:
If you purchased prescription medications, the receipt may also include specific information about the prescription, including the drug name, prescription number, and any insurance or discount information applied.
5. Prices and Discounts:
It will show the prices of each item and any discounts or promotions applied to your purchase.
6. Taxes:
The receipt will display any applicable taxes that were added to your purchase.
7. Payment Method:
It will show the payment method you used (e.g., cash, credit card, or insurance).
8. Return Policy:
Walgreens' return policy may also be printed on the receipt, explaining the conditions under which you can return or exchange items.
9. Survey and Feedback:
Some Walgreens receipts include information about participating in customer satisfaction surveys and providing feedback.
10. Special Offers:
Occasionally, Walgreens receipts may include coupons or special offers for future purchases.
If you have a specific question or need information from your Walgreens Pharmacy receipt, it's advisable to keep it in a safe place. If you require additional copies or have questions about a particular purchase, you can visit the Walgreens store where the purchase was made or contact their customer service for assistance. Additionally, for tax-related purposes, it's a good idea to retain receipts for medical expenses, including prescription medications, as they may be tax-deductible.
Walgreens Pharmacy Music
Walgreens Pharmacy didn't have a specific music service or music-related offering that was widely known or associated with the pharmacy chain. Originally, Walgreens is primarily known for its retail and pharmacy services, including prescription medications, over-the-counter healthcare products, cosmetics, and convenience items.
However, it's possible that Walgreens may have introduced new services or promotions related to music or in-store music since then. Some retailers play background music in their stores to enhance the shopping experience, but this music is often part of a general ambiance rather than a dedicated music service.
If you're interested in any music-related services or promotions offered by Walgreens, I recommend visiting the Walgreen official website or contacting your local Walgreens store directly for the most up-to-date information. Additionally, you can check the Walgreens app or inquire with Walgreens customer service for any music-related offerings they may have introduced as an update. However, you can go online to Play Walgreens Pharmacy on SoundCloud.com and discover followers on SoundCloud. There, you can Stream tracks, albums, playlists on desktop and mobile.
Helpful Recommendations