Multi-Access Edge Computing (MEC): From the simplest point of view, MEC is a server deployed near the base station of a mobile communication system.
The most common MEC deployment is to associate a general x86 server with a base station to handle urgent and massive processing tasks in the base station nearby. Take the self-driving car as an example.
After the video signal captured by the camera is accepted by the base station, it will be processed directly in the MEC server and adjusted according to the rules, while the remote server will perform remote driving and rule update tasks.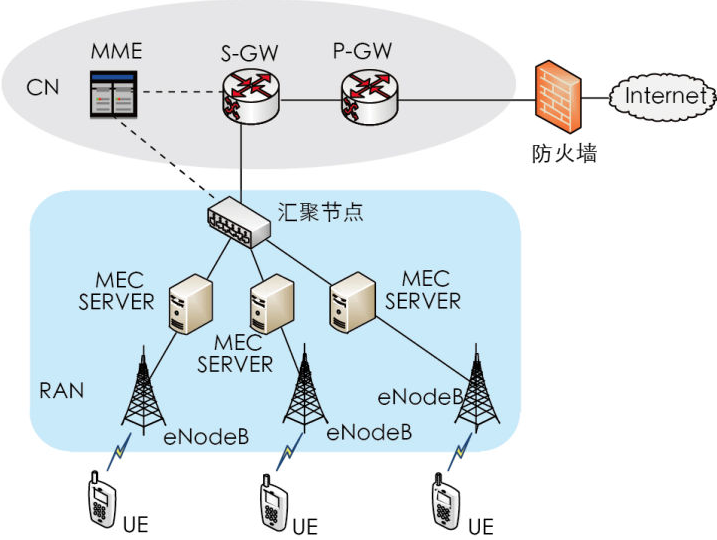 Evolved Packet Core (EPC)
First introduce EPC (Evolved Packet Core), packet core network, 4G core network. Which mainly includes MME, SGW, PGW, PCRF and other network elements. Among them, SGW and PGW are often co-located and called SAE-GW.
The system is characterized by only the packet domain but no circuit domain, is based on an all-IP structure, separates control and bearer, and has a flat network structure.
EPC is mainly composed of MME, SGW, PGW, PCRF and other network elements. Among them are:
1. Mobility Management Entity (MME)
MME: Mobility Management Entity, the control plane function of the SGSN network element in the original 3G network; Signaling interaction control node between UE and core network
2. Serving Gateway (SGW)
SGW: Serving Gateway, service gateway, the user plane function of the SGSN network element in the original 3G network, sometimes also written as S-GW;
Functions of Serving Gateway (SGW):
packet routing and forwarding function; IP header compression; IDLE state termination point, downlink data buffer; anchor point for handover between E-NodeBs; route optimization. Forwarding of user IP data packets to the network side; and user data caching and forwarding in terms of re-mobility support; billing i Southwest West collection and legal monitoring.
3. PGW
PGW : PDN Gateway, PDN gateway, the function of the GGSN network element in the original 3G network, sometimes also written as P-GW; (PDN, Public Data Network, public data network, a communication network that provides data communication services for the public. Switches, The network control center, user entry equipment, communication lines and other facilities. Each network user can communicate with other users on the Internet, and the public data network is responsible for transparent and error-free transmission of data.)
Functions of PGW:
Packet routing and forwarding; Anchor function (HA function) between 3GPP and non-3GPP networks; UE IP address allocation, gateway function to access external PDN. User IP address allocation management and QoS guarantee; traffic monitoring and statistics; data distribution.
4. Policy and Charging Rules Function (PCRF)
PCRF: Policy and Charging Rules Function, the policy and charging rules function, complete the policy and charging control of user data packets. Define charging rules for different services for each user; QOS strategy-provide different QOS for different bearer services. Policy control, flow-based charging, QoS authorization (level identification and bit stream).
Related Posts
eNodeB
eNodeB: physical layer functions (HARQ, etc.); MAC, RRC scheduling; radio access control; radio resource management, etc.
HSS
HSS: dynamic information for account opening information and user mobility management; basic AUC module
EPC Network
EPC network is the core network of 4G mobile communication network . It belongs to the category of core network, with traditional capabilities of mobile networks such as user subscription data storage, mobility management, and data exchange, and can provide users with ultra-high-speed Internet experience.
In summary, EPC has the following characteristics:
Convergence of core network and routing of switching functions;
The service plane is completely separated from the control plane;
Minimize the number of network elements and optimize the protocol level;
The network is flat and all-IP.
To sum up:
Functions of Mobility Management Entity (MME)
The main function of MME is to support NAS (non-access stratum) signaling and its security, tracking area (TA) list management, selection of P-GW and S-GW, selection of MME during cross-MME handover, and transfer to 2G SGSN selection, user authentication, roaming control and bearer management during the handover of /3G access system, mobility management between core network nodes of different 3GPP access networks, and UE reachability management in ECM_IDLE state (Including the control and execution of paging retransmission).
MME: control plane
SGW/PGW: User plane
(1) MME is a signaling entity, which is mainly responsible for functions such as mobility management, bearer management, user authentication, SGW and PGW selection;
(2) The interface between SGW termination and E-UTRAN is mainly responsible for user plane processing, data packet routing and forwarding and other functions, supporting the switching of different 3GPP access technologies, and acting as the anchor point of the user plane when switching occurs; The EPS-related UE has an SGW to serve it at a point in time. SGW and PGW can be implemented on one physical node or different physical nodes.
(3) The SGi interface between PGW termination and external data networks (such as the Internet, IMS, etc.) is the EPS anchor point, that is, the anchor point of the user plane data link between 3GPP and non-3GPP networks, and is responsible for managing 3GPP and non- Data routing between 3GPP, manages the movement between 3GPP access and non-3GPP access (such as WLAN, WiMAX, etc.), and is also responsible for DHCP, policy enforcement, billing and other functions; if the UE accesses multiple PDNs, the UE will correspond to one Or multiple PGW.
Topics related to Multi Access MEC Mobile Edge Computing
Download mobile edge computing pdf
List of mobile edge computing applications
Explain mobile edge computing architecture
MEC vs edge computing
Mobile edge computing explained
mobile edge computing ppt
Access mobile edge computing 5g
Different MEC use cases