Is this your first iPhone? Congratulations! Here are some basic tricks to help you start using your brand-new iPhone. Remember to follow these steps right after unboxing your phone.
Apple ID creation
Apple ID is required for everything you do on an iPhone, including accessing the App Store, uploading and syncing iCloud data, etc.
You can create an Apple ID for free, and this account will let you purchase apps, movies, music, and more. It is also used for other features like FaceTime, iMessage, Find My, etc.
Technically, you can skip setting up an Apple ID, but without this ID, you will miss out on many excellent features and functions the phone offers.
Configure iCloud
iCloud makes it much easier to use your iPhone, especially if you have an Apple computer or laptop. iCloud collects all the apps and data in a single tool and automatically syncs them across Apple devices. Therefore, if you have already purchased an app or movie on your iPhone, you don't need to purchase it again on your Mac and vice versa.
Backup iPhone
The iPhone is a small yet powerful device. You can carry the device in your pocket but can complete all simple to complex tasks. Moreover, you can quickly sync the completed tasks and other data across Apple devices.
Since your smartphone will likely carry a lot of data, it can be scary to think what would happen if the data were lost. Therefore, learn how to back up iPhone to MacBook. You can do this via iCloud.
If you do not have a Mac, you can still back up your phone's data to iCloud. This will ensure your data is safe and can be downloaded if you change your phone.
Set up Touch and Face ID
Setting up Touch and Face ID is a standard procedure of the iPhone set-up process. However, it would be best if you did not do this separately.
Touch ID is built into the Home button, and once this is set up, you can use it to unlock your phone by pressing a finger. Also, you can forget about entering your password whenever you are in the App Store or iTunes store.
To set up Touch ID, go to the Settings app > tap Touch ID & Passcode and enter your password > tap Add a Fingerprint > press and lift your finger on the Home button multiple times until your phone gets a clear scan of your finger.
Setting up your Face ID is as essential as the Touch ID. Facial recognition works with almost all Apple devices. By setting this up, you can simply show your face and unlock your phone or authorize Apple Pay transactions. You can set this up by going to the Settings app > tapping Face ID & Passcode > following the on-screen prompts.
Set Up Find My
As soon as you have created your Apple ID, turned on automatic backup, and synced to iCloud, the next step is to set up Find My.
The Find My feature will help to locate your device if it is lost or stolen. On your iPhone, open the Settings app > tap your name > Find My > turn on Share My Location if you want your family or friends to know where you are > tap Find My (device) > turn on Find My (device).
If you want to see your device even when you are offline, turn on Find My Network.
You can also set your phone to send the device's location to Apple if your battery is low. To enable this, turn on Send Last Location.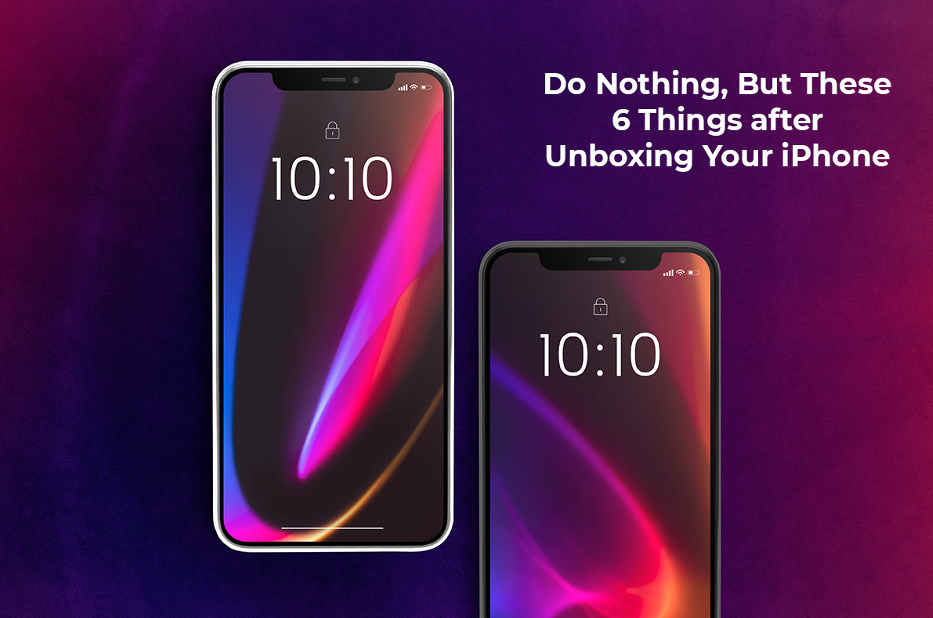 Enable Family Sharing
Apple allows users to share selected purchases on the App Store, iTunes, or iBooks with five other family members. You can switch on Family Sharing and let your family members access your favorite media. Along with see photos and calendar entries.
You can set up Family Sharing through your iPhone if you have an Apple ID signed in to iTunes and iCloud. Go to Settings > choose your name > select Family Sharing and follow the on-screen instructions.
Then, you can invite anyone to join your group.
To set this up, go to Settings > tap your name > Family Sharing > tap Family Member.
If you plan to add children to your account, ensure to set up an Apple ID for your kids. This can be done on the Add Family Member screen by selecting the Create an Apple ID option.
Please note that turning on Family Sharing means you can keep tabs on all the group members through the Find My iPhone application. In addition, you can use this feature to control what your kids watch and download.
The Bottom Line
Right after unboxing your iPhone, follow the steps mentioned above. Then, you can use your iPhone to install new apps, delete the default apps you don't want, listen to music, stream movies, etc.
Similar Posts