This is a review of the Top 5 AI-Based Paraphrasing Tools for writing content to Avoid Plagiarism in 2022/2023. Paraphrasing is an effective writing method for expressing the ideas of someone else. Paraphrasing is a commonly used technique in writing, where the goal is to deliver an idea from one form into another.
It involves restating a text or part of it in other words without copying the original word-for-word sentences.
Why Do We Paraphrase Content?
There are many benefits of paraphrasing content such as:
First, improves readability
Secondly, it lets you add creativity to your work
Thirdly, it makes your work unique and original
Lastly, it avoids plagiarism
So, how does paraphrasing help in avoiding plagiarism?
If you want to avoid getting penalized by Google for duplicate content, then this writing technique will come in handy as it will help you rewrite existing articles using different words so that no one can accuse you of copying anyone else's work.
It will also enable you to come up with new ideas as well as improve what has already been written by you or others on that topic.
But what if you don't have time or expertise in paraphrasing? This is where AI technology comes in handy.
AI technology helps in paraphrasing content by ensuring that the original meaning of the text hasn't been changed and the sentence structure remains intact.
The use of AI technology also ensures that the output is readable enough as written by humans, which will be effective to avoid not only duplication issues but also typos or grammatical errors in your writing.
There are so many AI-powered paraphrasing tools available on the internet that have been making the whole paraphrasing process easier for you. Among them, we have handpicked the best AI-based paraphrasing tools for you to try out to avoid plagiarism.
5 AI-powered paraphrasing tools to avoid plagiarism
Let's find out the best AI-powered paraphrasing tools to avoid plagiarism in 2022.
1. Quillbot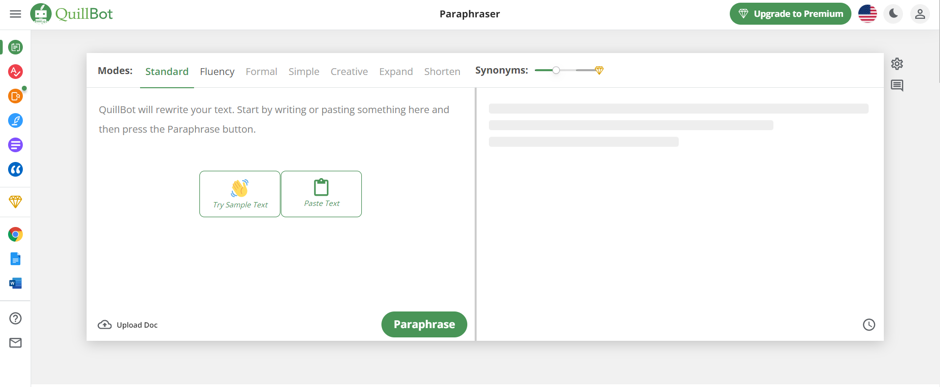 First, Quillbot is an excellent paraphrase tool that can be found on the web online. This application allows users to change any sentence, paragraph, or even whole article. It features a user-friendly website layout that lets people improve their writing quality, speed and clarity.
This tool has a unique feature: it offers different paraphrasing mode options, each of which uses AI to rewrite existing content. If you're looking for a paraphrasing tool that can pass every plagiarism-detection tool, this is your best option.
The best thing about the tool is that it also changes the writing style in addition to changing only words with their closest synonyms.
Why should you choose Quillbot?
It is the only tool that offers word-to-word editing in the paraphrased text by suggesting their synonyms, making the paraphrased text as unique as you want.
The famous paraphrasing tool delivers high-quality outcomes in less than a minute.
Once you have the paraphrased text, tab on 'rephrase' again and see the magic happening. It will rewrite the entire text in another exceptional way.
It uses native AI technology to churn out the best possible and readable results.
Use its Chrome extension and make paraphrasing even quicker in your daily writing tasks on the desktop.
Drawbacks of Quilbot
The free version only unlocks two paraphrasing modes
Only allows 125 words to paraphrase for free
2. Preposetseo paraphrasing tool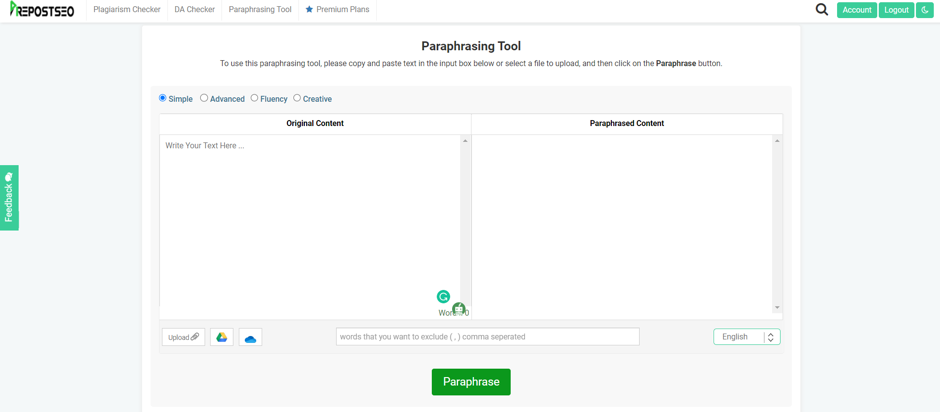 Prepostseo offers great service when it comes to free online paraphrasing tools. This tool also integrates artificial intelligence but as mentioned above it is a free tool, making it one of the best picks for all writers and students out there. Just like quilbot it also offers multiple writing modes to come up with results as per users' requirements.
Why should you choose the Prepostseo paraphrasing tool?
Four paraphrasing modes include:
Simple
Advance
Creativity
Fluency
You can choose the desired mode and start paraphrasing.
You can edit the paraphrased text with the suggested terms it offers before the process is completed.
Using this tool is no rocket science. Just upload the text file or paste the content that is needed to be paraphrased. Leave the rest on the tool.
It supports multiple languages, making it a perfect tool for foreigners.
Guarantee SEO friendly outcomes
The paraphrased text will be SEO friendly and human-readable.
3. Paraphraser.io
Paraphraser.io delivers the most unique results that keep users away from plagiarism as well. It is greatest free tool for rewriting and paraphrasing original text.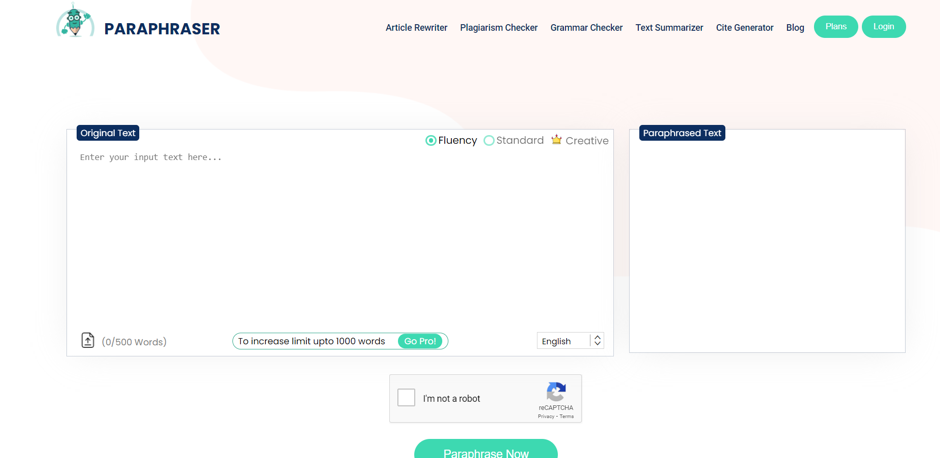 Because Artificial intelligence never fails, it generates paraphrased content that is efficient, precise, and human-readable.
The tool offers another advantage which is its completely free usage for all users. Hop to the website straight without any registration and sign up and start paraphrasing now.
Why should you choose Paraphrase.io?
Three online paraphrasing modes include Fluency, Standard, and Creative.
AI technology helps rephrase the text in a unique way that is human readable.
It doesn't change the context of the text, rather, changes the material in a way that you might not think of.
Best service in case you want to rephrase a plagiarized text to avoid plagiarism.
You can avail of this free service for up to 1000 words. For more, you need to go with its premium version.
4. Word AI
We've added one more AI paraphrasing tool to our list, WordAI. True to its name, this tool also uses artificial intelligence to rephrase the text for its users.
It doesn't really matter if you're a student, professional writer, or SEO expert, you must check out this software that will surely help to pass plagiarism checks from a variety of tools. The in-built artificial intelligence is probably the reason for such a high utility level by web users.
Using the WordAI paraphrasing tool, you can rewrite essays, blogs, and articles without putting much effort and wasting time, which makes it highly competitive.
The AI technology first analyses the actual meaning and context of the material and then generates a copy of it that reads like it was produced by a professional writer, so there is no way a plagiarism detector can highlight it as a paraphrased or copied text.
When compared to other paraphrasing services, the text generated through this tool gives the highest readability results.
Why should you choose WordAI?
The paraphrased content is readable and unique because the tool uses advanced AI technology to rephrase the text.
The tool supports four different languages making it the best service for English, Spanish, French and Italian writers.
This amazing tool can spin articles 1,000 at once for the fastest bulk paraphrasing.
This tool features a perfect tense tool integration that helps in detecting grammatical errors in the text.
Drawbacks of using WordAI
Only a three-day free trial
You cannot access the free trial without a subscription
5. Spin Rewriter
The Spin Rewriter was launched in 2011, offering an excellent online paraphrasing tool available on the online market. From the first release to its most recent edition, this tool has become even more effective and equally beneficial for writers and students.
In integration with Emulated Natural Learning (ENL), the Spin Writer helps the users in producing content of the same high quality as that which is written by humans manually. If you want the best results in paraphrasing without having plagiarism in text, you need to choose the Spin Rewriter.
Why should you choose the Spin Rewriter?
The use of advanced NLP technology lets users rewrite content efficiently without altering the actual context.
It is the best online service that allows its users to rewrite articles in bulk. For example, you can paraphrase 1,000 articles in one attempt which is pretty amazing.
Another unique feature of this tool is that you can add stock photos to the paraphrased content. It is the only tool that offers this option.
Note that Spin Rewriter can be easily accessed by anyone via laptop, smartphone or desktop.
Drawbacks of Spin Rewriter
Limited free trial for only 5 days
To access all the features of the tool, you need to buy its subscription plan
Conclusion
The process of manual paraphrasing is monotonous and time-consuming, and still, the threat of getting caught with plagiarized content remains high. But now paraphrasing has become much easier with the help of artificial intelligence technology.
We have enlisted five outstanding AI paraphrasing tools online that not only help you get away with plagiarism but also make your writing unique and original.
Many people feel that such technology is far away, but in reality, it is already here and has become affordable.
These paraphrasing tools are real-life applications for writers who are struggling to improve their writing pieces, students who need to avoid plagiarizing someone else's work, or bloggers who are looking for ways to create more content.
New AI Updates Available