Just last month alone, 3,900 people lost their jobs to AI as tech, advertising and marketing companies strive to cut costs. A recent report by Challenger, Gray, and Christmas says that 3,900 people lost their jobs because of AI last month. They also talked about the negative impact of artificial intelligence on employment in the United States, Europe and Asian countiries.
I have previously published an Artificial Intelligence essay where i explained the meaning of AI, it's benefits, types, AI movies and the future of AI and cloud computing. Why is AI taking jobs? Like the internet, AI is an enabling technology etc, it will work faster and seamlessly for effective productivity.
Now, this is the first time Challenger, Gray has mentioned AI as a reason for job losses. Here are the important points from the report and how Robotic AI taking more Jobs from Human's Career.
News Report about People Lost Jobs to AI
According to the report, American employers said they would cut 80,089 jobs last month. That's a lot more than the same month last year, which only had 27,000 job cuts. It's also higher than the number of job cuts in April 2023.
The report also says that American companies have announced 417,000 job cuts in the first five months of this year. That's more than four times the number of job cuts during the same period last year.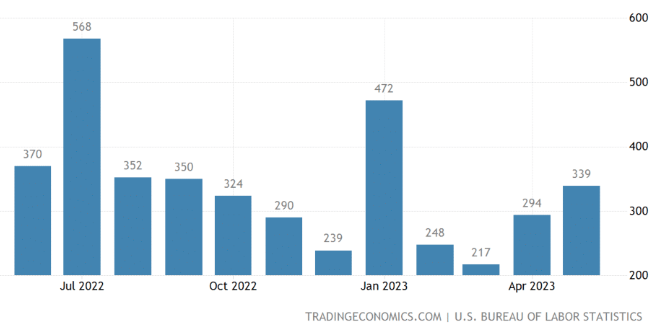 In the first five months of 2023, the job market in the US added more than 1.6 million new jobs. However, there have been many job losses in the tech industry. Big companies like Meta Platforms, Amazon, Alphabet, and Salesforce have announced that they are laying off a large number of employees.
These companies hired too many people between 2021 and 2022. Now, because their growth has slowed down and their profits have fallen, they are letting go of a lot of workers.
According to the Challenger, Gray, and Christmas report, 19,598 of the job cuts in that month were because the companies were closing down. This is the highest percentage of layoffs in that category.
Poor Sales & Market Conditions is Behind the Continous Job Layoffs
The second most common reason for job cuts was the market or economic conditions, which resulted in 14,617 layoffs. However, when we look at the total job cuts so far this year, almost half of them were because of this factor.
It's important to note that many tech companies have been laying off employees over the past year. The main reason for this is that these companies hired more people when the economy was doing better. But now, as their revenue growth has slowed down, they have realized that they have too many employees.
For example, Amazon's revenue growth in 2022 was only about 9%, which is the lowest it has ever been. And Meta Platforms saw a year-over-year decline in revenue for the first time ever. These factors have contributed to the need for these companies to make layoffs.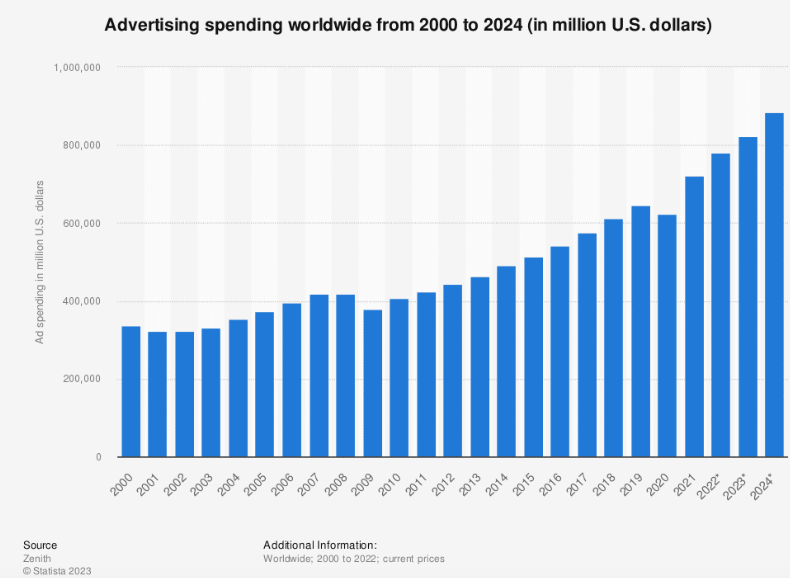 Google's search revenues also decreased during the latter part of the year because there was a slowdown in spending on digital advertising.
According to a report by media investment group GroupM, it is predicted that global ad spending will increase by 5.9% in 2023. However, the rise in digital ad spending is expected to be slower at 8.4%. This would be the slowest growth rate for digital ad spending since the financial crisis in 2009. You can see How to Self-Study Artificial Intelligence with Free Online Course for more updates.
Recent Tremendous AI Updates was Blamed for 3,900 Layoffs in May and June
For the first time, the Challenger, Gray, and Christmas report listed AI as a reason for job layoffs, with 3,900 job losses attributed to Artificial Intelligence.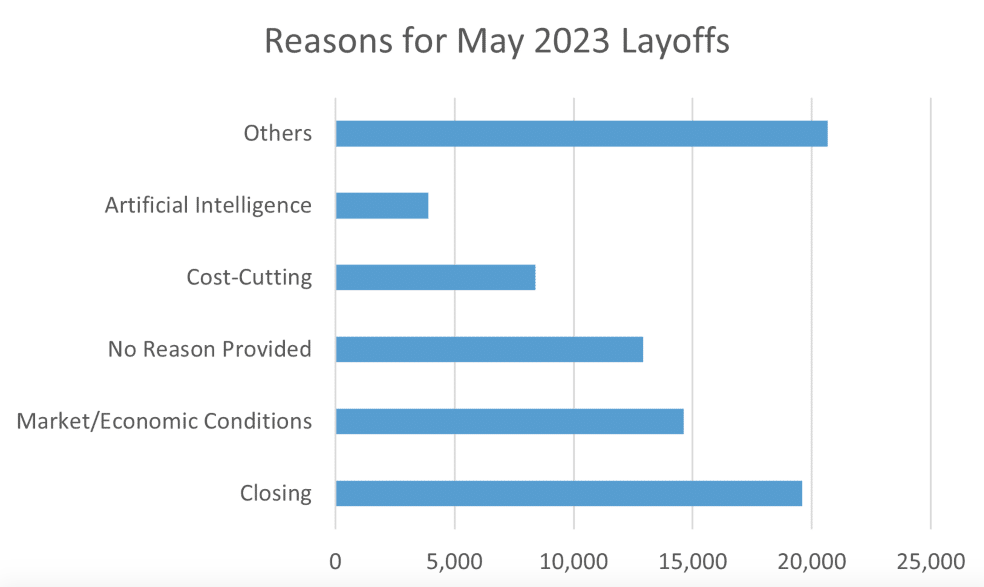 In April, Dropbox, a company that provides cloud storage services, announced that it would be laying off 500 employees, which is about 16% of its workforce. The company stated that the decision was influenced by slowing growth, but it also mentioned the shift towards AI technology, which made certain roles unnecessary.
Dropbox's CEO, Drew Houston, wrote in a blog post that the "AI era of computing has finally arrived," and he considered it a significant reason behind the layoffs. Below is his tweet posted on his twitter handle;
IBM, another major company, is also focusing on AI and has decided to pause hiring for around 7,800 positions that can be replaced by AI technology. Concerns about AI's impact on existing jobs have been raised by many people.
Even the CEO of OpenAI, Sam Altman, has cautioned that AI has the potential to "eliminate" many jobs, but he also believes that it will create "much better" jobs.
According to the World Economic Forum, about a quarter of all jobs worldwide are expected to be affected by AI in the next five years.
Artificial Intelligence is Expected to Boost Business, Sales and Company Productivity
Despite concerns about AI causing job losses, Goldman Sachs believes that AI will actually increase productivity by 1.5% each year until the end of this decade.
They anticipate that earnings for companies in the S&P 500 index will rise by 30% or more by the end of the decade, thanks to AI technology.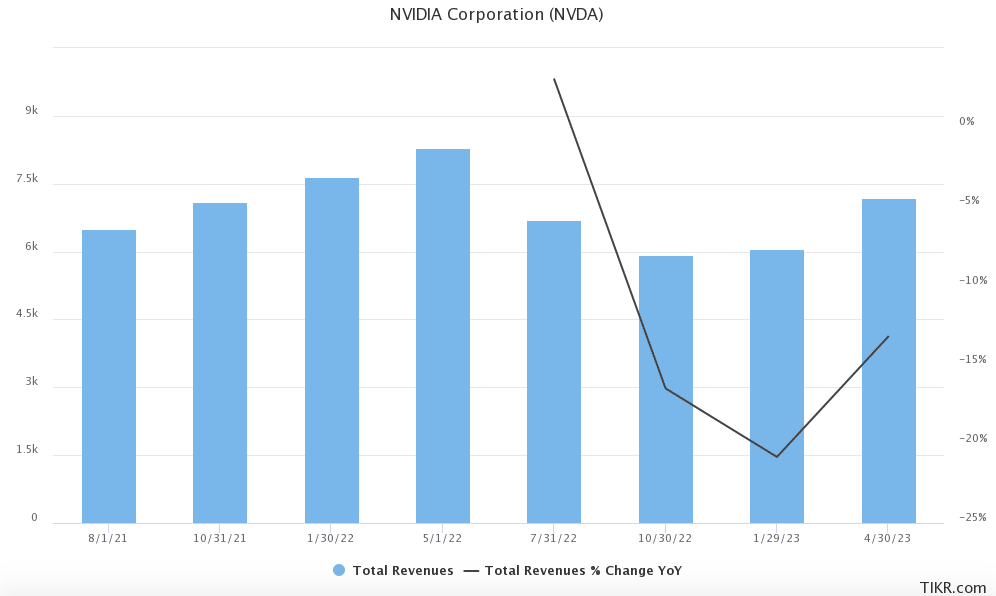 Nvidia, a technology company, demonstrated the positive impact of AI on profits in its fiscal first-quarter earnings report. They reported revenues of $7.19 billion, a 19% year-over-year increase. This exceeded both Wall Street analysts' expectations of $6.52 billion and Nvidia's own forecast of $6.50 billion.
Nvidia also projected revenues of $11 billion for the fiscal second quarter, which was significantly higher than the $7.15 billion expected by analysts. This strong performance was mainly driven by the demand for their AI chips.
In the last few years, investors have shown great interest in AI as an investment theme, leading to a rally in AI stocks.
For example, C3.ai, a company focused on AI, has seen its stock price increase by almost 318% this year, which is around 10 times the growth of the Nasdaq index during the same period.
However, concerns about AI eliminating many current job roles are valid, even though it may be difficult for researchers to precisely quantify the extent of these job losses. Even though AI is not the same as factory automation or robots, AI will still not be able to take away all the jobs on earth.
Read More