If you want to get today's breakfast, lunch and dinner ideas for food in Nigeria, then you have to pay close attention to this guide. We all know that Nigeria has lots of tasty foods that might not be the healthiest. But if you're in Nigeria and want to eat good food that's also good for you, this is the right place for you.
Sometimes, it's hard to pick what to eat because there are so many yummy things around. But don't worry, I'm here to help. In this blog post, I'm going to share some of the best ideas for lunch in Nigeria that are both tasty and healthy.
Are Nigerian Food and Local Soups Healthy?
Nigerian food including different types of soups are a good option if you're trying to eat healthy. That's because they usually use healthy fats and animal proteins when making them.
Additionally, all of Nigerian food and soups taste really good because they includes different ingredients like palm oil, crayfish, beans, rice, yam, eggs, plantain, fermented locust beans (iru), proteins, vegetables, and spices. This makes them super nutritious and tasty too!
Top food for breakfast, lunch and dinner ideas in Nigeria
Whether you're getting ready for a nice weekend meal or need something to eat at work or school, you'll find some great options here that will keep you full and happy.
Nigeria is famous for its delicious dishes, but many of them might not be the best for your health. However, with a little bit of know-how, you can create lunches that are good for you and still taste amazing. I know that sometimes it is difficult to choose the right meal because there are so many tempting dishes.
So, if you want to eat better and enjoy your meals, don't worry, I'm here to help you. Just keep reading to discover some fantastic breakfast, lunch and dinner choices that your body will thank you for.
Breakfast Food in Nigeria
Breakfast is said to be the most important meal of the day because it's the meal that breaks the overnight fast while you were sleeping.
No matter what you eat, having breakfast has health benefits. It boosts your energy, lowers the chances of diabetes and heart problems, and helps you focus better.
In Nigeria, families usually enjoy a continental breakfast on weekends and in the early morning before school or work. Because of this, there are many kinds of Nigerian breakfast dishes.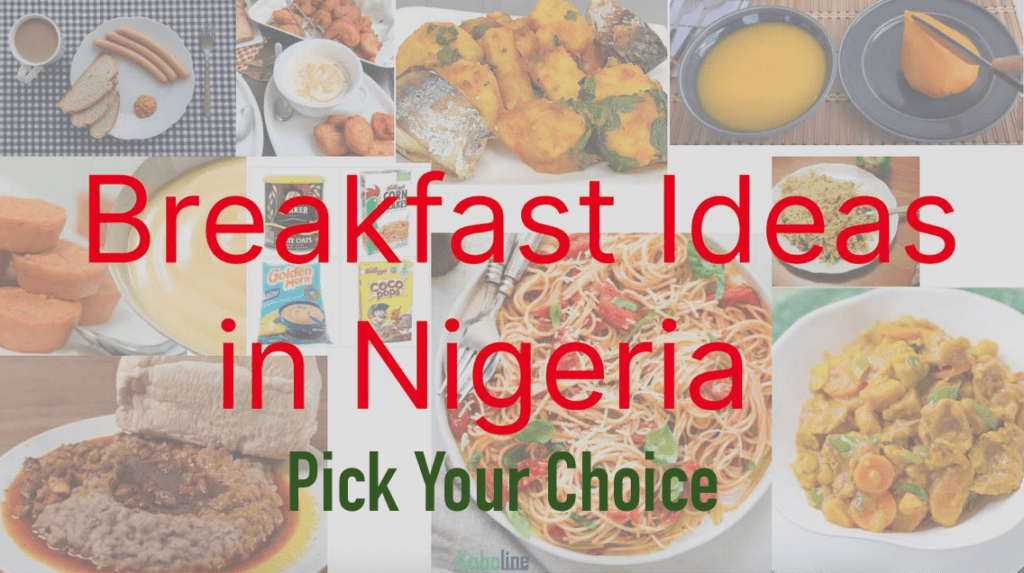 To begin, let's look at 15 Nigerian breakfast dishes…
Bread sandwich with a hot drink
Akara and Pap
Instant noodles and eggs
Moi Moi with custard or pap
Cereals
Okpa
Ewa agoyin with agege bread (bread and beans)
Hausa Koko and Koose
Fried plantain and yam with egg stew
Pancake
Boiled plantain and pepper sauce
Beans and pap
Toasted bread and coffee
Fried egg and dodo (plantain)
Oatmeal: A really healthy option
What will the list of food give you if you eat them? You will get healthy nutritional value but these explanation below will give you more insights.
Bread sandwich with a hot drink:
This is a common and loved breakfast in Nigeria and across Africa. You can add things like boiled or fried egg, corned beef, sardines, sausage, and bacon to make it even better. You can use tea or any soft drink to wash it down.
Akara and Pap
Akara is like a bean cake and Pap is a paste made from grains like corn and millet. They're often sold on the street, but you can make them at home too. Many people also enjoys it with fried yam or potato.
Instant noodles and eggs
In Nigeria, this a quick and popular choice of food for children and unmarried adults. You can eat this for breakfast, lunch, or dinner. It's often served with boiled or fried eggs. Nigerian students can testify the sweetness of this 3-5mins cooking time fast food.
Moi Moi with custard or pap
The Moi Moi food is made from beans and you can have it with custard or pap. Some people also makes with crushed corn mill alongside ingredients like crayfish, pepper, onion and salt for taste. It's filling and nutritious.
Local or Imported Cereals
There are several locally made and imported cereals in the Nigerian market. Many kids like cereals for breakfast. Cornflakes and coco pops are common ones. You can eat it with cold or warm water.
Nigerian Okpa
This is a filling breakfast from the southeastern part of Nigeria. It's good for diabetics too. It is rooted in local culture and originates from dialate of the Enugu and Abakaliki people before it spread to other parts of Nigeria. it is made from Okpa beans also known as Bambara groundnut. You will hear hawkers shouting "Okpa di Oku" and "Okpa Wawa" while selling it on this streets.
Ewa agoyin with agege bread (bread and beans):
A tasty dish made with mashed-up beans and a special stew. Any bread can do but it is mostly eaten with popular locally processed agege bread. This food originates from western Nigeria among the Yoruba kinsmen and culture.
Hausa Koko and Koose:
A spicy millet porridge and akara dish popular in the northern region of Nigeria. The Hausa and Fulani indigenous people enjoyed this food first as it originates from their region.
Fried plantain and yam with egg stew:
A hearty meal made with plantains, yams, and scrambled eggs. The frying can be done either with palm oil or groundnut oil. This food is a general meal eaten across the country as it originates from the days of the colonial masters.
Pancake
This food also serves as snacks for some families and it is loved by kids and adults. You can have it on its own or with things like pap or custard. Many families from the low class hardly prepare this meal as it seems to be an "oyibo" food (western culture meal).
Boiled plantain and pepper sauce:
Boiled plantain with spicy pepper sauce is easy to make and delicious. Some people like eating the ripe plantain while others prefer the unripe plantain because of its health benefits. Note that this is a heavy food packed with iron and it is very healthy for the body.
Beans and pap:
As a Nigerian, you know that food like Beans goes well with pap. Just cook your beans and make pap with hot water and enjoy it with your family. if you can't prepare it, you can visit any local restaurant near you to buy at cheap rates.
Toasted bread, tea or coffee:
Toasted bread is a common choice of food for many families that has the bread toaster at home. Many low income Nigerian families don't eat toasted bread because they don't have the toaster at home. However, you can enjoy toasted bread with things like veggies, meat, butter, and sardines, go along with coffee or tea.
Fried egg and dodo (plantain):
The fried dodo and egg is a quick and simple dish made with fried plantain and scrambled eggs. You can enjoy it with tea, pap, rice and beans. Mostpeople however enjoys this meal with chilled soft drinks. You will be glad you did.
Oatmeal:
This is a very really healthy option. It's good for people with diabetes and also for vegans. It is not a homemade food. You'll have to buy the oatmeal in factory sealed container from a grocery store or the open market then prepare it with hot/warm water.
These breakfast ideas can help you start your day in a tasty and nutritious way and stay healthy. Try them from time to time as the contain the six (6) classes of food. That's the blunt truth.
Popular Lunch Food in Nigeria
These are the Tasty local Food for Lunch in Nigeria. If you're looking to have a good lunch and you're not sure what to eat because you want it to be healthy, don't worry. I've got you covered.
I'm going to share some ideas with you that will help you have a lunch that's both tasty and good for you. These ideas will give you the energy you need for the day. They are:
Beans and Plantain.
Jollof Rice.
Boiled Yam and Egg Sauce.
Eba and Egusi Soup.
Rice and Stew.
Amala and Ewedu.
Spaghetti.
Boiled Sweet Potato and Egg Sauce.
Pounded Yam and Vegetables.
Roasted Yam or Plantain (Bole) and palm oil sauce
Abacha (sliced cassava), kpomo and fish
Agidi (Eko) and fish or meat pepper soup
Now, let me give you more explanation to understand why you should eat of any of these foods for lunch.
Beans and Plantain:
This is a healthy lunch idea packed with protein and nutrients. It repairs and improves your health without giving you too many calories. It's full of things like Magnesium, Fiber, Folate, Iron, and Potassium.
Jollof Rice:
A very popular Nigerian meal. It's not only delicious but also rich in nutrients like Zinc, Magnesium, Phosphorus, and Potassium. It's full of carbs, which can make you feel better and more energetic. The Nigerian jollof is very tasty even though the Cameroon and Ghana jollof is competing it seriously with controversial arguments to go with it.
Boiled Yam and Egg Sauce:
This combo is both delicious and nutritious. Yam gives you carbs, and eggs give you protein. It's a balanced meal. The egg sauce will need fresh tomatoes and pepper, onions and spices to give it a sweet aroma as well as taste.
Eba and Egusi Soup:
A common and filling dish. Eba is a kind of swallow. You can eat it with different kinds of soup. Your choice of soup depends on what you can afford financially but you can use any pocket friendly condiments to cook for taste.
Rice and Stew:
Rice and stew are popular too. You can make it healthier by adding protein and veggies to the stew. The stew can be prepared with fish, cow or goat meat, chicken, Turkey meat etc.
Amala and Ewedu:
A well-liked meal in the southwest of Nigeria. It's satisfying and not too high in calories. This food showcases the Yoruba traditional meals and culture.
Spaghetti:
Easy to make. You can add things like egg, bacon, veggies, and more to make it healthier.
Boiled Sweet Potato and Egg Sauce:
Similar to boiled yam and egg sauce, but with sweet potatoes. Packed with vitamins and good for your immune system.
Pounded Yam and Vegetables:
Another kind of swallow, prepared differently from Eba. Eat it in moderation to keep calories in check.
Abacha (sliced cassava), ugba, kpomo and fish
The abacha is made from sliced cassava that has been boiled and soaked for 24hours. The ugba is also sliced and covered to undergo fermentation process. It is prepared with a local sauce called "ngor". This sauce is mixed with palm oil, water, spices, crayfish, Cameroon pepper and potash (local name is "ncha"). The abacha is garnished with okazi or utazi leaves and onions. It is enjoy with stock fish, kpomo, garden eggs, kolanut and cooled beer.
These ideas can help you enjoy a tasty and nutritious lunch in Nigeria. Remember, it's all about finding a balance between good taste and good health.
Dinner Food in Nigeria: Best Foods to Consider
It is time to talk about ideas of foods for dinner in Nigeria. They are the best foods to consider if you are thinking of what to cook and eat. Normally, choosing what to have for dinner can be a little difficult sometimes especially when you want to change diet.
Sometimes, it feels like there's nothing to eat at all, and you're left wondering what to do. If you often find yourself stuck on dinner ideas, then this post is here to help.
Let me share the top dinner foods in Nigeria with you. These choices will make sure you never run out of ideas again. Are you excited to find some dinner inspiration in Nigeria? Check out some of my favorite dinner menus to consider:
Rice and Stew
Beans and Plantain
Spaghetti
Fried Rice and Chicken
Semo/Wheat/Pounded Yam with Egusi or Ogbono Soup
Eba and Vegetable Soup
Jollof Rice and Chicken
Yam and Egg Sauce
Let me explain how these food can be enjoyed with your friends and family.
Rice and Stew
Rice and stew are really popular in Nigeria because they taste good and are easy to make. It's a mix of rice (usually white) and your choice of meat.
It's also good for your tummy because it has a lot of fiber and protein (from the chicken, beef, or fish). Eating it with plantains is great too, as they're rich in vitamins A & C! So, rice and stew is a yummy dinner option you should try.
Beans and Plantain
This combination is a sweet. Many Nigerians love beans and plantain together. It's a fantastic dinner choice.
Beans are full of protein and complex carbs, while plantains have potassium and fiber. Together, they create a balanced diet that fuels your body and brain for your daily activities.
They also help you relax well during the night, getting you ready for the next day's adventures. So, beans and plantain is definitely a dinner favorite in Nigeria.
Spaghetti Pasta
Spaghetti, those long, thin pasta strands, is simple to cook with ingredients you usually have at home. It's great when you need a quick and filling meal!
You can eat spaghetti plain or with sauce (like tomato sauce). You can also add meatballs or other things you like.
Just make sure not to cook the spaghetti too much, or it'll get mushy. If you're looking for an easy dinner that's quick to make and satisfying, spaghetti is a go-to!
Fried Rice and Chicken
Fried rice is a well-loved Nigerian dish found in many restaurants. It's made with rice, tomatoes, onions, and peppers. Spices like cayenne pepper, salt, and pepper are added to cooked white or brown rice.
People often serve fried rice with chicken or beef, but it's delicious without meat too. It's a great alternative to breakfast omelets.
If you're seeking a tasty dinner in Nigeria, fried rice and chicken is a winning choice!
Fufu/Semo/Wheat/Pounded Yam with Egusi or Ogbono Soup
For those who love "swallow" dishes, consider semo, wheat, or pounded yam with Egusi or Ogbono soup. They're tasty, made from local ingredients, and not too costly.
Eba/Akpu and Vegetable or Eguisi or Oha Soup
Eba, Akpu and vegetable soup are a match made in heaven. The delightful taste can make you crave more, especially if there's enough stockfish in the soup.
Fufu aa well as Eba is made from cassava, a starchy root crop. It is has a lo of protein, carbs, fiber, calcium, and iron. It's a wonderful choice for dinner in Nigeria, giving a sweet end to your day.
Jollof Rice and Chicken or Fish, Cow or Goat Meat
This is another enjoyable option. The Nigerian Jollof rice is cooked in a tomato and pepper sauce. When served with fish, chicken or beef from cow, ram or goat meat, it give a delicious taste. There has been many controversies and several arguments between Nigerians and the Ghanaian people about the most tasty jollof in Africa, but we will like that discussion for another day.
Yam and Egg Sauce
If you're a yam lover, you'll enjoy it with egg sauce. It's nourishing and helps you relax. Plus, it's simple to make. Give it a try as a dinner idea in Nigeria.
Roasted Yam or Plantain (Bole) and palm oil sauce
This food is usually prepared and served by food vendors on the road side. You can find them at busy junctions across the country. They roast the yam and plantain with slow burning charcoal fire without peeling it. It is usually served with palm oil sauce prepared with fresh pepper and onions. It is usually eaten with smoked fish that comes with a sweet taste to nourish the body.
Best Nigerian Soups You Will Love to eat with Swallow (Eba, Fufu, Semo, Wheat)
Have you ever wondered about the Nigerian soup you will use to eat your swallow? Scroll down, you will see the top West African soups that you must try (if you are a tourist), and enjoy them with your favorite African fufu dishes!
When it comes to Nigerian cuisine and dishes from other West African nations, one thing is certain – our soups are not only delightful, but they also have a finger-licking goodness that is very hard to resist for first timers!
In Nigerian soups, they use a lot of everything! They like to have plenty of things like meat, palm oil, green leaves, and different spices.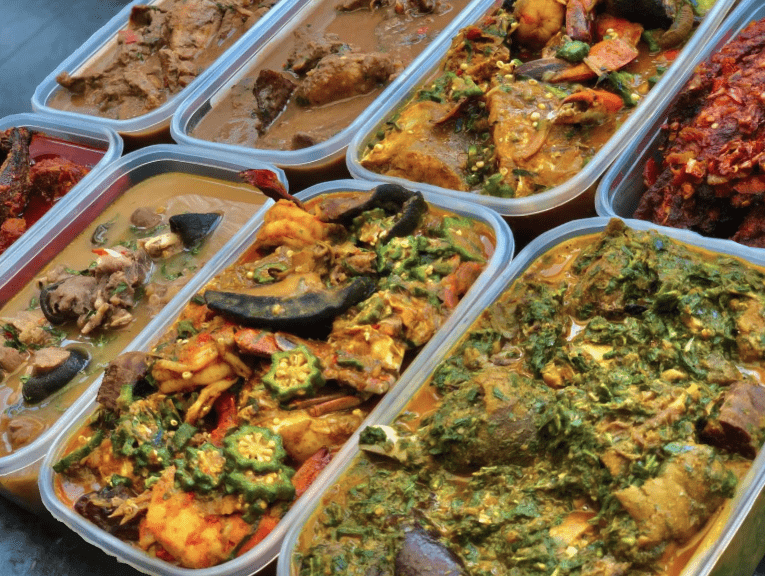 List of some delicious Nigerian soups!
Nigerian Egusi Soup
Ogbono Soup
Banga Soup (Ofe Akwu)
Okra Soup ( Okro soup)
Edikang Ikong Soup (Vegetable soup)
Bitter leaf Soup ( Ofe Onugbu)
Nigerian Black Soup
Efo Riro (Spinach stew)
Nigerian Pepper Soup (Assorted Meat Soup)
Ewedu Soup
Seafood Okra
Catfish pepper soup
Beniseed Soup
Beans Soup
White soup (Ofe Nsala)
Eguisi or Okro pepper soup (Urhobo delicacy)
Oha and Uziza Soup
Okazi or Afang, Eritta and Atama soup
Nigerian soups are like a mix of everything wonderful! They're filled with goodness, from meats to palm oil, green leaves, and spices.
It's not an exaggeration to say that Nigerian soups are like delicious dreams come true! Their yummy flavors, the wonderful smells, and all the steps of making them contribute to their greatness.
In Nigeria, there are two main types of foods: one is called Fufu or Swallow foods, which people eat with different Nigerian soups. Both adults and kids love them, and they're enjoyed anytime during the day.
Conclusion of Food ideas in Nigeria
If you're in Nigeria and searching for the best breakfast, lunch and dinner options, I believe his article will be helpful to you. The foods listed above are great choices anytime, anywhere. You can even have them for lunch. If you're a food enthusiast, you can earn passive income through dining. Check out my article explaining how it works.
Helpful Guides