Credit monitoring services help you watch your credit score and keep your identity safe. Want to find out the top services? This article is for you.
A credit monitoring service watches your accounts and informs you when someone uses your Social Security number to open a credit line.
It can also safeguard you from scams, such as identity theft and credit fraud.
Some companies give you a free credit report but may ask for your credit card for extras like basic credit monitoring.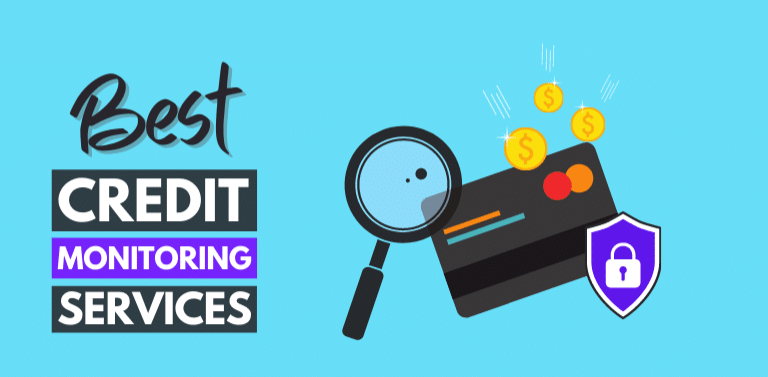 5 Best Free Credit Monitoring Services to hire
Credit monitoring services help you watch your credit report closely, so you can protect yourself and respond fast if there's credit card fraud or identity theft.
They include:
1. TransUnion
Among the top three major credit monitoring services is TransUnion, available as an app for iOS and Android.
With TransUnion, you can check your credit score report anytime to track changes.
They also offer identity protection through Javelin, an identity protection service provider.
For a monthly fee of $25, you get credit monitoring, instant alerts if someone tries to open credit in your name, and up to $1,000,000 in ID theft insurance.
Additional features include:
Free identity protection
Unlimited access to your score and report
Credit Lock Plus
2. Equifax
"The third major credit bureau in the US, Equifax, had a major data breach in 2017, impacting over half of all Americans.
Equifax is working on a multi-year plan to regain your trust.
If you were affected by the breach, you can still file a claim.
Their features include:
$20 per month subscription
Shows your Equifax three-bureau credit scores
Includes identity protection
Sends alerts for suspicious activities
Monitors credit and Social Security number
3. Credit Karma

"Credit Karma is a personal finance company.
You can use it to check your credit scores for free, as often as you want.
You can access your scores from TransUnion and Equifax, but not Experian.
Credit Karma watches your credit, provides weekly updates, and alerts you to score changes.
The site displays your score and factors impacting it, such as high credit card usage, negative marks, or recent credit inquiries.
Features include:
Free to use
Free credit score checks
Credit monitoring
Shows credit factors and their impact on your score.
4. Mint
Mint is a free financial management service.
Besides tracking your payments, you can use it to identify areas where your credit score needs improvement.
Mint displays your on-time payments, credit usage (to see if you're nearing your limit), and your average credit age on a single screen.
Features include:
Free to use
Free credit score checking
All personal information is encrypted for security.
5. FreeCreditReport.com
FreeCreditReport.com is a simplified service from Experian that offers free access to your credit report.
They provide you with an updated credit report every 30 days.
You can view your account history, including real estate and credit accounts.
FreeCreditReport.com also displays hard inquiries on your account, tracks your credit usage, and shows any potential negative marks like late payments.
Features include:
Free to use
Check your Experian credit report
Updated report every 30 days
Monitor credit usage, hard inquiries, and late payments.
7 Best Credit Fraud Monitoring Services with examples
"If you want to safeguard yourself from fraud and identity theft, credit monitoring services are worth considering.
The top services provide features like dark web monitoring, identity theft insurance, data breach alerts, and credit score monitoring.
1. Aura
The first one is Aura which is a trustworthy provider of identity theft and fraud protection services, offering various features to secure your digital identity.
Aura adopts an all-in-one design for a straightforward, user-friendly approach to safeguarding against identity fraud and securing your private networks.
Furthermore, Aura offers $1,000,000 in insurance coverage for eligible losses caused by identity theft or fraud.
Aura's comprehensive service design includes several features to protect your online information.
Their features include:"
A. Identity Theft Protection
"Aura's top-rated identity theft protection features help you safeguard your digital identity from hackers and cybercriminals
When you subscribe to an Aura plan, the company constantly monitors the dark web for any signs of your online accounts and notifies you if your personal information is compromised.
Aura also offers protection against criminal identity theft. They regularly scan criminal and court records, looking for their clients' personal information in these public documents."
B. Financial Fraud Protection
Aura provides financial fraud protection to keep you informed about any suspicious activity in your credit reports and financial accounts.
The company monitors inquiries on your credit file and promptly notifies you of any new activity, such as a new credit card or loan application.
You can also choose to lock and unlock your Experian credit report through Aura to prevent unwanted inquiries, if you wish.
C. Device and Network Protection
"Your personal and work devices can serve as a direct pathway for hackers to access your data.
But, Aura simplifies the process of safeguarding your computers and tablets against hackers by offering malware and virus protection software.
Aura can further enhance your online security with its WiFi Security VPN. When you connect to this VPN, it conceals your activity from unauthorized users, creating a protective shield to keep your information secure."
D. Family Protection
"Aura provides comprehensive protection for your entire family.
You can effortlessly secure all your family's accounts, receive alerts if your children's information is compromised, and connect all your devices to a VPN.
E. Plans and Packages

"Aura offers both individual and family plans. For a single adult, you have these options:
Basic: $8 per month
Total: $17 per month
Ultimate: $24 per month
If you want to protect up to 10 people, you can select one of these packages:
Basic: $14 per month
Total: $23 per month
Ultimate: $30 per month
The Basic Plan includes basic credit monitoring services. The Total plan adds fraud protection, and the Ultimate plan offers White Glove Fraud Resolution services."
2. Identity Guard
"Identity Guard® is among our top credit monitoring companies, known for its dependable and vigilant identity theft protection services."
Features
"Identity Guard offers user-friendly identity theft protection features to safeguard your data.
They employ robust scanning methods to monitor your data 24/7, ensuring quick alerts for any suspicious activity.
This service also scans the dark web to identify if your personal information appears on unsafe or suspicious websites.
If your data, like your credit card or Social Security number, is found on the dark web, Identity Guard will recommend the best steps to protect you from identity theft.
Pricing: Identity Guard offers three plans for both individuals and families.
Value Plan (Individual): Starts at $7.20 per month, includes dark web surveillance and breach notifications.
Ultra Plan (Individual): Starts at $23.99 per month, includes bank account monitoring, sex offense monitoring, and social media insights.
3. Credit Squad
"Credit Squad is a respected credit monitoring service, offering a variety of exclusive features at an affordable monthly cost.
We have rated Credit Squad as our top choice due to its helpful credit advice, adaptable pricing choices, and responsive customer service team.
Features
"Credit Squad offers standard credit monitoring features like monitoring from the three major credit bureaus, ID theft protection, and credit report alerts.
But what sets this company apart is its inclusion of advanced options that you might not find with other credit monitoring providers."
Pricing
Credit Squad provides both individual and family plans, each with three pricing tiers.
For individuals:
Basic Solo plans start at $14.99 per month and include features like real-time inquiry notifications and credit monitoring from one credit bureau.
Elite Solo plans cost $24.99 per month and offer advanced features, including three-bureau credit monitoring and access to an educational center.
4. ExtraCredit
"ExtraCredit is a fresh credit monitoring service by Credit.com. It provides a variety of credit monitoring, building, and protection features to help you establish a positive credit history."
Features
ExtraCredit offers five key features to all its customers:
Credit history-building suggestions
ID protection
Credit report tracking
Cash rewards
Credit restoring opportunities
This service assists in building your credit profile by reporting your rent and utility payments to credit bureaus, including Equifax and TransUnion. Timely payments can boost your credit score, and when credit bureaus have access to your rent and utility payments, they can include them in your credit report, enhancing your credit history.
Pricing
"ExtraCredit has a straightforward pricing structure with one comprehensive plan at $24.99 per month. You can cancel anytime without penalties, and there are no hidden fees. New customers can even try ExtraCredit for free during the first month.
ExtraCredit is a reliable and experienced credit monitoring service that can assist you in improving your credit score. It offers the following benefits:
Free first month
Reporting of rent and utility payments to enhance your credit history
ID theft insurance
Access to 28 FICO scores."
5. LifeLock
"LifeLock is perhaps the most widely recognized service on our list, known for its affordability and reliability in the realm of credit monitoring.
With a global reputation for trustworthiness, fairness, and security, LifeLock serves millions of customers daily."
Features
"LifeLock provides a comprehensive range of credit and identity monitoring services.
Upon enrolling in a membership, LifeLock initiates monitoring of your credit and personal data online.
If any suspicious activities or threats are detected, the service promptly sends you an instant alert along with the relevant information.
Pricing
LifeLock offers four membership tiers: Standard, Select, Advantage, and Ultimate Plus.
Standard: Starting at $8.29 per month, includes ID and Social Security number monitoring alerts and credit monitoring from one credit bureau.
Ultimate Plus: The most comprehensive plan, providing access to nine different ID and credit protection services. This includes three-bureau credit monitoring, a VPN for all your devices, home title monitoring, and more.
6. IdentityIQ
"Identity theft doesn't just affect adults—children, parents, grandparents, and spouses are all vulnerable too.
While many credit monitoring services offer family plans, our top choice for family-focused protection is IdentityIQ."
Features
"IdentityIQ provides a comprehensive suite of monitoring services.
Upon subscribing to a membership plan, the company initiates monitoring of your personal information online and promptly notifies you of any fraudulent activity or changes to your credit report.
IdentityIQ also assists in keeping tabs on your credit report and score. This service grants you access to your full credit profile from all three credit bureaus and provides monthly credit score reports.
Pricing
IdentityIQ provides three membership plans: Secure Plus, Secure Pro, and Secure Max.
Secure Plus begins at $9.99 per month and offers annual reports from the three major credit bureaus, dark web monitoring, lost wallet assistance, and various other useful features.
Secure Max is ideal for families, offering $25,000 in identity theft insurance and fraud restoration that covers your entire family.
7. IdentityForce
Data breaches are events in which cybercriminals gain unauthorized access to your data without your consent or awareness. These breaches can be particularly damaging for businesses that store large amounts of customer data.
Fortunately, IdentityForce is a trusted credit monitoring service that specializes in detecting and resolving data breaches for businesses.
Features
IdentityForce provides a comprehensive range of credit alert, recovery, and monitoring services tailored for both personal and business use. While its monitoring services are in line with industry standards, its business protection plans distinguish it from other organizations.
Pricing
IdentityForce offers two personal membership plans:
UltraSecure: Starting at $17.95 per month, it includes information monitoring, alerts, and $1 million ID theft insurance.
UltraSecure+Credit: This plan offers advanced features like three-bureau credit monitoring, a credit score simulator, and access to your credit scores.
What Is The Best Free Credit Monitoring Service?
A credit monitoring service is a website or company that assists you in monitoring your credit reports and scores.
The best free credit monitoring services typically offer various valuable features, including:
Credit reports from all three credit bureaus
Daily or monthly credit score updates
A credit score simulator
ID theft monitoring
Social Security number alerts
Identity theft insurance
If these companies detect any suspicious activity on your credit reports, they will send you an alert and provide guidance on corrective actions and prevention.
Best Credit Monitoring Services for Identity Theft
To safeguard your information, it's wise to enroll in a trustworthy credit monitoring service.
Credit monitoring services send you alerts upon detecting specific suspicious activities.
They keep a watchful eye on credit reports for new inquiries or credit applications.
Some credit monitoring also scans the dark web to check if your personal information is being sold.
We've evaluated companies that provide identity theft protection and credit monitoring and selected the best ones worth using.
1. IdentityForce
IdentityForce's UltraSecure+Credit ID product is our top overall choice because it provides the most comprehensive coverage for the price, merging credit monitoring and identity theft protection into a single package.
Pros
"IdentityForce earns praise from customers for its strong customer reviews. Their services include daily credit report monitoring and provide $1 million in identity theft insurance.
Cons
Note that legal fees and personal expenses are not covered by the identity theft insurance offered by IdentityForce. Additionally, child identity theft coverage is available as an added cost, and there is no free trial available for their services.
2. Credit Sesame
Credit Sesame provides basic identity and credit monitoring services that are completely free, offering significant benefits, including $1 million in complimentary fraud insurance, live identity restoration assistance, and daily credit monitoring alerts.
Pros
Credit Sesame offers a completely free service that includes $1 million in identity theft insurance and daily credit monitoring alerts.
Cons
That's correct! Credit Sesame provides a no-cost service that comes with valuable features like $1 million in identity theft insurance and daily credit monitoring alerts to help you keep a close watch on your credit and financial security.
3. Complete ID
Complete ID is a service offered by Experian, one of the three major credit reporting agencies. It is exclusively available to Costco Wholesale Club members, making it a relatively affordable choice for credit monitoring and identity theft protection. While Complete ID may not be ranked on TrustPilot, both Costco and Experian are reputable and well-known companies in their respective industries.
Pros
Complete ID offers an affordable price point and provides up to $1 million in identity theft insurance. Additionally, it monitors all three credit bureaus to help safeguard your credit and personal information.
Cons
The Complete ID is exclusively available to Costco members. Additionally, credit reports are accessible only on an annual basis, and credit scores are updated annually as well."
4. ID Watchdog
For families seeking identity and credit monitoring services for both adults and children, ID Watchdog, operated by Equifax, is an excellent option. Their services encompass three-credit report monitoring and account alerts. Your credit score, derived from your Equifax credit report, is updated daily.
However, it's important to note that you can only access your complete credit reports from each of the three credit bureaus, along with your corresponding credit scores, once per year.
Pros
The family plan offered by ID Watchdog covers two adults and up to four children, making it a comprehensive option for family protection. They also provide online child credit locks for minors to enhance security. With a Platinum membership, you can receive up to $1 million in reimbursements for stolen 401(k) or HSA funds, providing additional financial protection.
Cons
ID Watchdog's parent company is Equifax, which unfortunately experienced a data breach in the past. Additionally, it's important to note that you can only access your three credit reports and credit scores on an annual basis.
5. PrivacyGuard
PrivacyGuard is a credit monitoring service that offers extra security features and identity protection for individuals seeking comprehensive protection. However, it's worth noting that residents of Iowa, Rhode Island, and Vermont are ineligible for PrivacyGuard.
The service is provided by Trilegiant Corporation and is not accredited or rated by TrustPilot.
PrivacyGuard offers its Total Protection plan for $24.99 per month, and you can test it out for 14 days for just $1.
Pros
PrivacyGuard provides a $1 trial period lasting 14 days. Their service includes monthly three-bureau credit reports and scores, along with features like secure keyboard and browser apps for enhanced security.
Cons
PrivacyGuard is not rated by TrustPilot. They do not offer family plans, and it is important to note that their services are not available to residents of Iowa, Rhode Island, and Vermont.
Best Credit Monitoring Services Free
Credit bureaus are not the only companies offering paid credit monitoring services. There are several other companies in the industry that receive positive reviews and high marks from tech and business publications for their credit monitoring services.
1. Aura
Aura doesn't just stop at typical identity theft protection; it goes further by providing comprehensive digital security solutions designed to keep up with the constantly evolving and expanding array of potential threats.
1. Identity Theft Protection
First, Aura's identity theft protection encompasses online account monitoring, personal information and Social Security number monitoring, identity verification monitoring, a password manager, lost wallet remediation, home title and address monitoring, and criminal and court records monitoring. Additionally, it includes $1 million in insurance coverage for identity theft
2. Financial Fraud Protection
Secondly, Aura's financial fraud protection offers regular credit monitoring, monthly access to your credit score, and the ability to lock your credit. It also provides financial transaction monitoring, bank account monitoring, monitoring for 401(k) and investment accounts, and an annual credit report from all three major consumer credit bureaus.
3. Device and Network Protection
Thirdly, Aura's device and network protection include antivirus protection and VPN access for the devices covered under their service."
2. Identity Guard
Identity Guard has received positive reviews from various publications. U.S. News ranks it as the top pick overall, and Money magazine names it the best service for delivering rapid alerts. Identity Guard uses IBM's Watson, a form of artificial intelligence, to detect and respond to identity fraud swiftly.
3. IdentityForce UltraSecure
Sontiq's IdentityForce is a credit monitoring service that receives consistent praise from reviewers. They offer two tiers of protection: UltraSecure and UltraSecure+Credit.
IdentityForce UltraSecure extensively monitors the use of your personal information from various sources, including court records, banks, payday lenders, medical bills, the National Change of Address (NCOA) database, social media, and the dark web. It also checks for your identity on sex offender registries. This service is priced at $14.99 per month or $149.90 per year.
4. PrivacyGuard
PrivacyGuard is another top pick in professional reviews. They provide three distinct services.
Identity Protection
At a monthly cost of $9.99, this service scans both the public Internet and the dark web to locate your information, including debit and credit card account numbers. It promptly alerts you to any fraudulent activity and offers assistance with the recovery process. Additionally, it provides lost wallet protection and includes $1 million in identity theft insurance.
Credit Protection
This service offers three-bureau credit monitoring, notifying you of any changes and providing monthly credit score updates. It also includes a credit simulator tool, various financial calculators, and access to a credit hotline. The cost for this service is $19.99 per month.
Total Protection
PrivacyGuard's top-tier service combines all the benefits of Identity Protection and Credit Protection into one comprehensive package. This premium service is priced at $24.99 per month.
5. LifeLock
Norton's LifeLock, one of the pioneering identity theft protection services, remains a top choice for safeguarding your computer and other devices. It has received positive reviews from CNET and Money.
LifeLock offers three tiers of protection. The Standard service monitors your credit at a single bureau (Equifax) and tracks personal information like your address and SSN on the internet and the dark web. It includes features such as lost wallet protection and access to identity restoration experts.
6. myFICO Advanced

myFICO is a credit monitoring service from the Fair Isaac Corporation, the creators of the FICO score. It stands out because it provides access to your FICO score, the credit score used by most lenders, as opposed to the newer VantageScore model used by many other services. myFICO offers up to 28 different versions of your FICO score, which are used by various lenders for credit cards, mortgages, and auto loans."
Conclusion for Credit Monitoring
Aura continues to be the top choice for the best credit monitoring services, offering convenient score tracking and strong identity theft protection. We trust you found this article helpful.
Helpful Guides