This is a Nigeria Postal Service guide. The official NIPOST tracking website is https://www.nipost.gov.ng/Track_Trace. If you are new in sending/receiving items through a speed post, this guide is for you. You can easily send and receive items from around the globe using NIPOST. But, you must have a correct International Postal Tracking Express Number to receive your item.
However, since last month September, people have been trying to track some of the items they ordered online. When they logged into Nipost website "www.nipost.gov.ng', it only displays "remote server unavailable, please try again later". But the other international tracking websites says it has arrived destination country successfully. As newbies, they usually want any helpful information on what is really going on. If they see a solution, everyone is happy. Be sure not to fall into any scam. See FedEx Text scam.
Why is NIPOST Tracking Not Working?
There are several reasons why NIPOST tracking website is not going through. It might be a server issue from the hosting company they subscribe to. It might also be that NIPOST website engineers are working on the portal for updates. It might also be from your end due to network failure. The NIPOST tracking solution is to wait for sometime and try again later. You can also visit any of the NIPOST branches in Nigeria to track your item. NIPOST customer care numbers are available in the original NIPOST website.
How to Use NIPOST TRACK AND TRACE
Visit https://www.nipost.gov.ng/Track_Trace
Enter your "International Tracking Number"
Click on "Track".
Your item tracking information will open immediately.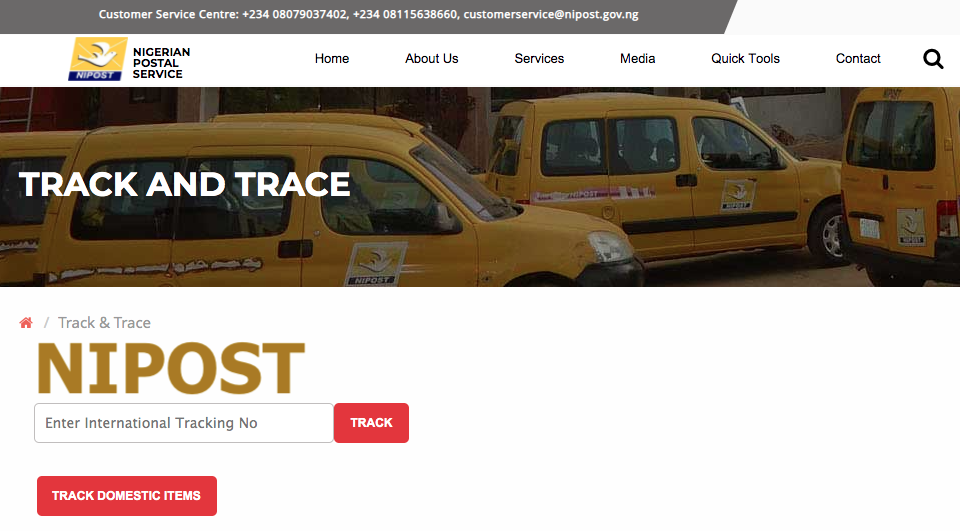 Note that you can also Track Domestic items sent from within the country. However, you will need to have a username and password. To do this, you you have to register with NIPOST. You will also need to contact NIPOST for Stamp Subscriptions and all sorts of great collection.
Receive Google Adsense PIN using NIPOST
So many people usually find it difficult to get their Google Adsense PIN from NIPOST due to wrongly written address. NIPOST has stepped up their game in letters and items delivery.
If you goto any NIPOST branch in Nigeria, you will see hundreds of Google Adsense PIN there. Most of them, their addresses are wrong. While some people cannot be found because of the bad house numbering standards in Nigeria.
To solve this, always try using a popular land mark closest to your house. Make sure you inform the office that you are expecting a letter from Google.